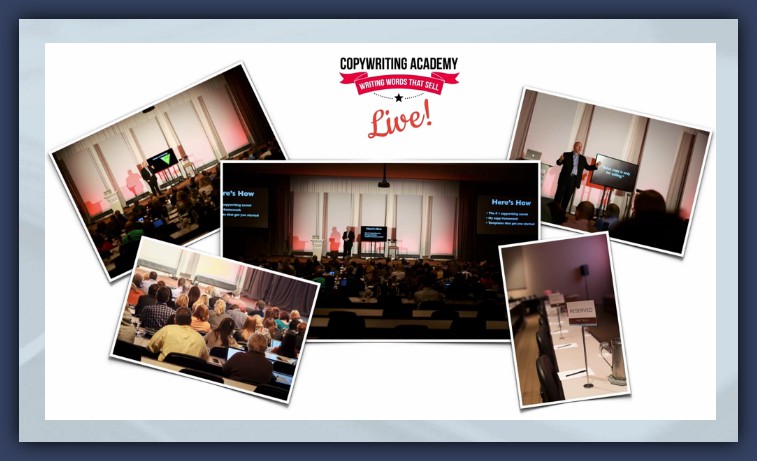 One of the biggest challenges that marketers face is writing copy. Not just any copy, but copy that sells, copy that satisfies and intrigues the interest of people. It is not an easy task as the psychological pressure is hard.
But all great copy writers at some point struggled to overpass their demons.
Ray Edwards has co-operated with many big names in the industry , including Tony Robbins , Jeff Walker , Patt Flynn, Michael Hyatt, Dan Miller, Jack Canfield, Robert Allen, Mark Victor Hansen, Frank Kern, Stu McLaren and many more. He has a giant experience in writing copy as a former copywriter in radio stations for over 30 years. Then, when the internet outranked radio he made the move online.
According to Ray the path to success, no matter what's your business, is to put the right words in the right order so that people will want to do business with you.
He is the creator of the CopyWriting Academy, a super high-quality course that delivers results…
Let's analyse the reasons…
How well you communicate your value to the marketplace
The common thing for all successful businesses and entrepreneurs is that they have a story to share. "Success stories"….Without a story you have nothing. The words that push people into taking action.
All big brands used copy of that kind. Names like Coca Cola , Adidas , Amazon, Apple, Disney and people like Tim Cook, Richard Branson, Elon Musk. They all share a story, communicating with their prospects the "right way"
Who is this program for
People that sell online
Those that know they need a copy but they hate selling or hate writing or they think they are not good writers.
Those that hired an expensive copywriter but did not get the results they wanted
Entrepreneurs that want to hire copywriters but don't know the difference between bad and good copy.
Marketers that don't want to be salesy but they need to make some money
Those that are simply afraid or they feel that they don't have what it takes
Amy Porterfield ensures that the 2 most important factors for success are
Growing an email list
Copywriting – because having a list but don't know how to write well is useless.
Copywriting Academy Modules
Updated 14 March 2017 Academy 2.0
A complete, 100% online learning and doing system that not only teaches you how to write copy that sells your products, services and idea… but also helps you get it done while you learn.
Module 01 – The Quickstart – Write your first copy in about an hour
Simple template & instructions.
Step-by-step walk-through.
Money-making copy in an hour.
Module 02 – The One Thing – Irresistible offers that make selling easier (or unnecessary)
Write offers that sell themselves.
Makes the rest of your copy easier.
"Magic Offer Recipe"
Module 03 – Persuasion Blueprint – Magic building blocks of Sales Copy that sells your products like crazy
The "secret skeleton" of Million-Dollar Copy.
Detailed, piece-by-piece breakdown.
Use this template to sell anything
Module 04 – Magnetic Copy – Headlines & Subheads that grab your readers by the eye-balls
Keeps people reading all the way down.
Gives your copy momentum.
21 proven templates
Module 05 – Fascinator Factor – Persuasion points that Virtually compel people to buy your products
If there's one "magic bullet" it's this
Fortunes are made on Persuasion Points alone.
The secret to writing irresistible Persuasion Points
Module 06 – Resistance removal – Alleviate your customer's fear (guarantee & bonuses)
Instantly remove the #1 barrier to sales.
Why a simple "Guarantee" won't work.
The "tipping point" technique that sells
Module 07 – Closing the Deal – How to ask for the sale, force a decision, and stack the cash
10 Deadly Sins of closing: which do you make?
The secret of closing without "selling hard."
How to create a "decision rich environment"
Module 08 – Inbox Magic – The email writing method that makes more money
How to write emails that sell like crazy.
The single best way to avoid complaints.
Why email is still the #1 way to sell online

Bonuses
Bonus 01 – Your first 1000 subscribers (retail value $997)
The beginner's guide to building your email list
Bonus 02 – Idea to Income in 30 days or Less (retail value $997)
The beginner's guide to creating your own product
Bonus 03 – Rapid copywriting – speed up your copywriting , improve your skills and multiply your income (retail value $297)
The secret to writing at least 3 times faster and better.
Bonus 04 – License to steal – Ray's 200 million dollar proven , tested , swipe files (retail value $2,500)
All great copywriters keep a swipe file (a collection of the most successful copy for inspiration). Ray is giving away his most successful copy, plus commentary, and explanations on how to use it legally, ethically and skillfully
Bonus 05 – The Six-Figure Second Income – how to make big money writing copy for others part time (retail value $500)
Your main priority is to build a long-term business for yourself, but at the beginning you can take advantage of your copywriting skills and write for others as a freelancer to stack the cash fast
Bonus 06 – Massive coaching calls library (retail value $1000)
Bonus 07 – 6 live group coaching calls (retail value $1000)
Bonus 08 – Private online community (retail value $1000)
Bonus 09 – Copywriting Academy live event (retail value $10,000)
When you Enroll you have access to:
Master class experience of the Academy lessons (retail value $2,500)
Checklists, templates and outlines (retail value $2,500)
10 full length video training sessions (retail value $500)
Full downloadable video and audio versions (retail value $500)
Transcripts of each class session (retail value $500)
and the bonuses mentioned above
Total Retail Value $26,249 (with all bonuses)
Copywriting Academy 2.0 Features
Clear video instruction – watch over Ray's shoulder sessions
Downloadable Media – Audio and Video versions
Checklists & Templates – to stay organised
Do as you learn – The course is set to complete the work as you learn. So you don't walk away with just "head-knowledge" but with

finished copy

instead
Full transcripts & slides – for old fashioned text format fans. Ready made notes for each session to print, mark or even read them on your iPad.
3 live Q & A calls – for the 1st session of the class Ray will answer all your specific questions about your copywriting project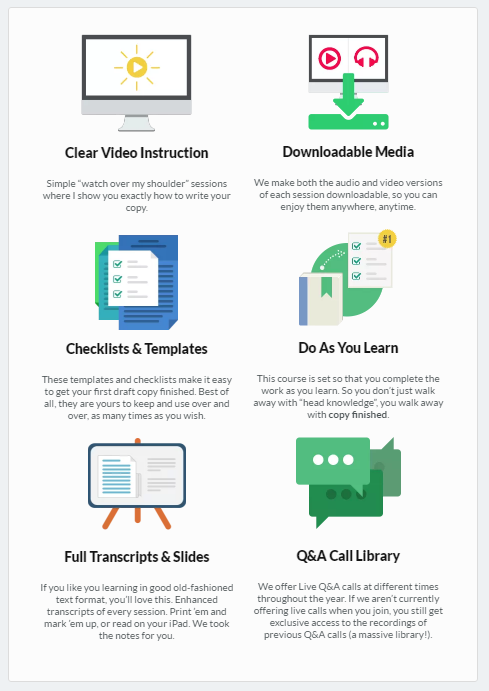 The CopyWriting Academy Sessions
Session 01 – Copywriting quick start – Write your cash generating copy in about an hour.
Deep principles and powerful core skills of Master CopyWriters.
The world's easiest copy template
The 3-step delivery system to bring in money when you need it, often in mere hours.
Session 02 – The secret sceleton of Million Dollar Copy – the universal copy blueprint that sells your products like crazy
How to write the 1 magic sentence that becomes your persuasion GPS.
What screenwriters and novelists know that marketers don't. The power of persuading and selling through story.
The buyer's journmey genius map. A slick high resolution info-graphic to help you walk your readers through the 12 gates every buyer must pass before they decide to buy
The deeper secrets of the P.A.S.T.O.R framework
The perfect sales letter checklist
Session 03 – Copy that attracts readers like magic – write headlines and subheads that grab your readers by the eye-balls
The most important copy on your sales page is NOT your headline
Free forever access to the infinite headline swipe file
The 5 headline archetypes
21 proven templates to generate subheads really fast
The secret weapon to knock down the wall of skeptisism & doubt. The power of O.P.E.N
Turn up the EQ with the most powerful and dangerous type of headlines known to humanity. Use with caution

Session 04 – The email writing method that makes more money
Email is still #1 method for driving sales online.
The 3 core email types
The perfect frequency
The 3 email sequences for small business owners
Ray's email treasure box: swipe and deploy email marketing

Session 05 – The fascination factor – how to write bullet points that virtually force your prospects to buy
Lessons from the world's greatest copywriter ever that you've never heard of.
How to integrate the 5 emotional motivators into your bullets with ease
The ultimate bullet point swipe file
Ray's proven 101 bullet point templates
Session 06 – Irresistible offers – The one thing that makes "Selling" unnecessary
The not-so-obvious components of a truly irresistible offer
How to craft your offer in a way that makes the rest of your copy easier to write
The 80/20 offer formula
The 9 kinds of offers

Session 07 – Write guarantees that shock, awe, and sell – How to get customers to stop hesitating and unleash a river of sales
Why a simple, standard "Money back guarantee" is required but still won't work. What you just do instead
What buyers feear most and how to eliminate that fear with the "Tipping Point Protocol"
The 10-Part guarantee formula that works like a champ
Total guarantee transformation
Session 08 – Closing Copy – How to ask for the sale, "S.P.A.R.K" a decision and stack the cash
Discover the 7 deadly sins of closing copy.
The 1 approach that will allow you to close the deal without doing the "hard-sell"
How to create a decision rich environment
The 5 archetype closing copy templates

Session 09 – The secrets of Product Launch Copy – How to write persuasive copy for a Jeff Walker, PLF style launch
The beginner's guide to product launches.
Why launches have not made copy obsolete
Product launch genius Map
The 12 vital components of Product launch copywriting
Session 10 – Video copy magic – How to write copy for videos, livecasts, and webinars
Why you must be able to write video sales copy. How to getting it good for your advantage
How to write incredibly persuasive video sales copy.
The perfect pitch, a proven framework for writing effective video sales pitch
The video templates
How to Write Copy that sells – Ebook
I have bought and read Ray Edwards ebook and I was completely amazed by the way that he writes.This book is a goldmine itself.
Some of the topics covered are
How to sell without being salesy
How to write headlines
How to write email copy that sells
How to write bullet points that force your prospects to buy
Irresistible offers , risk reversal and powerful closes
The secrets of getting your prospects so excited about you that they will fight for the privilege of buying your stuff
The secrets of writing blockbuster copy by watching movies
The copywriting challenge
This book is an example of what is included in the Ray Edwards copywriting academy.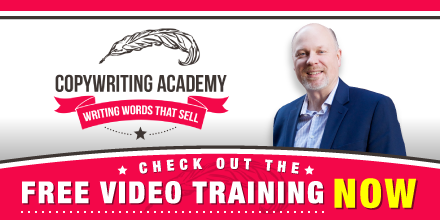 Update March 2017
Ray Edwards gave away a new e-book entitled …"$2 Billion Sales Letter".
One of the most inspiring copywriting secrets that helped big brands climb to the top and build a fan base for many years or even decades.
You can immediately use these techniques for your own copy.
Academy 2.0 Price
Full price is set to $1997 (one time payment). Or you can optin with 4 payments of $597
This includes one-year access to the members area, the right to download and keep all materials, and the 9 major bonuses mentioned above, including tickets to a live event.
Guarantees – Even before you start the training
No copywriting experience needed
No marketing experince needed
No extra-ordinary writing skills needed
No list needed
and of course …
The curiously simple, completely unconditional, weasel-free 100% money back guarantee 
A personal promise by Ray. Take a full 30 days and work your way through all the elements of the course. Write your sales copy and use it to sell your products and services.
If you are not surprised and delighted by the increase in sales, profits, and happy customers, simply ask for a refund.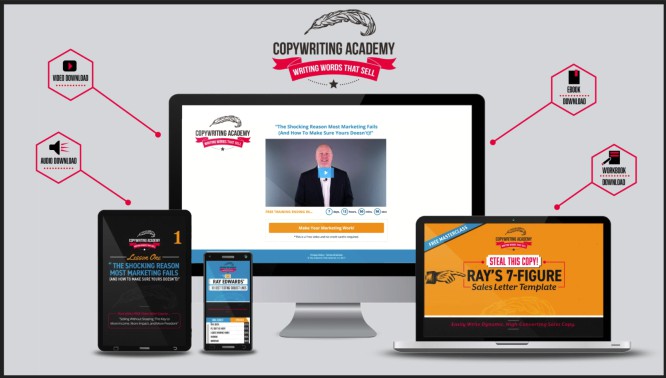 Update 15 Mar 2017
Ray added another bonus, the "Success Optimizer" (retail price $1000). This is a great chance to jump on the academy now before the doors are closed.
A 12-week course designed to support participants reach their CopyWriting goals.
The BAM method – ensures you hit your goals
The 7×3 success matrix
The one irresistible success force
The success optimizer comes with a full-year ongoing group coaching
Notice: for the next 48 hours Only an All-Access pass is given to everyone. You don't even have to opt-in
The Academy Enrollment closes down very soon

Final Words – Resume
We have to face it, good copy makes the difference. No matter how qualitative your products are or how special your services are you need copy that convince people to read through and finally buy from you.
Ray is a professional copywriter hired by huge and / or mid-sized companies that need to improve their sales. His writing is compelling and his voice in the videos is very soft and warm.
OK, in other words, Ray is a superman of sales , but he is good at getting results for his students as well.
If you can afford the price of $1997 go ahead , you won't regret it.The package is very powerful , proven and guaranteed that works by big marketers , including Jeff Bullas who is promoting it as well.
This is the second time I am reviewing the Academy. I have watched all the free video training sessions during the last 2 weeks and I was amazed by the information Ray shared.
Key points are:
Copywriting is based on the human psychology and the factors that motivate people not only to buy, but to do anything.
The art of copy is very powerful and you have to use it with extreme caution.
People will do anything for those who encourage their dreams, justify their failures, allay their fears, confirm their suspicions and help them throw rocks at their enemies
The 5 emotional motivators and the P.A.S.T.O.R framework will set you free and get your copy to the next level.
An absolute course for those that want to sell without being sleazy, salesy and pushy. The key to more impact, more income and more freedom
The academy is a in-depth complete course on copywriting and everything related. There is nothing missing and it opens many doors for you. Not only you will be able to sell with ease, even on demand, but you will improve your product launches and you can build a business on selling copy for companies, agencies and entrepreneurs
In any case the 30 days money back guarantee makes the offer really irresistible.
P.S Anyone can write heart-centered, yet persuasive sales copy, all you have to do is follow the carefully constructed system inside the Copywriting Academy 2.0
That's it , I hope you enjoyed another review  , here on Web Market Support.I am waiting for your comments and thoughts.Till next time , your online partner.

Free Video Courses by Ray Edwards