If you're like me, you're always looking for new ways to improve your website's performance, increase your conversion rates, and add new subscribers to your email list. Beyond the manual improvements and enhancements, there are tools that can help you on this matter.
One of those tools is OptinMonster and now you wonder if it's worth your investment.
You're in the right place, I will carefully analyze all the OptinMonster's website departments, the product's features, its price, I will gather statistics from other online reviews, and I will give you my final opinion at the end of this page. Additionally, I will explain if it's worth your investment and what you need to do to experience great results with this tool.
Main Slogans: Convert and Monetize Your Website Traffic. Instantly boost leads and grow revenue with the most powerful conversion optimization toolkit in the world. 700,000+ websites are using OptinMonster to turn their traffic into leads, conversions and sales.
Did you know that over 70% of visitors who abandon your website will never return?
And most websites capture less than 1 email for every 200 visitors. That's a lot of time, money and effort going to waste.
The Story: The team behind OptinMonster was looking for ways to capture email addresses and increase website conversions. But they had a hard time with the available tools in the market that were either difficult to use or very expensive.
They started using their new technology on their site and after numerous requests from users and industry experts, they decided to package the product as OptinMonster back in 2013.
Since then, thousands of websites boost their conversions with this tool, from small businesses to Fortune 500 companies. 
Over a billion people see a website with OptinMonster on it every month.
Who is it for? marketing agencies, blogs, eCommerce sites, online stores, all kind of small businesses.
The team:
Thomas Griffin: co-founder and President of OptinMonster. Prior to OptinMonster, he founded Soliloquy, the fastest WordPress slider plugin, and Envira Gallery, a revolutionary gallery solution for photographers. He is an expert developer with deep knowledge of building simple products for the mass-market.
Syed Balkhi: co-founder and strategic advisor of OptinMonster. Prior to OptinMonster, he founded WPBeginner, one of the largest free WordPress resource sites. In 2011, Syed started List25, a widely popular entertainment site with over 1.5 million subscribers and quarter billion video views.
Visitor Sessions Optimized
The OptinMonster team ensures that their tool uses the traffic you already have in order to generate leads, conversions, and sales. And all it takes is 3 simple steps.
Create a visually stunning offer choosing from a wide variety of pre-built templates or be creative and design your unique offer with a black canvas. The customization is easy with the drag and drop builder, no need for coding whatsoever.
You can add or remove elements & columns, style everything, fine-tune every detail, add your unique content, add your own images, include a countdown timer, collect subscriber info.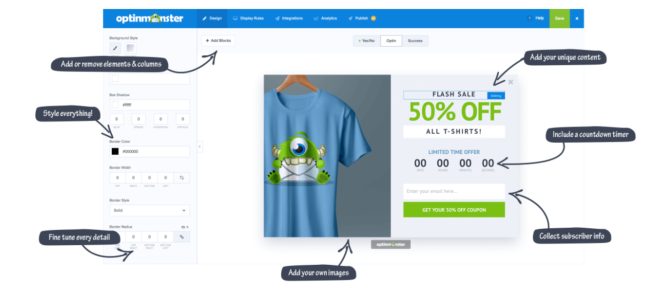 Target and personalize your offers with behavior automation. This is one of the most powerful features as it lets you show a selected offer to the right people at the exact right time.
You can personalize your message, optimize for engagement, trigger specific actions based on unique visitor's behavior, add coupon codes, special deals, and more.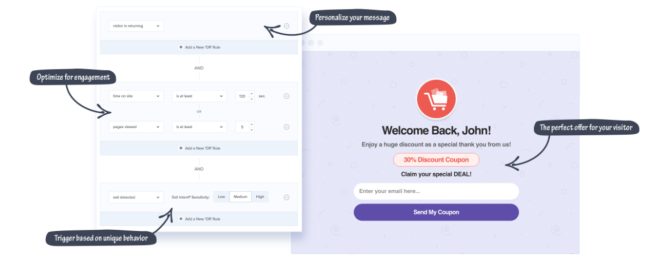 Test and adjust in real-time. The plugin gives you statistics you can use to improve your strategies and campaigns. You can run split tests on different ideas/campaigns to increase your conversions.
There are campaign specific analytics, results with data, and you can discover promotional opportunities.
Lead-capture forms: 75+ pre-made templates fully customizable.
Multiple form types: pop-ups, floating bars, fullscreen overlays, slide-ins, and more.
A/B testing: test different headlines, content, and layouts to see what converts better.
Exit Intent Technology: personalize your campaigns based on your visitor's behavior to maximize conversions and sales.
Related:
Page level targeting: hyper segment your leads by using an enetrprise-grade page level targeting and segmentatino rules.
Advanced traffic redirection: send traffic to iumportant pages on your site. Add a button, customize the action, and track engagement.
Analytics and insights: Get statistics, compare split tests, and learn which pages convert better.
On-site retargeting and personalization: show the perfect offer to any audience
Drag 'n drop builder: allows you to create attractive campaigns that are optimized to deliver the highest conversion rates. In fact, it's the easiest way to generate leads from your business website.
You can customize the message, colors, images, fonts, and everything else to create a layout that matches the look and feel of your website. You can also add elements including images, dividers, buttons, videos, countdown timers, and more to any campaign.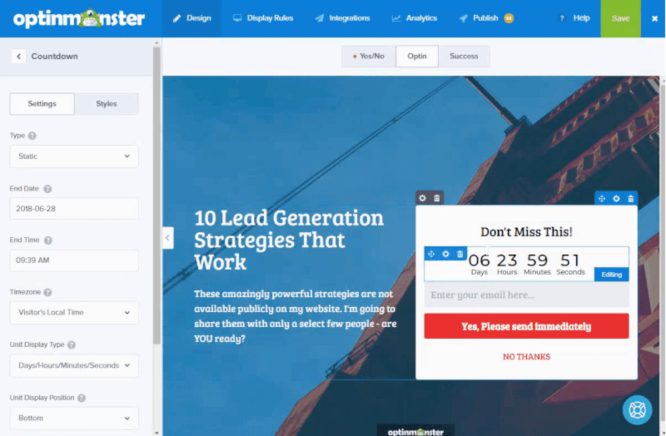 Yes/No forms: Often people are worried that giving visitors two options may reduce conversion, but OptinMonster's data shows otherwise.
As explained by the psychology principle, Zeigarnik Effect, people who begin an action are more likely to complete it which means that visitors who click the Yes button are more likely to opt in. People are also more likely to opt in if they feel they have a choice.
Examples:
Segment their audience by offering two different lead magnets
Offer content upgrades, product demos and webinars
Show relevant discount offers
Redirect user's attention to popular blog posts and pages
Improve affiliate earnings by showing exclusive offers
Mobile friendly pop-ups: OptinMonster can help you get the attention of smartphone and tablet users with its Mobile-Friendly Popups, specially designed to perform well on all mobile devices.
Instead of annoying visitors with non-responsive, slow-loading and hard to read forms, you can create a great user experience for your mobile visitors with OptinMonster's fast and targeted mobile campaigns.
Custom success message: personalize your thank-you page or opt-in confirmation message to deliver a targeted message that encourages new leads to further connect with you through your content, social media, and by making additional purchases.
Examples:
Ask subscribers to whitelist your email address which boosts email deliverability
Grow your audience by asking subscribers to follow you or share your content on social media
Increase your revenue by linking to an affiliate offer or paid product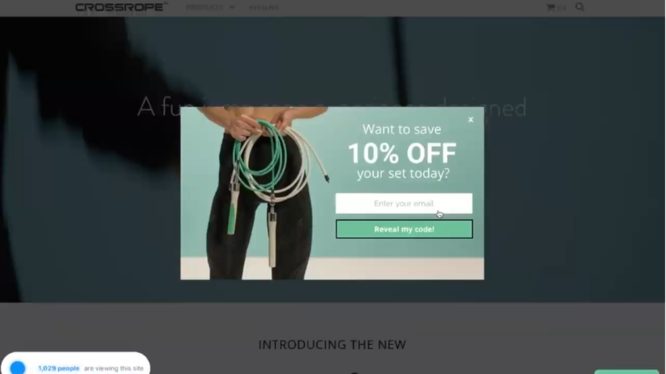 Canvas: Canvas lets you start with a blank slate and customize your campaigns from scratch using the drag & drop builder.
Elements you can add:
styled text
images
icons
videos
buttons
…and much more
Examples:
Boost website engagement by adding a video, quiz, contest or raffle inside a popup.
Increase social media follows by embedding a Facebook Like box or Twitter follow box in a popup
Show products related to what shoppers are looking at to increase sales conversion
Use WordPress shortcodes to show a related post popup on their blog
Create inspiring messages to collect donations
Embed scripts from platforms like RevContent, Taboola, and Outbrain
Monster Effects: When you create highly visible campaigns, you solve the problem of design blindness which results in higher conversions.
The signature MonsterEffects™ technology provides CSS animations and sound effects to create campaigns that grab user's attention and focus.
You can choose from 26 CSS effects!
They've also added a Sounds Effect feature to help you create even more attention-grabbing campaigns. This feature complements the InactivitySensor, also known as Mobile Exit-Intent.
Boost Conversions With Exit Intent PopUps Video
Lightbox Popups: deliver a targeted message at just the right time for maximum engagement. Lightbox popups are proven to work for email lead capture as well as increasing sales conversion. 
When you show a lightbox popup, visitors have to make a decision. There are no distractions because your other content fades into the background.
Fullscreen welcome Mat: helps you get visitors' attention the minute they land on your site with a website splash screen that's proven to increase conversions by as much as 80%.
There's no better way to grab visitors' attention than with a targeted call to action before they have a chance to get distracted and leave. OptinMonster's Fullscreen Welcome Mat will help visitors remember and connect with your brand.
Examples:
Present a targeted offer or coupon
Showcase new products and services
Let visitors know what to expect from the site
Win new subscribers by highlighting their best content
Point visitors to their social media profiles
Collect email subscribers as part of a prelaunch phase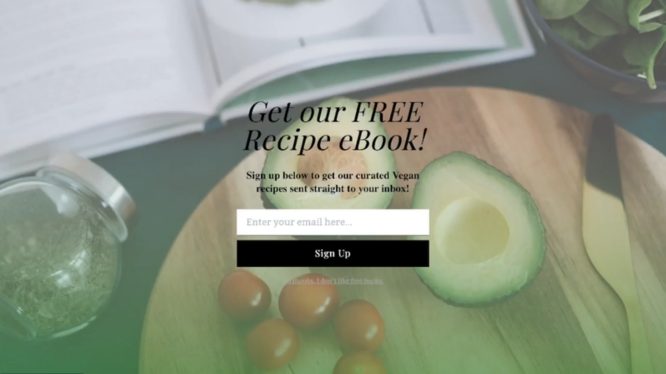 Slide-in scroll box forms: Slide-ins appear at the bottom right corner of the web page as the visitors scroll down. They work well with the Scroll Trigger, which lets you specify how far down the page visitors get before they see your scroll box.
Examples:
Highlight related products or content
Collect feedback from customers and readers
Reduce cart abandonment with well-timed discounts and coupons
Encourage visitors to move deeper into the site and become more engaged
Floating header and footer bar: is a sticky and highly noticeable campaign that attaches to the top or bottom of the web page and remains visible as your visitors scroll. It's a great way to get visitors' attention without disturbing or annoying them.
Examples:
Highlight sales
Showcase seasonal offers
Promote time-sensitive offers
Ask people to subscribe to their newsletter on every page of their site
Redirect attention to contests, affiliate links, or popular content
Promote content upgrades on certain blog posts
Like all OptinMonster campaigns, Floating Bar benefits from OptinMonster's extensive and flexible range of triggers and targeting rules. You can change campaign behavior by using Timed Display Control to affect when it appears.
You can also control visibility with Page-Level Targeting, Geo-Location Targeting, Device-Based Targeting, Referrer Detection, and Scroll Trigger. And OptinMonster has rich behavioral automation rules such as Onsite Followup, Onsite Retargeting, and Cookie Retargeting, which give you even more control over who sees your campaign.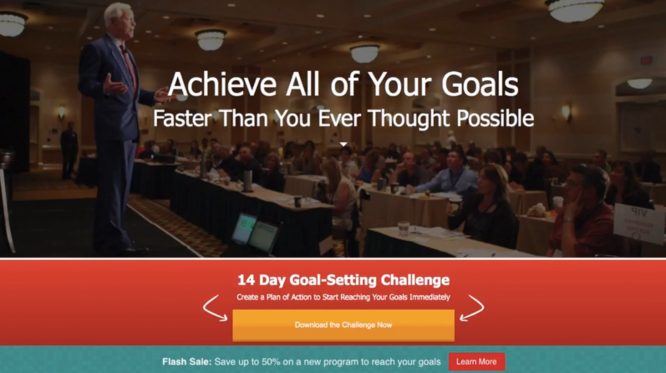 Countdown timer: create intelligent, scarcity-based campaigns that effectively convert hesitant buyers.
Available in two powerful modes:
Static: Set a universal deadline for all visitors. You select the date and time the countdown ends.
Dynamic: Create "evergreen" countdown timers customized for each visitor. Instead of selecting an end date, you choose the length of the timer in days, hours, minutes, and seconds.
Examples:
Holiday and seasonal campaigns
Limited-edition products
Flash sales
live events, such as Facebook Live appearances or Twitter chats
special upcoming guest posts or blog series installments
guest appearances and interviews
upcoming podcast episodes
webinar registrations
product launches
Sidebar forms: Sidebar Forms are one of the most common ways to build an email list, and the sidebar is where many web visitors look for newsletter signup information.
Gives you the chance to convert visitors from anywhere on your site, turning each page into a lead generation opportunity. The more places you have a campaign, the more opportunities there are for someone to subscribe, or take your offer.
Inline forms: help you get the attention of your most engaged readers, and encourage them to subscribe when they're already committed to reading your content. That's why Inline campaigns are so effective for subscriber growth, especially on content-heavy sites.
Content locker: lets you block part of your content and make it available to subscribers only, encouraging more email signups and attracting high-quality leads.
The lock will blur or remove content below a set point on the page, so visitors have to opt-in to see the whole article.
Coupon wheel optins: Gamification is a psychological trick that smart marketers use to instantly multiply their conversions.
When you unlock a prize or earn a high score, your brain rewards you with a rush of dopamine, a hormone that makes you feel great. You can trigger this response by adding interactive, engaging elements to your marketing campaigns, making them so fun they're addicting.
Exit-Intent Technology: is behavioral technology that tracks and monitors movements of website visitors and detects when they're going to leave your site without making a purchase or leaving their information. It is designed to reduce cart abandonment and capture more leads.
OptinMonster's exit-intent technology detects user behavior and prompts them with a targeted campaign at the precise moment they are about to leave.
OptinMonster promises that by using this SMART behavioral technology, you can convert an additional 2 – 4% of your users into email subscribers and soon thereafter into paying customers.
Examples:
An invitation to chat with a support agent
A special discount offer to encourage on-spot purchase
An invitation to download your lead-magnet by joining your email list.
Download a free eBook or Case Study
Sign up for a free product trial
Book a free consultation call
Signup for your webinar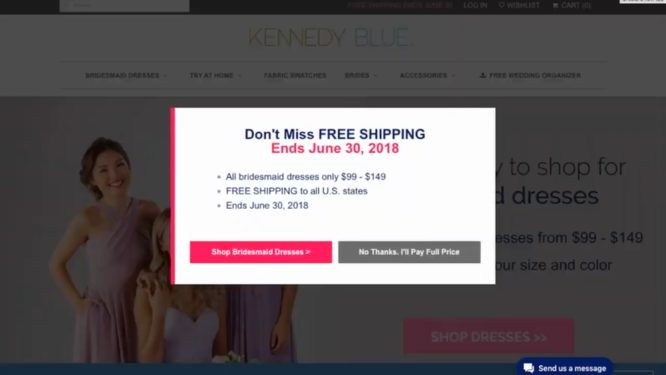 Scroll Trigger: OptinMonster's Scroll Trigger helps you get visitors' attention without being pushy, so you can boost conversions and generate more leads. It creates scroll triggered boxes for strategic placement on your website.
Scroll boxes are scientifically proven to reduce bounce rate and increase visitor retention, allowing both eCommerce retailers and publishers to benefit from better visitor engagement.
Scroll triggers can be used as pop-up, fullscreen, slide-in, or floating bar campaigns.
MonsterLinks 2-step optins: MonsterLinks turns any image or link into a 2-step optin campaign, with no coding required. When visitors click on the image or link, there's a popup asking them to subscribe or buy.
This multi-step optin technology literally psychs your visitors into subscribing by using the Zeigarnik Effect. This psychology principle says when people start something, they're more likely to finish it.
With MonsterLinks, when visitors click a link or button (starting a process), then they're likely to finish the process and subscribe.
Using OptinMonster's MonsterLinks technology also eliminates the natural dropoff that happens when visitors have to visit another page to subscribe, or complete an action.
Instead, they can take action immediately, which means any page where you use MonsterLinks automatically becomes a squeeze page for lead generation.
InactivitySensor (exit intent for mobile): allows you to activate Exit Intent for mobile devices to help you convert those abandoning visitors into subscribers and customers.
InactivitySensor detects users' behavior so you can deliver a targeted campaign to mobile users the moment they're about to leave your website. It works on every device, so you can recover some of that lost revenue, no matter how your users are browsing.
Mobile users often abandon non-responsive sites so, for best results, combine InactivitySensor with OptinMonster's wide range of mobile responsive templates.
Examples:
a special, time-limited discount
an invitation to sign up for special offers
an offer of help with completing the purchase
increase email list signups
encourage visitors to try your product or service
get more participants for your webinar
Timed display control: you can set time delays for your campaigns to avoid inconveniencing visitors while still gaining subscribers and making sales.
The time-triggered popup campaigns allow you to focus your visitors' attention at the perfect moment: after they have time to browse your site, but before they lose interest and leave.
Campaign scheduling: detects users' time zones so you can show holiday promotions and other time-sensitive campaigns to them at the right time.
Referrer detection: This tool detects when visitors have followed one of your external marketing campaigns to land on your website, so you can create a new campaign targeted specifically to those visitors.
Examples:
Whether your guest posting strategy is leading to conversions
Which social media sites are bringing in new subscribers
How other external lead generation campaigns are working
Welcome visitors from certain sites with a customized Welcome Mat campaign
Encourage visitors to opt in to a contest or giveaway running on the site they've come from
Detect and target leads coming from an influencer marketing or guest posting campaign
Page-level targeting: lets you use behavior personalization to create page-specific campaigns.
You can easily segment your email list and group subscribers based on their interests and interaction with your website.
Segmentation allows you to send relevant emails to your subscribers which results in higher open rates, higher clickthrough rates, increased sales, greater revenue, greater customer retention, and lower unsubscribe rates.
Examples:
Show a Facebook Like Popup to visitors arriving from Twitter
Offer a lead magnet related to the section of your site your visitor is browsing
Create specific campaigns for mobile users in a particular location
OnSite follow-up campaigns: help you get the attention of wavering visitors with triggered campaigns.
This smart technology recognizes how visitors interact with other offers on your website, so you can follow up with targeted campaigns designed to get them to take action.
OnSite retargeting: If you're showing returning visitors the same campaigns they saw the first time they landed on your site, you're turning them off, especially if they've already subscribed.
Building a customer relationship takes time, and you're going to want to show repeat visitors something new to keep the momentum going.
Retargeting® lets you target repeat visitors with new promotions and offers based on their previous interactions on your site. eCommerce retailers and publishers can use onsite behavioral data to target marketing campaigns to boost conversions.
Geo-location targeting: helps eCommerce retailers and content publishers show relevant campaigns based on users' locations.
Cookie retargeting: you can hack your retargeting strategy and save money by creating your own onsite audience. This technology takes the features in our OnSite Retargeting to the next level. It allows eCommerce retailers and small businesses to fine-tune content personalization and increase leads and sales without wasting money.
Device-based targeting: allows you to format campaigns for phones, tablets, and desktops, so you can create a better user experience and improve your conversion rates.
You can optimize OptinMonster's Full Screen, Floating Bar, Slide-In, Sidebar, and After Post/Inline campaigns to load on desktops only, on both phones and tablets, or on either phone or tablets.
AdBlock detection: helps you bypass AdBlock, AdBlock Plus, and other ad blockers, and recover the income that's going down the drain.
List segmentation: allows you to reduce abandonment and list churn by providing relevant and personalized experiences for your visitors and email subscribers.
Integrates with industry-leading CRM and email marketing software so you can personalize and optimize all your campaigns to get the best results.
Examples:
Letting visitors self-segment by interest with

 

Yes/No Forms
Using

 

Inactivity Sensor

 

or our signature

 

Exit-Intent Technology

 

to show special offers to visitors who are unengaged or about to leave
Segmenting your email list by location with OptinMonster's timezone and

 

Geo-Location Targeting

 

so you can create location-specific offers
Building a loyalty program by sending special emails to people who subscribe at checkout, as they are clearly interested in deals
Lead sharing: lets you manage leads more efficiently by sending them to as many different lead management services as you need. It makes it easy to improve internal lead management or share leads with joint venture partners.
Allows you to configure your campaigns to pass leads to multiple providers. So if your sales team is using Infusionsoft to manage customers, and your marketing team is using MailChimp for your email newsletter, both teams can benefit from the lead generation strategies used on your website.
Saves you time and effort by capturing leads from a shared landing page, and sending that information to each partner's email marketing or lead management software. It's automatic, instant, and there's no limit to the number of leads you can share.
Success tracking and retargeting scripts: remind visitors about your products and services, long after they've left your site. Our success scripts let you retarget warm leads to improve conversions, leads and sales.
Retarget warm leads: people who have already visited their site and subscribed to their email newsletter or downloaded a lead magnet.
Serve a Facebook ad pixel or AdWords pixel when users subscribe. You don't even have to create a thank-you page, saving time and effort.
Smart Tags: Personalization is the best way to ensure your offers are always relevant.
Allows you to place dynamic content in your onsite marketing campaigns with the click of a mouse. If you've ever used merge tags in email, then you're already familiar with just how easy and useful Smart Tags can be.
Real-time behavior automation: helps you show relevant campaigns which instantly adapt to visitors' current behavior on your site.
Two-thirds of consumers prefer to receive only relevant offers, and many of them will abandon sites that don't meet their needs.
Examples:
show particular campaigns to visitors based on the area of the site they are visiting
load new offers immediately, even if visitors are still on the original page
adapt to visitors' progress through your site with new campaigns and offers
A/B testing: lets you split test your campaigns so you know what's working for your customers. With the click of a button, you can create a split test and try different content, headlines, layouts, styles, and campaign triggers to see what converts best.
Examples:
Achieving more sales
Attracting subscribers for a loyalty program
Getting survey responses from customers
Smart success: helps you avoid annoying your visitors by providing smart subscriber recognition – a way to recognize people who have already signed up so you can offer them something new.
Encourage people to follow you on social media by embedding a Facebook Like Box in one of OptinMonster's specially designed themes. And you can use the Theatre theme to play a video that keeps visitors on your site and fully engaged.
Examples:
show subscribers how to whitelist your emails
play a video about a signature product or service
ask them to connect with you on social media
offer discounts and coupons to existing subscribers
present new offers related to what they've already purchased
retarget customers and track performance with ad pixels
Conversion analytics: makes it easy to get the stats that matter so you can improve lead generation. It integrates with Google Analytics to allow you to track and measure conversion goals and the success of your optin campaigns.
With Conversion Analytics, you can analyze clicks, views and overall conversion rate for each of your optin campaigns. If you're using OptinMonster's A/B Testing feature, you can also get that data for all of your split tests.
Conversion Analytics tracks the referral pages for each optin, allowing you to see which pages on your site are driving the most conversions. And you can also see user-agent data, so you'll be able to optimize your lead generation campaigns for specific devices or web browsers.
Sub-accounts: let you share access to your OptinMonster account with the people you work with, so you don't have to manage every campaign yourself.
As account administrator, you can allocate user roles to decide who else can view, create or publish campaigns, and apply these user permissions to domains, campaigns and integrations in your OptinMonster account.
Custom branding: you can add value to your current client offerings and help them to get a higher return on their marketing investment…while you take all the credit.
Examples:
Professionally designed templates that are high-converting out of the box
Advanced targeting options to reach exactly the right audience segment
Campaign triggers to ensure your campaigns are seen at the right moment
Actionable analytics and built-in A/B testing tools to optimize every campaign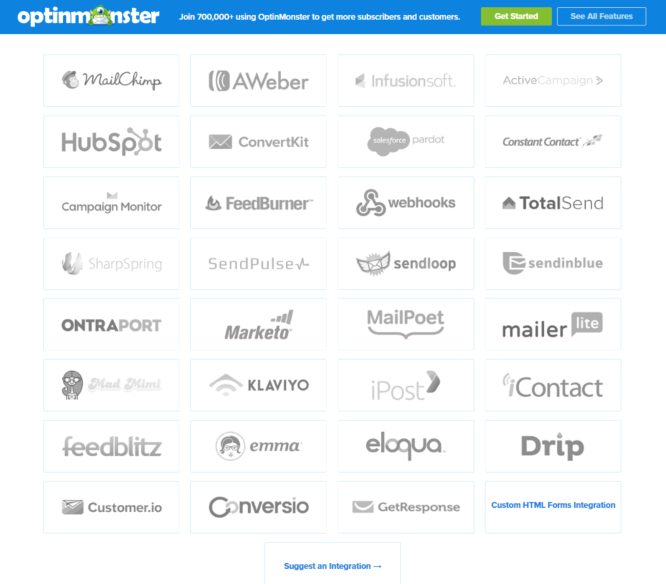 OptinMonster Integrations
OptinMonster's lead generation software works out of the box with all major email marketing platforms and with all major website and eCommerce platforms and solutions to ensure a seamless experience for both yourself, and your users.
You can:
Send a support ticket if you're already a customer
Access the live chat as a visitor or a customer
Complete a form to ask a pre-sales or a general question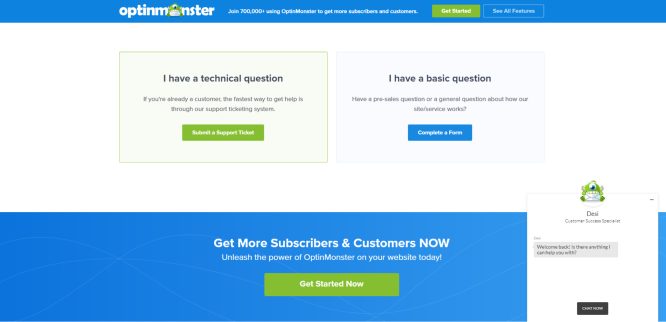 OptinMonster Documentation
Documentation, Reference Materials, and Tutorials for OptinMonster.
You'll find:
Getting started – 28 articles
Integrations – 49 articles
Functionality – 66 articles
Account management – 15 articles
Extending – 45 articles
Platforms – 22 articles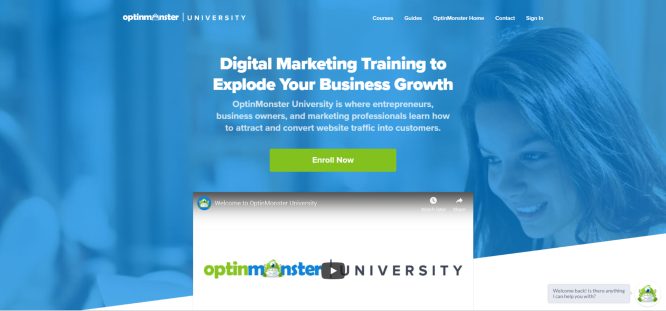 The university provides digital marketing training to explode your business growth. It's the place where entrepreneurs, business owners, and marketing professionals learn how to attract and convert website traffic into customers.
University Access Price: Free with the purchase of any OptinMonster plan.
Training Curriculum: 
Traffic generation:

Discover our expert strategies for growing your website traffic month over month.

Email marketing:

Learn how to turn your email subscribers into loyal customers and raving fans.

Lead generation:

See our exact methods for turning your website visitors into email subscribers.

Content marketing:

Steal our proven processes for publishing content that attracts and converts massic traffic.

SEO:

Discover expert secrets to beat the competition and rank #1 in Google search results.

eCommerce optimization:

Learn how to increase sales, reduce cart abandonment, and increase your average order value.
Includes:
How to create a lead magnet (execution plan)
How to get started with email marketing (execution plan)
How to reduce cart abandonment (execution plan)
How to attract and convert targeted traffic (coming soon)
How to create a welcome email series (coming soon)
How to write a promotional email series (coming soon)
Downloadable cheatsheets & checklists
Complete library of eBooks and guides
Exclusive webinar and video training
Instant unlimited access
Free lifetime updates 
Examples of guides (eBooks, checklists, cheatsheets, templates, and more): 
Growth hacker insights – the ultimate guide to growth hacking
Finding and targeting your ideal audience
19 ways to reduce cart abandonment and grow your revenue
A 63-point checklist for creating the ultimate optin form
164 best email subject lines to boost your email open rates
103 of the best blog post ideas and brainstorming tips
130+ proven optin headlines to draw visitors to your email list
700 power words that will boost your conversions
13 useful search operators for content marketers
On-page SEO checklist – how to fully optimize your blog posts
SEO ranking factors: checklist for a well-optimized site
Email deliverability checklist to boost your inbox reach
The blog is pretty active with over 400 articles. It's about WordPress, marketing, lead generation, plugins, eCommerce. There are case studies, announcements, and tutorials.
There are valuable lists and extensive guides. A very useful department that shows the integrity of this company.
Examples of articles: 
WordPress link tracking plugins
Mailchimp alternatives
WordPress membership site plugins
WordPress lead generation plugins
WordPress eCommerce plugins
Best WooCommerce plugins
OptinMonster is one of the most popular solutions of lead generation software in the market. It's being used and praised by thousands of marketers, entrepreneurs, bloggers, and there are many friends of mine that highly recommend it. Among the testimonials, you'll find top industry leaders and founders of well-known businesses.
I only came across a few bad ratings about customer support but nothing very serious.
*More on that in my conclusion!
People praising OptinMonster/Testimonials found on the OptinMonster website – Just a few Examples: 
Lilach Bullock – Entrepreneur
John Johnson – CEO, Aligned Security
Chris Brogan – New York Times Best Selling Author
Lindsey Kelley – Digital Marketing Manager, Woodside Communities
Christian Forbes – eCommerce manager, Kinbody
Loren Baker – Founder, Search Engine Journal
Michael Stelzner – Founder, Social Media Examiner
Neil Strauss – business owner
Neil Patel – Founder, QuickSprout
Joost de Valk – Founder, Yoast
John Dumas – Founder, Entrepreneur on fire
Ian Cleary – Founder, Razor social
Chris Lema – CTO Crowd Favorite
Chris Makara – Owner, Bulkly
OptinMonster is also Trusted by:
Entrepreneur
HuffPost
Inc
Forbes
VB
Yahoo
OptinMonster Research
Online reviews, Ratings, and Opinions
Blogging Wizard – 4.5 out of 5 stars

ISITWP – 5 out of 5 stars

Smart Business Trends – 

OptinMonster is definitely worth looking at as it has several features that make building your list easier.

G2Crowd – 4.1 out of 5 stars – 21 reviews

Winning WP – 5 out of stars

Create and Code – 4.9 out of 5 stars

Sprout24 – Since its launch in 2013, OptinMonster has garnered rave reviews. Its user-friendly interface, customized templates for opt-in forms and most importantly the 'exit intent' feature shot it to immediate fame

Shout Me Loud – 5 out 5 stars

Capterra – 4 out of 5 stars – 24 reviews

WP Kube – While the basic version of the plugin is rather limited with options, it's a great start for those who are just starting to build their email list

Niche Pursuits – 97%

WP Site Care – The exit intent functionality is the key selling point of this service, which makes it a not in-expensive option if you want the full feature set.

eCommerce Platforms – 5 out of 5 stars

Reginald Chan – 9.5 out of 10 stars

Web App Meister – 4.5 out of 5 stars

Finances Online – 8.7 out of 10 stars

WP Scoop – 2 out of 5 stars – 9 reviews

Get App – 4.2 out of 5 stars – 24 votes

Authority Income – 4.7 out of 5 stars

99 signals – 3.9 out of 5 stars

Catch Updates – 4.9 out of 5 stars

WP Leaders – 5 out of 5 stars
There are a plethora of case studies that show exactly what this tool can do for any business.
Examples:
How Christopher Place converted 60% of their traffic without using discounts
How Singularity University generated 967 new leads from one optin
How Cracku increased conversions 300% using countdown timers
How Inbound Marketing increased conversions 189% using lead magnets
The "Careers" page contains guidelines and describes the benefits of working with them, the requirements, and the company's core values. Currently there are no available spots.
Basic
Get more leads from your existing traffic
$
9
/

month (billed annually)
Lightbox popups

Page-level targeting

List segmentation

Subscriber recognition

Success messages

Basic integrations

Simple reporting

Branding required

5,000 pageviews

1 site

3 campaigns
Plus
Great for growing businesses who want to do more
$
19
/

month (billed annually)
Everything in Basic and:

Floating bars

Inline forms

Content locking

Integrated A/B testing

Advanced integrations

Inactivity sensor

Device targeting

MonsterEffects

MonsterSounds

Unlimited campaigns

15,000 pageviews

2 sites
Pro
Everything you need to get huge results, fast
$
29
/

month (billed annually)
Everything in Plus and:

Exit-intent technology

MonsterLinks

Fullscreen overlays

Slide-in scroll boxes

Pro integrations

Yes/No forms

Countdown timers

Campaign scheduling

UTM targeting

Referrer detection

Smart tags

Cart & form abandonment

Remove branding

2 sub-accounts

Priority support

50,000 pageviews

3 sites
Growth
All the necessary tools to transform your conversions
$
49
/

month (billed annually)
Everything in Pro and:

OnSIte retargeting

Follow-up campaigns

Real-time personalization

Coupon wheel campaigns

Geo-location targeting

Success scripts

AdBlock detection

Behavior automation

Custom branding

Activity logging

Advanced reporting

Unlimited sub-accounts

250,000 pageviews

5 sites
Who should use OptinMonster?
Marketing agencies, bloggers, eCommerce websites, and all small businesses. If you want to grow your email list, improve your website conversions, and reduce cart abandonment, then you need OptinMonster.
What's required to use OptinMonster?
OptinMonster can be installed on nearly every website platform on the internet, and we integrate with every major email marketing service. The only requirement is that you must have a website where you can add custom JavaScript in the body of your website's pages.
Do I need to have coding skills to use OptinMonster?
 Absolutely not. You can create and customize beautiful lead capture forms from our large template library without any coding knowledge. We made it extremely user-friendly, so you can build and A/B test high-converting lead-capture forms without hiring a developer.
Can I use OptinMonster on client sites?
Yes, you can most definitely use OptinMonster on your client websites. You can signup for our Growth Plan to get additional features such as Account Management, Sub-Accounts, Custom Branding, and everything you need to deliver a top-notch experience for your clients.
Do you offer Enterprise plans?
Yes, we offer all-inclusive Enterprise plans that come with VIP support and onboarding. If you have a large website with a lot of pageviews and custom integration requirements, then you can get in touch with our sales team.
100% No-Risk Double-Guarantee!
You are fully protected by a 100% No-Risk Double-Guarantee. If you don't like OptinMonster over the next 14 days, they will happily refund 100% of your purchase. No questions asked.
OptinMonster provides a marketing tool that can be used in order to grow online businesses. But as such a tool, it can't do all the work on its own.
What do I mean?
You have to know what you're doing to get the results you need. You can't expect any improvements if you don't use the "right" marketing language.
People don't buy products and services because they read a pop-up message or watch an advertisement.
People buy because they read specific words that convince them to buy. And they buy products from companies they trust. 
With that in mind, it's not about how efficient a tool is, or how beautifully designed the forms are, or how much time the customer service team make to respond to your queries.
To make OptinMonster work you need a strong marketing language.
If you need help with that, I am here to guide you. But let me first analyze the data and then I will reveal something special.
The team behind OptinMonster are well-known developers and marketers
A wide range of pre-made templates
Countless features and customization settings that beat the competition
A plethora of campaign types
Various triggering options
Exit-intent technology
Drag & drop builder
Easy to use
Integrations with all the major marketing and eCommerce platforms, website builders, email automation services
Powerful analytics
A very active blog department with hundreds of articles, guides, checklists, cheatsheets, documents, case studies, and more
The OptinMonster University
Countless testimonials from industry leaders
The vast majority of online reviews are very positive
14-days money back guarantee
The Basic plan is somehow limited and you can create only 3 campaigns
The Exit-Intent technology is not available in the first 2 plans
Mostly suitable for sites with decent traffic due to its price
No free lite version that could be extremely useful to blogs and websites that are just starting out
It's an easy to use tool with so many features, options, and customization settings that gives you the freedom to do anything you want with your campaigns.
Even the same campaign can be triggered by different settings.
You can show personalized campaigns to different demographics and audiences and customize the user experience at will.
The Exit-Intent technology can really boost your sign-up rates and it's a feature that's being used from a wide range of websites.
I love using pop-up messages, countdown timers, coupons, and content lockers and these are the lead magnets with the best conversion rates for me.
OptinMonster is the most sophisticated and professionally developed lead generation tool and probably the #1 in the market.
It's a tool that can boost your conversion rates, can reduce cart abandonment, and will help you capture more leads.
It's a powerful tool that can do miracles for experienced marketers and agencies and will keep their clients satisfied.
The support is great and there are educational resources that cover everything you need to use the toolkit for maximum results.
They care about their customers, it's a trusted company praised by serious entrepreneurs and big brand names.
However, as I already mentioned, this tool can't do much for your business if you are not marketing savvy. Acquiring subscribers does not mean anything unless you're able to convert them into customers.
Are your website visitors people interested in your offers?
Would you be able to convince your new subscribers to buy from you with your email campaigns?
Are your landing pages constructed in such a way that builds trust?
Are you using a marketing language that sells?
And now let me reveal my special bonuses, as I promised a little earlier but first, let me introduce myself very briefly.
Hi, I'm Tasos, founder of the agency WebMarketSupport and creator of the "7 IDEALS" methodology.
I have a Business Organisation & Administration degree (University of Macedonia Hellas) and I have been a traditional entrepreneur since 1992. I expanded my business online in late 2014 and from that time, I've helped hundreds of brands sell more of their products and services as a marketing consultant.
I worked with networks, marketplaces, business owners, communities, and local stores.
You may recognize some of these names: Dean Graziosi, Tony Robbins, Jeff Walker, Nick Stephenson, Ray Edwards, Matt McWilliams, Aidan Booth & Steve Clayton, Jeanna Gabellini, Ryan Levesque, Stu McLaren, Steve Olsher, Kim Walsh Phillips, Revealed Films, software companies like ClickFunnels, OptinMonster, Systeme, marketplaces like EnvatoMarket, Designmodo, InkyDeals,  Renderosity, Dealjumbo, Snappa, communities like HopeWriters, Wealthy Affiliate, Affilorama, and on and on, this list is huge.
I invite you to check out the network page to get a feel of the brands I cooperated with and the about page that has more information about my education and WebMarketSupport.
To help you get the most out of OptinMonster I will be offering some valuable bonuses. These bonuses are valid if you purchase OptinMonster through my links.
In fact, this is a great chance for you to improve your brand image, better understand your customers, and tailor your strategies and messaging to their specific needs and preferences.
Here is a summary of what you'll get:
OptinMonster Basic Bonus – 1 OptinMonster campaign
OptinMonster Plus Bonus – 1 OptinMonster campaign + 1 email drip campaign
OptinMonster Pro – 1 OptinMonster campaign + 1 email drip campaign + 1 lead magnet (checklist)
OptinMonster Growth – 1 OptinMonster campaign + 1 email drip campaign + 1 lead magnet (checklist) + 1 Google ads campaign
Alternatively, you can choose to get:
Partial implementation of my "7 IDEALS" methodology (1st phase – 7ID ZONE).
The outcome:
We'll define our target market,
Research and analyse the industry, market, and trends, connect with suppliers and merchants,
Analyse our business itself, improve our business model, set HQ standards,
Define our marketing mix,
Validate our ideas by conducting tests and by interacting with the market in real-time, eliminate any risks associated with product development or sourcing, and
Specific an ideal zone for market penetration,
Plus, there is an extra layer of private coaching to help you become an unstoppable entrepreneur by gaining skills and momentum.
That's it, another review has finished, here on Web Market Support. I look forward to seeing your next success OptinMonster story online and I am waiting for your comments and thoughts. Till next time…

Tasos Perte Tzortzis
Business Organisation & Administration, Marketing Consultant, Creator of the "7 Ideals" Methodology
Although doing traditional business offline since 1992, I fell in love with online marketing in late 2014 and have helped hundreds of brands sell more of their products and services. Founder of WebMarketSupport, Muvimag, Summer Dream.
Reading, arts, science, chess, coffee, tea, swimming, Audi, and family comes first.
Some of the links on this page are "sponsored". For more information, I refer you to the Disclaimer page.