Awesome news today!
Aurelian Amacker, the founder of Systeme.io, released a brand new training for those who want to create and sell their courses online.
Systeme is a platform for business owners, marketers, and other professionals.
You can build sales funnels, automate your email marketing, sell products and services, do dropshipping, launch a blog, run webinars, run affiliate programs, and build online courses to sell them. A platform to automate big parts of your online business. 
You can watch the first video of the course creation and selling training for free.
It's a special invitation that won't last long. 
Systeme.io – Aurelian Amacker
Create Your Course And Sell It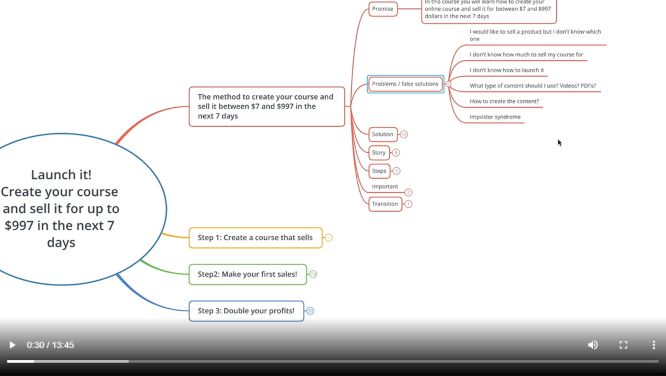 "Creating and Selling Courses Training" Content
The main promise is this: The method to create your course and sell it between $7 and $997 in the next 7 days.
Intro: promise, problems/false solutions, solution, story, steps, important, transition
Part 1: Create a course that sells
Part 2: Make your first sales
PArt 3: Double your profits
The course is 1 hour and 35 minutes long in video format. 
Plus, you'll receive a set of actionable resources that you can use to kickstart your own course creation and selling career:
An email sequence

to help you launch your product and sell it to your list

A

set of page templates you can use to launch your product as fast as possible
Aurelian was teaching internet marketing and although this business was doing well, he had big dreams.
He wanted to create software to automate his marketing business and with the help of a freelance developer, the French marketer was able to bootstrap a SaaS company in an extremely crowded market with competitors like ClickFunnels, GrooveFunnels, many email automation platforms, and a huge number of advertising/affiliate networks to over $200,000/month in revenue.
Since then, Systeme is only growing.
Aurelian has been selling online courses for over 10 years now and he was able to create multiple streams of passive income. He knows what he's doing and he has a very simple yet powerful way of transferring his knowledge. He taught hundreds of entrepreneurs how to sell their courses and he can help you too.
It's a free-to-watch training video, the introduction to the main program. You can check Aurelian's coaching skills for yourself.
His methodology is ethical and he applies upselling methods and other marketing tactics that are proven, time-tested, and have produced results for so many people that sold their courses online.
Aurelian launched a platform in a space where the competition is enormous and he managed to gain traction in a matter of months. I'm looking forward to his next releases and projects.
That's it, another article has finished, here on Web Market Support. I am waiting for your comments and thoughts. Till next time.
Tasos Perte Tzortzis
Marketing Consultant, Creator of the "7 Ideals" Methodology
Although doing traditional business offline since 1992, I fell in love with online marketing in late 2014 and have helped hundreds of brands sell more of their products and services. Founder of WebMarketSupport, Muvimag, SummerDream.
I enjoy reading, arts, science, chess, coffee, tea, swimming, Audi, and playing with my kids.
Some of the links on this page are affiliate links. For more information, I refer you to the disclaimer page.