You can ignore the second part of this headline , that cartel has nothing to do with drugs hopefully. … Their main slogan appears on the front banner as a text over a background video play … which expresses nice , smooth aroma and makes you feel comfortable. … The slogan says … "We Believe In The Artist".. and further encourages us to join their community.A place for designers , musicians , makers and other artists that expect from this website to help them create online stores to run their own businesses.
Will This Review Help You Understand What "Big Cartel" Is About?…
Before we dive into the details I have to confess that I was hooked by the friendly design , perfect fit for a place about art combined with a professional outlook that builds trust.That is exactly what I was expecting from a site in that particular niche.I watched the video , a short 3 minutes long explaining what they do , their vision and what artists can expect from their services.
They are not making claims of success , they are not showing how "Big" their bank accounts are , nothing like that.Just from that elements I can tell that this a totally legit opportunity.It has nothing to do with online scam artists or other poor productions.
Excited I signed up immediately.
History – Team
Big Cartel is active since 2005.It's built by artists for artists.They are an independent organisation , self-funded…They say "We are selling a handmade product.We are doing it in the hard way and we love it".The founders are Matt Wigham (drummer) and Eric Turner.In total the team consists of 26 members and the headquarters based in Salt Lake City (USA).Among the supporters the team is backed up with engineers , directors , designers and community / office managers.
Payment Plans
There are 4 different plans in which you can subscribe
The Free – Gold package – No fees involved with a limitation on the features.You can list up to 5 products – 1 image each.
The Platinum , costs $9,99 / month with no limits on the features , up to 25 products – 5 images each.
The Diamond in $19,99  / month , up to 100 products – 5 images each.
The Titanium comes at $29,99 / month , you can list up to 300 products – 5 images each.
You can upgrade , downgrade or cancel anytime , a very convenient system.
Another important factor is that they do not take a percentage of your sales.All the money are going into your bank account.
I setup a free membership store very fast.They take care of the hosting and the domain comes with a Big Cartel extension.Fantastic.!!..
Store Payment Settings
You can collect payments from your customers via Stripe (is not available for my country) and Paypal.
Store Customization
I have created a store (you can access it here) , set a background image , added a description page with a few details with their store builder.An easy to understand application , you can play with the settings in order to build a custom store.This is very important because you want to differentiate from other artists.
There are templates but you can customize them , add your own background image , a header image and of course the images of the products that you are going to promote.Beware though that you have to sell products you created on your own.You can not resell other people's products.
Additionally you can customize the fonts , the colours or even HTML , CSS and Javascript if you are familiar with coding.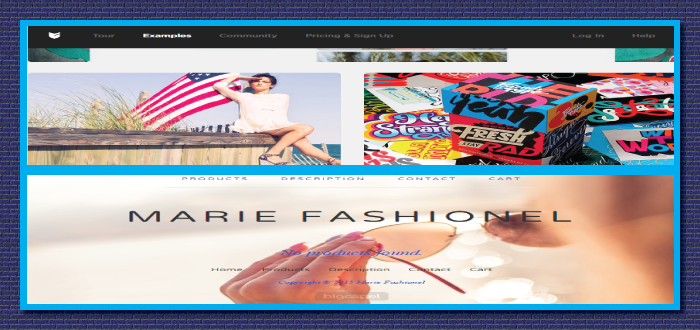 Other Features
They ensure that the stores you create are ready for SEO (search engine optimization) , they provide statistics (paid memberships) and offer other promotional tools.
You can search your full order history , view specific order details , print packing slips and track the shipped orders even with the free membership.Inventory tracking is only available with the premium packages.
They run a sister service application called Pulley with which you can sell digital products as well , along with the physical artwork.Digital art , music , images , fonts , videos or even e-books.That is a subject for a future post.
You can also use an i-phone app to accept order wherever you are.You can link the store with your Facebook fan page or with a website that you own.
For the premium members are included extensive analytics and statistics.Moreover you can change the domain with the Big Cartel extension and set your own.Further you can set discounts via promoted codes for enhanced promotions and marketing.
Support
A detailed FAQ page , Tweets and Email support.I had a problem with the background image and I contacted them on Twitter.They responded within a few hours….But there is no live or phone support.Although for you as a store owner that may not be a huge problem , the online customers may decide to leave in cases of questions that had to be answered directly.
Remember that a customer is not willing to spend his free time reading FAQ's or other documents.When you shop you need guidance by any means.A phone or live support is a must for ecommerce stores.
Jobs – Opportunities
Creative and motivated individuals are welcomed to join their team.At the moment I found out applications for Community Directors , Software Engineers and Office Managers.
Additionally the Employee Art Grand provides a way for all employees to broaden their artistic horizons and pursue personal projects.The process is very simple.You describe your idea , they fund it up to $2000 per year , you bring it to life.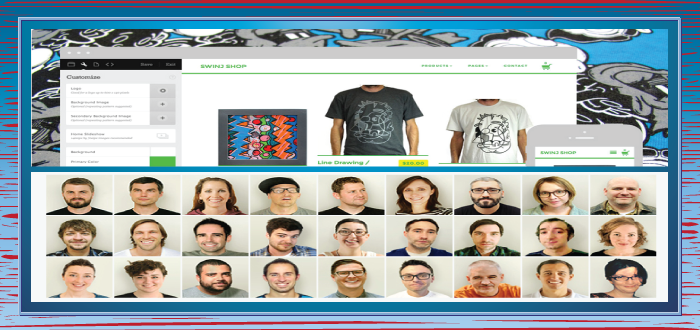 Big Cartel Blog
They run a blog with articles , videos and more.It is not updated every single day but it seems a very active one.Some topics I found interesting are :
The Big Cartel API
Recap : Indie Fest 2015
New field Guide : Social Media
Both sides of the retail coin (how to use discounts , promote exclusive items , keep inventory in check,loyal customers)
New online class – Create a Look-Book
This is a huge resource for inspiration and it can be used as a guide.
Important Resources
They have included guides on various topics that can help you grow your business.Among them there guides on social media , video , fraud , t-shirts , wholesale , pricing , own domain , customer care , copyrights , taxes , packaging , shipping , store customization , product photography and finally marketing.
These are all short guides and although they are not getting into much details they can be proved very valuable for your progress.Besides it is up to you to learn everything you need to know and grow your business.
Legal Documents – Security
Everything is there , merchant user agreement , terms of service , privacy policy , copyright and trademark issues.
The platform offers the standard SSL encryption to secure the transactions and payments.That ensures a healthy and friendly environment for the visitors.
The Community
This feature is very valuable.Other members post videos , artwork , they talk about their vision , plans , their methods and their experience with the network.Some of them share their twitter accounts so you can contact them and interact.You are not left alone in the dark.The place is live and they really love what they do.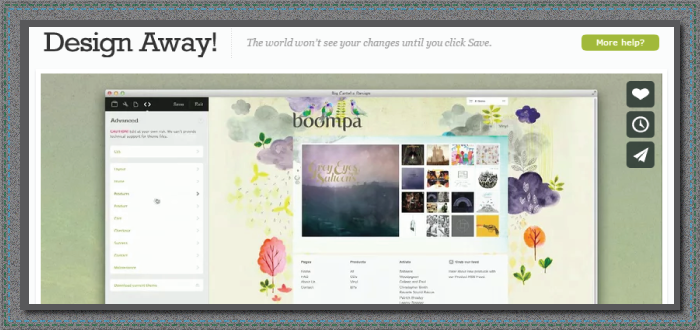 Can You Make Money With This System?
That depends on a lot of factors.They provide a decent network with automations and a nice outlook.The customisation settings can set you apart from your competition.It depends on you and how much are you willing to work.And the most important it depends on your artwork , its quality and your prices.The internet market is highly competitive but has a huge potential as well.
Other factors to be considered are your marketing skills.You can't just list your products and wait to sell just like that.Although Big Cartel is receiving online traffic that does not mean that people will be visiting your store.You have to work on that matter.You can promote your store through social media or even pay for advertising if you can afford it.If you have connections in the online world you will manage to sell a lot of products.
Of course if you are an artist it would not be wise to advertise your products only with one network.You can join Shopify , BigCommerce  and other online programs like Etsy , My Space or Pinterest.The more you appear online , the more chances for success.
""There is a product limitation on this network as we can clearly see on their payment plan diagram.You cannot list more than 300 products.Although 300 products is not a small number , artists that create stuff daily , soon they will exceed this number….and they mention it.They say that Big Cartel is designed for smaller shops , their platform can not serve companies with higher needs.""
This is a basic store builder option for e-commerce business.It is not an advanced platform.The stores are beautiful but they lack of some features.For example there is no search function inside a store.So your potential clients might get disappointed in cases they want to search your products quickly.
Pros & Cons
Pros
Free membership included (of course is limited)
Easy to use , customisation settings for creating something unique , attractive stores
Hosting , domain (premium members can set owned domain)
Friendly website , community , active blog
Mobile friendly stores , mobile app , can be linked with Facebook or owned websites
No limits on the payment plans (upgrades , downgrades , cancellations) at any time
Affordable prices , free membership to check out everything on your own
Secured SSL transactions via Paypal and Stripe
Analytics , tracking service , statistics (premium membership)
Cons
Limited features against the competition
No great variety of themes
Basic SEO settings
No live or phone support
No search function inside the stores
No detailed guide tour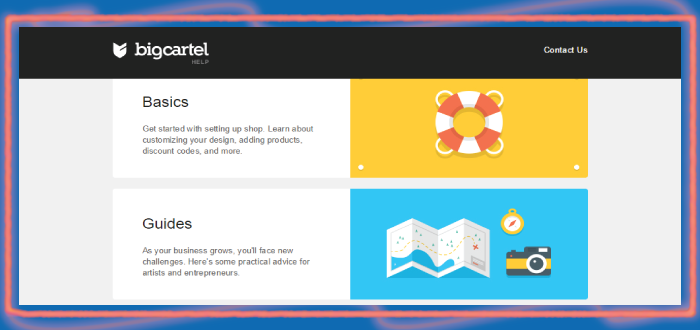 Conclusion
If you are an artist just starting out on e-commerce this might be a great place to get rolling.It does not have the glamour features of other e-commerce giants but is a friendly place to setup a store quickly.SEO is limited and therefore there is no advanced marketing section.With the extremely high online competition some basic marketing skills are required.Therefore you will need to master your social media expertise and create connections to promote your artwork.
I would suggest that you begin a marketing training in a parallel way if you want to sell your products.You can check my recommended platforms on that matter.
In overall is a legit online opportunity that you have to check it out.You can follow this link to access Big Cartel website.
I M P O R T A N T    N O T I C E : Beware though that I am recommending the free membership of Big Cartel , and that only.I am testing this platform for myself.My intention is to present a small portfolio of my wife's products.But that may take some time , because at the moment she has injured her back and has to fully recover.So…this project might be delayed.I will keep this post updated about my store's progress and the most critical of all about the payment procedures.
""I hope you enjoyed another review in Web Market Support.Feel free to contact me for any question in the comments area….

Do you have experience with this platform that you want to share with us?…If you are using Big Cartel I would like to know your opinion on their payments system….Is everything working like it should?….If you are not using Big Cartel which is your favourite e-commerce builder?""



Till my next review , your online partner

Another E-Commerce opportunity