Time To Thrive Challenge
Aug 02-06
In times of inflation and economic recession most people freeze, they do nothing at all!
But there are solutions and industries that are recession-proof and there is 1 industry that is growing exponentially even during these uncertain times, especially because of what is happening in the world, right now.
An industry with bigger margins, with huge demand, where you don't have to worry about supply, and you get to impact people's lives with what exists already inside you.
Your knowledge, passions, skills, expertise, experiences, what you've done, and what you know that can help others move faster, solve their problems, and improve their lives, that's the #1 asset you should be using right now.
A world-renowned 90-year-old investor icon says that one of the strongest protections against inflation is sharpening your skills and working to be at the top of your field.
Skills, unlike currency, are inflation-proof. If you have a skill that is in demand, it will remain in demand no matter what the dollar is worth.
Listen, no one is coming to save us. No one, so we need to invest in the only person that can help us, ourselves.
And I'm here to show you the way. You see, I'm part of this industry for 7+ years now.
It's the knowledge industry, the self-education industry, and it's one of the very few industries that are booming while our economy is not.
An amazing space where we get to help people at the highest level possible by sharing our experiences or other people's experiences as knowledge brokers.
It's an asset that never goes away, you don't have to warehouse it, you can sell it over and over again, and it doesn't cost you anything.
You just need to unlock it, organize it, present it, and deliver it so you can create massive success for yourself and your loved ones.
How magical is that?
And there's a process to help you get there, one that tens of thousands of people follow, it's proven, tested, and it will change your life once and for all.
Hi, I'm Tasos, a marketing consultant, founder of the marketing agency WebMarketSupport, creator of the "7 Ideals" methodology, and since 2014, I've helped hundreds of brands.
So, I want to invite you to take this journey with me as I'm filming this documentary.
I'll be pulling back the curtain on this amazing industry to show you that everything is possible, even during these tough economic times.
Open your eyes and your heart and see for yourself that this is not a daydream.
This is the new norm.
Live Documentary #1 – My First Digital Sale
So, here's how you can enter this amazing industry and thrive in 2022 and beyond.
There's a 5-day event it's a challenge, and it's your first step on a wonderful journey.
And it's organized by my friends Dean and Tony, Dean Graziosi and Tony Robbins, two of the most powerful and influential business leaders in the world, and it's a free event, not kinda free, absolutely free.
Now, mark your calendars, August 2 August 6, save the dates and show up live, don't take this lightly. This is the future of business and you'll get to learn from the best. Note it down, setup reminders, tell a friend to keep you accountable, and do what it takes to be there live, this is where the magic happens.
And this is why you should register for the free 5-day Time to Thrive Challenge.
Dean Graziosi – Are You Prepared For The New Economy?
Reason #1: it's happening only once. If you miss the dates, it's gone.
Reason #2: Last year's challenge was a monumental event where almost 1M people got together and immersed themselves in the knowledge industry, an event like no other. And this year, seats are filling even faster, and we're expecting way more people.
Reason #3: Dean and Tony, the hosts, the organizers, are actually responsible for the tremendous growth of this amazing industry, the knowledge industry. They changed the lives of hundreds of thousands of people, and they are coming back more devoted and stronger than ever before.
The Knowledge Industry Main Benefits
Reason #4: We have a powerhouse rockstar lineup. Every speaker, every guest has amazing stories to share. Stories that can help you realize the potential of this business model, and most importantly, can help you understand that ordinary, everyday people can enter this industry dynamically if there's a plan, a roadmap in place. Every speaker has started from scratch, from zero, me too. And you can do it too.
Let me share some names:
We have Russell Brunson – co-founder of ClickFunnels, Jenna Kutcher – wedding photographer expert and host of the Gold Digger podcast, Glo Atanmo – online educator and content creator in the travel space, Alex Hormozi – a serial entrepreneur and investor, Lisa Nichols – one of the world's most requested motivational speakers, Rachel Miller – a mom blogger who built an audience of millions, and more.
And we have a special guest, a mystery guest, who is an award-winning actor, and…I'll be revealing more information about him soon.
OK, his first name is Matthew.
The World Needs Your Story
Reason #5: This 5-day challenge is for everyone. No matter your business background, education, skills, or knowledge there are people waiting for your UNIQUE message, your story. They want your wisdom, not someone else's.
People had enough of impersonal brands, they need someone to understand their needs and feel their fears, they need an ordinary person that they can trust to show them the way to a better future.
That's YOU.
It doesn't matter where you are, where you live, or what you do, in this booming and phenomenal industry, there's room for all of us.
Reason #6: Dean, Tony, and their guests will be sharing a very powerful 5-step blueprint to help you jumpstart a new and exciting journey that can lead to your financial security.
And this blueprint is for those who not just want to survive in a world filled with uncertainty, but actually thrive.
Reason #7: When you register for free, not only will you get access to this epic 5-day event and get trained by the experts to enter this amazing industry in the most elegant way, but also Dean and Tony are donating a meal on your behalf through Feeding America.
So you register for free and someone in need is getting a meal, that's wonderful.
Reason #8: The size of this industry is enormous. First, let's talk numbers. Right now, self-education, the eLearning market accounts for $1 billion in revenue a day. It's projected to reach $1 trillion by 2028. That means it will be tripled in just 6 years.
Dean's students, everyday people like you and me, have built successful businesses in the most popular but also in the most obscure niches. The marketplace welcomed coaches and consultants like me, artists, practitioners, educators, course creators, book authors and writers, athletes and trainers, gardeners, developers, bloggers, and on and on and on.
The 5-step blueprint you're gonna learn during these 5 days works for any niche imaginable – like parenting, homeschooling, gardening, yoga, guitar learning, hairstyling, dog training, and anything in between, you name it.
Reason #9: I bet that you haven't reached the level of success you desire yet. If that's true, then this challenge is a must. Because this is not a time to settle, sit back, and watch what happens. Remember, no one is here to rescue you. If you play small, the window of opportunity will shut down and you will get left behind. But if you gain the right capabilities, now that the world needs you the most, you'll be well on your way to saying goodbye to this economic winter and playing a big game, one that you and your family deserve.
Reason #10: If you don't register for the free 5-day challenge, nothing is going to change. You'll sit back and watch thousands of people learning from the best and taking advantage of this vast opportunity and this is when you'll actually realize your mistake. Don't let that happen to you. Now is your time. If you want to better your life and business, you need to take action, massive action to take back control and gain momentum. And the event's organizers are here to give you enough fuel for a lifetime. This is an event by winners for winners.
Live Documentary #2 – Immersion
Live Documentary #3 – Mastermind
Statistics, growth in the last 4 years, people that fueled this growth, various case studies, the mastermind platform.
Part #4 coming soon, huge announcement at the end. How I can help you enter the amazing self-education industry in the most elegant way.
I gave you 10 reasons why you should join the Time to Thrive Challenge. And there are way more. I could talk all day long.
Let me ask you a question.
Are you ready for a new beginning?
This challenge is the perfect place to "restart".
If you're overwhelmed with too much info online, after the event, you'll be filled with clarity and direction.
If you're feeling lost, after the event, you'll feel confident about yourself.
If you're not where you want to be in life, after the event, you'll set new goals and you'll have a real action plan to implement in order to reach and surpass those goals.
If you're tired of not living up to your full potential, after the event, you'll be armed with a proven and tested system to take control of your impact and earning potential.
Sounds amazing?
So, let me show you what exactly you'll learn during these 5 life-changing days.
Each day is designed to walk you through the steps you must take to truly THRIVE in today's economy by selling what you know or reporting on other people's knowledge and expertise.
Day 1 is all about the opportunity, why this, why now, why you?
Day 2 is all about discovering what to sell and who to sell it to.
Day 3: you'll learn how to get people to say "YES" and pay you what you're worth.
Day 4 is all about building your audience.
Day 5 is all about implementation and taking massive action.
As I said, it's a challenge for winners designed by winners.
So the big question is this: are you ready to get challenged?
Live Documentary #4 – Project Next
The "7 Ideals" Story and Project Next:
The story of my "7 Ideals" methodology, people that I learned from, how I entered this amazing industry, how I scaled quickly, how I got here.
This is how you can replicate the same by joining the "Project Next 2022 Thrive Edition" movement, a community of over 50,000 students impacting the world with superior digital products and experiences.
If you want to learn from the best and make an impressive intro, this is the #1 solution, hands down.
You have Dean Graziosi and Tony Robbins, 2 of the most powerful business leaders that I know and a whole team of experts, countless bonuses, a community, support, training, help, guidance.
What else is included:
The "Immersion": The training program "Knowledge Business Blueprint" renamed into "Digital Product System" and " Project Next Education". A standalone training masterpiece to identify your area of expertise and knowledge, what you'll create to serve your people, the way to pick your ideal clients, how to create products, how to deliver them, how to use the Mastermind platform to connect with 1,000's of people worldwide, all potential clients, and so much more.
Plus
The "Repetition": The 6-week live masterclass with Dean Graziosi and guest educators to take your previous knowledge to a whole new level. This is where you are really getting immersed in this space. You need to experience the business model to realize what is happening and how beautiful this will get in the near future.
Plus
The "Implementation": Tons of training, access to the huge Mastermind library and the Inner Circle library of Dean Graziosi, another huge asset to skyrocket your performance and boost your business practices. And a platform to upload your digital products and get connected with 1,000's of daily visitors, potential clients, and start selling right away. Plus The "Mastery": Ticket to the Mastermind World Summit, an epic event to get at the "Master" level by joining forces with elite fellow business owners abiding by the same ethical principles.
Plus
The "7 Ideals" Methodology FULL-Access: This is how I can help you by giving you full access to my methodology and lifetime support.
EPIC BONUS
Never done that, I do that only for this specific industry, MY industry.
EPIC Bonus video tomorrow – examples of amazing products and experiences that you can create fast, cost-effectively, and having me guide you from day one.
Live Documentary #5 – Knowledge ID Framework
Enter the Self-Education Industry with "Project Next" & "7 Ideals"
How I'll be helping you enter the amazing knowledge industry fast and in the most elegant fashion.
What the "Project Next 2022 Thrive Edition" movement includes and how to combine it with my "7 Ideals" methodology.
How to enter the self-education industry without "Project Next".
All the documentary videos on this page.
To Get Your Bonuses
Please Signup For Project Next Using The Link Below
And Complete The Form
Dean Graziosi – The Secret Of The Grape
Why They Don't Teach Money At School
I can't even recall a lesson or subject related to money.
I mean nothing specific and in-depth knowledge. Only general theories, vague arguments, a veil of dust, and fog. Indistinct environment.
Even at the Business Administration University, the philosophy of the educational material is infused to students and drives them to get a job after their graduation.
Yes, business executives, but destined employees.
We had been taught how to manage and sustain businesses that belonged to others.
We had not been taught how to create wealth for ourselves and our families.
They wanted us to become employees, educated workers, slaves of the system.
Self-Education Is Becoming The New Norm
Some data and facts:
Giant companies like Google, Costco, WholeFoods, Starbucks, or Apple

 

don't ask for degrees or credentials.
The rise of platforms like

 

Udemy, Skillshare,

 

Coursera, CreativeLive, or Teachable where you can learn from others any topic, any subject, any profession, in detail.
The rise of training programs like those included in our

 

ELITE list. Programs created by industry leaders like Eben Pagan, Steve Olsher, Kevin Harrington, Jeff Walker, Dean Graziosi, and Tony Robbins, and so many more.
The new movement:
Ordinary people like you and I don't seek out professionals and college degrees.
They need skills they can use today in their business and life.
They seek advice from people that are active in their field and are successful.
They want to be part of a tribe, a community of like-minded entrepreneurs and students.
They need action and they need it now.
People are wondering…should I go back to college or stick with this job or let me go find somebody who's already done what I want to do and pay them to condense decades of knowledge into days.
It's no secret that the training landscape has changed dramatically over the past ten years as eLearning and mobile technologies have gone from early-adopter novelties to mainstream essentials.
In 2011, 77% of American Corporations were using online learning (in 1995 this number was only 4%)
The eLearning market is now more than 13 years old (the word "e-learning" was coined in 1998).
Self-study e-learning (asynchronous) is on the rise now accounting for 15 % of all training delivered.
American corporations using online learning in 2011
How old is the eLearning market in years
Self-study eLearning percentage in the market
According to Forbes, E-Learning is the future. Market research firm Global Industry Analysts projected "E Learning" would reach $107 Billion in 2015 and it did. Now, Research and Markets forecasts show triple the revenue of 2015 – e-learning will grow to $325 Billion by 2025.
That's nearly $1 billion a day. 
eLearning market's revenue by 2025 in billions of dollars
How The Knowledge Industry Helped Me Scale My Business
For many years now, I wanted to get in front of the camera and show up in the world. To explain what I do, my services, to share my message.
But I couldn't. I struggled, big time.
Why?
It happens that I'm Greek. 
I hate my English accent.
I hate my voice generally (when I hear it in recorded audio for example).  
I hate my presence in the mirror
I hate myself in photos and in videos recorded by others.
It all started last year when a new training program was launched in the market. One that meant to change not only me but the whole world. It turned the industry upside down. It broke records and quickly became a massive movement.
I'm talking about the Knowledge Business Blueprint. A masterclass created by Dean Graziosi, Tony Robbins, and Russell Brunson. All 3 are legends.
It's a step-by-step blueprint to help students extract their current knowledge or report on the knowledge other people have acquired, identify their best clients, and transform this knowledge into products and services that can be sold in the marketplace. Masterminds and workshops (virtual and in-person), live events.
Knowledge Broker: Definition, Opportunities, Options
A knowledge broker is using mainly information to create products and services that can be sold in the marketplace. Information products are very popular and people are always looking for new products to fulfill their ever-changing needs.
And although there's a huge amount of free information online, still, people are looking for speed, they need organized and specialized information about specific topics and subjects from sources they can trust. Also, this free information is found on millions of websites scattered. It's not organized.
And there's another problem. Not all information online is legit, and there are thousands of information producers that misdirect people.
People want to solve problems, overcome obstacles and challenges, and to improve their lives and businesses.
This is where a knowledge broker comes in, to help people find what they're looking for.
A knowledge broker can extract his own knowledge, skills, and expertise to create products and services. He doesn't have to be an expert on a field, but someone who is 2-3 steps above his target audience. 
Alternatively, a knowledge broker can use life experiences as his vehicle to organize and create information products and services. 
A knowledge broker can turn bad experiences, tough situations, and mess into a message. A message that attracts like-minded people who want to learn from someone that has been through what they deal with today.
A knowledge broker can report on other people's knowledge, skills, and expertise to create products and services.
A knowledge reporter collects valuable information from trusted sources to organize and transform this knowledge into products and services. 
He can also become a partner with other experts or other knowledge extractors or reporters as a part of a joint-venture.
He organizes, transforms, and delivers specialized knowledge in the form of products and services. He's a carrier, a transporter of knowledge and information.
An information carrier is an entrepreneur that explores and identifies "hot" market segments where people's needs are not fully met. He creates information products to fulfill these needs.
An information carrier is an expert or soon-to-be expert with a unique voice and a loyal fan base. 
A knowledge broker can also promote information products and services from other experts, brands, or individuals he trusts.
Who Can Become A Knowledge Broker
Anyone with a message

Anyone with experience in a field

People with skills, knowledge, and expertise

People that want to share their life experiences to help others move forward

People with a passion

People with a following

Anyone that wants to collect, organize, transform, and deliver information

Anyone that wants to promote information products and services from other people, experts, and brands

Marketers

Coaches

Authors

Speakers

Practitioners

Small business owners

Solopreneurs

Influencers

Experts
We are in the middle of a big problem right now. But the biggest breakthroughs in life are when a big problem is solved.
For example…no one knew it was a problem standing on the side of the road holding your hand up in the rain, trying to get a taxi, until Uber came along and transformed the industry.
It's the same here. The education system is broken. That's a huge problem. We hope it repairs but it's not right now. Everyone knows that Universities and colleges are going down.
The famous management guru, Peter Drucker, in 1997 predicted…
Universities won't survive. the future is outside the traditional campus, outside the traditional classroom. Distance learning is coming on fast.
Universities provide generalized knowledge when in fact, people are looking for specialized knowledge.
Tell me about it. Here's my university story.
More Reasons:
Right now, Millenials have $1.5 trillion worth of debt.
The knowledge industry is a $129 billion industry.
$4,108 spent every second, $246,000 spent every minute, $14M spent every hour, $355M spent every day.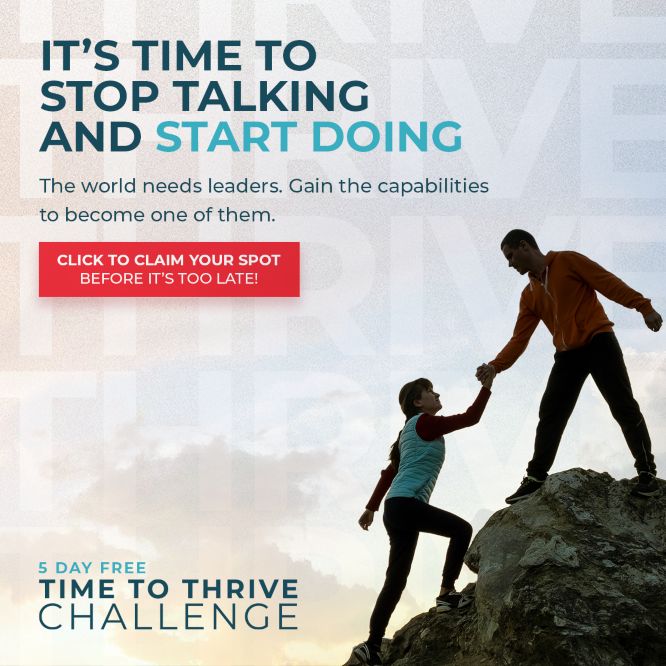 Types Of Products And Services
There are hundreds of opportunities and different products to be made and thousands of niches, markets, and problems to be solved.
eBooks, physical books, audiobooks
Webinars, seminars, presentations
Workshops online or in-person
Videos
Podcasts and audios
Other multimedia
Reports
Paid newsletters
Online courses and training
Website memberships
Coaching services (online or in-person, or even group sessions)
Consulting
Speaking
Live events
Masterminds
What Else A Knowledge Broker Needs To Be Successful?
It's important to have the mindset of an entrepreneur.
A knowledge broker needs to be motivated, inspired to take action, and lead others.
He needs marketing skills (as with every business) to perform market and competition research, to identify "hot" market segments and untapped opportunities, spot and track his ideal clients, and attract them. To organize product launches, to create anticipation, and to be able to convert his leads into paying customers.
He needs an advertising budget or knowledge to reach his ideal clients effectively with the least amount of time and money.
Experience in sales can be proved extremely valuable as well to overcome objections, follow up with leads, and close deals.
He also needs a strong online presence even if he only plans to work offline.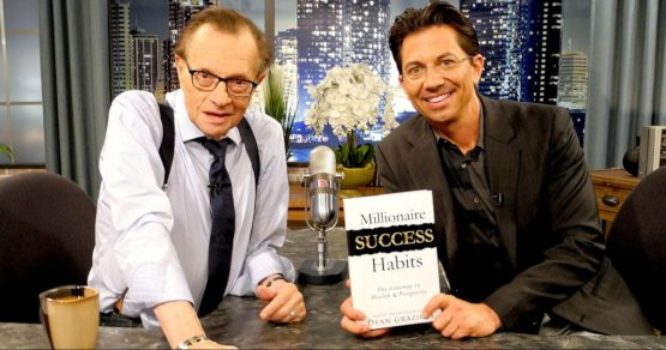 A Rockstar Powerhouse Lineup
Dean Graziosi:
He's one of the most respected entrepreneurs of our generation. With a billion dollars in sales to his name, Dean is paid tens of thousands of dollars for just hours of his time.
Dean wants to make self-education the new norm in this information age.
He is the creator and founder of Motor Millions and Think A Little Different, both of which are successful business-opportunity infomercials that teach people how to make money with cars and real estate. He has been on TV every day since 1999 and has shipped a total of over one million manuals, tapes, and videos. He lives in Scottsdale, Arizona.
According to his official biography:
Dean Graziosi knows how to create success. From extremely humble beginnings Dean started with a firewood business in high school, to a collision repair shop and his first real estate deal before the age of 20. From there he went on to create a multimillion-dollar real estate business, became a Multiple NY Times best-selling Author, 16 years every day on TV and is one of the most watched real estate and success trainers of our generation. Dean maximized the success and profits in each of these endeavors along with his evolution and his businesses and brand have generated nearly $1 Billion Dollars in revenue. Dean is obsessed with sharing the Success Habits learned along this journey with the world.
He's also the
author
of books like:
Millionaire Success Habits
Totally Fulfilled
30 days to real estate cash
Be a real estate millionaire
He's also
 the 
creator
of courses like:
Real estate profits from home 
Underground millionaire mastermind
The DG inner circle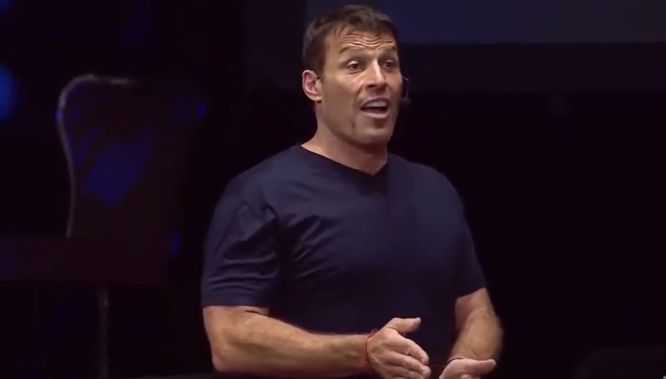 Tony Robbins:
Tony is one of the world's most sought after success coaches and educators – filling arenas with hundreds of thousands of people annually while changing millions of lives. 
He is an American best-selling author, entrepreneur, philanthropist, life coach, and the nation's #1 life and business strategist. Robbins is known for his infomercials, seminars, and self-help books including Unlimited Power and Awaken the Giant Within. In 2015 and 2016 Robbins was listed on the Worth Magazine Power 100 list.
He has dedicated his life to helping people discover their true purpose and leverage their unique gifts to achieve massive success – to make their life a true masterpiece. If you're feeling stuck, or unsure of your next step, Tony will lead you to clarity, focus, and action.
Mr. Robbins has empowered more than 50 million people from 100 countries through his audio, video, and life training programs.  He created the #1 personal and professional development program of all time, and more than 4 million people have attended his live seminars.
He is the chairman of a holding company comprised of 40 privately held businesses with combined sales exceeding $5 billion a year. He has been honored by Accenture as one of the "Top 50 Business Intellectuals in the World"; by Harvard Business Press as one of the "Top 200 Business Gurus"; and by American Express as one of the "Top Six Business Leaders in the World" to coach its entrepreneurial clients. Fortune's recent cover article named him the "CEO Whisperer," and he has been named in the top 50 of Worth Magazine's 100 most powerful people in global finance for three consecutive years.
Russell Brunson:
Over the past 10 years, Russell has built a following of over a million entrepreneurs, sold hundreds of thousands of copies of his books, popularized the concept of sales funnels, and co-founded a software company called ClickFunnels that helps tens of thousands of entrepreneurs quickly get their message out to the marketplace.
He's been featured on Forbes, Entrepreneur, The Huffington Post, and other similar channels.
In college, Russell had his first success as an online marketer selling potato gun DVDs. This small business hobby became an obsession and launched Russell into the world of Internet Marketing, where he quickly became one of the top marketing minds in the world. Within a year of graduating college, he'd made his first million dollars selling his products.
He's also the author of books like:
DotCom Secrets

Expert Secrets

Funnelhacker Cookbook
Matthew McConaughey:
is an American actor. He had his breakout role with a supporting performance in the coming-of-age comedy Dazed and Confused (1993). After a number of supporting roles, his first success as a leading man came in the legal drama A Time to Kill (1996). His career progressed with lead roles in the science fiction film Contact (1997), the historical drama Amistad (1997), and the war film U-571 (2000).
In the 2000s, McConaughey became known for starring in romantic comedies including The Wedding Planner (2001), How to Lose a Guy in 10 Days (2003), Failure to Launch (2006), Fool's Gold (2008), and Ghosts of Girlfriends Past (2009), establishing him as a sex symbol. In 2011, after a two-year hiatus from film acting, McConaughey began to appear in more dramatic roles beginning including the legal drama The Lincoln Lawyer, the dark comedy Bernie, and the crime film Killer Joe. In 2012, he gained wider praise for his roles as a stripper in Magic Mike and a fugitive in Mud.
McConaughey's portrayal of Ron Woodroof, a cowboy diagnosed with AIDS, in the biopic Dallas Buyers Club (2013) earned him widespread praise and numerous accolades, including the Academy Award for Best Actor. He followed it with a supporting role in The Wolf of Wall Street (2013), and a starring role as Rust Cohle in the first season of HBO's crime anthology series True Detective (2014), for which he was nominated for the Primetime Emmy Award for Outstanding Lead Actor in a Drama Series. His film roles earned him varying degrees of commercial and critical success, with his most notable releases being Interstellar (2014) and The Gentlemen (2019), as well as voice work in Kubo and the Two Strings (2016), Sing (2016) and its sequel Sing 2 (2021).
Greenlights: Your Journal, Your Journey is a guided companion to the #1 New York Times bestselling memoir Greenlights, filled with prompts, pithy quotes, adages, outlaw wisdom, and advice on how to live with greater satisfaction. Matthew has been writing in journals since he was fifteen years old.

Tasos Perte Tzortzis
Business Organisation & Administration, Marketing Consultant, Creator of the "7 Ideals" Methodology
Although doing traditional business offline since 1992, I fell in love with online marketing in late 2014 and have helped hundreds of brands sell more of their products and services. Founder of WebMarketSupport, Muvimag, Summer Dream.
Reading, arts, science, chess, coffee, tea, swimming, Audi, and family comes first.
Some of the links on this page are affiliate links. For more information, I refer you to the disclaimer page