Awesome news today!
Aurelian Amacker, the founder of Systeme.io, released a brand new training program for those who want to enhance their copywriting skills and grow their businesses.
Systeme is a platform for business owners, marketers, and other professionals.
You can build sales funnels, automate your email marketing, sell products and services, do dropshipping, launch a blog, run webinars, run affiliate programs, and build online courses to sell them. A platform to automate big parts of your online business.
You can watch the first video of the new course (the introduction) for free.
It's a special invitation that won't last long. 
Systeme.io – Aurelian Amacker
Copywriting Masterclass | How To Write Copy That Sells Review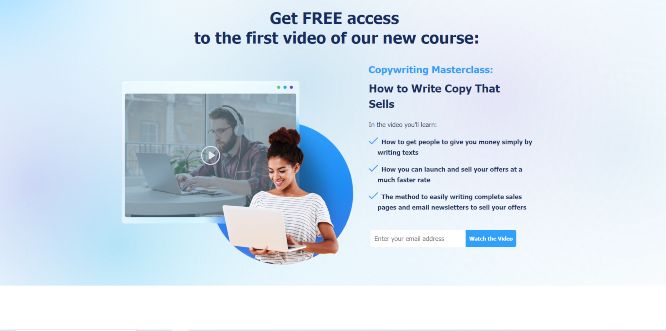 The main promise is this: how to write copy that sells. You'll learn:
How to get people to give you money by simply writing texts
How you can launch and sells your offers at a much faster rate
The method to easily writing complete sales pages and email newsletters to sell your offers
Business owners
Marketers
Bloggers
Website owners
Video channel owners
Coaches
Consultants
Info-product creators
Those that want to influence people's decisions
Anyone that wants to share their message with the world
Aurelian was teaching internet marketing and although this business was doing well, he had big dreams.
He wanted to create software to automate his marketing business and with the help of a freelance developer, the French marketer was able to bootstrap a SaaS company in an extremely crowded market with competitors like ClickFunnels, GrooveFunnels, many email automation platforms, and a huge number of advertising/affiliate networks to over $200,000/month in revenue.
Since then, Systeme is only growing.
The first video discusses the opportunity that is based on writing copy that actually propels people to take action.
It's all about influencing their decisions and driving them to take action right away.
When we build landing pages, you need to write copy, but most marketers don't know where to start. This happens because they did not study copywriting, ever. And that's a huge mistake.
Now Aurelian shares a story.
He started blogging in 2010 to make a living online. In the summer of 2011, he was preparing the launch of an online course called "how to build a profitable blog in 31 days". There, he was teaching everything he knew about blogging, building an email list, making money with advertising, and affiliate programs. 
He started studying copywriting in order to build effective landing pages. 
The launch of his course went off the charts and he made around $10,000. 
Building the sales page was not an easy task for Aurelian. 
First, you need to be clear on your goals. When you try to sell a product or service, what is your end goal? For example, do you want to sell 15 units in one week?
Write down your goals and when the promotional period is over, you can compare your results to your goals. 
Aurelian addresses one misconception here. 
Long sales pages don't convert. 
But Aurelian always responds that you can expect conversions between 1% and 5%. And these conversion rates are not bad. Think about it for a while.
When you build a sales page, and it converts even at 1%, it will bring you revenue for years. You do the work once, and you get paid multiple times. 
The first course that Aurelian created, was bringing in revenue for years, $2,000 and $3,000 per month is good money. He made a total of $200,000 out of that course, out of this one landing page. 
All the sales pages have the potential to convert well, both short pages and long ones. 
One thing is for sure. 
If you make the sales page long, you need to make it captivating, don't make it boring. 
And you can do that easily by sharing a story. 
And this is what this copywriting course is all about. To give you the framework to tell effective stories that people resonate with. 
Each line has one goal, to make people read the next line. 
Only sell products that provide real benefits for consumers. 
If a product is designed to relieve an urgent pain, it's easier to write copy for this product. 
Another mistake people make is that they try to sell a product by providing multiple offers on the same page. 
But psychology has defined that the more offers people are getting exposed to, the fewer decisions they make.
Aurelian suggests that you should launch your offers separately, in different time periods. 
First, launch your most expensive offers to take advantage of the most motivated buyers, and then, at another time, launch another less expensive offer. 
Always create 1 offer only. 
In this course, Aurelian shares his copywriting formula. a formula he had been refining for years.
You'll also be able to write copy for videos and emails, blog posts, and advertisements, presentations, any marketing message at all. 
Aurelian will walk you through the research phase and the writing phase as well. 
Aurelian provided an insane discount and the training program costs only $7 instead of $497.
What you get:
Introduction – the method to writing high-converting copy
Step #1 – conducting research and planning to succeed
Step #2 – writing your sales page and getting it done
Conclusion
Resources
Bonus #1: a cheat sheet to help you write effective sales pages quickly
Bonus #2: a survey template to literally read the minds of your customers
Bonus #3: a sales page template that you can simply fill in with your own offer's copy (the template is structured according to Aurelian's proven method)
Bonus #4:  a fully-stocked Launch Kit to launch and promote your digital products (2 funnels and 2 email sequences)
30-day satisfaction guarantee
Copywriting is essential to get people's attention and drive them to take the desired action, no matter what this is, filling up a form, buying a product or service, giving away their email address.
Aurelian is the founder of a software company and a platform that took the world by storm and has vast experience in marketing and copywriting. 
If you need a course that is easy to understand and implement and that it gets results, look no further. 
Aurelian uses ethical and effective strategies and methods that simply work.
That's why he was able to compete with software companies like ClickFunnels and other major affiliate networks in such a competitive landscape.
All Aurelian's courses and training programs are a guarantee.
I want to compliment your decision to invest in the copywriting course by Systeme.
That's why I'm offering one double bonus:
We'll write the copy for your first sales page together. We'll be testing it out and we'll be making improvements as we drive traffic to increase our conversion rates.
One private training session on Zoom  (1-hour long) to help you identify and reach your target audience online using my "7 Ideals" methodology.
To Get Your Bonuses
Please Signup For The Copywriting Course Using The Link Below
And Complete The Form
That's it, another article has finished, here on Web Market Support. I am waiting for your comments and thoughts. Till next time.
Tasos Perte Tzortzis
Marketing Consultant, Creator of the "7 Ideals" Methodology
Although doing traditional business offline since 1992, I fell in love with online marketing in late 2014 and have helped hundreds of brands sell more of their products and services. Founder of WebMarketSupport, Muvimag, SummerDream.
I enjoy reading, arts, science, chess, coffee, tea, swimming, Audi, and playing with my kids.
Some of the links on this page are affiliate links. For more information, I refer you to the disclaimer page.