WEBSITE DEVELOPMENT
WMS develops beautiful and professional websites using the Elegant Themes WordPress toolkit. Choose the style that best suits your needs and your brand will get the attention it deserves
WMS + Elegant Themes
Elegant Themes is a leader in WordPress theme and plugin development for the past 10 years. Their products are always being updated, improved and maintained
80+ Premium Themes to Choose From
Solutions For Every Industry, Profession, and Niche
Divi has quickly become one of the most popular WordPress themes in the world. Powered by the Divi Builder's drag and drop interface, Divi is the absolute revolutionary product. Web Market Support uses the DIVI Layout
A modern and sophisticated theme ideal for artists. 

Gleam was built to dazzle. Flashy effects and smooth ajax loading techniques, this theme creates a truly unique experience that is sure to grab your visitor's attention.
An ideal theme for magazines, eCommerce stores, blogs, portfolios, online publications.
Fashion, nature, entertainment, technology, travel. 

Nexus is a versatile magazine theme packed full of custom widgets and content modules that give you control over your page. Nexus takes massive amounts of content and presents them in a clear and structured manner.
StyleShop is a sleek and powerful eCommerce WordPress Theme that provides all the tools you need to launch a successful online store. The design is beautiful and responsive, and includes a unique mobile layout that makes browsing your website on a breeze no matter what device you are using!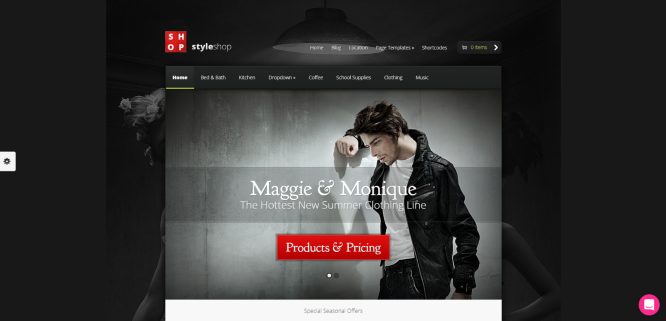 E

xplorable is a location-based theme that pins your posts on a map. Listings become part of a journey and exploring your website has never been so fun. A great tool for building travel blogs, local business directories, travel guides and more. Combined with user star ratings, a full-fledged blog, and a fully responsive design; the possibilities are endless!
Full Catalog of Themes & Plugins
With the Divi Builder Anything is Possible
Like Painting a Masterpiece
With the Divi Builder, You Won't Need Extra Plugins that Slow Down Your Site. Add anything in seconds, no coding required. Extend the features and capabilities of your site to the maximum.
Bar counters, Number Counters, Circle Counters
Project Portfolio, Filtered Portfolio
Login Form, Contact Form, Newsletter Signup
Person, Testimonial, Comments
Menu, Widget Area. Header, Sections, Divider, Slider, Blog, Post Title, Post Slider, Post Navigation, Sidebar
Video, Video Slider, Audio Player
FULLY CUSTOMIZABLE BLURBS

Companies that WMS helped them sell more products, acquire leads and referrals
Keywords on the 1st page of Google in the most competitive industry
"With the WMS services, I was able to connect effectively with over 10 brands and closed high-paying contracts on the spot"
DIVIDER + TEXT + BLURB + TOGGLE
Do you use a clear language that customers are looking for?
Customers should realize WHY they need your products
Are you triggering people's emotions?
Are your products helping people move towards their ambitions?
Read More
Millions of Dollars Spent on Ads that Don't Bring Results
Of course, companies need to get advertised in order to get found by customers and sell their products. But the majority of marketing campaigns are a waste of time and money as they are not focused on human psychology.
Most of the marketing campaigns are simple descriptions of the product or service. This is not effective marketing. But there are certain marketing messages that work!
Effective Advertising
Marketing has changed dramatically and continues to change faster than ever before. Beautiful websites don't produce sales anymore. WORDS do. Not just any words, though.
Marketing campaigns that bring results need to meet these criteria:
A clear language so customers understand fast what the offer is all about
The message should trigger people's emotions and help them understand WHY they need your products
The products and services should be positioned as an aid in helping people achieve an aspirational identity
The most effective way to get people's attention, trigger their emotions, and call them to action is through storytelling.
PARALLAX EFFECT + 2 COLUMNS
Invite Your Customers Into a Compelling Story
Beautiful websites don't sell things. WORDS sell things. And the key to success is the WAY you talk about your products and services.
The most effective approach to presenting your products is through storytelling. Story is a sense-making device
Why Choose WMS and Elegant Themes?

Modern Design Focused on User Experience
With the Elegant Themes toolkit, you know customers are going to engage with your message and offers. And when customers feel great, they become promoters of your brand
Constant Improvement, Maintenance
As your business is growing, new features, enhancements, and improvements will be needed. WMS will ensure the best of performance
Targeted Traffic/Strong Online Presence
Without traffic, you have no eyes on your products and services. WMS will help you build a strong online presence and acquire targeted traffic using the INBOUND methodology. Keyword Research, SEO, Content Creation & Distribution, Lead Generation, Email Marketing, Social Media Marketing and more… 

Marketing Material that Works
You won't just get a beautiful and modern website. WMS helped hundreds of companies sell more of their products and services for the last 3+ years. WMS will give you a language to connect with customers, interact with them on a personal level, and be remembered

A Unique and Compelling Story for Your Brand
WMS will craft a unique and intriguing story for your brand based on storytelling frameworks, copywriting techniques, and human psychology.
ELEGANT THEMES is a LEADER
Half a Million Happy Customers Can't Be Wrong
Elegant Themes is a leader in WordPress theme and plugin development for the past 10 years. Their products are always being updated, improved and maintained
80+ premium themes to choose from, 5  plugins
Visual drag & drop building
Practical & Elegant Websites with Professional Outlook that help customers understand your offers
Sites focused on UX (user experience)
Animation, Transitions, Visual Filters, Effects, Shadow, Borders
Mobile-friendly and responsive
Customized outlook for every device (desktop, laptop, tablet, smartphone)
Email opt-in and lead generation via the Bloom plugin
Social media sharing via the Monarch plugin
ADDITIONAL FEATURES INCLUDED
Elegant Plugins
Lead Generation
Gain More Email Subscribers with Bloom, Convert Visitors Into Loyal Followers
Pick From 6 Different Display Types
Different websites, pages, and posts may require different targeting configurations. That's why Bloom included a large selection of opt-in types and locations that can be used anywhere on your website
Automatic Opt-In Pop-Up. Triggered by time delays, when a user reaches the bottom of a post or page, or even after they comment or purchase.
Automatic Opt-in Fly-ins. Triggered by user interaction such as timed delays or at the end of a page.
Inline Opt-in Forms. Sometimes there is a need for a more location-specific approach than you can get with a global pop-up or fly-in. That's where inline opt-in forms come in. 
Below Content Opt-in Forms. Perfect for blog posts and content-heavy pages, Bloom allows you to automatically place opt-in forms below your post or page content, capturing the attention of your most engaged readers without upsetting their reading experience.
Widget Area Opt-in Forms. Sidebars and footers are great places to add an opt-in box. Create as many widgets as you like.
Require Opt-in to Unlock Content. Requiring users to subscribe to your lists before gaining access to premium content is a great way to increase your subscriber count. Bloom can act as a pay-wall between your free resources and your visitors, quickly turning traffic into loyal followers.
Setting up and managing your Bloom settings is anything but complicated. Bloom created a custom panel in the WordPress dashboard for easy and intuitive access to you Bloom accounts, lists, opt-ins, conversion rates, and data.
Increase Conversions With A/B Testing
Add, Modify, and Track Accounts
Conversion and Email List Statistics
Import and Export Bloom Data
16 Email Marketing Integrations
Bloom gives you the power to display opt-in forms using integrations of the most popular email marketing systems available. Bloom seamlessly obtains information about all of your lists and subscriber counts.
Elegant Plugins
Social Sharing
Beautiful Buttons That People Enjoy
Monarch is The Best Social Media Sharing Plugin For WordPress
Over 35 social networks to choose from
Add sharing buttons in 5 different locations
6 automatic Pop-Up & Fly-In Triggers
Clean, Fully Customizable Design
Solutions For Every Industry, Profession, and Niche
ADDITIONAL &
COMPLIMENTARY SERVICES
WEBSITE HOSTING & MAINTENANCE
Let WMS take care of the tech stuff so you can focus on business growth
Let WMS take care of your website's hosting and maintenance and take advantage of these powerful features
Free SSL (HTTPS – secured website). Serve your website over 256-bit Encrypted Connections and do it for FREE! Encryption is favored by search engines and keeps visitor data safe
High-speed performace. Proprietary Technology to speed up your WordPress Website without plugins or clunky software
Protection against hacking, malware, and bot-net attacks
Spam Blocker. The protection happens at the server level and blocks ALL automated comment spam before it even hits your site. No need for extra plugins that slow down sites
Site Health monitoring, management, maintenance, backups
500K visitors/month bandwidth
Solutions For Every Industry, Profession, and Niche
The Website Development Services are flexible and work for brands, solo entrepreneurs, and even people that don't have anything to sell in the marketplace
A Premium Theme of Elegant Themes (choose between 80+ designs)
Landing Pages (products, services, shop, store, sales pages)
Help, Contact, Support, FAQ, Resources, Sitemap
Galleries, Infographics, Statistics, Charts
Legal Pages (terms & conditions, privacy policy, cookie policy, GDPR, disclaimer, credits)
Lead Generation (Bloom plugin of Elegant Themes)
Social Sharing (Monarch plugin of Elegant Themes)
WEBSITE DEVELOPMENT PLANS
*Choose one of the premade plans below or fill in the form for a customized plan
Basic
Website Development Only
Homepage

1 Landing Page (products & services, store, shop)

About page

Team page

Blog page

Help page

Contact Page

Support page

FAQ page

All legal pages 

(terms & conditions, privacy policy, cookie policy, GDPR, disclaimer, credits)
Premium
Website Development + Copywriting
All the features of the Basic Plan

PLUS
A Compelling and Unique Story for Your Brand (a strong language that sells)
PLUS

1 Extra Landing Page

Sitemap

Gallery page

PLUS

LinkedIn profile
You Fill Out the Form Below
WMS Carefully Creates a First Custom Marketing Plan & Website Design Proposal
You Choose the Best Option For Your Needs
We Execute the New and Improved Plan Together
Marketing Plan and Website Design Proposal