I came across a very promising marketplace a while ago. A UK-based platform that is showing signs of tremendous growth.
A place where you can find millions of products in a variety of industries from thousands of sellers around the world. The majority of vendors are British but the company has plans to expand globally in the next years.
OnBuy is being discussed on a plethora of online channels, forums, and review sites and people want to know more. Whether it is a legit site and if they can sell their products effectively.
Can it compete with Amazon and the other giant marketplaces?
In this review, we're going to discuss what to expect, the company's background and history, the product categories, product tags, traffic and related statistics, popular brands in their catalog, how selling products works, the selling fees, account packages, pricing plans, integrations, upcoming services, their partners, how to get help and support, blog examples, careers, the news, and the company's funding.
Additionally, we'll examine all the related online reviews and discussions on other properties and I'll give you a detailed overall rating score based on all the reviews I could find so you can decide on your own with confidence.
Let's dive right in!
Main slogans:
The UK's most trusted marketplace  – you're in safe hands, we come well-recommended
The world's fastest-growing marketplace
We launched in November 2016 and are now the fastest-growing marketplace in the world.
Since launching in 2016, we've welcomed sellers of all sizes on board, from household names to smaller independent retailers. By making a fairer platform for sellers, they work with us to offer you a wider product range than other marketplaces. With our competitive fees, they can price better too – all so we can bring you the best products, prices and service possible.
Headquarters in Dorset.
Statistics: 
30,000,000+ products
8,000,000+ buyers
6,000+ sellers
6x year-on-year growth
Cas Paton: founder & CEO
Jason: head of operations
Daniel: head of development
Shawn: front-end
Richard: senior developer
John: eCommerce
Philippa: head of communications
Timeline: 
November 2016: launch
July 2017: first national TV campaign
July 2018: a partnership with PayPal
February 2019: #1 Uk-founded marketplace
2020: global marketplace in 140 countries
2020: mobile app
Upcoming (2023): become a global top 10 marketplace
RWB marketplace awards 2020 winner.
Browse: 

Find an item and compare price, delivery cost, delivery times, seller reviews, and warranty

Buy: 

Payments are securely processed by PayPal and eligible orders are backed up by Buyer Protection

Enjoy
Review: 

By reviewing your order, you'll be entered into their monthly prize draw!
Low prices and even more savings with OnBuy deals
A huge amount of choices with over 30M+ products
Simple, secure checkout powered by PayPal
PayPal buyer protection on eligible orders
Only verified reviews for genuine orders
Support a UK business that pays its fair share of tax
Where are OnBuy sellers based?
The vast majority of OnBuy sellers are based in the UK. We do allow some sellers outside the UK and EU to join as long as certain conditions are met. You can see a seller's address from their storefront – just click their name on the product page.
Why can I buy the same product at different prices?
It's a marketplace that operates a catalogue system. A product is created then a variety of sellers can come and list it. This means the price and delivery cost can vary from seller to seller.
Is OnBuy the same as Amazon?
Yes and no! The way the site works for sellers is similar to Amazon, but as a buyer, it's a world apart. We don't sell anything ourselves, so you'll always see the best deal in the lead listing box rather than something we're selling. We've structured our website to be as clear and informative as possible, to make buying simple and straightforward.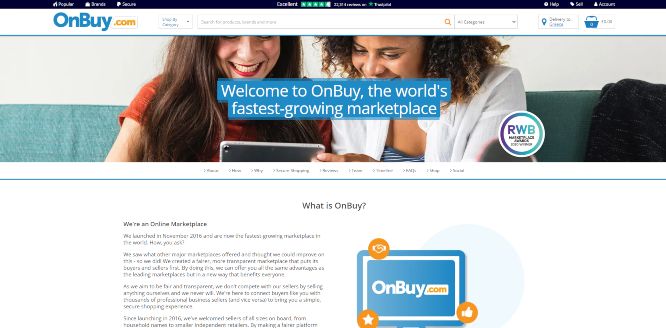 Arts, crafts & sewing
Baby & toddler
Books
Business, office & industrial
Cars & automotive
Clothing, shoes & accessories
Collectables & memorqabilia
Electronics & technology
Food & drink
Health & beauty
Home, garden & pets
Jewelry & watches
Movies, videos games & music
Musical instruments & DJ
Refurbished electronics
Sports & outdoors
Tools & DIY
Toys & games
Collections
Deal: 

the best offers from our sellers exclusively for OnBuy customers

Popular: popular products
Price: great price compared to other websites
The most popular brands on OnBuy
Apple
HomeDiscount
Cards Against Humanity
Asmodee
Samsung
Calvin Klein
Wella
The Magic Toy Shop
Charles Jacobs
Sony
Microsoft
Comfy-Living
Oypla Business
Tower
URBN Living
Lego
Playmobil
Whiskas
Gucci
and so much more.
Competitive selling frees: 

You can price lower and attract more buyers – without losing profit.

Get paid immediately: 

Mark an item as dispatched, get paid by PayPal straight away. It's that simple.

Subscription waiver guarantee: 

We give you time to integrate and list your products without being charged a recurring subscription fee until your sales pick up.

PayPal seller protection: 

Sell with peace of mind that eligible orders are covered for 180 days by PayPal Seller Protection.

We don't compete with sellers: 

We don't sell anything – our efforts are focused on promoting 

your

 products.

Dedicated UK-based support team: 

You'll get a personal account manager and our friendly Support Team at your fingertips.

Transparent fee guarantee: Our fees are as fair and transparent as we are: all of our sellers, no matter their size or volume, pay the same fees.
We offer global opportunity: 

Grow your business alongside us as we scale up into 42 additional countries worldwide in 2020, with over 100 more to come by 2023.
No listing fees.
All you'll pay is OnBuy's sales fees (plus VAT where applicable) plus PayPal's payment fees.
5-9% sales fee.
1.9-3.4% payment fee.
Standard: product marketing, unlimited listings, seller support, PayPal seller protection, integration access. £19/mo excl. VAT. Plus £500 sales guarantee. *Pay your first month's subscription fee of £19. For any month you make under £500 in sales, OnBuy will waive the next month's subscription fee.
Partner: product marketing, unlimited listings, seller support, PayPal seller protection, integration access, improved search ranking, lead listing authority, priority support. £39/mo excl. VAT. 
How it works:
Register
Upload
Sell
Earn
They use a catalogue system, so multiple sellers may sell the same product. Products can be listed using their unique GS1 barcodes, however there are a few exceptions and prohibited products.
You can create products manually, use their templates, integrate with a channel.
Integrations – examples:
OnBuy API
CSV
247 Commerce
Channel Advisor
Cloud Commerce Pro
See all the integrations.
Additional marketing with Boost:
As an OnBuy seller, you can benefit from additional marketing. They offer a Boost service that enables you to achieve greater visibility for your listings, both on and off OnBuy.
Instantly increased visibility

You only pay for what sells

You're in complete control

Improve your product rank
Upcoming services:
OnBuy Fulfillment Network: When launched, their fully-fledged fulfillment network will help you put your products in more buyers' hands.
Channels system partners examples:
DespatchCloud
LinnWorks
MintSoft
OnePatchParcel2Go
Fulfillment network partners examples:
Bezos
DHL
DMS Matrix
ecomHub
FedEx
Delivery solutions partners examples:
ParcelHub
ReturnHelper
SendCloud
ShipTheory
SmartFreight
Financial services partners: 
Avalara
Avask
HelloTax
SimplyVat
Seller consultancy partners:
InterCulturalElements
Muloot
RichInsight
Tambo
Other partners:
The help page includes a knowledgebase and guides:
Order inquiries
Product & general inquiries
Delivery information
Returns & exchanges
Payment information
Account information
Cover genius
The contact page helps you navigate through the various options:
Order inquiry
Seller inquiry
Contact us
Report a product violation
Marketing & promotion
Other
Examples of articles:
Love in lockdown – 10 ways to celebrate Valentine's day this year
Naughty but nice recipes to try this world nutella day
What your face mask says about you
Why and how you should diversify your product range
The top 10 biggest celebrity fashion influencers
Weird and wonderful – the strangest sex toys you can buy in 2021
Current career opportunities:
Web content writer/copywriter: 2 positions available, full-time, listed on Sep 01, 2020, closes on June 30, 2021.
Online Reviews
Ratings & Discussions
FINAL RATINGS CALCULATION
4.6 stars out of 5

92%

92%
1.1 stars out of 5

22%

22%
4.2 stars out of 10

42%

42%
4.9 stars out of 5

98%

98%
3.5 stars out of 5

70%

70%
Traffic and Related Statistics/Domain
Alexa:
Rank 90-day trend (site's popularity): #26,736 in global internet engagement
3:38 daily time on site
Country rank (UK): #1,311
Most visited by countries: UK, USA, India
Daily pageviews per visitor: 3
Bounce rate: 49.4%
Total sites linking to: 70
SimilarWeb:
Global rank worldwide: 10,451
Country rank (UK): 426
Category rank (eCommerce and shopping): 17
Total visits: 6.86M
Average visit duration: 2:24
Pages per visit: 2.14
Bounce rate: 71.93%
Most visited by countries: UK, USA, Ireland, Sweden, Poland
Domain:
Registrar: GoDaddy
Registered on: June 06, 2005
Expires on: June 06, 2023
Registrant Organization: Visor Commerce Ltd
Registrant State/Province: Dorset
Registrant Country: UK
Pricing Plans For Sellers
Standard
Product marketing

Unlimited listings

Seller support

PayPal seller protection

Integration access.

Plus £500 sales guarantee

*Pay your first month's subscription fee of £19. For any month you make under £500 in sales, OnBuy will waive the next month's subscription fee.
Partner
Product marketing

Unlimited listings

Seller support

PayPal seller protection

Integration access

Improved search ranking

Lead listing authority

Priority support
OnBuy Saves Teddy Rocks Festival With Two-Year Sponsorship:
The marketplace has committed to a new two-year headline sponsorship of music festival Teddy Rocks, creating a much-needed financial lifeline after the event was forced to postpone this year's festival due to Covid-19. Teddy Rocks Festival raises money for children's cancer charity, Teddy20.
This new sponsorship deal means that OnBuy will have donated a total of £120,000 to the event since first sponsoring the festival in 2018.
800% Sales Growth In January Puts OnBuy In Strong Position To Launch Series B Funding Round:
OnBuy.com has reported a record-breaking start to 2021, confirming that it has seen 800% year on year growth so far in January, beating last year's sales figures in the first three days of the year. This growth announcement comes as founder and CEO, Cas Paton, prepares to launch Series B funding round.
This growth for the marketplace, which is on a mission to revolutionise the eCommerce sector by providing a fair, transparent and ethical marketplace that benefits buyers and sellers, follows an exceptionally successful 2020 which saw OnBuy achieve 605% year to date growth, further highlighting the unmatched upward trajectory of the business.
OnBuy Helps Bring Christmas To Children At Diverse Abilities:
The Grotto, hosted at Coping with Chaos in West Moors, saw 42 families attend to meet Father Christmas and receive presents for the children.
Amy Topp, Short Breaks Coordinator at Diverse Abilities, commented: "I am really proud of the team for pulling together this Grotto for the children. We made many precautions to ensure the whole process was fully COVID-secure for both our staff and the families we support.
Booming Year For ECommerce Puts OnBuy On Track For Unicorn Status:
OnBuy is on a mission to revolutionise the eCommerce sector by providing a fair, transparent and ethical marketplace that benefits both buyers and sellers. The UK-based online marketplace has now set its sights on unicorn status, which is awarded to privately held start-up firms valued at over $1 billion (£750 million), within the next two years.
OnBuy is already valued at an estimated £180 million ($240 million) after launching only four years ago and, having achieved its third consecutive year of over 600 percent growth in 2020, the eCommerce business is quickly gaining market share.
OnBuy Joins Dorset Chamber Amidst £10m Investment Into Home County:
OnBuy has seen meteoric growth in the past year, on the back of a successful £5m Series A fundraiser in June 2020. Sales grew 870 percent from November 2019 to November 2020 and have shot from a run rate of £24m to over £170m in one year. The marketplace's sales are forecasted to hit £2 billion before year-end 2023. The company's Series B fundraiser is on the horizon in early 2021, allowing it to accelerate its phenomenal growth and continue expanding.
OnBuy is a marketplace where you can find products from a wide range of industries. It's pretty much like Amazon and other similar marketplaces.
You can track popular brands and that is a good sign of authority, credibility, and status.
You can sell your products and they take care of the promotions. They also offer a premium marketing package that boosts your listings and rankings.
On their website, the footer copyright mentions that they are active since 2010. I checked their domain whois data and they purchased it in 2005. 
On the about page, they say that they launched in November 2016. 
Now, taking into consideration that it is a funded company, we may think that this was a project well-thought and planned for many years until they were able to fund their cause.
The majority of online reviews are positive and of course, there are negative reviews as well. You can't satisfy everyone. Especially when a company is cooperating with thousands of sellers and vendors worldwide, problems will arise.
They have over 22,000 reviews on TrustPilot, it's a company that it's discussed.
The overall rating score based on all those 22,560+ reviews on 7 review sites is 91.6%. That's a very good score.
Additionally, from the traffic statistics I overviewed, I come to the conclusion that this is a very popular site, with millions of visitors. That means it's indeed a company that is growing.
I discussed the company with some partners and friends that happened to purchase goods from the marketplace and everyone assured me they had a great shopping experience without any problems whatsoever. 
From a seller/vendor standpoint, OnBuy seems like a great deal. They are not retailers and they do not compete with their sellers.
They are focused on helping their sellers and their promotions.
Their service integrates with numerous apps and other related services and they co-operate with names like DHL, FedEx, PayPal, and Google.
They run a very interesting blog which is a pleasant surprise for a marketplace. That means they do their best to satisfy both sellers and buyers and improve their experience.
I should also highlight that OnBuy is a funded company and has already grown into a multi-million organization.
They participate in charities and they spend a lot on advertising.
For all these reasons and taking into account the very positive reviews, I believe it's a company with a bright future.
I hope you enjoyed this review and that it can help you shape an opinion. 
If you have experience with OnBuy either as a customer or as a seller, I would like to hear from you.
I'm looking forward to their growth in the highly competitive eCommerce space. They can do miracles if they use the funding rounds wisely.
Do you think they can compete with Amazon after all? Taking into consideration the latest news regarding Jeff Bezos, founder of Amazon, retiring as CEO, maybe a battle has already started.
Another review has finished, here on WebMarketSupport. I'm waiting for your comments and thoughts. Till next time.

Tasos Perte Tzortzis
Business Organisation & Administration, Marketing Consultant, Creator of the "7 Ideals" Methodology
Although doing traditional business offline since 1992, I fell in love with online marketing in late 2014 and have helped hundreds of brands sell more of their products and services. Founder of WebMarketSupport, Muvimag, Summer Dream.
Reading, arts, science, chess, coffee, tea, swimming, Audi, and family comes first.
Some of the links on this page are "sponsored". For more information, I refer you to the Disclaimer page.