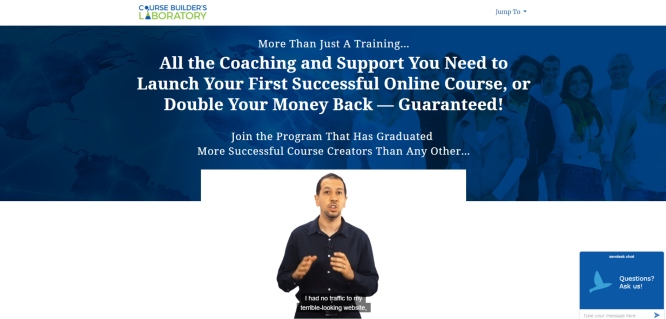 What is going on with Danny Iny's program? Is it a good one? Who is this guy anyway? Would I waste my time and money? Is this course just another shiny object syndrome that won't help me get the results I've always wanted?
I know, these questions are a headache, and I've had my share countless times. And I am here to help you decide if this program is the right for you.
Course Builder's Laboratory  (CBL) Review
It's a training program to help those who want to build courses. A laboratory for course builders. It helps aspiring or current course providers by:
Showing them a proven, solid, and strict methodology for building courses
Provide an over the top coaching support unparalleled to the industry to not only assist course providers to implement the methodology but to get results.
Danny is so sure about his course and he proves it with the no-brainer guarantee that accompanies the training program. More on that later.
And Danny continues. This program is the answer to this problem
I want someone to show me how to take what I already know and put it online to reach more people and make more money.
The course is available only once per year and the registration doors open up for a very limited time, usually 5-7 days.
The main tagline: Instruction – Systems – Support – Coaching
I am the founder of Firepole Marketing and Productive Inbox, host of the Business Reimagined podcast, best-selling author of multiple books including Engagement from Scratch, Teach and Grow Rich, and the Audience Revolution, creator of the acclaimed Audience Business Masterclass and Course Builder's Laboratory training programs, which have together graduated over 3,000 value-driven online entrepreneurs. I live in Montreal, with my wonderful wife and business partner Bhoomi, and our beautiful daughter
Literally for anyone who has an interest or stake in making education better.
Students or lifelong learners
Educators
Business owners
Entrepreneurs
Those willing to turn their expertise or skills into a lucrative online course and make money
Those that have not yet created a course but wanted to
Those that already launched an online course but without reaching their goals
All CBL students have these characteristics in common:
Something valuable to teach to others
An inclination to contribute
They want freedom
They have strong work ethics
Those that can't commit to hard work, building an online business, or selling courses
Those that get distracted easily by shine internet objects
Those that are totally broke
Those that can easily afford to pay for the course, but they think Danny will do the work for them
Those already selling successfully online courses
Experienced builders that want to use a few ideas here and there, without implementing the course from start to finish
Is Danny Iny the "Real-Deal"?
Soon, you'll discover that he is and why
#1 – He Knows His Stuff

He's not a so-called expert or fake guru trying to sell you a course just for the sake of money. Why?

He already created various courses and marketing programs throughout the years, like
Audience Business Masterclass – How to build a successful online business.
Write Like Freddy – How to research your audience to come up with effective ideas for guest posts and posts on your own blog.
Standout Guest Posting – Build traffic, subscribers, and credibility through fast, easy writing. A proven guest posting system to use to grow your audience and business, even if you're starting from scratch, nobody knows who you are, and you even aren't comfortable with writing
#2 – Free Resources

He offers multiple Free resources on Mirasee, so that you have a chance to know about his work before you even spend a dime on his products. Resources like:
Design your Audience Business – A step-by-step guide to help you a profitable and sustainable audience business – from finding buyers before you create your product, to becoming a Niche Superhero, to when you should launch your blog.
Increase Your Exposure & Traffic – If you build it they will come, simply does not apply to blogs and websites. You need eyeballs, traffic. Period!
Make More Income and Impact – Rather than focusing on quick income tactics, learn the 2 critical components of every sale – and which one you need to focus on first. Then learn some simple tricks to drive more sales consistently.

#3 – His Values

He believes that business is about more than just transactions. It can be more caring, contributive, and collaborative. And that's how it becomes more profitable.
6 core values:
Empowerment through Learning and Growth
Enthusiasm and Positivity
Innovation and Adaptability
Support, appreciation, and humility
Openness and transparency
Partnership and ownership
#4 – You Don't Have to Be an Expert

In fact, Danny prefers that you are a beginner. Because if you are advanced in the online business world, you may need to unlearn everything you know so far to begin implementing his methods, strategies, and tactics.
#5 -Educational Material and Bonuses

Along with the learning modules, you will receive a ton of bonuses and material that will help you move faster towards your goals.
Scripts and templates to help you with:
Audience surveying
Guest posting
Successful sales emails
Landing pages that convert
and more…
I will talk about the bonuses later on. Because there are more bonuses hidden that are not available anywhere else.
#6 – Multiple Features

He has been featured on Inc, Forbes, The Open Forum, The Huffington Post, CopyBlogger, Social Media Examiner, LifeHacker, MarketingProfs, NBC, Kissmetrics among others.

#7 – Endorsements – Testimonials

He's been endorsed by names like:
Clay Collins – co-founder and CEO of Lead Pages
Josh Turner – Author of Booked and founder of LinkedIn University
Andre Chaperon – Entrepreneur and co-author of Storytelling for Marketers
Chris Brogan – CEO of Owner Media Group
Guy Kawasaki – chief evangelist of Canva and  author of the Art of the Start 2.0
Mary Jaksch – Editor-in-chief of Write to Done and founder of the Goodlife Zen
Brian Kutz – Founder of Titans Marketing LLC
Michael Port -New York Times best-selling author of Steal the Show
Ryan Levesque – best-selling author of Ask and the Funnel Specialist
#8 – Matt McWilliams

Affiliate manager for this launch is Matt McWilliams. An award-winning affiliate manager for top industry names like Ray Edwards, Nick Stephenson, Jeff Goins, Kevin Harrington (the Shark Tank) just to name a few.
He's also the creator of the training program 'No Product No Problem' where he teaches you how to make money with affiliate marketing.
This is how WMS get started, as an affiliate marketing partner/publisher, almost 4 years ago.
WMS has successfully promoted multiple programs helping Matt McWilliams and his JV partners sell more of their programs, products, and services, like The Copywriting Academy, Your First 10,000 readers, Tribe Writers, 5 Days to Your Best Year Ever, Free to Focus, Sales Secrets Masterclass, and other.
Related resources:
Important Notice: No Product No Problem by Matt and all of the programs mentioned above are included in my Elite marketing training programs list.
#9 – Leveraged Learning – Danny's Newest Book

The age of opportunity for course creators, entrepreneurs, and experts with something to teach…and how you can take advantage of it.
Leveraged Learning takes a look at the disruption that is coming to higher education, and how the solution will come from an unlikely place. It explores the highest-leverage approaches that we can take to solve the educational crisis, and it provides ideas for how to teach more effectively and prepare students to enter the workforce as valuable contributors.
The official release date is set to October 02 but you can access the book for Free right here. I strongly recommend you grab the free copy of this book to find out what Danny Iny is sharing with world.
#10 – Unparalleled Lifetime Support (not a joke…)

Danny's students are receiving 1-on-1 personal coaching and group coaching by a team of dedicated and certified course building experts that partner with them and provide them with the most comprehensive implementation coaching and support.
Mirasee employs a full team of over 30 people, an Education team and a Courses team, with their own dedicated Director of Education and Director of Courses to ensure the best possible student experience.
The course built using instructional design methods, with input from Ivy League graduates from Harvard, Yale, and Stanford.
The lifetime coaching and support is like no other in the industry including 1-on-1 coaching, study halls, office hours, breakthrough hours, tailored coaching, email support, coaches phone numbers.
Details:
Live, personalized coaching: a dedicated coach to guide you through the process, get you unstuck, celebrate your wins, hold you accountable to your goals. Each coach has been fully trained in the CBL's methods.
1-on-1 milestone calls: 1-on-1 face time with your own coach. These calls are designed to occur at key progress points in the program.
Office hours: Show up at a designated time (there is a wide range of times) and ask any questions you have. A coach that is present will address any of your questions, and if you need further clarification, they'll make a note to get the answer for you after the call. This is where you get access to all of Mirasee's amazing coaches
Breakthrough hours: Delivering a deep dive understanding of the specific topics that have been shown to be the biggest problems you're facing. If the coaches hear about areas where students are struggling, they'll take the time to create a dedicated breakthrough hour training on that subject. It's another level of support, to help you develop the skill set necessary to enter your market with confidence.
Email & Phone Support: Simply click the 'I'm stuck' button, which you see inside the program, to tell them what you're struggling with. You can send unlimited emails, and your coach will reply to you personally within 24 hours. You'll also have the coach's phone number, in case you urgently need to contact them.
In addition to all of these coaching methods, you'll also receive coaching on how to develop an entrepreneurial mindset, something that's imperative to succeed online.
There are 8 modules where students focus on completing one task, one milestone, one mini-project at a time.
Foundations
:
Getting familiar with the course, the support you'll receive, the piloting process, and the importance of entrepreneurial resilience.
Module 01 – Determining Your Pilot Course
(How to map out the journey for what you'll teach your students in your first successful course):
You will determine the general direction of your pilot, define the who, what and why of your idea by doing a gut check validation, before moving on to the research and planning stages.
Define your target market in a way to maximize the potential and be successful
Discover the best possible course idea for your specific skill set
The honest mindset of success every course builder needs to adopt
CBL proven roadmap to online success. No matter if you are experienced or not.
Module 02 – Researching Your Pilot Course
(How to dive to the core of what your future students are eager to learn):
You will research and further validate and refine your pilot idea. By the end of this module, you will have identified a clear, solid, and very specific transformation that will help your audience achieve.
Figure out what people are hoping you can teach them
How to guarantee your course idea will sell. There's an important difference between something your market wants, and something they are willing to BUY.
Discover the language that will excite your prospects at the mere mention of your course idea
Research your competitors like a high-level marketer, in a fraction of the time
How to 'magic-wand' your course ideas to make them irresistible to your audience
CBL secret to getting paid for your course, while you build it
Module 03 – Planning Your Pilot Course
(How to get your pilot course set up for success…fast):
You will plan the components of your pilot. You need to have them ready when you make your first sale. The main idea is this: Make your offer, fill your pilot as quickly as possible, then create the rest of the elements, after the filling.
The 3 types of 'course structure' that you can use for your new course
Simple guidelines to find the right price for your course
Avoid the 'pilot paralysis' that can keep you from getting your first course rolling out the door
Little-known secrets for planning your perfect lessons
The key to welcoming new students. Make them feel right at home from the beginning
Simple solutions for every important technology challenge
Module 04 – Selling Your Pilot Course
(Simple and ethical sales strategies to ensure your course is full of happy, paying students):
You will be walked through various and different selling strategies. You will absolutely determine which one is right and the best for your situation. An exciting stage as Danny says, becasue this is the stage where you really find out if the idea you've developed has potential, and how much.
How to overcome your sales fears
The power of co-creation. This simple psychological phenomenon will have a powerfully positive impact on how your students feel about you and your course
Mirasee's 3 proven, ethical sales strategies, and how to decide which is best for you.
How to honestly evaluate your sales results
Module 05 – Delivering Your Pilot Course
(How to deliver your pilot course in a way that leads directly to long-term success):
You will be preparing to provide a great pilot experience for your students. At this point, you've already sold the pilot, and validated that people want to actually pay to get your course. You need to deliver a great student experience. Alongside, you will get feedback and clarity for yourself.
The pilot course 'litmus test' to measure whether it was a success or not
Your 3 options for moving forward based on the success of your pilot
The powerful concept of 'pilot iteration'. How it can help you develop a winning course you can scale to help more people and bring in higher profits
How to turn failure into ultimate success. A failed pilot isn't a failure. It's rich information about what doesn't work
Mini-Module – Pilot Checkpoint
:
At this point, you've already sold the pilot, and you launched, which is a huge success. You will evaluate your pilot results and decide whether to iterate, pivot, or scale, this is where you'll make this very important decision.
Module 06 – Outlining Your Full-Scale Course
(How to set up your full-scale course for massive success):
Building the full course. Right now, you've probably run at least one or 2, or even 3 successful pilots, so you know there are people that want your stuff and are willing to pay you. Here, you will plan the full course.
How to choose the right format and final price for your course
A simple (but crazy effective) 2-stage 'marketing launch plan' that gives your course the best chance of sales success
The best months and days of the week to launch your course
How to use 'Joint-Venture' partners to increase your sales. The right way to approach them so they'll say yes
The 2 types of partner launches you should consider. How to make sure they both go off without a hitch
Module 07 – Creating Your Full-Scale Course
(How to launch your final product to the whole wide world with wild applause):
You will focus on creating an online course with pre-recorded videos. Alternatively, you can deliver the course live, to give it a more polished feel than a pilot.
A simple phrase that slashes refund requests. Now only will you know when to say it, but exactly how to phrase it
The 3 things you must include in your welcome email. Skip any of these and it could cause confusion, overwhelm, and refund requests
The 'gold-standard' secret for making every student feel your course was designed just for them
4 ways to structure your lessons so learning is easy and engagement remains high, from start to finish
How to build an effective learning environment for supporting your students
Module 08 – Marketing Your Full-Scale Course
(Simple and proven strategies to get an endless stream of eager new students:
Danny teaches the most effective and comprehensive methods to market your course and finally grow your online business. They will outline each of their strategies for a basic understanding and then will point you to resources for advanced, in-depth training.
The 'Warm-Traffic-Pyramid'. Learn 2 effective methods to build a large audience with warm traffic
Cold-traffic flywheels. Generate new traffic from other platforms than your website
How to choose between a 'content-play' or a 'JV play'.
How to incorporate paid traffic to build your audience fast
Advanced growth tools and strategies and your next steps
Conclusion
:
Wrapping everything up, highlighting the ongoing nature of piloting and validating ideas, both in terms of production and course creation, and marketing.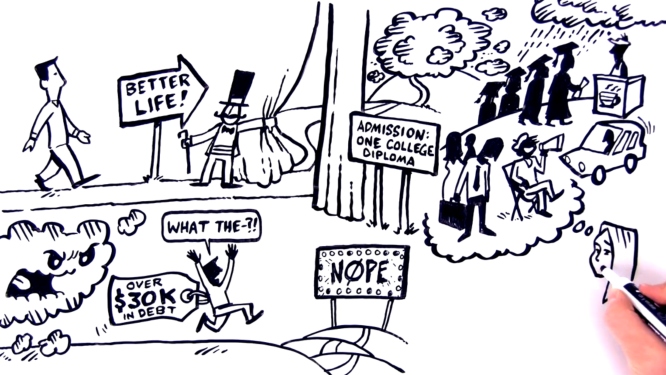 Is College a $1.4 Trillion Scam?
The modern western world is built on the idea that if you want a better life, you can have it. In earlier years, this was only a privilege for the educated people. But as more and more people were receiving higher-level education during the last century, things simply changed.
We all know how the life of a student looks like, well, in most of the cases. Deep in debt, unemployed, struggling to make end meet. They work at Starbucks, they are Uber drivers, they deliver pizzas risking their lives on the streets, or working as waiters and baristas. The statistics show that only 1/4 students achieve great things after graduation.
There is a saying here in Greece, it's a joke, but it reflects the bitter truth.

What a construction uneducated worker says to someone with a college degree.

The answer is…One hamburger and a Coca-Cola, please.
Degrees don't get you the job of your dreams anymore, because employers don't value the degrees as they used to do in the past.
Why is that happening?
There was a time that knowledge was opening doors that other people could not access, but now, knowledge and information is everywhere. Now, the hard thing is to filter the good information from the bad.
But what can we do?
The answer is a fresh look at the problem. The reimagination of what we teach and how we do it.
That's what Leveraged Learning is all about.
There are 2 options:
Course Builder's Laboratory (Core OFfer) $2,995 (one-time payment)
12 payments of $297 = $3,564 (total)
The 'Success Partnership' Guarantee
They guarantee that if you follow the steps in Course Builder's Laboratory and implement the advice of your coach, then you WILL successfully launch and sell your first online course.
Your responsibility: bring 100% of your effort and expertise. Watch or read the lessons and do the homework. Reach out to your coach when you need help, and persevere in the face of adversity
Your coach's responsibility: Provide you with the very best training and support available to help you succeed.
If after following the steps in the course and taking advice from your coach, you don't launch and sell your first online course, they will work with you to create a personalized "Course Correction Plan" that will lay out the exact steps you need to follow to achieve a successful pilot launch for your specific situation.
After implementing your "Course Correction Plan" you will successfully launch your pilot, OR you will get DOUBLE your money back.
This DOUBLE-Your-Money-Back Guarantee doesn't protect you for 30 or 60 days. It protects you for a full 12 months from the date you sign up for the CBL training program.
After the guarantee expires, your access to the CBL course still continues. You'll have lifetime coaching, support, and access to the lessons, allowing you to build as many courses as you want.
Recap – What's Inluded in the Price
The full Course Builder's Laboratory program to create an online course that sells
PDF transcripts, MP3 recordings, and HD recordings of the video lessons
Lifetime support from your dedicated Course Building Coach
More types of support than any other program
Lifetime access to the CBL's Mastermind community
A 1-year "Success Partnership Guarantee" – launch your pilot course or get double your money back
First of all, the CBL program is a full, solid, and comprehensive training for anyone that want to create remarkable courses that deliver a superb experience to students.
Danny Iny is a respected marketer and he will teach you not only how to launch a course, but more importantly, how to drive traffic to your offers and how to market your brand.
It's not an incomplete course.
CBL is huge, comprehensive, and apparently, it needs from you to put in the work. Don't expect that because you pay an expensive program, Danny will create everything for you.
You're not paying for advertising services. This is a program to teach you methods in order to create your own courses and sell them, over and over again.
That's why it's expensive. If you are able to sell at least one course successfully, you'll never consider again the cost of this investment.
Yes, it's an investment, but you get what you pay for, and remember, you will be creating courses on will. Imagine if you sell 4 or 5 or even 10 courses to 100 people each. That's something remarkable, isn't it?
Would you rather prefer paying for a degree? Get started with $30K then.
But CBL is a program designed to help aspiring authors and service providers to be able to get traffic and clients in the marketplace. It's not just theory.
Why am I saying this? What do you think a college or university degree is all about? Theory, my friend.
CBL is not theory. It's practice from day one. That makes all the difference!
The MOST important feature of this program is the unparalleled support. It lasts a lifetime (coaching and support) and Danny secures your money and doubles it up if after 1-year of efforts you won't get the results you've wanted.

This Guarantee does not exist on this planet.

If I were you I would not give it a second thought.
Don't forget to grab the free book 'Leveraged Learning' and to attend the live masterclass in order to test the program before you make any decision.
That's it, another review has finished, here on Web Market Support. I look forward to seeing your next online course success story and I am waiting for your comments and thoughts. Till next time.
We Teach
Marketing &
 Business
Live on Zoom
Your host: Tasos Perte Tzortzis
Schedule an interview so we can evaluate where you are right now, your needs and goals, and we'll give you a detailed analysis of how the workshops work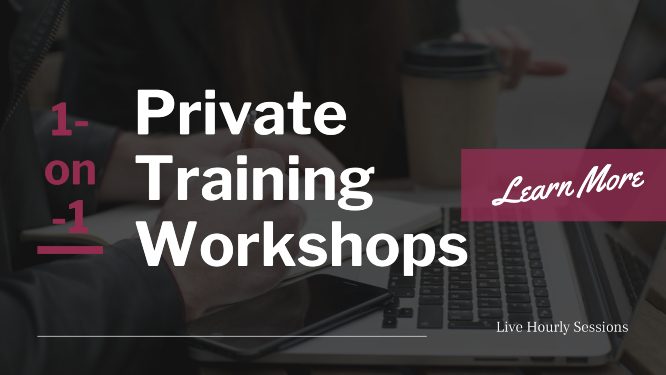 Tasos Perte Tzortzis
Business Organisation & Administration, Marketing Consultant, Creator of the "7 Ideals" Methodology
Although doing traditional business offline since 1992, I fell in love with online marketing in late 2014 and have helped hundreds of brands sell more of their products and services. Founder of WebMarketSupport, Muvimag, Summer Dream.
Reading, arts, science, chess, coffee, tea, swimming, Audi, and family comes first.
Some of the links on this page are "sponsored". For more information, I refer you to the Disclaimer page.