---
The Post has been Updated with New Information in order to reflect the changes of Stephenson's training course – 16 June 2017
---
Your first 10K readers is a premium training course designed for authors, writers, and entrepreneurs. It will help them build an audience, grow their reach and exposure, build engagement with their customers and sell more books and other products, which is the most important aspect.
It all starts with using books and publishing as a way to do that. It is a step by step system that will show you
How to get started
How to Setup
How to Scale Up
This course was launched again in March 2015 and has since over 1200 students who joined the community.
A few words on Nick's background
Is the best selling author of Leopold Blake, a thriller series, Supercharge your Kindle sales and Reader Magnets. Is considered one of the most influential indie author marketing experts on the web. He has reached over a million readers with his fiction books and helped thousands more with his teaching methods.
Nick's Approach to Online Book Marketing
Nick is using a very smart approach, he does not want to rely on book retailers, like Amazon, or other social platforms, like Facebook. Because even when you manage to sell books or products through these mediums, you have no control over the customers, you don't even know who they are, these customers belong to the platforms.
Nick is trying to build an audience on his own and keep a relationship with his customers, afterward. He manages to do that by offering free items on large book retailers/online shops and then drive those people to his website and landing pages. From there he tries to get that traffic into his mailing list.
What's Included in the Course
6 super detailed modules with step by step cheat sheets that show students how to generate traffic, convert it to a mailing list and how to sell effectively without being scammy.
Additionally, there is a module on Facebook advertising when students are ready to scale up plus hours of bonus content.
6 core modules to grow an audience and revenue with books
6 advanced training sessions with leading entrepreneurs and authors
Bonus #1 – 8 tools of the trade sessions – what technology to use
Bonus #2 – Six figure swipe copy – email sequences into a handy download sheet
Bonus #3 – 4 pre-recorded group coaching sessions
Support & community – access to the private Facebook group with over 800 members for support and networking from other authors and entrepreneurs.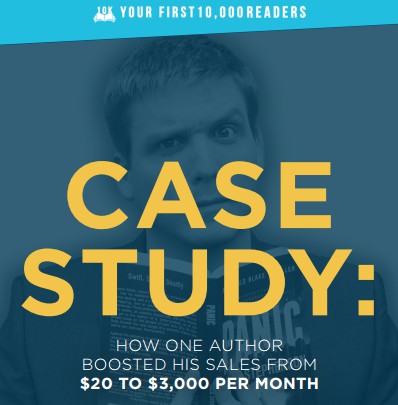 BreakDown
Core Training
Module #1 – Rule the retailers
Four video sessions: Rule the retailers, Merchandising, Exclusivity vs Broad Reach, Pricing Strategies
It's about getting your books optimized, knowing how the bookstores operate, how other authors are getting on the front pages of those stores and what strategies to follow in order to gain maximum exposure for your books.
Module #2 – Drive endless traffic
Four videos: Keywords & Categories, Boost your traffic with PermaFree, Smart promotion tactics, Build your dream team.
How to choose the right category for your books, meta-data keywords, free advertising methods, paid methods and teaming up with other people, cross promotions of other authors to multiply your earnings.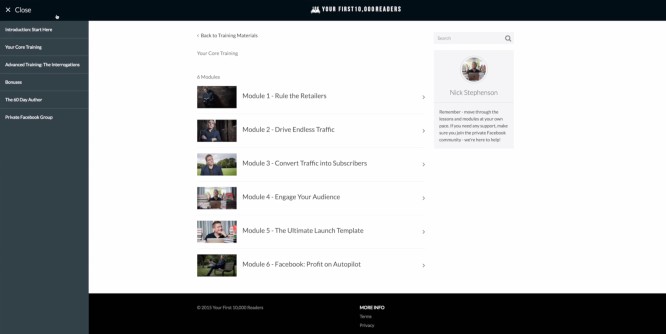 Module #3 – Convert traffic into subscribers
Four videos: Your book funnel, Optimize your author website, How Nick added 16K readers via giveaways, Create an Irresistible event
Automate email sequences, how to get people on your list excited about your next launches,
Module #4 – Engage your audience
The biggest module of all by far. 6 videos: Why readers don't buy, Priming the sale, Scarcity – the secret sauce, Social media mastery, Getting hundreds of 5* reviews, Your automated selling system
How to build trust with your email messages, how to prepare people at the right times for your future launches, how to use the feeling of scarcity to make people ready to buy, psychological principles that drive the fear of missing out to people,
Module #5 – The ultimate launch template
Three videos: Build your launch team, Building Buzz, Your launch day template
The whole process from 2 weeks prior to a book launch till the final date.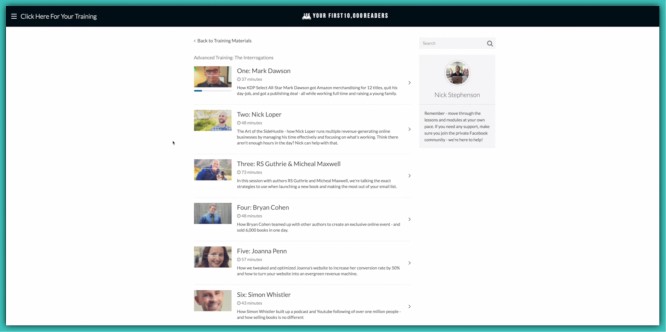 Module #6 – Facebook: Profit on Auto-Pilot
Four videos: Introduction to power editor, How to track results with pixels, Tweak your ads for better results, Ninja tips.
How to take everything you learned from the first 5 modules and use Facebook to scale up your business and results.
New addition to Facebook advertising with the 2017 launch
Facebook messenger bots: a cutting-edge tool that you can use to reach readers directly via Facebook messenger. Nick is targeting people on Facebook, then he sends out a series of automated messages. Just like email marketing but in a more personal tone. He is trying to create a friendly atmosphere by uploading for example personal images to connect with the audience on Facebook more effectively, which differs from connecting with people via emails.
With emails, we try to sound more professional, on Facebook we want this personal touch.
Advanced Module
Interrogations with 6 successful authors
Mark Dawson: how he got Amazon merchandising for 12 titles, quit his day-job and got a publishing deal
Nick Loper: how he runs multiple revenue-generating online businesses by managing his time effectively and focusing on what's working.
RS Guthrie & Michael Maxwell: strategies to use when launching a book, making the most out of your email lists
Bryan Cohen: how he teamed up with other authors to create an exclusive online event and sell 6,000 books in one day as a result
Joanna Penn: how she tweaked and optimized her website to increase conversions by 50%, how she turns her site into an evergreen revenue machine.
Simon Whistler: how he built up a podcast and a You-Tube following of over 1 million people, why selling books is no different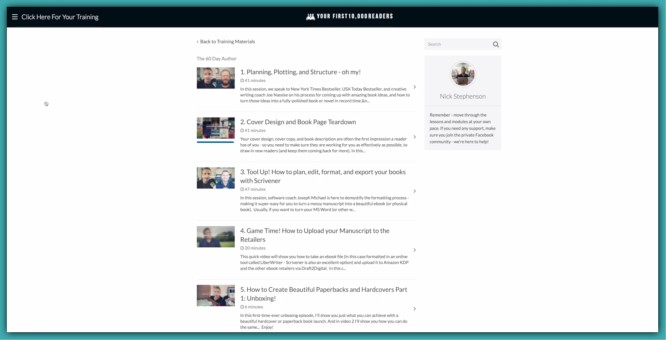 Bonuses
#1 – Tools of the Trade
Anatomy of a landing page, how to build perfect landing pages, automate emails with MailChimp, store and deliver your reader magnets, KindleSpy – get traffic with keywords & categories, automate Facebook ads with AdExpresso, run successful giveaways with KingSumo, detailed keyword research with Kindle Samurai
Free and paid methods/tools that Nick is using and how to use them appropriately to maximize conversions and open rates.
#2 – Six-figure swipe files
The material can be downloaded in pdf format.
#3 – Q&A sessions
5 recorded sessions: 3 group coaching calls and 1 call with Nick & Mark Dawson, 1 call with Nick & Joanna Penn
Exclusive New Bonus
The 60-day author
If you have not written a book yet or if you think you are writing a little bit slower then this bonus is for you.
What is included
Planning, plotting, and structure
Cover design and book page teardown
How to plan, edit, format, and export your books with Scrivener
How to upload your manuscript to the retailers
How to create beautiful paperbacks and hardcovers in 2 parts, 1 unboxing, 2 the process
The $450K book launch with Jon Lee Dumas
How to team up and network with any VIP
You will get a book launched even when you only have an idea. This section is a gathering of other successful authors techniques that can be used not only for book launches, they are suitable for any product.
What you will learn
How publishing a book can grow your exposure, authority and give you an endless stream of readers, leads, and customers.
How to quickly and effectively publish books on Amazon and other retailers
Why Amazon is a search engine and not a bookstore, and how to use that to your advantage.
The secret to merchandising – how to get featured on the front page of the biggest e-book retailers with a simple tactic
How to choose the right categories and keywords for your books
How to use your books to get customers OFF Amazon and onto your mailing list
Convert random traffic into subscribers
How to add 100+ ethical 5-star reviews to your books
How to double your profits by engaging your audience before selling
Build a killer launch team – recruit readers from your audience to promote for you
Epic launch plan – proven launch templates to get to the Top of the charts
Scaling up – how to bring endless readers to your books and business with Facebook advertising.
The price – Guarantee
$597 – one time
or $59 per month for 12 months
There is a 30 day, no questions asked, money back guarantee from the date of purchase.
Giveaway Bonus (it is not available in the new launch)
Additionally, there is a giveaway bonus in collaboration with Reedsy. For a limited time, one lucky winner will get book cover production costs covered in full (up to $3000).
3 runners-up will receive cover designs up to $600 each.
You just enter your email address and follow their instructions.The offer ends in 24 days from now.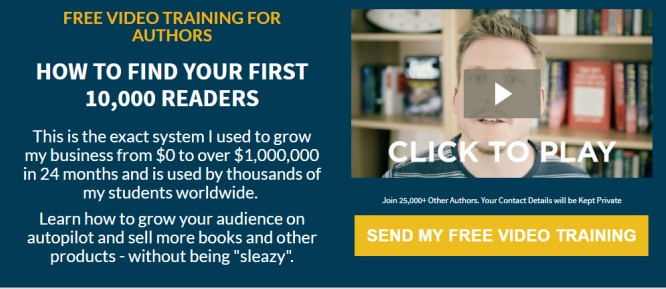 ---
Update – 20 June 2017
---
Official FAQ during the last week
Most people were asking…" Will this work for me?"
Other questions asked
I am not quite ready for the course yet. Can I start the material later?

Yes! If you enroll today (and lock in the bonuses and pricing) Nick can start your 30-day guarantee and access to the community whenever you like. All you need to do is sign up, confirm, and let Nick know
Does this training work for X, Y, Z genre?

This training is not genre-specific. Nick show you how to find your audience and get them onto your mailing list. Then he'll show you how to use this list to boost sales, launch like a pro, and how to scale up, up, up. It doesn't matter what you write. Go check out all the testimonials at the link below, from fiction writers, non-fiction writers, children's book writers, sci-fi writers, and more. You name a genre, it works
Do I need a ton of books to make this work?

No. You can get started right now, even if you only have one book (either already published or soon-to-be published). You can never start building your audience too early
What if I don't have my first book yet?

Remember, one of the big bonuses for this launch is "The 60 Day Author" – an 8-module class that will show you how to go from "no idea" to published in as little as 60 days.

So, even if you don't have a book yet, Nick can get you where you need to be as quickly as possible.
Preview Module Open
Nick opened up a module as he promised a few days ago. It is the very first part of the training and is called
"Rule the Retailers"
. You can watch it now but it will be available only for a limited time, of course as people are already enrolling in.
This is an amazing move from Nick as he gives people exactly what they need. A taste of what is included in the premium training.
Rule the Retailers
This module unlocks the opportunities inside the retailers' search engines. He analyses the algorithms that used by these bookstores in order to recommend certain books to their visitors and buyers. The training will explain how you can tap into this algorithm to your benefit and to start things going the right way.
Final Words – Resume
If you are an indie author you can choose to publish a book on your own or follow a marketing training, like Nick Stephenson's. The problem when you go alone is that you don't know what to expect and you will miss a ton of opportunities that arise along the way.
Marketing is more important than writing a perfect book, it is about selling and how to maximize profits on every single step that you take.
Nick is a successful author and shares his secrets with this premium training course.
The price is affordable and somewhere in the middle of other alike trainings in the market. And is absolutely worth every penny.
You can moreover check the expensive courses of Chandler Bolt, Ray Edwards (one of my favorite authors) or the super affordable program of Adazing. All options will help you get the results you always wanted but … as I already mentioned it is not enough to buy a premium course if you don't plan to follow the instructions and work on your own consistently.
Marketing needs continuous actions, no excuses may apply.
It is one of the most concrete trainings I have ever seen. Nick has broken down all the important details so you can focus on creating your books and products. No more trial and errors, no missing hours, days and weeks on guessing what works and what does not.
Nick's methods are ethical, he never spams people and he engages his audience in the most effective ways. In fact, his readers are delighted with every new launch and book that Nick puts on the market.
There are really 3 options when it comes down to the final decision
#1 – You do absolutely nothing, and obviously you can't expect any results
#2 – You can go your own way, through trial and error. You have to put the effort and probably spend thousands of dollars on advertising testing things out.
and the best way #3 – you choose to purchase the Premium Course that has everything laid out for you. This way you can ensure that your platform is growing while you focus on the things that matter the most. Thus, creating your own digital products.
You don't want to miss on that training. I can guarantee that it will be proved one of your best decisions ever.
Important Notice: Nick announced that on June 19 he is opening up a module so that you can preview the course from the inside. Stay tuned as I may update the thread on that date with any missing information.
The preview is open now and I have updated the post in the previous paragraph.
P.S – You can also check the Free video training series that Nick has put together plus a Free PDF case study on another author's experience and the e-book, Reader Magnets.
---
UPDATE – 23 June 2017
---
Enrollment closes down very soon. Hurry up, the next opening would have to wait for at least a year.
That's it, I hope you enjoyed another review, here on Web Market Support. I am waiting for your comments and thoughts.Till next time, your online partner.