Before I can answer that question I want you to know what OMG Machines is NOT about.OMG is NOT an MLM or pyramid frame-up that will force you to recruit new members in your downline and absolutely it is NOT a "quick rich scheme" either that promises success overnight.
OMG Machines Review
Mike Long and Greg Morrison
They have included a free membership area inside OMG Machines, so you can check easily for your own here, and it's an introduction to Affiliate Marketing. They highlight that a website is an absolutely necessary supply for any internet marketer in order to achieve success online and that is totally true.

The Free Members Area
This is a video series produced by both Mike and Greg. They explain how to find a profitable niche and some basic keywords to begin targeting your future clients and customers and how that will be used in your website's structure. Then they show how to register a website, through name cheap or go-daddy which are the top names in website domain purchases.
The next video deals with website hosting, how to do and where to do that. The 4th video goes inside the WordPress platform and takes you step-by-step in setting it up, activating the basic plugins, and finally, Greg demonstrates how he is planning the website categorization and he gives examples of how posts and pages can be produced and published to the web.
This video series comes with live paradigms of some of their websites so you can have a better overlook of what is going on. Those videos are detailed despite their short duration and are easy to understand as they get straight to the point without any unnecessary or disturbing quotations.
Magic Bullet Series – Extension Tools
This is also included in the free area of OMG and is like an extension of the first video series. All the new videos are produced by Mike Long and he makes a really good job of defining "How and Why you have to Make your Own Profitable Web Properties".He mentions "Squidoo" which now has become "Hub Pages" as an alternative way to drive more traffic to your website and how it can help you get ranked in the search engines.
In addition, he determines the usage of an internet marketer in offline businesses and how you can help those offline foundations (whether is a store, a dentist, a restaurant, or a photographer) to gain recognition through the internet. Live internet examples are used here as well so you can have an optical overview.
This series continues with "Affiliate Profits", how you can brand your own product or service, which networks to use in order to accomplish that and there is a short but very powerful "Conversion Tips" section. I have to notice though that some of the pages inside this Free area are not working at the time we speak, they only redirect to a 404 error.
Fancy presentations and testimonials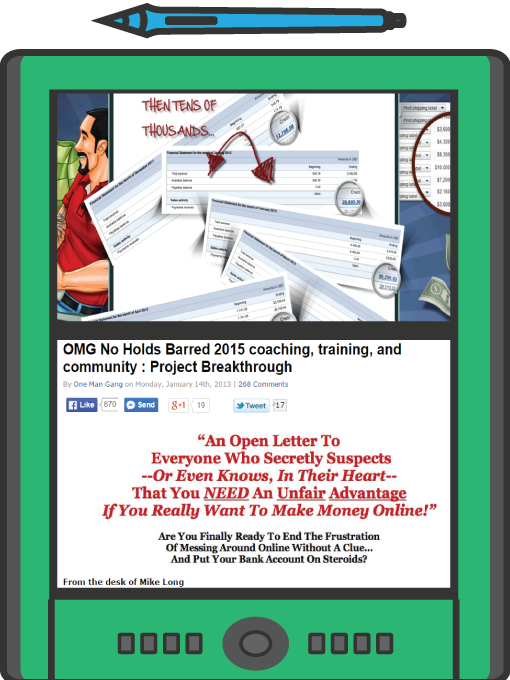 One thing I did not like about OMG Machines is the overuse of some presentations that they intend to convince us with real testimonials of people who used this program and how successful they are. Although some testimonials can really make a difference for a candidate to get convinced and become a customer I do not agree with such an extreme usage of them.
And they have a whole bunch of images and videos, and there is a separate blog dedicated only to testimonials and references. And I cannot agree with those super elegant illustrations that show dollar checks of successful OMG participants although they did not promise overnight results as I already mentioned in the beginning.
I was a little disappointed in that matter because both Mike and Greg are very well-known internet marketers and remarkable entrepreneurs.
No Holds Barred – Coaching, Training, and Community
No Holds Barred blog promising to dominate SEO followed by this statement as you can see in that screenshot. Inside their e-book, there is a promoted video series that explains SEO, Keywords, and how we can take full advantage of those elements in our marketing business.
But they also suggest that we use "article spinning" which is not a good method for you to use on your website if you want to get ranked and therefore become successful. Spinning an old published article content may get you a new article with the same words put together in a new order but that is something that Google Spiders are hunting for.
Do you want that crawl Spiders of Google to come out your door for duplicate content? No, you do not cause this will result in no rankings according to Google's Webmaster Guidelines.
They promote 'greenlight articles' and 'contentauthority.com' which are website services to give you content for a price. If you want to take the risk go ahead and do it but do not come back to say I DID NOT warn you. They sell content that they promise to be unique, but how that can happen?… Unique is something that you create personally, and genuine is something you create on your own according to your style.
"YOU, the website owner can be more original than anyone else, and you care about your website the most."
Over the Shoulder 6 SYA Submissions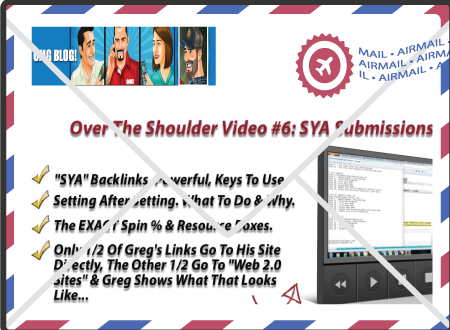 This section is dealing with backlinks and spinning articles again. Social Monkee link-building solution comes as a real answer to search engine rankings?… Please be aware of that. These tactics are not very effective and not only, but they can also affect your website performance in a very bad way. Backlinks were useful a long time ago before the latest Panda and Penguin updates of Google.
At that time Google punished huge corporations and internet marketers that were making 10000's dollars per day. A few examples are J.C Penney and Overstock.com which used such black-hat strategies to incorporate and even buy links from irrelevant websites and clients.
The blog continues with a "how to Add video-series" which is a must for modern websites as people are looking for information along with visual contact.3d effects, graphic designs, mouth-watering effects, image actions that look awesome, and money-getting call-to-action buttons. This particular section is more like building landing pages or Clickbank sales letters.
I think we said enough – let's get to the conclusion…
Resume
I think that OMG No Holds Barred Training Course is not an easy training for newbies that are unaware of what internet marketing is, it can better work with advanced marketers that need to use some of these specific tools. But the whole package comes all together and its price of $2300 does not make it easy for the majority of people because you do not need all these tools in order to make a real quality and nice looking website.
You need time and patience to build it on your own, and to provide quality to your readers. But both Mike Long and Greg Morrison are experienced players in the field that can provide real authority if you decide to join forces with them after all.
No Holds Barred does not stand for brand-new marketers who need to learn the fundamental process of building websites, and not to try to make sales pages at this level. Before you can run you have to learn to walk. So take it step by step. This is a product that has a LOT of value but it is not for new contestants. It is for advanced marketers that need a helping hand with illustrations, video presentations, and elegant sales blogs/pages. But in my opinion, the premium version is expensive.
You might wanna check out my recommendation of an online community that can help you build a website right from scratch, with step-by-step and fully detailed instructions, and most importantly, with 24/7 live interacting chat where you can get help for anything that comes your way and you will have the comfort to build 2 totally free and hosted websites. You can check it out here
Is OMG Machines a legit opportunity?
But if you are looking to expand your knowledge in the landing page structure, beautiful illustrations, and images and to get to a higher level in the creation of sales letters then you might want to check OMG Machines out for yourself.
Another downfall is the price they ask for web hosting which is also expensive. And the spinning articles directories add extra expenses to your project. Moreover, the upsells do not make the situation comfortable. Additionally, I don't feel covered by their blog and the Facebook fan page to get answers to my problems. I prefer a better-organized communicating platform.
My Final Opinion
I think that OMG is definitely NOT a SCAM. But it stands only for transcendent marketers that want to create landing pages and sales letters but the courses are expensive. If you decide to build a website from scratch then as time goes by after 1-2 months you will start to create your own unique landing pages and sales letters and that's it.
If you give time to yourself providing content and practicing all along you can make those pages on your own and you can promote a thousand products from Clickbank, ShareASale, or whatever affiliate network you want.
I disagree with article spinning which can only harm your business in the long term and SEO backlinks strategies that do not add any value and are ignored by search engines or some crazy monkey machines that generate content from old stuff. Besides all the well-known search engines require consistency, adding quality content continuously, and engagement with your visitors therefore they need time in order to trust you and rank you high on their first pages.
The free membership though offers GREAT value and can be used by someone that wants a first look at what is going on with affiliate marketing. The videos in that section are fantastic and easy to understand.
"OMG Machines No Holds Barred might be a great opportunity for product owners and/or wealthy marketers that need a strong and quick push in those advanced methods we highlighted but here they must be aware of the backlinks and spinning techniques that are outdated and very risky."

Thank you for reading this review for OMG Machines that is a legit chance to make money online and obviously not a scam like the ones we used to participate but you need to check out the tactics used in some parts of the training. Mike Long and Greg Morrison prepared a decent program and they have put a lot of hard work inside.
Check it out for yourself! You can subscribe for the free membership and see if it suits you… is this what you look for?

then if you have any questions or doubts or you want to clarify things a little more then you can come back to me so we can talk about all your queries. Feel free to ask me anything. I am here for you!

 
I enclose a small comparison graph between Wealthy Affiliate and OMG Machines.
We Teach
Marketing &
 Business
Live on Zoom
Your host: Tasos Perte Tzortzis
Schedule an interview so we can evaluate where you are right now, your needs and goals, and we'll give you a detailed analysis of how the workshops work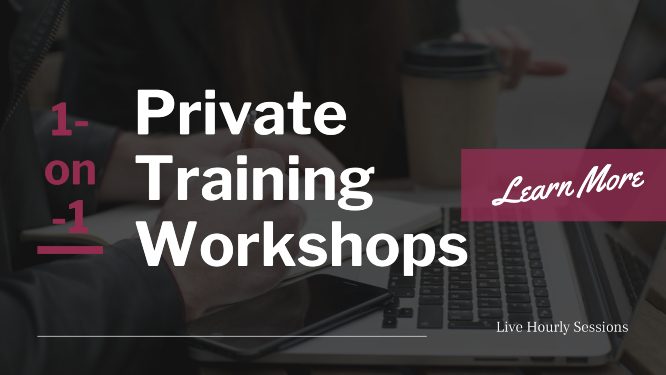 Tasos Perte Tzortzis
Business Organisation & Administration, Marketing Consultant, Creator of the "7 Ideals" Methodology
Although doing traditional business offline since 1992, I fell in love with online marketing in late 2014 and have helped hundreds of brands sell more of their products and services. Founder of WebMarketSupport, Muvimag, Summer Dream.
Reading, arts, science, chess, coffee, tea, swimming, Audi, and family comes first.