In the ever-evolving digital landscape, the heartbeat of online exploration lies in the hands of search engines. The journey from the humble beginnings of keyword-matching algorithms to the intricate web of artificial intelligence (AI) and machine learning (ML) has transformed how we seek and find information. As we stand at the crossroads of technological innovation, businesses face both challenges and opportunities in enhancing their visibility on search engine results pages (SERPs).
This comprehensive guide explores the dynamic evolution of search engines, unravelling the strategies that once dictated success, the transformative shifts that have redefined the rules, and the current trends that businesses must grasp to navigate the intricate world of online visibility. From the rise of advanced AI algorithms to the strategic utilization of structured data and the ever-growing emphasis on user experience, we embark on a journey through the past, present, and future of search engine optimization (SEO).
Join us as we unravel the intricacies of Google's AI advancements, the pivotal role of structured data in boosting SERP visibility, and the strategies that propel businesses towards the zenith of online recognition. Whether you're a seasoned digital marketer or a business owner aiming to stay ahead of the curve, this guide serves as your compass in the vast sea of search engine dynamics, offering insights into proven techniques, emerging trends, and the key elements that define success in the quest for search visibility.
Let's dive right in!
Mastering the Art of Search Visibility:
A Comprehensive Guide for Businesses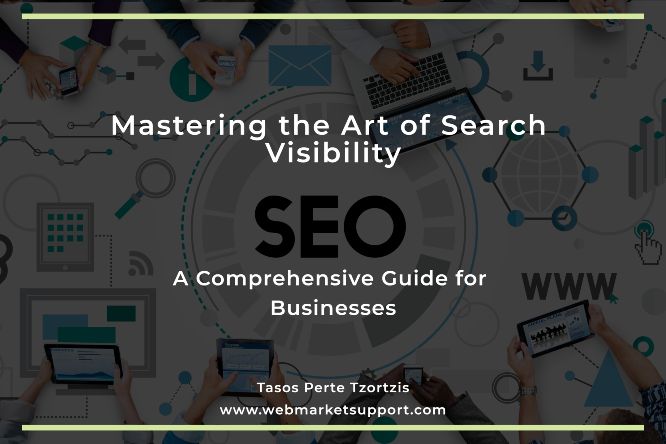 Overview of the Evolving Search Engine Landscape
What Used to Work:
In the early days, search engines primarily relied on simple algorithms, often based on keyword matching.
Ranking algorithms were less sophisticated, and the emphasis was on basic relevance to user queries.
What Changed:
Introduction of Algorithmic Updates: Search engines, especially Google, introduced algorithmic updates to refine search results. Notable updates include Panda, Penguin, and Hummingbird, focusing on content quality, link quality, and semantic understanding.
Shift to Mobile: With the proliferation of mobile devices, search engines transitioned towards mobile-first indexing, prioritizing mobile-friendly websites.
Emergence of AI and Machine Learning: The integration of artificial intelligence (AI) and machine learning (ML) became pivotal, allowing search engines to understand context, user intent, and deliver more personalized results.
Importance of User Experience: User experience (UX) gained prominence, influencing rankings. Factors like site speed, mobile responsiveness, and overall usability became critical.
Advanced AI Algorithms: Google's advancements in AI, including BERT, MUM, and LAMBDA (Bard), have significantly improved the understanding of natural language, context, and complex queries.
Rich Snippets and SERP Features: Search Engine Results Pages (SERPs) now include rich snippets, featured snippets, and various features that provide users with quick, direct answers, reducing the need to click through to websites.
Structured Data and Schema Markup: The use of structured data and schema markup has become integral for enhancing the visibility of content in SERPs, leading to more informative and visually appealing results.
Focus on Expertise and Trustworthiness: The E-A-T (Expertise, Authoritativeness, Trustworthiness) framework is crucial. Search engines increasingly prioritize content from authoritative sources, emphasizing the credibility of information.
Voice Search and Conversational AI: The rise of voice search and conversational AI is reshaping how users interact with search engines, requiring optimization for more natural language queries.
Visual Search and Augmented Reality: Visual search and augmented reality are emerging trends, allowing users to search using images and providing more immersive experiences.
Continued Emphasis on E-A-T: The importance of E-A-T is likely to persist, with search engines becoming more discerning about the reliability and expertise of content.
Integration of New Technologies: Advancements in technologies like quantum computing may introduce new possibilities, influencing how search engines process and deliver results.
The evolution of search engines reflects a dynamic journey from simplistic keyword-based algorithms to highly sophisticated, AI-driven systems. The current landscape is characterized by a focus on user experience, context-aware algorithms, and the need for authoritative, trustworthy content. As we look to the future, emerging technologies and changing user behaviours will continue to shape the way we search and interact with information online.
Businesses must adapt their strategies to align with these trends, emphasizing not just relevance but also expertise and user trust.
The Importance of Visibility in Search Engine Results for Business Success
The importance of visibility in search engine results for business success cannot be overstated. Here are several key reasons why a strong presence on search engine results pages (SERPs) is crucial for businesses:
Increased Online Exposure:
Visibility on SERPs ensures that your business is exposed to a broader online audience. This exposure is vital for attracting potential customers who may be searching for products, services, or information related to your industry.
Brand Credibility and Trust:
High visibility in search results contributes to the credibility and trustworthiness of your brand. Users often associate top-ranking results with authority and reliability, making them more likely to trust and engage with businesses that appear prominently in searches.
Competitive Advantage:
In highly competitive markets, businesses that consistently appear at the top of search results gain a significant competitive advantage. Being visible when potential customers are actively searching for solutions in your industry can lead to increased market share.
Traffic Generation:
Higher visibility translates to increased organic traffic to your website. When your website ranks well for relevant keywords, you're more likely to attract users interested in your products or services, leading to a steady stream of potential customers.
Cost-Effective Marketing:
Organic search visibility is a cost-effective way to drive traffic compared to paid advertising. While paid methods can be effective, achieving a strong organic presence ensures a continuous flow of relevant traffic without ongoing advertising costs.
Local Business Discovery:
For brick-and-mortar businesses, local search visibility is essential. When potential customers in your vicinity search for products or services, a strong local presence ensures that your business is discovered, leading to increased foot traffic and conversions.
User Intent Alignment:
Visibility in search results allows businesses to align with user intent. When your content aligns with what users are actively searching for, it increases the likelihood of converting those users into customers, providing a more targeted and effective marketing approach.
Adaptation to Changing Consumer Behaviour:
As consumers increasingly rely on online searches to make informed decisions, businesses must adapt to this changing behaviour. Having a visible and easily accessible online presence ensures that your business remains relevant and competitive in the modern digital landscape.
Insights for Continuous Improvement:
Analyzing search performance and user behaviour through tools like Google Analytics provides valuable insights. Businesses can use these insights to refine their strategies, improve user experience, and stay ahead of evolving market trends.
In summary, visibility in search engine results is a linchpin of business success in the digital age. It not only enhances brand credibility and competitiveness but also serves as a cost-effective and targeted way to connect with a wider audience. Businesses that prioritize and optimize for search visibility position themselves for sustained growth and success in the online marketplace.
The Power of Google

's Advanced AI
Google's advancements in artificial intelligence (AI) have significantly influenced how search engines understand and interpret user queries, leading to more relevant and context-aware search results. Here's an exploration of three key AI advancements by Google: BERT, MUM, and LAMBDA (Bard).
BERT (Bidirectional Encoder Representations from Transformers)
Contextual Understanding:
BERT, introduced in 2018, marked a revolutionary shift in search algorithms. It focuses on understanding the context of words in a search query, considering the relationships between them.
Traditional algorithms might interpret a query based on individual keywords, but BERT comprehends the nuances of language and context, enabling more accurate and contextually relevant results.
Impact on Search Queries:
BERT is particularly effective in handling conversational queries, long-tail keywords, and complex sentence structures.
Users benefit from search results that better match their intent, as BERT helps the search engine grasp the nuances and intricacies of language.
MUM (Multitask Unified Model)
Handling Multifaceted Queries:
MUM, announced by Google in 2021, takes contextual understanding further by enabling the system to comprehend and generate responses to multiple languages and modalities simultaneously.
It's designed to handle complex queries, even those combining text and images, providing a more comprehensive understanding of user intent.
Improved Search Results across Languages:
MUM's ability to process information across languages makes it a powerful tool for catering to diverse global audiences. This is especially important for businesses with international reach.
LAMBDA (Language Model for Dialogue Applications, codenamed Bard)
Conversational AI Advancements:
LAMBDA, introduced by Google, represents a significant leap in conversational AI. It's designed to facilitate more natural and dynamic interactions between users and AI models.
With LAMBDA, search engines can better handle conversational queries, making the search experience feel more like a dialogue.
Real-Time Contextual Responses:
LAMBDA's capacity to generate contextually relevant responses in real-time contributes to a more engaging and interactive user experience.
This aligns with the trend toward voice search and the growing importance of conversational interfaces.
Enhanced SEO Strategies:
Businesses need to adapt their SEO strategies to align with Google's evolving AI capabilities. This involves optimizing content for natural language, focusing on user intent, and ensuring that websites provide valuable information in response to complex queries.
User-Centric Approach:
The focus on BERT, MUM, and LAMBDA underscores the importance of a user-centric approach. Businesses that prioritize creating content that genuinely serves the user's needs and intent are more likely to benefit from these advancements.
Global Reach:
MUM's multilingual capabilities emphasize the significance of catering to a global audience. Businesses should consider the linguistic diversity of their target markets and optimize content accordingly.
In summary, Google's advanced AI models, including BERT, MUM, and LAMBDA, represent a paradigm shift in how search engines understand and respond to user queries. For businesses, this means an opportunity to enhance their online visibility by aligning their digital strategies with the capabilities of these advanced AI models. Optimizing content for natural language and user intent becomes paramount in the quest for improved search rankings and a more engaging user experience.
The Impact of Google's Advanced AI on Search Result Quality and User Experience
Enhanced Relevance and Context
BERT's Contextual Understanding:
BERT's ability to understand the context of words in a search query contributes significantly to the relevance of search results.
Users experience more accurate matches to their intent, especially in cases of ambiguous or complex queries.
User Intent Alignment:
Google's AI advancements enable search engines to go beyond traditional keyword matching and align more closely with user intent.
The result is a search experience where users find information that is not just relevant to their queries but also understands the context in which those queries are made.
Improved Handling of Long-Tail Keywords
BERT and Long-Tail Queries:
Long-tail keywords, which often express specific and detailed user intent, are better understood and addressed by BERT.
Businesses benefit from this as their content can be surfaced for more niche queries, reaching a highly targeted audience.
Multilingual and Multimodal Capabilities
MUM's Cross-Language Understanding:
MUM's ability to comprehend and generate responses across multiple languages enhances the search experience for users globally.
Businesses with a multilingual audience can provide content that resonates more effectively with diverse linguistic preferences.
Handling Complex Queries with Images:
MUM's capacity to process information from both text and images enables better handling of complex queries.
Users can benefit from a richer search experience, especially when seeking information that may be better conveyed through images.
Conversational Search and Dynamic Interactions
LAMBDA's Conversational AI:
LAMBDA's introduction signifies a move towards more natural and dynamic interactions between users and search engines.
Conversational search becomes more fluid, allowing users to engage with search results in a manner that resembles a dialogue.
Real-Time Contextual Responses:
LAMBDA's ability to generate contextually relevant responses in real-time contributes to a more interactive user experience.
Users receive information that adapts to the evolving context of the conversation, providing a more personalized and engaging interaction.
User-Centric Design and SEO Strategies
Aligning Content with User Needs:
The impact of these AI advancements underscores the importance of creating content that genuinely serves the needs and intent of users.
Businesses that adopt a user-centric approach to content creation are more likely to see positive results in search rankings and user engagement.
Optimizing for Natural Language:
With advanced AI understanding natural language more effectively, businesses should optimize their content to mirror the way users express themselves in queries.
This involves a shift towards more conversational and context-aware content.
Future Implications for User Experience
Evolution of Voice Search:
With the advancements in conversational AI, voice search is likely to evolve further, providing users with a more natural and seamless way to interact with search engines.
Continued Emphasis on Contextual Relevance:
The trajectory of AI advancements suggests an ongoing emphasis on improving contextual relevance. Businesses need to stay attuned to these changes for continued optimization.
In conclusion, Google's advanced AI, including BERT, MUM, and LAMBDA, has profound implications for search result quality and user experience. The focus on contextual understanding, handling complex queries, and fostering more natural interactions signifies a shift towards a more sophisticated and user-friendly search environment. For businesses, this necessitates an adaptive approach to SEO and content creation that aligns seamlessly with the evolving capabilities of Google's AI models.
Integration of ChatGPT and AI tools
The integration of ChatGPT and other AI tools within the framework of Google's advanced AI marks a pivotal moment in the evolution of user interactions with search engines. By incorporating natural language processing models like ChatGPT, Google aims to enhance the conversational aspects of search queries, allowing users to engage in more dynamic and context-rich conversations with the search engine.
ChatGPT, developed by OpenAI, adds a layer of sophistication to user interactions, enabling the search engine to comprehend and respond to a wider array of conversational nuances.
Additionally, the integration of other AI tools contributes to the overall intelligence of the system, ensuring that search results are not only contextually relevant but also dynamically responsive to user needs. This convergence of AI technologies represents a significant step towards a more interactive and personalized search experience, with implications for how users engage with information in the digital realm.
Content-First Approach and User Experience
Importance of Quality Content and User-Centric Design
The importance of quality content and user-centric design in the realm of search engine optimization cannot be overstated. Quality content serves as the backbone of a successful digital strategy, acting as the conduit through which businesses communicate with their audience.
Search engines, especially with advancements in AI like Google's BERT, prioritize content that is not only keyword-rich but also contextually relevant, providing valuable information that aligns with user intent.
Concurrently, user-centric design plays a crucial role in enhancing the overall experience, ensuring that websites are intuitively navigable, visually appealing, and optimized for various devices. A user-centric approach considers the needs and preferences of the audience, contributing not only to improved search rankings but also to increased user engagement and satisfaction.
In the dynamic landscape of digital marketing, businesses that prioritize both quality content and user-centric design create a synergy that not only attracts search engine algorithms but also fosters meaningful connections with their target audience.
Leveraging Google Analytics 4 for Data Analysis
Leveraging Google Analytics 4 (GA4) for data analysis is a strategic imperative for businesses seeking to understand and optimize their online performance.
GA4 represents a significant evolution from its predecessor, Universal Analytics, offering enhanced tracking capabilities and a more holistic view of user interactions across websites and apps. With a focus on user-centric measurement, GA4 provides valuable insights into user journeys, engagement, and conversion paths. Its event-based tracking model allows businesses to define and track specific user interactions, providing a more nuanced understanding of user behaviour.
The integration of machine learning in GA4 further enables businesses to unearth meaningful patterns in data, anticipate trends, and optimize marketing strategies for better outcomes. As the digital landscape continues to evolve, GA4 emerges as a powerful tool for businesses, empowering them to make data-driven decisions, enhance user experiences, and ultimately drive success in the online realm.
Enhancing Overall User Experience for Better Search Rankings
Enhancing the overall user experience is a cornerstone for achieving better search rankings in the modern digital landscape. Search engines, led by Google, increasingly prioritize user-centric factors as key ranking indicators.
Elements such as mobile responsiveness, page load speed, intuitive navigation, and quality content contribute to a positive user experience.
Websites that offer seamless, accessible, and engaging interactions are more likely to be rewarded with higher search rankings.
Beyond technical aspects, user experience extends to the relevance and credibility of content, aligning with the user's intent.
As search algorithms become more sophisticated, businesses that prioritize and invest in a superior user experience not only cater to the preferences of their audience but also position themselves favourably for improved visibility and success in search engine results.
Structured Data and Schema Markup for SERP Visibility
Maximizing SERP Visibility with Structured data
Maximizing Search Engine Results Page (SERP) visibility with structured data is a pivotal strategy in the arsenal of businesses aiming for enhanced online presence.
Structured data, implemented through markup languages like Schema.org, provides a standardized way to communicate information to search engines. By incorporating structured data, businesses can enhance their organic search listings with rich snippets, including details like ratings, reviews, product information, and event details.
This not only makes search results more visually appealing but also offers users a quick snapshot of relevant information, increasing the likelihood of click-throughs.
Additionally, structured data aids search engines in better understanding the context of content, aligning with the user's query and intent. As search algorithms evolve, businesses that strategically leverage structured data gain a competitive edge in maximizing their visibility on SERPs, offering a more informative and engaging experience to potential users.
Schema Testing Techniques for Enhanced Rich Snippets
Schema testing techniques play a crucial role in ensuring the effectiveness of structured data markup for enhanced rich snippets on search engine results pages (SERPs).
Schema markup provides a standardized way to communicate specific information about a webpage's content to search engines, enabling the generation of rich snippets. Testing the implementation of schema ensures that search engines correctly interpret and display the desired information, such as product details, reviews, or event information.
Utilizing tools like Google's Structured Data Testing Tool allows businesses to validate their markup, identify errors, and fine-tune the implementation for optimal visibility.
By employing schema testing techniques, businesses can refine their rich snippets to present accurate and compelling information, ultimately improving the chances of attracting user attention and clicks in the competitive landscape of search engine results.
Utilizing Markup for Local Businesses, Products, FAQs, and Events
Local Businesses:
Implement LocalBusiness schema to provide essential details like business name, address, phone number, and operating hours.
Include additional attributes such as reviews, ratings, and business categories for a comprehensive local business listing.
Products:
Utilize Product schema to highlight key product information like name, description, price, and availability.
Incorporate product-specific details such as brand, SKU, and reviews to enhance the visibility and richness of product listings.
FAQs:
Employ FAQPage schema to structure frequently asked questions and their corresponding answers.
Enhance the chances of appearing in FAQ-rich snippets by providing concise and valuable answers to common queries related to your business or industry.
Events:
Use Event schema to provide detailed information about upcoming events, including event name, date, time, location, and description.
Include additional elements like performers, ticket details, and venue information to offer users a comprehensive overview of the event.
By effectively implementing these markup types, businesses can optimize their online presence, provide more informative and engaging search results, and increase the likelihood of attracting users interested in local services, products, FAQs, and events.
Optimizing Content for Featured Snippets and SERP Features
Strategic Keyword Usage for Featured Snippets
Strategic keyword usage for featured snippets is a fundamental aspect of search engine optimization (SEO) aimed at securing prime visibility on search engine results pages (SERPs).
Featured snippets, also known as position zero, are concise summaries extracted from web pages that directly answer user queries. To optimize for featured snippets, businesses need to strategically incorporate relevant keywords within their content, ensuring clarity and conciseness.
Understanding the types of featured snippets, such as paragraphs, lists, or tables, enables businesses to structure their content effectively. By aligning content with common user queries and providing direct, comprehensive answers, businesses increase their chances of being selected for featured snippets, establishing authority in their niche and gaining prominent visibility in search results.
Understanding the Difference Between Paid and Organic SERP Features
Understanding the difference between paid and organic SERP (Search Engine Results Page) features is crucial for businesses aiming to optimize their online visibility effectively. Paid SERP features, often presented at the top and bottom of search results, are advertisements for which businesses bid to appear when specific keywords are searched. They are labelled as "Ad" and offer immediate visibility but come with associated costs.
On the other hand, organic SERP features are unpaid and determined by the search engine's algorithm. These include traditional organic listings, featured snippets, knowledge graphs, and other non-advertisement elements.
Businesses optimizing for organic features focus on content quality, relevance, and adherence to SEO best practices.
Understanding the nuanced interplay between paid and organic features enables businesses to develop a comprehensive search strategy, balancing the benefits of immediate visibility through paid advertising with the long-term, sustainable growth offered by organic search optimization.
Utilizing Structured Data for Rich Snippets, Recipes, and Reviews
Proven Techniques for Website Visibility Improvement
In-Depth SEO Strategies: Keyword Optimization, On-Page Optimization, Technical SEO
Keyword Optimization:
Conduct thorough keyword research to identify relevant and high-impact keywords for your industry.
Strategically integrate target keywords into various elements, including titles, meta descriptions, headers, and throughout the content.
Prioritize long-tail keywords and semantic variations to capture a broader range of user queries.
Regularly review and update keyword strategy based on changes in user behaviour and industry trends.
On-Page Optimization:
Create high-quality, relevant, and valuable content that addresses user intent and provides a positive user experience.
Optimize meta tags (title tags, meta descriptions) for clarity, relevance, and click-through optimization.
Utilize header tags (H1, H2, etc.) to structure content and emphasize key points.
Optimize images with descriptive alt text and compress files for faster page load times.
Implement internal linking to improve site navigation and distribute link equity.
Technical SEO:
Ensure a crawlable and indexable website structure by addressing issues like broken links, crawl errors, and duplicate content.
Optimize site speed by compressing images, leveraging browser caching, and utilizing Content Delivery Networks (CDNs).
Implement a mobile-friendly design with responsive web pages to cater to the growing mobile user base.
Optimize URL structures, making them user-friendly and incorporating target keywords when relevant.
Leverage XML sitemaps and submit them to search engines to facilitate efficient crawling and indexing.
By meticulously incorporating these in-depth SEO strategies, businesses can lay a strong foundation for improved search engine visibility, user experience, and overall online success.
Building Links, Utilizing Social Media, and Local SEO Techniques
Analyzing and Measuring Website Visibility with Practical Tips
Targeting Long-Tail Keywords and E-A-T
Strategies for Targeting Long-Tail Keywords
The Rise of E-A-T (Expertise, Authoritativeness, Trustworthiness) in SEO
Balancing Personalization and Privacy Considerations
Technical SEO and Comprehensive Audits
Implementing Comprehensive SEO Platforms
Conducting Technical SEO Audits and Fixing Issues
Quick SEO Tweaks for Immediate Impact
Optimization of Anchor Text, Meta Tags, and Multimedia Engagement
Structuring Content for Answer Boxes
Calculating Google Visibility Score and Future-Proofing SEO
Insights into Calculating Google Visibility Score
Future-Proofing Strategies: Internal and External Linking, Mobile Optimization
200+
Business & Marketing Tools Collection
Work management, tracking, organizing, payments, accounting, Google, keyword, market, and competition research, SEO, analytics, and related, marketing & advertising, web development, website monitoring, domains & website hosting, coding, and related, design & multimedia, marketplaces, entrepreneurial communities, hiring & outsourcing.

In conclusion, achieving and maintaining robust search visibility demands a multifaceted and adaptive approach. The ever-evolving search landscape, marked by advancements in AI, algorithm updates, and shifting user behaviours, requires businesses to embrace a holistic strategy.
The key takeaways from our exploration include the pivotal role of Google's advanced AI, the significance of E-A-T principles, and the need for constant adaptation to emerging SEO trends.
Structuring content for featured snippets, optimizing meta tags, and implementing multimedia engagement are immediate tweaks that can yield swift improvements. Future-proofing strategies, such as internal and external linking and mobile optimization, ensure sustained success amid evolving search algorithms. As businesses navigate the complex web of SEO intricacies, understanding the power of comprehensive SEO platforms, conducting technical audits, and analyzing website visibility become indispensable.
It is crucial for businesses to not only recognize the importance of these elements individually but also to weave them into a cohesive strategy that prioritizes user experience, credibility, and relevance. In a landscape where change is constant, the ability to adapt and refine SEO strategies is the key to not just surviving but thriving in the digital realm.
By embracing these insights and continually adapting to the dynamic search environment, businesses can position themselves for enduring success and heightened visibility in the competitive online landscape.

Tasos Perte Tzortzis
Business Organisation & Administration, Marketing Consultant, Creator of the "7 Ideals" Methodology
Although doing traditional business offline since 1992, I fell in love with online marketing in late 2014 and have helped hundreds of brands sell more of their products and services. Founder of WebMarketSupport, Muvimag, Summer Dream.
Reading, arts, science, chess, coffee, tea, swimming, Audi, and family comes first.