It's no secret that many business owners and entrepreneurs believe that a website can increase sales dramatically.
That's rarely the case.
A website is crucial for a company to expand its reach online but alone can't do much for your business.
A website to work properly and generate leads, referrals, and sales needs traffic. But getting traffic without doing anything is not possible.
We've talked about it in a previous post.
Why Companies Should Invest In Content Marketing
And even when a website gets traffic, that does not mean sales and leads.
There's got to be something more.
I see businesses spending thousands of dollars on ads that simply don't convert.
In the majority of cases, that happens because these websites are empty of content. Empty websites can't produce sales as modern consumers are savvy and perform extensive research before they buy products and services.
They have thousands of choices, why would they choose your company?
This is where content marketing comes into play.
And what is it exactly?
Content marketing is a marketing strategy to attract, educate, nurture, and retain a targeted audience by planning, producing, and distributing relevant and valuable content in various formats through multiple channels, platforms, and media on a consistent basis.
The goal is to build awareness, trust, credibility, and authority and drive customer action by adding value at every stage of the buyer's journey and convert prospects into customers, loyal fans, advocates, and promoters of a brand.
Content can be used for inbound (getting found by customers) and outbound (chasing and interrupting customers) marketing objectives and takes place both online and offline.
There are various formats we can use either as-is or in combination: 
Blogging (articles, news, lists, guides, discussions, storytelling, answering questions, reviews, comparisons, controversial topics)

Web pages (home, about, FAQ, etc) landing pages (products, services, events, etc), opt-in pages, members areas, and other

Videos (tutorials, how-to's, product presentations, product commercials, reviews, announcements, testimonials, launches, promotions)

Audio (podcasts, lessons, books, article narrating, interviews, commercials)

Webinars

Online events (virtual conferences, bootcamps, training workshops)

eBooks

WhitePapers

Reports

Research

Courses (free and premium)

Email newsletters

Case Stud

ies

Customer success stories/testimonials

Visual (infographics, charts, images & galleries, banners, gifs, maps, etc)

Interactive content (q

uizzes, p

olls, surveys, contests, q

uestionnaires)

Curating content of related sources and brands

Manuals and guides

Product sheets

Statistics

Print material

Print newsletter

Postcards

Magazines

Brochures, flyers

QR codes

Live in-person events (seminars, workshops, speaking, conferences)

and more
And soon you'll realize why investing in content marketing can be proved a huge advantage for your business, its major benefits, and why it's one of the most effective ways for small businesses to compete with giants.
Reason #1 – Brand Awareness, Trust, Credibility, Authority
When a brand invests in content marketing it becomes active in the online world.
It appears in search results, images, video thumbnails, social platforms, communities, forums, networks.
It's a brand that answers queries that prospects ask and it demonstrates power and superiority.
It's a brand that people talk about, interact with, and share with their network.
It's a brand that people trust, a brand that's becoming an authority in the industry.
Example: 
A while ago as I was performing keyword research, I discovered the term "Affiliate marketing statistics". I thought why not. Let's invest in this keyword.
The page became somehow popular and earned links even from authority sites, giant companies.
This is amazing!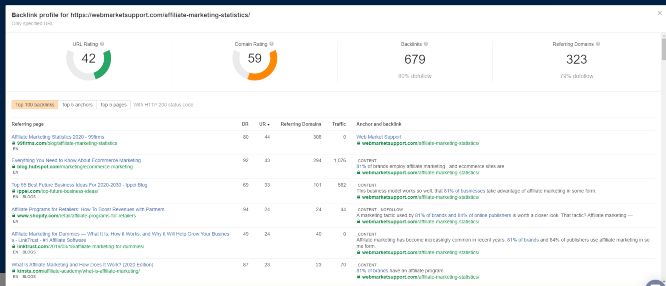 Our "affiliate marketing statistics" page has over 300 domains linking to it.
Domains like: HubSpot, Shopify, LinkTrust, Kinsta, 99firms, ippei, PostAffiliatePro, SmartInsights, Taboola, TapAffiliate, BusinessInsider, Impact.
Reason #2 – Helps People Get Familiar With Your Brand and Values
Prospects may find your products and services appealing but the majority of them are not ready to proceed with a purchase.
They want to understand your brand's culture, its values, the advantages of using your products, and if your brand is any different.
A perfect chance to give them what they want and to prepare them for a unique experience.
Reason #3 – Educates Prospects
Consumers have questions that need to be addressed. They need additional information on your product features, pricing, and how to use them properly without losing valuable time and energy.
This is your chance to offer them a 360-degree point-of-view and help them make a well-informed purchasing decision.
Very often brands invest in tutorials, guides, case studies, and so on. 
Reason #4 – It Shows Why Your Products and Services Are Great
A brand that delivers high-quality content on a consistent basis builds trust with potential customers.
When a brand explains and analyzes its product features through content creation automatically questions prospects might have are getting answered.
Additionally, consumers realize all the product's benefits, differences with other brands, and this is when they gain the confidence to move forward with a purchase.
Companies invest heavily in customer testimonials, product demonstrations, case studies, reports, video tutorials.
Reason #5 – Customer Engagement
Prospects have the chance to ask questions, leave their comments, and even win prizes, discounts, and other bonuses depending on the campaign and offer.
They have the chance to enjoy your brand's posts on social platforms and your website and interact with them.
Some of them might also leave feedback, which is crucial for brands to improve their products and services.
The most successful brands are those who communicate with their customers on an ongoing basis.
Reason #6 – Creates A Feeling Of Community
Brands that invest in blogging, video content, podcasts, and webinars attract masses of traffic.
Users, visitors, attendees, and prospects interact with the brand and with one another. 
The next step for brands is to build forums, specialized groups, and communities to further communicate with their fans.
But it all starts with content marketing. This is the basis.
Reason #7 – Showcases Your Brand's Expertise
Without any content, prospects are not sure about your brand's expertise.
You have to show them your brand is indeed an expert and a leader in the industry.
Content marketing is your ultimate weapon.
Reason #8 – Creates A Loyal Fan Base
Content marketing does not stop when a prospect becomes a customer.
Companies should further delight customers and offer them a unique post-purchase experience.
Why? customers will turn into raving fans and will spread your message with their networks with no other incentive than they love what you do.
Reason #9 – Helps Brands Understand Their Customers And Needs
Through keyword, market, and competition research, content creation, measurement, and analysis brands start understanding their audience's needs and problems.
And as a result, brands can more accurately segment their audiences and create better buying personas so they can send improved and personalized messages to each prospect individually.
This way brands become savvier in answering all the questions their prospects might have before they even ask them.
This eliminates objections and potential customers will convert at higher rates.
Reason #10 – Helps Product Development
Through content creation, brands attract leads and customers. With the use of questionnaires, quizzes, surveys, and polls brands have the chance to collect invaluable data that can help them improve their production line and reduce costs to the minimum, and more importantly, to offer products that customers will absolutely enjoy to the maximum.
Reason #11 – Lead Acquisition
With content marketing brands have the chance to acquire leads by collecting their email addresses in exchange for something valuable (eBook, report, case study, etc).
Then, with email marketing, a brand can educate its prospects and finally convert them into customers.
Reason #12 – Increase Traffic
With content marketing, a brand becomes visible on the search engines, social platforms, communities, forums, networks. 
A brand that is sharing valuable content gets links and mentions from other brands and online properties.
As a result, traffic is increasing.
Reason #13 – Helps SEO Performance
When a brand publishes content regularly, it gets rankings in the search engines and becomes visible.
The more content a brand creates, the more visibility it gets, the more traffic.
This is how I was able to get rankings for this website, through content marketing.
Reason #14 – Helps Increase Conversions & Revenue
A well-educated and informed potential buyer has a higher chance of converting into a lead or customer. They know your brand and they probably have interacted with you on social media, on your website, or other platforms.
They know what to expect. They also know that your brand is serious and active in the marketplace.
And when conversions increase, revenue increases.
On the other hand, a brand bombarding search engines and various platforms with a series of ads with no prior online presence will suffer conversions.
Reason #15 – Helps PPC Campaigns
When a brand spends money on advertising without backing it up with content, prospects are not converting.
Content is a tool that helps prospects evaluate a brand's offerings and if they really need its products.
Brands that invest in content creation have a unique chance to track visitors on their websites and then target these visitors with retargeting ads on other platforms, thus increasing conversions.
Reason #16 – Attracts Influencers, Helps PR Campaigns
Without content, a brand can't attract influencers and industry leaders as its attempts will hit a wall.
First, you have to create a brand name and that can be accomplished by content marketing.
The more visible a brand is online, the higher the chances of getting approached by influencers or getting accepted when they reach out to influencers.
Without content on-site, no brand can except public relations to work out properly. If a brand wants publicity, its members have to work for it.
A visible brand attracts traffic, sponsors, influencers, and also joint-ventures and partners.
This is a perfect chance to scale your business with the help of other partners and mutual agreements and promotions.
I am getting approached all the time by other brands and entrepreneurs to join forces.
How did I reach this point? Through content marketing.
Related:
Reason #18 – Attracts Sponsors and Helps Sponsoring
A brand that invests in content marketing becomes visible online and therefore, attracts traffic.
Not all visitors are potential customers, but that is no problem at all.
Some of your visitors might be competitors or even other brands that may reach you to get sponsored on your popular blog.
But you can do the same. You can sponsor content on other related to your brand websites. When your brand is visible, opportunities are everywhere, and your chances of getting accepted as a sponsor are very high.
Reason #19 – Helps Affiliates Promote Its Products Effectively
I know first-hand as I got started as an affiliate. I had a hard time promoting companies with empty websites and I was extremely confident when there was plenty of marketing material to use.
When an affiliate can choose from a variety of options, pages, and promotions, things are getting a lot easier. And this is when conversions are increasing.
Brands that open their doors to affiliates are the ones who are growing fast. This is how Amazon became an empire, thanks to its affiliates.
Reason #20 – Merchandise, Inventory Emulation
In the offline world, stores are full of merchandise and inventory. Without merchandise, there are no sales.
Now imagine a website as an extension of a brand on the web where content plays the role of merchandise. Although content can't be sold, it helps brands sell their products and services. It's a necessary tool.
The more content the easier the sales.
Reason #21 – Your Competitors Already Invested In Content Marketing
This is the time, this is the place.
Are you going to watch your competitors dominate the search engines, social media platforms, and other properties and networks without doing anything?
They already invested in content marketing and they attract potential customers every single day.
Don't lose valuable time.
With content marketing, you increase conversions and sales, thus increasing revenue.
Content that brands created in the past is not going anywhere and prospects might access it at any time. In this case, content works as a sales team to further bring money in without brands having to spend extra money.
Content marketing is a strategy with long-term potential and gives brands "Leverage".
Reason #23 – Consumers Aren't Just Looking For Products and Services
Yes, you've heard that right. And this is the greatest chance for small businesses and even solo-entrepreneurs to compete with giant players.
People aren't just looking for products and services. They had en0ugh already. They are savvy and they want something more.
They're looking for a superior buying experience. They need to interact with brands and have their questions answered by humans and they definitely, do not need automated messages and FAQ pages.
We Teach
Marketing &
 Business
Live on Zoom
Your host: Tasos Perte Tzortzis
Schedule an interview so we can evaluate where you are right now, your needs and goals, and we'll give you a detailed analysis of how the workshops work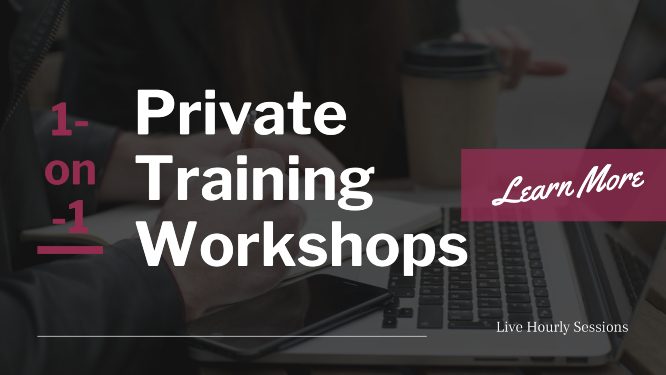 There you have it, a multitude of reasons that leave no doubts on why content marketing is a necessity.
And it's also an affordable luxury that small businesses and solo entrepreneurs can take advantage of to scale their businesses like giants do.
Do you need help in getting started with content marketing?
Let us help you with effective content marketing strategies, tactics, and campaigns that bring results delivered via private training workshops online 1-on1. Your brand deserves it.

Tasos Perte Tzortzis
Business Organisation & Administration, Marketing Consultant, Creator of the "7 Ideals" Methodology
Although doing traditional business offline since 1992, I fell in love with online marketing in late 2014 and have helped hundreds of brands sell more of their products and services. Founder of WebMarketSupport, Muvimag, Summer Dream.
Reading, arts, science, chess, coffee, tea, swimming, Audi, and family comes first.