You want to increase your brand's visibility on Pinterest. You want to gain followers that re-pin your images, you want to make the most out of this social platform that became extremely popular during the last years.
Good idea!
Why?
Pinterest is an excellent tool for bringing traffic to websites and it's being used by thousands of marketers and brands. And it's cool, funny, relaxing, fast. It's also different and unique and brings results.
Did you know that my personal Pinterest account receives over 300,000 views per month? At some point in 2018, I had over 500,000 views.
Crazy or what? That's over 3.6M views per year. I really love this statistic showing up on Pinterest profiles.
How many followers do I have? Can you guess? 50,000? 100,000?
No, just 730+. REAL PEOPLE, not fake followers, and are not people that followed me because I followed them first for the sake of following someone. These are people that chose to follow me on their own. What does it mean? They REALLY want to watch my pins. That makes them 730 real people interested in what I pin. Some of them are active, others aren't.
The thing is I get my pins RE-PINNED all the time.  This multiplies my traffic as their followers watch my pins too.
If you watch the stats closely on this social platform, you'll discover people followed by 10,000's of people receiving 1000 views per month or less. Why? They are being followed by people not interested in their pins or robots.
How many do I follow? Only 300.
How much time do I spend daily on Pinterest? On average 10minutes.
Not bad?
Let's see how I can help you increase your views in 10 minutes or less daily.
Percentage Of People Ouside USA
Percentage Of People Using Mobile
Pinterest Tips and Tricks Using a Personal Profile
One of my favorite social channels. I got hooked from day one. 
I love the way people interact via image sharing. When I use it I feel I'm taking a break from work but I'm not.
Today, I will be talking about how I use my personal profile on Pinterest. But these are tips you can use to grow your business on this platform as well.
Tip #1 – Treat It As A Social Platform
I'll be honest with you. You can use Pinterest for business, but it's not a strictly business tool and should not be treated as one.
You should treat Pinterest as a social platform.
That means you need to be active, share other people's pins (re-pin) and open every Pinterest email notification.
Pinterest sends me daily notifications (my pins that re-pinned, popular boards to check, activity reports, and more)
I open all of them and click on each notification inside.
From there I choose which pins I'll re-pin. You don't have to re-pin everything.
I re-pin only the most appealing images and any image I remember I've not already pinned. Sometimes, Pinterest notifies me when a pin is already pinned, but not always.
Don't forget to check your Pinterest notifications inside the platform. It's the bell icon on the top right bar.
It's OK to pin images from your website daily but not overdo it. Don't re-pin the same images and pages all over again. You need to re-pin other people's pins as well. This is the most important factor for getting traction on this platform.
Also, spend 1-2 minutes going through your Pinterest feed. These are pins that show up when you visit Pinterest's homepage. The platform shows you popular pins based on your preferences and recent activity.
Tip #2 – Create Boards Beyond Your Website's Board and Industry
I'm only using one board for my website. Also, I've created 2 boards related to the content of my site (marketing/business and multimedia resources).
All the other boards are almost irrelevant to marketing and advertising. There are 48 boards in total.
I have boards about travel, painting & illustrations, inspirational quotes, masks, luxury, education, and so on.
I am socially active. I'm not a robot.
From time to time, I create new boards to enhance my online presence and attract new followers.
Another hint: I don't go extra descriptive when creating a board and I don't create boards that are very similar.
You'll discover boards from others that are very similar:
ie…Marketing, email marketing, copywriting, social media marketing.
When I visit profiles that have boards like this I'm turned off. It looks spammy. And when you scroll down only to find similar boards, you lose any interest and of course, you exit.
I prefer one board per topic, a generic one.
In the marketing board that's related to my website's board, I share pins from all over the web that are interesting. I want a variety of topics on each board from a multitude of sources and sites. 
Additionally, I don't use sections inside the boards. If you do, when users visit one board of yours that contains sections, they need to click one more time to see the pins. Some won't click again and they'll exit.
For example: I have a board "Music".
Other users with a "Music" board create sections inside this board: Jazz, pop, rock, and so on.
Sections don't work for me but you can test it for yourself.
I prefer generic boards where I can pin a variety of images without spending time categorizing them.
Tip #3 – Help People Find What They're Looking For
Beyond a social platform, Pinterest is also a search engine.
In order to help people find what they're looking for, you need to describe your own pins. 
If these are pins from your website, you can use the meta description that contains related keywords to the pin. Or you can create a new description from scratch.
When you pin various images from the same page on your website it would be ideal to create a different description for each image. But this is time-consuming so alternatively,  you can use the same description for pins coming from the same page on your website if you don't have time to create new descriptions. In this case, try changing the pin's title at least.
In any case, do not make extensive use of keywords. Just help people discover what your pins are all about so when they click on your pins and get redirected to your website, they will find what they're looking for.
Tip #4 – 
Use Words that Stimulate and Create a Desire to Know More
If you're are not using emotional triggers in your descriptions, you miss out on an enormous opportunity. In an era of information overload, consumers respond only to certain marketing messages. Those messages that trigger their emotions.
Target emotions like fear, belonging, pain, anger, aspiration, hope, curiosity, shame, guilt, urgency, and so on.
Or even better, tell stories. Human love hearing stories, and it's the perfect tool to get people's attention immediately.
Tip #5 – Contribute To Other Boards When You're Invited
This won't happen immediately, but when your Pinterest profile gets some traction, you'll get approached by other users to contribute to their boards.
Say YES and pin related images when you have some extra time to spare.
The more social you become, the more traffic you'll get on your profile and boards.
Right now I contribute to 4 extra boards. 1 of them has 15,000+ pins and 6,000+ followers, 1 has 29,000+ pins and 10,000+ followers, 1 has only 40 pins and 65 followers, and 1 board is brand new.
This means extra eyes on my pins, more traffic for my profile.
Tip #6 – Invite Active Followers and Friends From Other Networks
You can invite anyone to contribute to specific boards.
You can search by email, Pinterest profile name, or you can copy a link that Pinterest gives you to send it manually to anyone you want.
But don't just invite all your friends or partners. Try limiting your list only to those that are active on social media and those who use appealing images. 
Remember, Pinterest is a visual platform.
Tip #7 – Add Pin Save Buttons To Your Website
Help people save pins from your website to their Pinterest profiles.
You can either use the Pinterest Widget Builder or a social media plugin.
The Pinterest widget lets you create buttons for one image, any image, or image hover.
You can also customize other options such as:
I use the Monarch plugin which comes bundled with Elegant Themes.
Tip #8 – Use Pinterest Analytics To Gain Insights and Improve
Pinterest provides a very powerful analytics dashboard you should take advantage of.
In the Overview Dashboard:
You can filter the results by:
Date range
Claimed accounts (all pins, your website's pins, other pins)
Devices
Source
Format
Pinterest provides extremely important information in graph format:
Impressions (how many times your pins were seen)
Total Audience
Engagements
Engaged Audience
Also, they display your Top Pins.
Pinterest analytics last 30 days (All Pins)
Pinterest analytics last 30 days (Web Market Support)
In the Audience Insights Dashboard:
You'll discover some very powerful data both for your personal profile and all Pinterest users (the platform as a whole). Pinterest total audience is global and includes everyone who has seen or engaged with any Pins.
Also, you can use the compare option.
Your total audience includes all users who have seen or engaged with any of your Pins in a certain date range.
You get information regarding:
Age

Gender

Location

Device
For the last 30 days, I know that 36% of my audience are people between 18 and 24 years old. 58.6% of them are female. My top country is USA (17.5%). 40.5% of all users use an Android Mobile.
This is data I can use to provide more relevant content to my audience.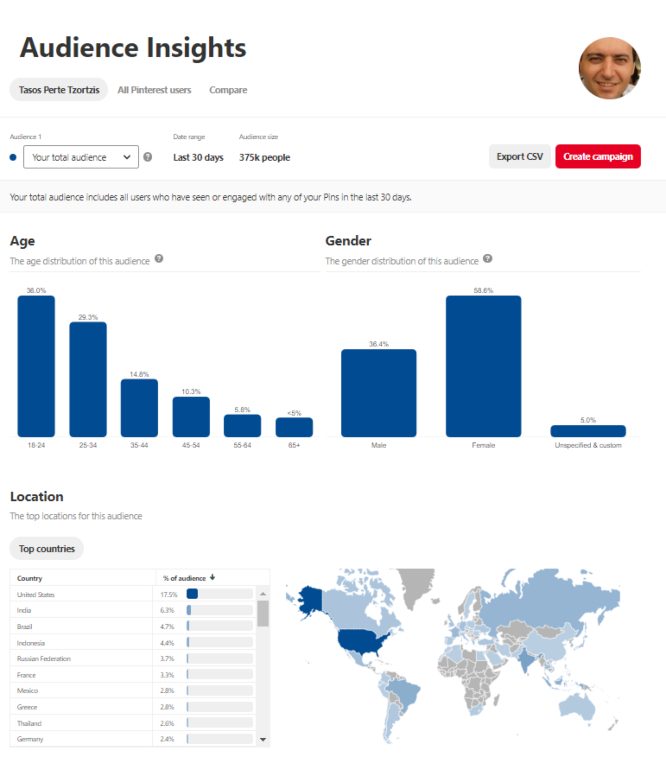 If you aren't sure how to use Pinterest Analytics to improve your visibility or if you want to know how to use emotional triggers in your descriptions, or if you just want to know more about using Pinterest consider hiring Web Market Support for that matter. Contact us for a free demo.
That's it, another article has finished, here on Web Market Support. I hope I can help you improve your Pinterest visibility. I'm waiting for your comments and thoughts. Till next time.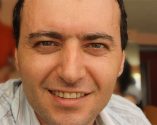 Tasos Perte Tzortzis
Marketing Specialist, Entrepreneur
Although doing traditional business offline since 1992, Tasos fell in love with online marketing in late 2014 and has helped hundreds of brands sell more of their products and services on the web.
He enjoys reading, music & arts, mathematics, chess, coffee, swimming, Audi, and playing with his kids.