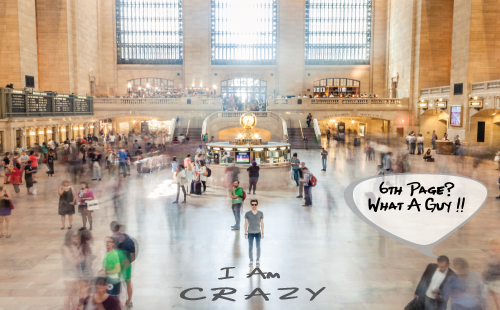 I remember myself searching online when I setup an internet connection for the first time.It was a dial-up and being in Greece meant I was behind the competition , when it comes to technology and comparing my country to Europe.It was moving very slow and it was very expensive too if you were downloading stuff….But … it was  a w e s o m e …. I was hooked by the beauty of internet , I could make friends around the world and have the chance to discover places I did not even know existed.And like everybody else I was using the search engines to find information and to purchase products.
That Article's Intention Is To Begin A Discussion About The 1st Page Of Google And To Help "Me" Understand The "Why"
Now after all these years my "Search Habits" did not change at all.What I mean by saying search habits?….When I use a search engine , no matter what engine is that , I scan the first results and if I am not satisfied I simply move onto the next page , repeating the process until I find what I am looking for.Sometimes I change the search term if necessary.And that is the normal for me , that is how I used it and still do.
An Afternoon With Friends
We were sitting in my room , me and a couple of friends chatting about everything.Then I switched on my pc to check something my friend was looking for.We connected online and I typed the terms in the search line.I can't remember exactly what we were researching but I remember scrolling down while my friends were watching the results with me.Nothing interesting came up and I pressed the next page button.
< Damn my friend said , it's not there , hey Tasos , just check this term instead he continued >
< Why? >…I thought he was in hurry or something but we were relaxed and I was sure he had nowhere to go any soon
< What are you doing? > , the 3rd member of the company asked
< I am searching , just a minute > I responded.Then after a while on the 6th or so page "boom"...I clicked the link and yes , there it was.My friend indeed found what he was looking for , he kept some notes and we continued normally with our chat.
At that time nothing seemed weird to me.
One Day I Was Desperate To Find A Music Book
I had returned from the local marketplace in my town.I could not find the book I was looking for.But I wanted it so much.I thought to check for it online although the salesman on the last store was negative …"No Way" he told me , this book is discontinued.I gave it a try.Indeed this book was nowhere.But good things come to those we "Search"…After a long sweaty marathon I managed to find a title very similar to the one I was looking for in a second hand book store.It was there , the cover was the same , it was mistyped and used but I could not care less.I needed T H I S  book.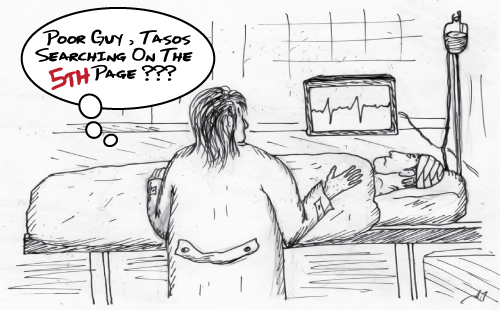 More Awesome Discoveries Found On The 9th or 20th or even in the 40th Page of Google
♦ Excellent hotels for vacations
♦ Games and toys for my kids
♦ Music cd's
♦ Answers for pc and technical problems … just to name a few.
But Why Am I Saying That?
Now as a website owner I found out that people are only looking at the first page of the google results.I believed that I was a normal guy who is searching the web like everybody else.But no , it seems that I am may be crazy.
According to Marketing Land and this article … "on average 71,33% of searches resulted in a page one Google organic click.Page 2 and 3 get only 5,59% of the clicks.On the first page alone , the first 5 results account for 67,6% of all clicks.
So that means people are always find what they are looking for immediately.Or is it not?
Are you searching a new term in the line if you can't find your answer on the first page?…If you re-type a keyword phrase new results will come up.Are you repeating the same process here if you can't target a decent answer?
Some More Questions
I would like to know why…Of course I agree that in the first page of Google are being placed authoritative websites that are trustworthy and popular.And I agree with that process , it is like a test to prove your level.I would not disagree with you on that.I am not saying that a new website should outrank old and highly respective sites.No , in no case….but I am curious why online visitors are in a hurry…Or is it something else I don't understand?
Because sometimes the answers are there if we DIG a little more.And I believe by retyping keywords in the line might proved a time consuming procedure and we may not find a relevant answer.
Possible Similarities Of This Behaviour
Are all these humans behave the same way they perform internet search?…I mean when you buy a newspaper , are you looking only at the front page?…When you go to a night club , to have fun and let's suppose when you enter it is crowded , will you sit just there close to the door without researching the rest of the room because you feel tired moving deeper?…When you visit a coffee shop do you pick up the first free table closer to you?…When you visit a marketplace looking for clothing are you entering the first store that come in your way or are you expanding your search for stores according to your style?
Or is this happening because , we .. humans , expect form the machines to make our lives easier?…Are we lazy to search a little deeper?…We want to be served by the machines?..
This article has only one purpose , to feed the curiosity of the author and nothing else.Let's say it is an experiment.As I already mentioned I do agree that authoritative websites should be appearing in the first page of the search results.I would not argue that , in no case.But I believe that people behave differently in their lives when they do not perform "Internet Searches"…What you think?…Would you like to express your opinion?…Would love to see your comments on that.
P.S .. It was something that was bothering for quite some time.Lately I had another conversation with one of my friends that we were together that afternoon at my place.He continues to search in the same way as back then.Only on the first page.But he admitted (after a long spiritual debate) that he is not finding the best answers quite often and he quits the searching at these cases.
Till next time , your online partner