In a previous article, I briefly shared the rumors about a new central financial system called QFS.
The quantum financial system is being discussed a lot lately on various networks, websites, blogs, and social channels. It is also believed that it will replace the current system.
Today, I want to discuss quantum computing. I feel that I need to dig deeper into the topic.
Quantum computing is a type of computation that harnesses the collective properties of quantum states, interference, and entanglement, to perform calculations. The devices that perform quantum computations are known as quantum computers.
Though current quantum computers are too small to outperform usual (classical) computers for practical applications, they are believed to be capable of solving certain computational problems, such as integer factorization (which underlies RSA encyption), substantially faster than classical computers.
The study of quantum computing is a subfield of quantum information science.
So, let's go through some interesting findings regarding quantum computing to see if we can come up with a prediction and if there are implications in marketing and the entrepreneurial world.
Quantum Computing – Revolution or Fad?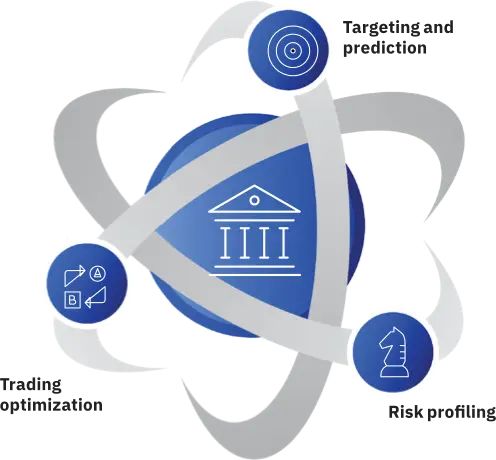 IBM – Expected quantum computing use cases in financial services
IBM shared a report entitled "Exploring quantum computing use cases for financial services".
Applying emerging quantum technology to financial problems—particularly those dealing with uncertainty and constrained optimization—should also prove hugely advantageous for first movers. Imagine being able to make calculations that reveal dynamic arbitrage possibilities that competitors are unable to see. Beyond that, greater compliance, employing behavioral data to enhance customer engagement, and faster reaction to market volatility are some of the specific benefits we expect quantum computing to deliver.
Quantum computing is expected to produce breakthrough products and services likely to successfully solve very specific business problems within three-to-five years.
Quantum computing can also enable financial services organizations to re-engineer operational processes, such as:
Front-office and back-office decisions on client management for "know your customer," credit origination, and onboarding,
Treasury management, trading and asset management,
Business optimization, including risk management and compliance.
Quantum computing's specific use cases for financial services can be classified into three main categories: targeting and prediction, trading optimization, and risk profiling.
Travis Humble published a report entitled "Consumer applications of quantum computing".
We provide a survey of how recent breakthroughs in quantum computing may be applied broadly to sectors driving the development of consumer applications for cloud-based services, artificial intelligence, secure computation, and online entertainment. Following a brief review of the pertinent conceptual principles, we discuss several specific use cases of quantum computing capabilities that motivate new forms of consumer applications.
John Cosley published an article entitled "How quantum computing will transform the way brands engage with consumers".
With the explosion of data, AI and ML are helping brands extract insights, make better decisions, and create more engaging products and experiences.
One of the most promising opportunities for quantum computing is in building a safer, more reliable online experience for consumers and brands alike.
Uncovering the optimal mix of variables for campaigns based upon projected returns, risk assessments, and other factors is a complex task for advertisers. Using quantum technology to perform these calculations advertisers stand to see vast improvements in campaign quality while saving time developing campaigns. This also applies to ad marketplaces and matching user intent with an ad. Because ad platforms handle billions of impressions and queries, even a 1% improvement delivers substantial benefit.
Quantum computing will also increase ad relevancy. It will be capable of finding and using data patterns to help predict and capitalize on audience intent with accuracy.
PhotonicsMedia reported that…
An experiment launching to the International Space Station later this year could provide the building blocks for a future global quantum network. Called the Space Entanglement and Annealing Quantum Experiment (SEAQUE), it involves a milk-carton-size device that will test two communications technologies in space.
Space-based nodes that receive and transmit quantum data from the ground via free-space optical communications will be a key part of the infrastructure required for quantum computers and sensors to communicate with one another. SEAQUE is designed to prove the viability of technologies that may enable orbiting nodes to securely connect quantum transmitters and receivers over great distances.
To do so, the nodes will need to produce and detect pairs of entangled photons. Eventually, transmitting such photons to quantum computers on the ground could enable quantum cloud computing.
The rest of the article is too techie but this segment is enough to help us understand that quantum technology is already part of our lives.
What does it mean for marketing?
As we can see, quantum computing is a field in which many companies have invested. That is not by accident.
Quantum computing can solve issues much faster and more efficiently and its applications are almost endless.
Drug discovery
Security and safety
Financial services
Banking
Data processing
Supply chain management
Artificial intelligence
Sales
Marketing
Distribution
Cryptography
Data analytics
Forecasting
Pattern matching
Aviation
Self-driving cars
Medical research
and so much more
It can also expand in areas like communications and the internet.
But for us marketing professionals and business owners the most important aspect is that it allows you to optimize search, cybersecurity, bidding strategies for advertisements, online and product marketing, software validation and verification, machine learning, and artificial intelligence.
The whole world is changing fast, not just the entrepreneurial world, and so we need to be prepared. 
The concept of quantum computing is not only about empowering companies, banks, and financial institutions but also the end consumer.
Companies that recognize the power of the end consumer and provide superior experiences will survive.
Companies that will stay focused on money and profits will have a hard time competing.
Having a value-driven customer-centric approach is the only way to go.
Are you ready for the future?
Quantum computing has the power to revolutionize every aspect of our lives and save the planet as well. And it will. Why not?
But the question for entrepreneurs is this;
Are you in it for the impact?
Is your brand an advocate of superior user experiences?
Are you taking care of the environment and abiding by ethical business practices?
Then, you are ready for the future.
That's exactly what we are doing with the "7 Ideals" methodology. We help brands get prepared for the future.
Our value-driven customer-centric strategy will set your brand up for success. It's the only method that makes thriving brands.
That's it, another article has finished, here on Web Market Support. I am waiting for your comments and thoughts. Till next time.

Tasos Perte Tzortzis
Business Organisation & Administration, Marketing Consultant, Creator of the "7 Ideals" Methodology
Although doing traditional business offline since 1992, I fell in love with online marketing in late 2014 and have helped hundreds of brands sell more of their products and services. Founder of WebMarketSupport, Muvimag, Summer Dream.
Reading, arts, science, chess, coffee, tea, swimming, Audi, and family comes first.