It was a beautiful and rainy Friday afternoon,  downtown.
I was walking with my older son, the 2 of us, heading to the parking lot.
Suddenly, I noticed a nice pair of shoes in a store. I said, let's go inside, I like this one. Let me check it out.
My son reminded me that we're in a hurry and I promised him that it won't take us long. I promised to buy one thing and that only.
Don't Push Customers To Buy – They Won't Come Back
I checked the shoes but I was not fully satisfied and asked the sales rep if he can bring me a nice jacket that was in the showcase. 

Plan B!
He informed me that we have to go downstairs, to the other department.
There, it was a whole new world. The place was filled with countless jackets for men. I had so many options now, I could not really decide on one of them.
While I was checking a few of them, another sales rep came close and started talking to me.
I was trying to concentrate on the clothing and he was talking as if I asked for his help.
Oh, this one is very warm, and this one, is great, and this one, is a no-brainer, and stuff like that. Every jacket was perfect for me.
Whatever I was doing, he was following me and standing next to me. It was annoying, to say the least.
I looked at him once and I figured out he was pretty much older than the other sales reps. Maybe he was a manager or even the owner of the store.
At some point, I decided to leave the store without buying anything, just because of his weird behavior.
But my son really liked the 1st jacket I checked and the pair of shoes. He insisted that I should buy something.
I always enjoy it when my son insists on something, he rarely does it and I respect his opinion. Besides, I liked the jacket and I did not want our time to get wasted for nothing.
I said OK, I'll buy the jacket but that only, remember, I said one thing.
We paid and left the store.
Until we get to the car I was thinking about my buying experience, which was awful.

I realized that I did not want to revisit this place. 
When we arrived back home, I discussed this with my wife and she laughed. She said, " I never buy when they push me like this, I just say goodbye and leave".
Of course, I said. Is there anyone that likes to be pushed while shopping?
What We Can Learn From This
Why am I saying all this to you?

When you run a store full of merchandise, you don't need to push customers to buy. The merchandise speaks of itself. When customers try to decide on their own with such a plethora of options, you don't interrupt them. 
Other customers need more time, others less, but they all need some privacy. 
The first sales rep I meet in this store, a young boy around 20-25 years old was kind, fast, and he did not bother me with annoying questions. He just brought me the shoes and I had as much time as I needed to check them out.
He knows that if I need something, I'll ask him. The store is full of clothes and customers can decide on their own.
I bought the jacket this time, but I won't return to this store, this is for sure.

The salesman (or the owner?) downstairs might be thinking that he closed the sale, when in fact, what he did, is losing a customer once and for all. 
So think about it next time and let your customers take their time.
We Teach
Marketing &
 Business
Live on Zoom
Your host: Tasos Perte Tzortzis
Schedule an interview so we can evaluate where you are right now, your needs and goals, and we'll give you a detailed analysis of how the workshops work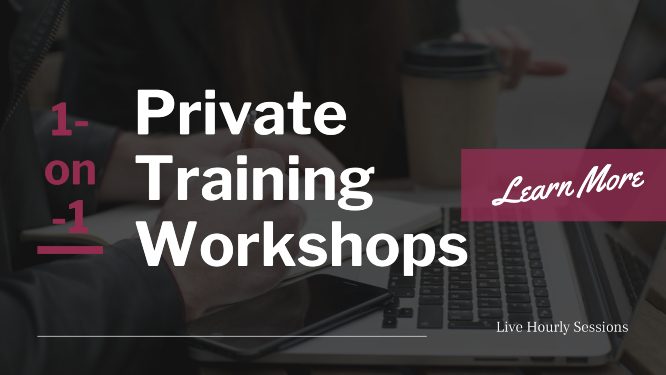 The same rule applies online. If sales reps are pushing visitors too much, they will disengage and leave.
The website, the landing page, the product or service can speak of itself. A sales rep can follow-up with some details, to deliver a bonus, to check if there are questions to be answered, to send an email campaign but that is enough.
Sales reps that care more about their commissions and not about solving their customers' problems or satisfying their needs, won't make it in the marketplace.
Sales reps that care more about their commissions are those sleazy and pushy guys we all hate. They are spammers and customers avoid them like the plague.
Instead, sales reps should provide value and should care about their customers' needs and problems. They can discuss with customers, even something totally unrelated, just to "Break the Ice".
They can express their opinion, that's OK, and they can share their own experience with a product or service.
Salespeople should be friendly, polite, and should make the customer feel like home.
This is when they'll watch their conversions increase.
Do you need help with your sales and marketing?
Schedule a free video-call interview to help us understand where you are at your business right now, your needs and goals, and we will give you a detailed analysis of how we work. Then, we'll create the first campaign for you for free to prove we can get you results.
That's it, another article has finished, here on Web Market Support. I am waiting for your comments and thoughts. Did you have such a nasty buying experience lately? Till next time.
Tasos Perte Tzortzis
Marketing Consultant, Creator of the "7 Ideals" Methodology
Although doing traditional business offline since 1992, I fell in love with online marketing in late 2014 and have helped hundreds of brands sell more of their products and services. Founder of WebMarketSupport, Muvimag, SummerDream.
I enjoy reading, arts, science, chess, coffee, tea, swimming, Audi, and playing with my kids.