Researches confirm that every dollar you invest in email marketing campaigns can potentially bring you $42. However, without proper email writing skills, reaching those results will be impossible.
Of course, you can always hire a writer that will complete the job instead of you. But, why would you do something like that when the improvement of writing skills does not require a lot of effort and time?
There are a couple of stages you will need to go through to improve your business email writing skills and achieve the goals you have.
Let's find them out!
Improve Your Business Email Writing Skills
Research Your Target Audience!
You need to know who your email recipients are. How old are they? Where do they live? Which interests and concerns they exactly have? These are all the questions that you will need to answer.
The good news is that there are many tools that can help you identify your target audience. For instance, if you are using Instagram as an advertising tool, Instagram insights will provide you with some useful data. You will get some information that you can use in your emails.
So, why exactly are these insights important? They will help you determine the appropriate style and language that will boost the engagement rate of your emails.
For instance, if your target audience is mostly millennials, a hard-selling type of business email is not going to help at all. Instead of that, your content should focus more on the value that the products/services you offer can bring to them and the entire society.
Related:
Entertaining and Engaging Headlines
The headline is the first thing people will see when they receive an email. That is why you need to write in a way that will convince them to open the mail and start reading it.
The headline needs to be short, but it also needs to explain why exactly people should open the mail and which benefits they will get from reading it.
For instance, if you want to offer a discount, then the headline should be something like "Get 15% for all our products until the end of the week".
In case you want to educate people, how-to email headlines can be an excellent option, for example, "How to get 1,000 people to follow you on Facebook in 3 days".
Whichever method you use, ensure the headline is related to the content!
Keep Things Short and Simple
You are not writing a novel or e-book. Emails need to be short, direct, and simple. Get to the point as quickly as possible.
There is no ideal length of the emails, and checking a few different types of research may help you find a solution.
For instance, Boomerang's research says that emails between 75 and 100 words have a 51% response rate. That can be valuable pieces of information for business email writers that struggle to boost their engagement rate.
But, what if the message you want to send requires longer content?
In that case, the design of the email plays a key role. You need to make it eye-pleasing with different visuals, infographics, and other elements.
To level up your email design game and to create professional emails that look great on any device you need beautiful and responsive templates to choose from and intuitive drag n drop builders to ease the process and save tons of time.
We compiled a list of the most reliable resources, for that matter.
Related:
Use Active Voice as Much as You Can
Before everything, it would be good to explain the difference between passive and active voice.
Active voice refers to a grammatical voice where the subject acts upon its verb. On the other hand, in passive voice sentences, the subject is a recipient of the verb's action.
An example of active voice would be "We used eco-friendly materials to develop this product".
On the other hand, the example of passive voice would be "This product is made of eco-friendly materials by us".
You won't manage to always avoid passive voice, and using it sometimes is okay. However, there are two reasons why active voice is essential for every type of content (especially emails).
First of all, passive voice requires the usage of more words and it can be challenging to keep the content short in that case. Despite that, an active voice keeps the energy of the email and makes it more interesting and engaging.
Using different readability score calculators will tell you the reading grade level of your email content. These tools mark all hard-to-read sentences and you will know which ones you exactly need to change.
The easy-to-read content will clearly explain the benefits and features of your products and convince people that your business deserves their attention.
Let's imagine that you applied all the rules we talked about. Your sentences are short, you are using active voice, etc. Will that be enough to convince someone to purchase a product, visit your website, etc?
You need to learn how to express yourself properly if the content you share requires the involvement of a different set of emotions. Despite that, you need to know how to clearly explain some pieces of information that will be useful for the reader. If you don't know how to do these things properly, the writing rules you applied won't mean anything.
That is the reason why you need to improve your vocabulary. Reading physical books and eBooks, blog posts, newspapers, magazines, research, case studies, and other textual pieces of content can help you reach your goal.
You can also subscribe to the newsletters of your competitors and check out how they are doing it.
Reading is the only sure way to improve your skills and enhance your vocabulary in the shortest period of time.
Proofread the Email before You Send It
Why would you do things in a hurry? Before you send the email to your target audience, you should double-check everything you previously wrote and check out whether your business emails require some edits.
For instance, a small grammar or spelling mistake might occur while writing. These small mistakes can make you look silly or even unprofessional.
Checking out short emails is not going to take a lot of your time. However, if the content you share is long, you can always use some online grammar checker tools such as Grammarly, Scribens, Reverso, Slick Write, Linguix, and others.
With a couple of clicks, your emails are going to be free of any grammar and spelling mistakes.
We Teach
Marketing &
 Business
Live on Zoom
Your host: Tasos Perte Tzortzis
Schedule an interview so we can evaluate where you are right now, your needs and goals, and we'll give you a detailed analysis of how the workshops work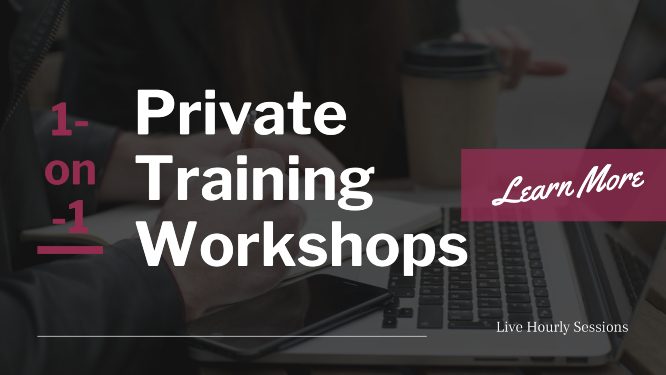 Researching your target audience will help you cover relevant topics and use appropriate language in your emails.
Don't use confusing terms, wordy sentences, and passive voice.
The point of the emails is to convince a customer to purchase a product or visit a website with a couple of short, simple, and direct sentences.
In case the content you share is longer than that, use professional email newsletter templates and builders that meet the style of your business and/or add visuals, videos, and infographics to make the content more entertaining.

Jessica Fender
Copywriter and Blogger
Jessica Fender is a copywriter and blogger at GetGoodGrade with a background in marketing and sales. She enjoys sharing her experience with like-minded professionals who aim to provide customers with high-quality services.