What is happening with online challenges? Why do so many entrepreneurs choose to follow this specific marketing strategy for product launches, book releases, membership sites, coaching and consulting services, and even for brick and mortar businesses?
Because they work. In fact, the majority of brands are crushing it.
Let me make a parenthesis here to let you know that I'm not referring to challenges people have online. This article is not about challenges and how to overcome them.
When we say "online challenges" we mean a marketing methodology that brands adopt that is based on challenging people via live events to participate and interact with them in order to provide a unique experience, educate, nurture, and entertain the 'challengers', build brand awareness, or promote a new product or service, and much much more. The philosophy is the same with contests, competitions, and tournaments.
These live events last a few days, usually 3 to 5 or 7 for digital products and services and they can go up to 90 days for retail stores or brick and mortar, and every day something new is happening to keep the momentum going, create anticipation, and excite the challengers into taking action.
In many cases, we've seen brands organize challenges in partnerships and joint ventures.
It's a strategy that many industry leaders, influencers, and established brands follow with massive success. We've also witnessed startups and everyday entrepreneurs without a huge follower base organizing them with pretty much significant success.
But not all challenges are being created equal and not all of them are successful.
Online Challenges | A Superior Marketing Strategy
Advantages/Benefits/Goals
Well-organized and well-targeted challenges offer brands a competitive advantage and can lead to amazing results. But challengers are also benefited. Successful challenges are focused on quality and superior content and action.
Challenges are interesting, entertaining, and fun.
Participants are able to interact with brands in a unique way
They build excitement, enthusiasm, and anticipation for what's next
Challengers are getting assigned homework and tasks to complete
Brand awareness,

credibility, trust, and reinforcement

A sense of community, rapport, and culture

Audience engagement, lead generation and nurturing
Customer engagement, delight, loyalty, and retention
Most of the time challengers enjoy valuable prizes, hidden gems, and are delighted with special and mystery guests
Deeper connection with the audience
Brands are able to apply universal marketing principles such as attracting ideal clients and repelling unwanted ones
Brands discover hidden opportunities by getting invaluable feedback from the participants
Challenges may be used to launch products and services in any industry, any niche
They are versatile and can be used to launch a new business or scale an existing one
They open doors for product development and innovations
Product improvement
Leader positioning and branding, showcasing expertise and demonstrating authority and competence
Social proof and testimonials
Business growth and leverage (partnerships and joint-ventures, affiliate recruiting, education, and retention, revenue streams)
and more
And the most important benefit is that online challenges help brands move prospects from the top to the bottom of their marketing funnel in a matter of days.
What does this mean?
Let's imagine the traditional marketing funnel for a moment.
The buying cycle consists of some stages:
Awareness
Interest
Consideration
Intent
Evaluation
Purchase
And there are more stages if we consider the post-purchase experience and customer retention, brand loyalty, and so on. 
But these are the stages we are interested in the moment when we try to convert prospects into customers. 
When you attract prospects and build brand awareness, you invite people to your web properties. Now, you have to educate and nurture them to your brand's vision and ethics and help them move through the buying cycle so they consider your brand as a possible solution to their problems, needs, and wants, and finally to decide to make a purchase. 
With online challenges, you'll be able to accomplish all of that in 3 to 5 days or a week.
Because online challenges are educational, interesting, you give value upfront, you nurture prospects, they get familiar with you, you are omnipresent every day for as long as the challenge lasts, and you build momentum and create reciprocity.
This way, prospects are way more receptive to your message and the offers that you will be presenting them during the challenge.
As I already analyzed, challenges are suitable for any business, any industry, any niche. The size of the business doesn't matter. 
It can be used for digital products and services, retail stores, brick n mortar businesses, eCommerce, physical stores, coaching and consulting, other professional services.
You can use them to launch a book, a membership site, announce a movie, another event, a partnership, and so on.
They are also being used by publishers and affiliate marketing purposes.
The only limitation here is our imagination.
Challenges can be delivered anywhere and can be used even for 1 on 1 meetings (coaching, consulting, education, services, etc). Again, the only limit is our imagination.
Online events
Social media and live streaming platforms
Emails
In-person events
1-on-1
What makes a good challenge?
Running a challenge is not an easy task as there are many moving parts but remember, running an imperfect challenge is always better than trying to create the perfect challenge. The most important thing is to run it to get feedback and enjoy the process. 
First, you need to be clear on why you run the challenge. This will help you build an effective marketing strategy that will lead to better results.
Are you launching a new business, growing an existing business, are you doing market research, want to learn more about your target audience? Want to learn more about a niche?
Then, you need to be crystal clear on who you are inviting to the challenge. Who is your ideal client? Your target audience.
Related:
The next step is to design your challenge in order to perfectly match your target audience's expectations.
The name, title and subheadings, the language, copywriting, design elements, the price, and so on.
You need to consider what problems you are trying to solve for your target audience. What is the outcome of the challenge? What will change for the better for your ideal clients?
Another important factor is timing. There are ideal times and bad times to run a challenge.
You need a plan on how to execute it and organize the details. 
Should you include guests and who are those guests and why do you bring them to the show?
If the end goal is selling a product or service, how is that going to be accomplished? A landing page, phone calls, sales funnels?
You need a marketing strategy to unite all your efforts. 
What content are you going to produce and present?
How are you going to send traffic? Organic, paid ads, affiliate recruiting, word of mouth?
How are you going to follow up? Both on those who purchase and non-buyers.
What about customer support? You need to be prepared for naysayers, negative challengers, and even haters.
There are more things to consider but I don't want to overwhelm you right now. If you take care of these basic things, you're off to an amazing challenge.
Let's overview some examples of successful challenges organized by industry leaders, established brands, and people that started from scratch.
Jeanna Gabellini – 5-Day Challenge – Attract Clients Now
Jeanna is a master business coach with 25+ years of experience, and the 5-day challenge's main goal was to help business owners attract clients.
The challenge's main promise that took place a month or so ago was…discover an easy, life-changing process that will help you:
Pinpoint your #1 needle-moving action to bring you clients… and keep you fired up.

Fine-tune your message to attract 5-Star Clients and filter out the rest.

Adopt the "Instant Client" mindset that fast-tracks your income… no matter your niche.

Utilize a winning way to connect with potential clients and have 'em say yes every time.

Kick up the value of what you offer so clients are tripping over themselves to buy it.
Related:
Hope Writers: Novel November Challenge
Hope Writers is a community dedicated to helping authors and aspiring authors find their way to getting published and succeed.
They have vast experience and they truly care about their members.
The challenge's main promise that took place in November 2020, was – This challenge is for you if:
You've been dreaming about writing a novel for a long time
You are serious about getting your novel published
You just want to participate in a fun challenge with other writers from all over the world
Included in the challenge:
Exclusive teaching and interviews from well-known novelists
A Facebook community to share your progress and ask questions
Printable worksheets
Support and encouragement along the way
The lineup:
Here are some of the author names being interviewed in the challenge:
Cynthia Ruchti: tells stories hemmed in hope through award-winning novels, nonfiction, and speaking events for women.
Becky Wade: she's the Christy award book of the year…
Shawn Smucker: the award-winning author of "These nameless things", "Light from distant stars", and more.
Julie Cantrell: New York Times and USA Today bestselling author and TEDx speaker
Toni Shiloh: multi-published Christian contemporary romance author
Your host for this event:
Emily Conrad: a hope writers team member and author of the novel "Justice".
Related:
Matt McWilliams – List Launch Challenge
Matt, an award-winning affiliate manager, and responsible for the promotions and launches of big industry names has surveyed hundreds of people last year asking one simple question:
" What's the hardest part about running your online business?"
As expected, the most common answer was…
Growing my email list!
The main slogan of the challenge that took place in January 2019, was pretty straightforward:
Grow your email list in just 7 days even if you have ZERO subscribers right now!
This was a paid challenge, Matt charged a $25 entry fee.
Related:
Dr. Gena Lester – The 5-Day Crush College Admissions Challenge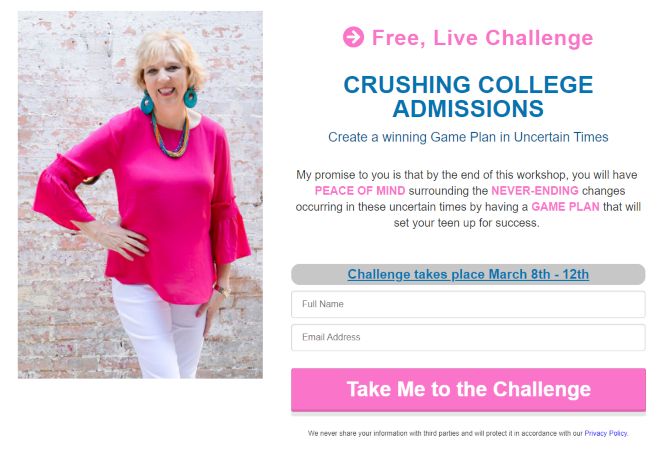 Gena teaches people how to crush college admissions. In her first three challenges combined, she earned $42,000, had 800+ attendees, and added 1000+ leads.
She says…I'm a college admissions expert. Even though I've got the credentials, I'm a mom first. It was my experience as a mom that spurred my passion to provide resources, tools, and advice to other parents and their teens who struggle to figure out the college admissions and scholarship processes.
The main premise of this challenge was…create a winning game plan in uncertain times.
By the end of this workshop, you will have peace of mind surrounding the neverending changes occurring in these uncertain times by having a game plan that will set your teen up for success.
WebMarketSupport – The Knowledge Industry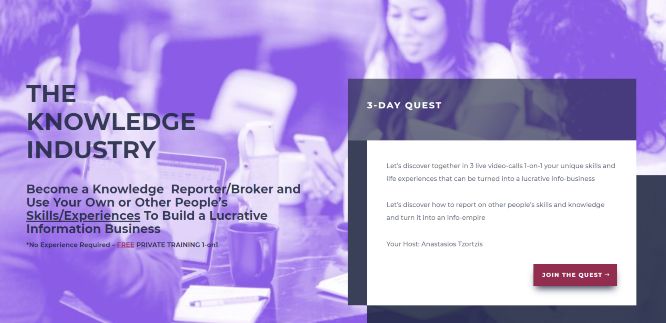 This was my first-ever challenge which I created in 2019 to support the launch of the Knowledge Business Blueprint training program by Dean Graziosi and Tony Robbins.
I organized 1-1 live training sessions on Zoom.
the main promise was…
Let's discover together in 3 live video-calls your unique skills and life experiences that can be turned into a lucrative info-business
Let's discover how to report on other people's skills and knowledge and turn it into an info-empire.
The 3-day quest was a massive success.
What's even more interesting, I turned the free quest into a paid workshop, after a few months.
Related:
Pedro Adao – 5-Day Movement Maker Challenge
Pedro is also known as "the challenge guy".
He quickly became the go-to source for industry leaders, gurus, and huge influencers that seek his advice about building their online challenges.
The main promise of the free 5-day challenge that is taking place right now (tomorrow is the 3rd day) is this:
If you are frustrated with your marketing, if you experience low conversion rates on your video sales letters and webinars, if you want to increase your return on ad spend, and if you want to learn how to take challenges to the next level, this challenge is for you.
It will work for you if you plan to start a new business from the ground up, grow an existing one, or if you want to step up your game as an affiliate/publisher.
This challenge is about helping you create a movement, not just a business in the traditional way. And when you create a movement, you connect with people on a deep emotional level, you serve them better than they expect and they become loyal fans for a lifetime.
There's still time to sign up for the challenge. And if you do, I have an amazing bonus waiting for you.
Related:
We Teach
Marketing &
 Business
Live on Zoom
Your host: Tasos Perte Tzortzis
Schedule an interview so we can evaluate where you are right now, your needs and goals, and we'll give you a detailed analysis of how the workshops work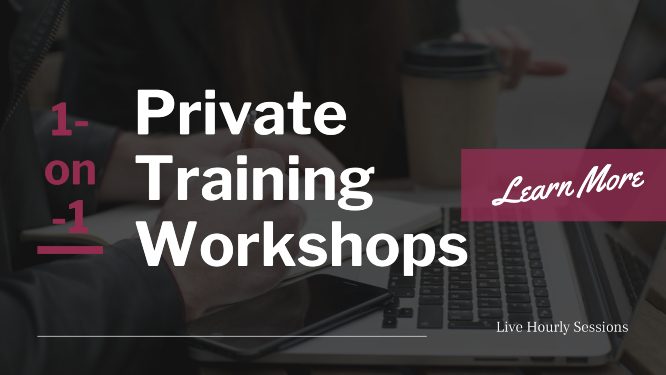 I hope that you embrace online challenges as they are not just a trend that will fade away. They came to stay, they bring amazing results, and is a superior marketing strategy that if implemented correctly can grow, scale, or launch a new business in a very short period of time.
So many entrepreneurs adopted them, why not you?
I believe these tips and examples will motivate you and that will help you launch your first challenge successfully.
If you want help implementing a challenge in your business, we can help.
Schedule a free video-call interview to help us understand where you are at your business right now, your needs and goals, and we will give you a detailed analysis of how we work. Then, we'll schedule the first training session for free to prove we can get you results.
That's it, another article has finished, here on Web Market Support. I am waiting for your comments and thoughts. Till next time.

Tasos Perte Tzortzis
Business Organisation & Administration, Marketing Consultant, Creator of the "7 Ideals" Methodology
Although doing traditional business offline since 1992, I fell in love with online marketing in late 2014 and have helped hundreds of brands sell more of their products and services. Founder of WebMarketSupport, Muvimag, Summer Dream.
Reading, arts, science, chess, coffee, tea, swimming, Audi, and family comes first.