In this modern-day and age, companies and businesses have to get creative to attract clients or stay engaged with existing ones. One way this is being done is by investing resources into social media content. 
There are a variety of things you can do to have the masses engaged including:
Call-to-action words
Humanizing the brand
Showcasing your location
Effectively use images
Use promotions
By the end of this article, we aren't claiming that you'll be an expert when it comes to attracting people's attention on various social media platforms. However, you'll have a better understanding of some strategies people are using to improve their rates of engagement and getting people to go from visitors to subscribers.
5 Effective Ways To Captivate Potential Clients On Social Media
Use Call To Action In The Posts
By using CTAs, people are more likely to do a target behavior. By using strong nouns or a series of adjectives, you'll be able to attract people's attention better. Word choice is also important.
Although two words might be synonyms, both will have a different meaning associated with them. Another thing to keep in mind is contractions; on the surface, it's, and it is are the same, but the difference is tonal. Contractions make writing more casual, and not using contractions give an article a formal tone.
Example Of Effective Use Of CTA
For this example, let's say you are a manager of a small business, and you are looking to hire rather than say hey we're hiring, say something such as "We're looking to build a great team." 
Another example of this principle in action is instead of saying, "Hire, and keep employees for your small business." You can say, "Entice, employ, and retain team members."
Although both examples had two similar sentences, the second one hit differently. By calling employees team members, there is a positive connotation and a sense of belonging created. 
This next point is more apparent in the second example, but by using words like entice, employ, and retain, over words like hire and keep, people pay more attention to the text.
Rather than use stuffy business jargon and only talk about the company's business dealings, consider adding names to the face, and giving your social media pages some personality. By doing this, you meet people where they are, and things won't get lost in translation.
Some things you can add to your account includes:
Behind the scenes clips of office clips
What team members do outside work
Upcoming community events
Background info
When posting on your Facebook or Instagram feeds do things and post content that will catch the eye. For example, if you're involved in landscaping upload before and after pictures of any renovations, and work done on various properties. This allows people to see the difference that your company can make.
If you are a small business that services a certain area, consider showing the location. This is important for people whose business is based around tourism or property. Highlight local attractions so people can get a better feel for the area. 
If you're on the property side of things, highlight local attractions such as hospitals, schools, the distance to the center of town, and local attractions. This will allow people to be able to see themselves in the city and get a better feel for the city.
According to a study released by HubSpot, Facebook posts that have images have a 53% better chance of getting liked, an 85% increase in getting clicked on, and a 104% chance at having people comment on the image when compared to text-only posts.
"By using photos and videos, you can help boost viewer numbers, and you increase the chance of people sharing what you post. Also, make sure to upload content that is related to your company, to get people's attention." — Marie Fincher, blogger at 3to5Marketing.
FB posts with images have better chance of getting liked
Increase in getting clicked for FB posts with images
Better chance at having people comment for FB posts with images
When it comes to sites like Snapchat and Instagram, one of the best features is stories. This section of the app focuses on images or short videos that are displayed near the top of the page.
Content uploaded to your story is viewable for 24 hours, so you don't have to worry about taking it down. They also make for an excellent way to give people social media shoutouts and promote the next topic, giveaways.
If you are trying to boost the engagement of people on your page, consider the use of contests and sweepstakes. If you are trying to create some buzz for a new launch or gain new followers, consider a social media contest. 
Social media contests are one of the easiest giveaways to do. You upload an image and say the person has to like the page and share the image to enter the contest. A certain number of winners will be selected, and they'll win an item. Depending on your company, it could be a gift card, a monogrammed backpack, a trip, or anything your company can reasonably finance.
When it comes to capturing the attention of the public and getting a great ROI on social media, you need to keep a variety of things in mind. Use CTAs, relevant content, and images to engage your audience and keep them coming back for more.
Humanizing the brand and showcasing your location, on the other hand, helps to spice up your page. By sharing information about both of these on your page, you get to tell people on social media what makes your company stand apart from others, and by becoming more human, you'll be able to better interact with people both on and offline.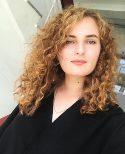 Kristin Savage
Translation Reviewer
Kristin Savage is interested in writing and planning to publish her own book in the nearest future. Also, she has been a reviewer at Pick Writers for a few years and is known for her thorough approach to accurately assess newcomer translation services.