If you feel an unwillingness to write and think this is the most exhausting task in the world, do not despair. Even professional writers face such a problem more often than you might think.
However, if you are not a writer by nature, then there are some tricks that can help make the writing process easier and improve the quality of the results.
Regardless of the business purpose, and who you are creating content for, the following tips will be relevant, and even if you really hate this process, you will be able to change your attitude to writing.
Copywriting Tips For Entrepreneurs Who Hate Writing
Take the Top Article in SERP as the Foundation
If you don't know how to create high-quality and unique content and you are confused, then you need an example.
Get started by reviewing a sample of how high-quality text is created for your niche.
To find a good sample, it is enough to enter the topic in the search query and look at the first articles from the search engine results pages (SERP).
Top text is a great example of what kind of content you have to generate. Pay attention to the structure, the aspects of the topic mentioned, vocabulary, tone of voice and stylistics, and so on.
But keep in mind that you shouldn't just rewrite several top articles. Your task is to make your article better than the existing one.
Today, this practice is called a skyscraper and is actively used by writers to create content that will take top positions in the rating.
This tool, Grammarly, is popular among writers of all kinds. The number of users of this tool is over 9.6 million people around the world.
What is the essence of this tool?
The bottom line is that this software will make your text grammatically correct, clearer, and better readable.
You can synchronize this application with all gadgets and your mistakes in the text will be corrected in real-time mode.
Even if you write a message to your partner on LinkedIn, Grammarly will check your text and, in case of any mistakes, suggest corrections.
Although this tool is free to use, it is recommended to turn your attention to a premium subscription. Using it will allow you to forget about most of the problems with the text and not doubt whether you made a mistake, whether you are using the correct word or whether the text is understandable for your reader.
Grammarly will do all this for you. There is also a text check for uniqueness, which is important for creating high-quality text that will work for your rating and heat the target.
Use Research and Statistics
If you want to create interesting content that stands out from the competition, then you need statistics and research.
Search for the latest research and statistics data before you will write your article.
Why do you need it?
First, it allows you to create content based on real facts. Secondly, research and statistics can set the right and new direction where to start with a particular topic.
In addition to all this, content that has links to research and statistics will make it more reputable in the eyes of search engines.
Therefore, follow this advice every time you are getting started with a new article.
What if there are no suitable statistics or research?
It's time to create your research and statistics. To do this, you can conduct surveys with Google Forms or use social media.
For example, if you are selling online courses, you can survey your users and ask them at what time of day it is more convenient to study.
Based on the results, you can make statistics and then describe what is the best time for education from a scientific point of view and why.
By the way, your own research and statistics will also benefit you in the context of Google rankings. Your data may be used by other authors with a link to your site.
This will bring you backlinks and boost your Google rankings.
Even if you have a limited budget for content creation, you can still afford the services of a writer.
Of course, professional writers can charge high fees for their services, but what about looking for aspiring writers?
Usually, newbies are enthusiastic, do not require high fees for their services, but can create quality content. Just use the most popular freelance job sites to find a suitable author.
If you do not want to waste your time looking for such specialists, then create an advertisement for a vacancy with all the work requirements and salary. Offer a remote work format as it can be a more cost-effective option.
You can also consider cooperating with professionals to get some ideas and inspiration. You can order several articles and then use them as a template for creating new texts yourself.
Professional content is a good example of what you need to strive for, and having such a "template" will speed up and simplify the writing of business texts.
Set Deadlines to Create Content
If you really dislike writing and treat this task as exhausting, then you need to make writing part of your routine. You need to make this process a part of your life, which you will begin to treat just like other daily tasks that just need to be done.
For example, like a daily check of incoming messages and replies.
Most professionals use deadlines as the most efficient way to quickly deal with text. Estimate how much time you need to create content and select specific days and time slots for this purpose. You can also spend a few days creating content for a month. A clear time frame and understanding of how long you need to write the content will be a powerful trigger to get this task done.
We Teach
Marketing &
 Business
Live on Zoom
Your host: Tasos Perte Tzortzis
Schedule an interview so we can evaluate where you are right now, your needs and goals, and we'll give you a detailed analysis of how the workshops work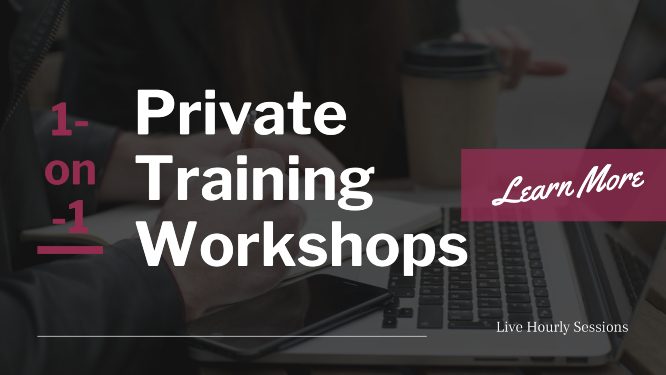 To write quality content, you don't have to be a born author. Even if you hate writing, you can do this task with the right approach.
Use these tips to spend less time and energy creating your text and gradually, you will change your attitude towards the writing process.

Frank Hamilton
Author
Frank Hamilton has been working as an author at the custom writing review service RatedByStudents. He is a professional expert in such topics as blogging, digital marketing and self-education. He also loves traveling and speaks Spanish, French, German and English.