This is a directory of Affiliate Marketing and Related Forums and Communities. An A-Z list that I'll be updating regularly.
The majority of forums are free to join, however, I included paid options as well. In some cases, the paid communities have free membership options or trials.
There are forums exclusively for discussions, but there are forums that are part of communities or platforms. Other forums offer tools, resources, guides, case studies, tips. And there are platforms to help you build an affiliate marketing or online business from scratch offering exclusive education, web builders, web hosting services, management and monitoring tools, or you can even purchase domain names.
Why Should You Join Affiliate Marketing and Related Forums
Education never stops (the moment you stop learning, your business starts dying…Ray Edwards – copywriting legend)
Networking
Visibility
Authority
Receive and give help
Feedback
Support
Get ideas
Get inspiration
Get motivated
Find partners, investors, employees, freelancers
Outsource projects
Quick Tips:
Read each forum rules & guidelines, follow them, and don't spam
Participate in the discussions to add value and ask questions if you're a newcomer
Try helping others first before you advertise your brand
Add your website link in your signature or in the profile (if allowed)
Add a solid and clear profile description to help others understand your offers, products, and services
Before posting a new topic do a research to find out if the topic was covered in the past
A-Z List of Affiliate Marketing/Business Related Forums
A Chinese forum that is divided into:
Affiliate finance, mobile traffic, newbie questions, follow along, general discussions, SEO, content development
Paid traffic (CPA, lead, Pay per sale), hosting, domains, domain transactions, website technology
Marketing equipment, download section, trading center, the art of mailing, marketing company area
Suggestions, complaints
312,000+ posts, 44,000+ members.
Forum, community, blog, groups, mini marketplace, freelancers, hosting. Categories:
News, features (communities, affiliate programs, publishers, general support, ad server, services, ADZlink, ADZnouncer, post your earnings, freebies)
Gold members (news, feature suggestions, general support, forum, bug fixes, exclusive deals)
Cryptocurrencies, general internet marketing, social media marketing, blogging, email marketing
Affiliate marketing, SEO, WordPress.
You can refine your search by keyword, titles only, members, tags, dates, relevance, replies, likes, order, type, sources.
1250 topics, 14,000+ posts, 1,800+ members, 190 active members.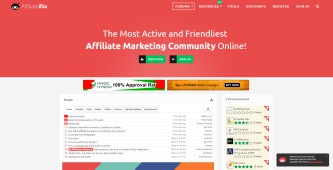 An affiliate marketing community with resources section, tolls, and a blog.
The forum is divided into:
Business center, marketplace, verified members, what is affiliate marketing, introductions, newbie helpdesk
Follow along and online journeys, guides, case studies, tutorials, success stories, bragging
General affiliate marketing, business management, copywriting, design and creatives, domains and hosting
Programming and scripts, research and intelligence, testing, optimization, scaling, tracking
General merchants and advertisers forum, affiliate management and recruitment, customer relationship management
General internet marketing, traffic sources, adult marketing, display media buying, eCommerce, email marketing
Incentive marketing, lead generation, mobile marketing, native ads, Pay per call, Pay per click, Pay per view
SEO, video traffic, affiliate marketing networks & programs, buy, sell, trade, coaching, programs, courses, events
Networking, industry-related employment, resources, news, announcements, support, feedback, lounge
Disputes, resolutions
You can filter your search by latest, popular, gold, guides, follow, success, ask me anything, discounts.
90,000+ discussions, 464,000+ messages, 92,000+ members,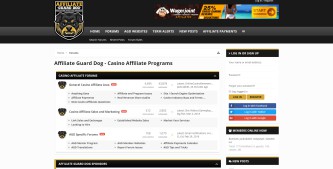 Slogan: Protecting affiliates interest. A forum for casino affiliate programs. Categories:
General casino area (anything goes, affiliate payments, questions, program issues, real revenue share audits, site, SEO, industry buzz and terms)
Casino affiliates sales and marketing (link sales and exchanges, hiring, established website sales, market your services)
Specific forums (mentor program, translations, member websites, report issues, payments calendar, tips and tricks)
You can refine your search by keyword, titles only, member, newer than, sub-forum, threads, posts, profiles.
A German forum with a blog and a mini marketplace operating since 2002.
The forum is divided into:
Beginners ask newbies, affiliate programs, partner networks, traffic (SEO, SEM, SMO), marketplace and jobs, affiliate talk
316 topics, 778 entries, 491 users.
Categories:
Weclome, this week, live trainifg and webacasts, affiliate marketing rules, favorite marketing videos, marketplace, getting started, CPA oofers
Domains and websites buying, traffic, niche finding, profitable markets, show me the money, WordPress, blogging, list building, tech junk
Marketing tools and reviews, webinars and videos, AdSense CPC, content ads, landing pages, copywriting,, conversion, site reviews
Summer coaching students private forum
You can refine your search by terms, sub-forum, subjects, messages, titles only, topics, time, order, character number
2,600+ posts, 1,110+ topics, 6,600+ members.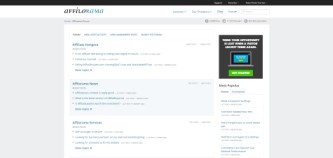 Affilorama is a whole affiliate marketing platform with an inner forum. Started in 2006 by Mark Ling and Simon Slade. They provide affiliate marketing and marketing education, services like management & monitoring tools, website statistics, market research, hosting, website builder, and a community.
It's included in my TOP recommended programs to build an online business. Full review
The forum is divided into:
Affiliate Hangout, Affilorama News, Affilorama Services, Market research: analysis, feedback, training
Marketing ideas & social media, SEO & link building, Pay Per Click (PPC): training, tools, software, tips
Content Creation, Website building, Affiliate programs, New to Affiliate Marketing questions
118,000+ articles, 600,000+ registered users. You can filter the results by latest activity, unanswered posts, viewed, commented.
Forum, case studies, lessons, exclusive tools. Operating since 2009, over 3,600 members. Divisions:
Product creation, offer creation, building landing pages, implementing code, tracking
Free landing page templates, code samples, business and productivity advice
Advice by successful affiliates, network owners, traffic sources
Success stories, contests, prizes, webinars, active community
Tools: Aff Robot
Landing page builder, PPV target scrapers, related keywords, Google display network spy
Media buy spy, backlink analysis, related domains, LP clone bot, headline bot
Plugin vault, image vault
New tools are added every month.
It's a premium solution:
6 months – $330, 1-month $67, 1 year – $565.
AmericanExpress – SmallBusinessOpenForum
Slogan: Insights, inspiration, and connections to help you get your business done. Sections:
Events, stories, member exclusives, small business Saturday, MSNBC your business, social media
Planning for growth (innovation, business expansion, partnerships, importing & exporting)
Operations (insurance, licenses & patents, risk assessment, legal)
Research (industry trends, competitive research, market research, customer research)
Strategy (business plan, brainstorming, product development, pivoting)
Managing Money (cash flow, savings, critical numbers, accounting, accounts receivable/payable, financing, raising capital, loans, venture capital, alternative financing, tax preparation, tax deductions)
Getting customers (engagement, feedback, finding new customers, mobile digital tools, websites, SEO, eCommerce, marketing & sales, branding, advertising, content marketing, making a sale, social media strategies)
Building your team (work-life balance, employee retention, team-building activities, hiring & HR, recruiting, team structure, healthcare, leadership skills, motivating employees, networking, mentoring, personal productivity, organizational productivity)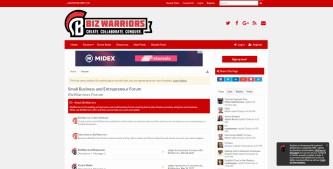 Slogan: Create, collaborate, conquer. A forum for small businesses and entrepreneurs covering topics on how to plan, finance, promote, and grow a business. The forum is divided into:
Main site, advertise on BW, resources, rules, news, announcements
Introductions, guide for new members, tech support, feedback, suggestions
Planning your business, starting your business, financing your business, growing your business
General business and entrepreneurship, sales, accounts and finance, employees and human resources, legal aspects
Marketing and promotion, social media, content marketing, online marketing, advertising, affiliate marketing
Design, SEO, security, website reviews, apps and software, devices, hardware
Mindset and motivation, finding balance, resources, networking, buy, sell, trade, seeking employees, partners, investors
General discussion, points, perks, and clubs, play
You can refine your search by everything, threads and posts, profile posts, tags, member, newer than, sub-forum
4,000+ discussions, 22,000+ messages, 3,400+ members
A forum bundled with a mini-marketplace mainly for
Black Hat techniques
. Now, I don't recommend you use shady or fraudulent tactics to make money but it's worth finding out what others are doing and what to avoid. Black Hat won't get you far and you might not make any money. There is a separate section on the forum for WhiteHat as well.
If you aren't sure which tactics to implement you can always ask for support by leaving a comment here.
The forum is divided into:
Black Hat SEO, White Hat SEO, blogging, tools, social networking, downloads, UnGagged SEO event
Content, copywriting, hosting, images, logos & videos, proxies for sale, link building, SEO packages, social media, web design, misc
Affiliate programs, hire a freelancer, making money, PPC, site flipping
Introductions, the lounge, suggestions, feedback, the shit list, domains, IM journeys, SeNuke software, newsletter
845,000+ discussions, 9M+ messages, 898,000+ members
Slogan: Your guide to gambling affiliate programs operating since 2007. Categories:
Rules, updates, general discussion, newbie corner, buy & sell casino websites, domains, links, articles, polls & surveys, website reviews
CAP resolution service, scams & warnings, affiliate program in high-paying industries, videos, the watercooler, news, laws & regulation
Conferences, & events, terms and conditions, press releases, APCW announcements, European casino affiliuate forums
SEO, PPC, email marketing, GGE conversion tools, website design and development, CAP listed programs, archives
Awards, rewards, support requests, feedback.
54,000+ threads, 253,000+ posts, 221,000+ members, 50 blogs, 112 entries.
Slogan: You One-Stop-Shop to creating & growing a successful web business.
Chris Farrell began in 2008. CFM has over 23,000 members. He provides affiliate marketing and marketing education. 
Education:
Making money online, Find a profitable niche, Domain names, Hosting, WordPress, Opt-in forms, Sourcing products, Email messages
Social media, Lead pages, Create your own e-book, Traffic, forum marketing, guest blogging, Facebook ads, Video marketing
Clickfunnels, GotoWebinar training, Simple security steps
Additionally, Chris is hosting free weekly webinars. And there is a private forum with like-minded entrepreneurs sharing knowledge and tips. 
Membership
There is a 7-day trial period for $4.95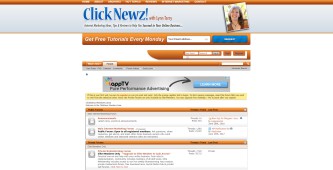 Slogan: Internet marketing ideas, tips, and reviews to help you succeed online, with Lynn Terry. Operating since 2009. Categories:
Public forums (Announcements, questions, resources, advice, newbies, veterans)
Private forums (brainstorming, mastermind, free download area, social medial club, private suib-forums, freelance job board, special offers)
Six figuere club – by invitattion only.
9,700+ threads, 96,000+ posts, 2,700+ members, 29 active members.
A Russian forum operating since 2013. Categories:
Adult, affiliates, embassy, CPA, CPI, dating, Facebook, mobile, gambling, Instagram, monetization, Twitter, events, click games, case studies
Conferences, Njutram Walnut, purchase traffic, gathering, factoring, Yandex, direct.
*The translation was very hard*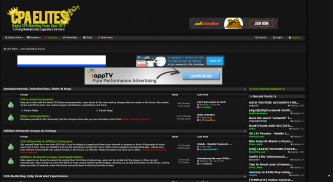 A CPA marketing forum operating since 2013. Divisions:
Announcements, introductions, bug reports, official affiliate network listings, whitehat & blackhat SEO
Affiliate network groups and apps, main CPA discussions, elite helpdesk, follow along journeys & bragging
Niches, tutorials, downloads, social media, webmasters, graphics, programming, free marketplace
Elites VIP services & products, want to buy, deal disputes, CPA legends discussions, legends niches & freebies
Legends bank hard secret methods, web hosting, elites lounge, life experiences, suggestions
46,000+ threads, 520,000+ posts, 97,000+ members.
Forum, tools, marketplace, advertising.
Tools:
Rank checker, cookie search, site search engine
Marketplace:
Sites, domains, plugins, add-ons, scripts, templates, styles, graphic designs, eBooks, articles
Advertising:
The forum is divided into:
Search engines, directories, general business, general marketing, SEO, payment processing, social networks
Link development, legal issues, domains, copywriting, eCommerce, PPC, affiliate programs
HTML and website design, graphics & multimedia, content management, programming, site & server administration
Databases, design contests, advertising, secondhand licenses, services
Introductions, general chat, products & tools, reviews, support & feedback, the undergrounds, area 51
2M+ discussions, 17M+ messages, 830,000+ members.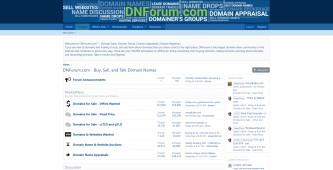 A forum mainly for domain names discussions but there are affiliate marketing sub-forums as well. Categories:
Announcements, domains for sale (offers wanted, fixed price, ccTLD and gTLD), websites wanted
Auctions, appraisals, general domains discussion, wanted ads, advertising and related offers
Affiliate programs and discussion, help wanted, library, domains news, introductions, legal issues, suggestions, staff
Industry companies, the break forum, archive
Resources:
Domain names marketplaces, eBooks, hosting, backorder domains, domain parking services, domain portfolio manager
Domain research tools, email marketing software, outsourcing, press releases, domain registrars, keyword tools, infographics
PDF's, videos, WordPress premium plugins, keyword research software, article spinning tools, mail and data extraction, traffic generation
486,000+ threads, 1.8M+ messages, 523,000+ members,
They say…Internet Marketing, Webmaster, Affiliate Marketing Forum, HYIP, Network Marketing, GPT, Other Convention Money Making community Discussion and More! Beyond the forum, there is a blog (Forex, Binary options trading, precious metals, games, business, software), and you can advertise your site. Operating since 2005.
The forum is divided into:
Internet marketing, affiliate marketing, SEO, marketplace, webmaster lounge, tools, SEO, DDoS, programming, designs, web hosting, articles
Buy, sell, trade, freelance, outsourcing, blogs, lens, website reviews, critiques, social media
Introductions, industry discussions, HYIP, newbies lounge, general discussion, self-improvement, inspiring, motivation
Bitcoin, eCurrencies, payment processors, cashback offers, scam alerts, co-op, team build, clubs, cyclers, autosurf, manual surf, forex, binary options
Sports arbitrage trading, stocks, business, finance, properties, announcements, rules.
4.8M+ posts, 437,000+ members.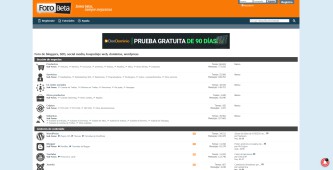 A Spanish forum for bloggers, SEO, social media, web hosting, domains, WordPress. The forum is divided into:
Products (articles, banners, domains, sites), services, social networks, auctions.
WordPress, Blogger, YouTube, Joomla, eCommerce, Drupal, Vbulletin, SMF, MyBB, monetization, payment processors
SEO, paid ads, link building, Black Hat SEO, web hosting, VPS, coupons, domains, cryptocurrency
Resources, tutorials, coding, presentations, events, technology
521,000+ threads, 4M+ messages, 130,000+ users
Gambling Portal Webmasters Association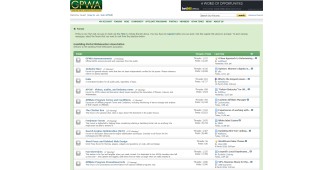 Forum, WiKi, community, affiliate programs, portals, news. Categories:
Announcements, industry buzz, polls, videos, audits, news, affiliate program terms and conditions, the chatterbox, freshman forum, SEO, WordPress
Related web design, fun diversions, promotions, info, domains, sites for sale, other marketing offers, social media and networking
Bitcoin, cryptocurrencies, blockchain, Forex, Binary options trading, events, conferences, suggestions, inquiries
Private forum section:
Planning and policy discussions, general chatter, seal of approval, prospective new members, hobby time, sports lounge, poker pub, affiliate tracking audits, who sent this money?, casino sign-ups, tech talk, introductions, member site reviews, links store, private link exchange, business opportunities and services, domainaholics anonymous, diversification, South African members
International: Spanish, French, German, Swedish, Russian, Italian, Dutch_)
Affiliate management
Platinum affiliate program sponsors (1xBet, bet365, BitStarz, FairPlay, GIG, Intertops, Lapalingo, Mr. Green, mybet)
Gold affiliate programs, silver affiliate programs, other programs
You can refine your search by all types, posts, group messages, blog comments, articles, wiki, forums groups, visitor messages, blog entries, static pages, keyword, username, tags, date, order.
85,000+ threads, 564,000+ posts, 25,000+ members, 19 Wikis, 181 blogs, 925 entries.
Welcome message: Since 1998, GeekVillage has been the definitive source of online marketing and monetization strategies for professional web publishers, merchants, and advertisers. Please visit our signature forums to share your experiences with leading industry figures and creative startups.
Forum, directory, articles, tools
Forum sections:
Making money with CPC/CPM/CPA, making money from online audio, video, and web 2.0 apps, email marketing
Website marketing, SEO, Google AdWords, business principles, web hosting, domains, web design, webmasters, web development
Programming, trade, buy, sell, websites for sale, technical questions
36,000+ threads, 195,000+ posts, 32,000+ members
Directory sections:
eCommerce solutions (software, hosting, scripts), fonts and graphics, internet consulting, internet fraud, Macromedia flash and shockwave
Scripts, templates for websites, web designers, web hosting, webmaster research tools
Free Webmaster Tools:
Meta-tag generator, graphic navigation bar generator, flash navbar generator, flash top bar generator, DHTML menu generator
NameSpin to find domain names, link popularity checker, search engine position analyzer, color code generators
Whois lookup, pop-up maker tool, graphics search, find expired domains, learn Unix commands, Google dance tool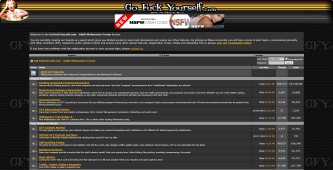 A pure Adult Webmasters forum operating since 2000. Categories:
2018 GFY awards
Simply Business (program discussion, mainstream business, announcemennts, educational series, webmasters Q
Your business needs (content market, domain auctions, sell and buy, business services, hiring, traffic trades/gallery requests)
Things to know (contests, prizes, rules, regulations)
A French forum that is divided into:
General forum, presentations, news, partners, employees, society, banks, payment platforms
Follow along, ask me anything, pop-ups, PPV, video ads, adult, social, emailing, mobile, search, display, recommendations
Growth hacking, eBooks, videos, viral & buzz, blogging & inbound, SaaS, ad networks, widgets, leads & CPL, eCommerce, dropshipping
Info-products, affiliation, design, development, tracking & spy-tools, analysis, optimization, banners, landing pages
Copywriting & psychology, offers, lifestyle, relax zone
One Man Gang Machines: Money getting with Free ads on the internet. Started back in 2012 by Mike Long and Greg Morrison. They provide affiliate marketing education, tools, community, forum, and support.
Topics covered
Find a profitable niche, Basic keywords, How to register a website, Website hosting, WordPress, Alternative ways to bring traffic to a website
Affiliate profits: how to brand your own product, which networks to use, Conversion Tips, SEO, keywords, Article spinning, Link building
Landing pages
Help and support are delivered through the inner forum or the Facebook page.
Moreover, OMG Machines are holding live events and new courses are being added frequently. 
No Holds Barred Membership
A very expensive course that you can purchase for $2300 (at least at the time when I reviewed the product). But as I can see today the price has reached the $8,000 (one-time payment). 
Read on for a full review on OMG Machines
A performance marketing forum with guides, research, and awards. Sections:
Affiliate marketing (advertisers and publishers news, attribution, new technology, influencer marketing, program management)
Lead generation (tips, database hacks, SEO, content marketing)
Biddable media (paid social, paid search, programmatic, data-based marketing)
Display advertising (CPM, in-app advertising, location-based, video, native)
Data-Driven marketing (CRM, data collection, retargeting)
The regulars (PI column, movers and shakers, case studies, Q&A's, a week in performance, events, PI live)
Research & Guides (guides, research, reports, webinars)
PI Live (performance marketing awards, international awards)
Partner network (info, discounts, forum, jobs, about, advertising)
Forum, blog, casino, marketplace, advertising, partners. Categories:
Spotlighted programs, general poker, US regulated gambling discussions, poker SEO, WordPress, web design, coding, technical
Affiliate Rakeback discussion, non-gaming, diversification, entrepreneurship, Q&A's, web hosting, servers, suggestions, feedback, affiliate manager queries
Casino affiliates, Bingo affiliates, Sportsbook affiliates
Marketplace (websites, content services, domains, affiliate services, graphics, advertising, sub-affiliate links, money trading, cash exchange, non-gaming, bug reports)
Off-topic (coffee shop, rest of the web, poker, sports, sports betting, investing, wealth building
27,000+ threads, 175,000+ posts, 10,000+ members, 114 blogs, 788 entries.
Slogan: Great community, great ideas. Forum, free SEO tools, articles. Divisions:
Google optimization, SEO, bing search optimization, social media, affiliate marketing
Google AdWords, Google+, Bing Ads, content writing, marketing, local marketing, keyword research, analytics
Link development, mobile optimization, web design, coding, programming
Hangouts, announcements, rules, FAQs, suggestions, feedback, guide, new users questions
Top threads examples:
Extensive work, forum activity help, SEO question, time on page to next page click, spam referral traffic
Articles examples:
How keywords help you grow your website, how to increase the loading speed of your site
7 problems stopping you from improving your SEO
Tools (SEO, social media, Schema.org, PPC, Webmaster, web design, other):
Internal link building, website crawler, XML sitemap generator, smart URL list cleaner, page comparison
Last modified date, page speed, meta tag analyzer, keyword cloud tool, indexed pages, keyword combination
Author backlink crawler, YouTube reputation, social activity
Schema.org in-depth article code generator, rich snippets, product rich snippets, video schema generator
Google AdSense calculator, CPC ROI calculator, keyword typo generator
Robots.txt validator, what's my IP, URL encoding, free HTML validator, ping test, dig utility
Favicon generator, HTM to PHP converter, HTML encoder, CSS coder, web safe colors
Words counter, password encryption utility, online spell checker, password strength checker
324,000+ members, 469,000+ threads, 1M+ posts.
A German forum with SEO analysis, tools, jobs, events, news, webmaster hangouts information operating since 2011. Categories:
Online marketing, social media, affiliate marketing, search engine, webmaster, CMS, shop system, WaWi, technology, video, picture, audio
Feedback, project presentations, classifieds, search, law, tax, authority, project group 2016.
For the SEO analysis, you give your site data and request the results filling a form.
The tools section lets you refine your search by price, which data is collected, target audience, orientation.
The "Search a Service" department lets you search for agencies or freelancers according to your needs. You can refine your search by agency or freelancer, your budget, type of service, city.
The jobs section lists a few available spots, like internship/working student, SEO consultant for Berlin, SEO consultant for Munich, sales manager in Munich, SEO/web design/paid internship/part-time student.
There are also listed events you can watch on demand. This is a premium service. Examples:
WebSuccess – €149, Google analytics & web analytics Intensive seminar – €594, Twitter marketing €534
A forum mainly for web designers but there are marketing sub-forums as well. Categories:
Get started, community, showcase, HTML & CSS, JavaScript, PHP, Ruby, mobile, design & UX
Business, CMS & WordPress, general web dev, databases, content, server config, domains, social media
.NET, accessibility, hosting, marketing, Python, Perl, Golang, themes support.
You can refine your search by all categories, latest, top, FAQ, badges, tags, groups.
122,000+ topics, 1.2M+ posts, 260,000+ users, 132,000+ likes
Slogan: A friendly place to share small business ideas and knowledge, ask questions, find help and encourage others that are involved in the small business industry. Topics include small business marketing, generating revenue and small business computing. Operating since 2000.
Categories:
Introductions, questions
Marketing (SEO, PPC, general SEM, link development, local marketing, social media, newsletters, email marketing, copywriting, blogging, affiliate marketing, viral marketing, general online marketing)
Offline marketing (direct mail, radio, print, trade shows, conferences, expos, general offline marketing)
Generating revenue, insurance, taxes (selling ad space, eCommerce, sales, eBay, auctions & marketplaces, small business finance, insurance)
Inspiration & ideas (issues, conferences, seminars, webinars, reviews, marketplace)
Computing (website development, domains, hardware, software, security)
Special (trends forum, free links, archived newsletters, brief archives), general chat
You can refine your search by posts, titles, username, replies, dates, order
30,000+ threads, 167,000+ posts, 106,000+ members
Slogan: Success, real, simple. Every day people are building extraordinary businesses…
Founded in 1997 by Ken Evoy (CEO), based in Montreal, Canada. President is Allan B. Abrahams. Over 130,000 customers and affiliates. 
A separate forum helps members with their questions.
Topics – Examples
Working with your master keyword list, Finding your niche, Planning your monetization mix, Choosing a perfect, brandable domain name
Submit a site or page for review, SiteBuilder Libraries & tools, Coding (HTML/CSS/Javascript), All things Mac
Hosting providers & registrars, WordPress themes & plugins, Social Media
Recent additions
MailChimp & Aweber integration, EU cookie widget, Fully responsive templates, Google page speed optimization
Pinterest follow, Open graph tags, Drag and drop page builder, Site designer (templates), Solo Build It for WordPress
Membership
There is a 90 days guarantee.