'Hot' Affiliate Marketing Statistics
To help you shape a winning strategy
by Tasos on Apr 01, 2018 Last updated: Apr 04, 2018

In a previous article, we examined
what is Affiliate Marketing
, and in another one, we took a look at the
history of this business model
. We underlined that this specific industry is only growing since its inception, back in 1989.
Now it's time to illustrate some statistics that will help us better understand the future of affiliate marketing.
#1 – Retail eCommerce sales generated by Affiliate Marketing in Germany
(2014-2016)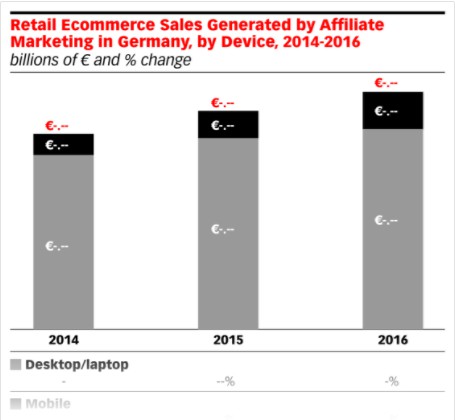 Every year the affiliate marketing sales are increasing
#2 – Affiliate Marketing accounts for 7.5% of total digital spend among retailers
Source: Nov 25, 2016
Rakuten – Networks help drive affiliate marketing into the mainstream
conducted by Forrester Consulting, Feb 03, 2016
US Affiliate Marketing Spending, 2015-2020, Billions
Every year the numbers are increasing
#3 – 81% of Brands Use Affiliate Marketing Programs
Source: Sep 29, 2017
Rakuten – Networks help drive affiliate marketing into the mainstream
conducted by Forrester Consulting, Feb 03, 2016
As of 2016, 81% of brands and 84% of publishers leverage Affiliate Marketing
Almost every brand and publisher leverage Affiliate Marketing
#4 – The search term "Affiliate Marketing" over the last 5 years

The graph is constantly increasing. Popularity by location, first 20 countries:
Bangladesh, Nigeria, St Helena, Kenya, Singapore
Netherlands, India, Ghana, Nepal, Malaysia
Pakistan, South Africa, Cyprus, Estonia, Philippines
Germany, Sri Lanka, Israel, UK, USA
#5 – 38% of marketers call Affiliate Marketing one of the top customer acquisition methods
A very important statistic showing the real power of this advertising model.
#6 – 2,350+ Affiliates surveyed by AffStat, 2015 Affiliate Marketing Benchmark Report
Affiliates Working from Home
A very important statistic showing how convenient working can be
Preferred Method to Drive Traffic
It's no surprise that all affiliates use the Inbound Methodology, that is attracting visitors to their properties
Affiliates Moving on when Denied by an Affiliate Program
There are unlimited programs to promote, if one company does not need you, simply move on and find another one
Primary Target Market for Affiliate Business - USA
Primary Target Market for Affiliate Business - Europe
It seems that the USA is a saturated market, but this means untapped opportunities for the rest of the world.
Europe is the 2nd in the list, with only 15%, so imagine the potential for the rest of the countries.
#7 – Experts forecasting on the Top Affiliate Marketing Trends in 2018
When someone goes to Google and searches for "product name reviews", they are already in buying mode.
Brands and affiliate marketers who put in the time and effort to build out legitimate sites that offer real value and rank high in Google, will continue to make great money in 2018 and beyond! Zac Johnson
Product reviews is the main focus
Affiliate marketing will expand to developing countries in 2018 Neil Patel
Neil Patel's forercast aligns with the Google Trends statistics that we analyzed earlier
Messenger traffic is a great source of income for all affiliates Sergey Khitrov
A trend that all affiliates should take very seriously (including me)
#8 – Delhi School of Internet Marketing
Digital Media Industry's Revenue coming from Affiliate Marketing
I believe it's an industry we should focus on
ShareaSale Affiliate Network - Number of registered affiliates
Top Affiliate Programs Categories
Fashion, sports, beauty, travel
People will continue to spend money in these 4 categories
#9 – Informatics – 2017 Affiliate Marketing Trends
Affiliate merchants report according to AvantLink
Increase in new customers
This statistic shows the advantages for advertised companies, that not only reduced their ad spending, but they managed to gain more customers
#10 – Mainstream publishers are turning performance-based marketing into a Fine Art
Affiliate marketing now drives as many e-commerce orders in the US as email.
US eCommerce orders (email and affiliate marketing)
This makes affiliate marketing one of the four largest sources of e-commerce orders, outperforming social commerce and display advertising.
#11 – Digital marketing trends in 2018
Content marketing costs compared to traditional marketing
Less than traditional advertising
Affiliate marketing generates 3X leads than traditional advertising
As I have already analyzed in previous articles, affiliate marketing cost less, and it brings better results than traditional expensive methods
#12 – Phone Calls from Mobile Search Will Top 73 Billion in 2018
Billion calls generated by mobile search in 2018
In 2013, it was 30 billion
Pay-per-call marketing is the latest 'big' trend. As more and more people use their phones, companies that want to get advertised will pay marketing agencies for leads and customers that call them
#13 – Mobile Searchers Call a Business Directly From Search Results
Mobile searchers calling a business directly from search results
Top 5 categories that value phone leads
Auto, cable & telecom, financial services, home services, travel
It's crucial for marketers to use click-to-call buttons that are displayed in the search results. This easy-to-use method saves time for mobile users.