Are you looking for photography marketplaces to discover thousands of artists for your next creative work?
Are you looking for ways to sell your artwork and photos?
Then this catalog is for you.
We have compiled a list of photo marketplaces where you can track an amazing plethora of artwork from photographers and other artists across the globe.
These marketplaces bring together multiple vendors and artists to help them discovered by millions of users. These platforms receive tons of traffic and are a great way to sell your media and discover creative work from talented producers.
You can start a lucrative career by selling just photos in stock markets and marketplaces. There is a high demand for quality photos from businesses of all sizes, solo entrepreneurs, bloggers, marketing agencies, publishers, designers, and various organizations.
Let's dive right in!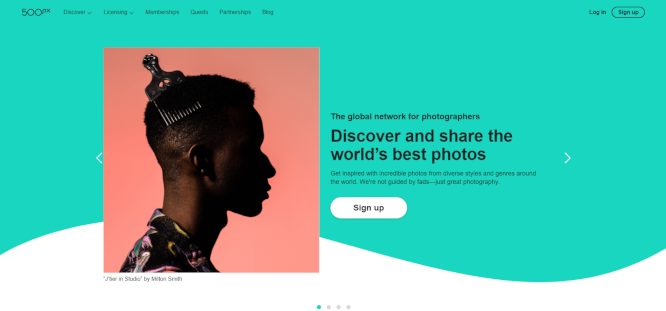 Main slogan: Discover and share the world's best photos. Get inspired with incredible photos from diverse styles and genres around the world. We're not guided by fads—just great photography.
Why 500px:
Grow as a photographer: 

Get immediate exposure with your first upload. 

Build your career: display your services, create a directory listing, get hired, showcase articles, presents, and videos, curate galleries

See how you're performing: with statistics and pulse you get valuable insights
Departments:
Discover photos: popular, upcoming, fresh, editor's choice, galleries
Directory: find and hire photographers (99,000+ photographers available for hiring)
Groups: most popular, recently discussed, 500px, 500px help, 500px newbies, photo critiques, 500px feature requests, landscapes, black & white, portrait, Europe, cityscape, and so much more
Perks: 

All 500px photographers are eligible for exclusive discounts on our favorite services. Discover exciting products to help you push your creative boundaries and improve your craft.

Ambassadors: 

community members whose passion for photography drives them to constantly push past their creative boundaries. They come from various backgrounds and a variety of experience levels but are all driven by their love for great photography.

Creator stories: award-winners, educators, trendsetters, commercial

Licensing: about, becoming a contributor, submission requirements, content types, content distribution

Resources: featured, starting soon, articles, videos, webinars, live stream, online workshops, in-person workshops, other (online and in-person)

Quests: 

Challenges to help photographers test their skills, get recognized for their work, and win exciting prizes.

Blog
Newsroom
Careers
Photography Categories:
Abstract, animals, architecture
Black & white, commercial, family
Fashion, fine art, food, landscapes
Macro, nature, people, sport
Still life, street, transportation, travel
Underwater, wedding
Stats: 16M+ photographers.
Memberships:
Standard – $3.99/month

Pro membership for $5.99/month
Data insights, upload as many photos as you want, create and share your resources, customize your profile, share your resume with potential clients, get found and hired faster with a priority listing
About: Launched in 2009, 500px is the leading online network for photographers with millions of members worldwide. Photographers come to 500px to discover and share incredible photos, gain meaningful exposure, compete in photo contests, and license their photos through our exclusive distribution partners. Office: Toronto, Canada.
Presentation Tools & Sharing Platforms
Regular Updates
Main slogan: Royalty-free stock photos from $2. Discover our collection of royalty-free stock images from our community of photographers.
The EnvatoMarket is a huge marketplace with many departments:
Web themes & templates
Code
Video
Audio
Graphics
3D files
Photos
Community
Tutorials
Blog
Forums
Meetups
Help center
PhotoDune is part of Envato Market, a creative eco-system with over 35,000 designers, photographers and developers building all the assets you need for your projects.
Photography categories:
Popular, featured, top new
Follow feed, top authors, top new authors
Public collections
Animals
Architecture
Business
Food
Health
Sports
People
Technology
Travel
Video footage
Mockup generator
Free stuff: Every month there are new freebies ready for you to enjoy on Envato Market, from stock photos here on PhotoDune to video effects and footage, from 3D assets to website templates.
Sell: Become an Envato Author and sell your work with the largest online creative community. Over 2M+ customers. Choose exclusivity, multiple markets, focus on quality, forums, Envato team help, analytics, daily insights, community support.
Stats: $1B+ total community earnings, 2M+ customers every year, 600+ employees worldwide, 100% founder owned.
About: It's been quite a journey since our early beginnings in a Sydney garage to having offices in Melbourne, Los Angeles and Guadalajara. In 2006, Collis, Cyan and Jun Rung launch Active Den.
200+
Business & Marketing Tools Collection
Work management, tracking, organizing, payments, accounting, Google, keyword, market, and competition research, SEO, analytics, and related, marketing & advertising, web development, website monitoring, domains & website hosting, coding, and related, design & multimedia, marketplaces, entrepreneurial communities, hiring & outsourcing.

Main slogan: Over 198M hq archive photos and vectors to meet your creative needs. Amazing collection of professional videos in 4K, HD, and SD resolution. 
Categories:
Photos: collections, selections, curated, latest files, and various categories (people, computers, automotive, travel, animals, business, food, water, nature, background, money, school, office, house, children, and so much more)
Vectors: icons, summer, Christmas, confetti, music, pattern, certificate, ribbon, tree, background, alphabet, flower, world map and so much more)
Editorial: HQ royalty-free records for editorial use: Donald Trump, Facebook logo, Twitter, YouTube, UEFA, Vladimir Putin, Uber, Star Wars, and more
Video: business, office, work, family, children, friendship, wishes, love, science, medicine, abstract, news, TV, nature, our world, city, and more
Illustrations: classic art, animation, modern, graphics, pop art, vintage, print, mosaics, digital graphics, watercolor and more
Standards: 30K + professionally designed templates for every occasion: Instagram post, Square video post, Facebook post, Instagram video story, Instagram story, full HD video, poster, YouTube thumbnail and more
Music: alternative, punk, ambient, for children, cinematic, opera & classical, country, funk, folk, electronic, dance, hip-hop, rap, festive, jazz & blues, pop, R&B, soul, reggae, rock, latin, music of the world, rock & roll, metal, acoustics, lounge, military, acapella, religious, corporate, other, and more
Other departments:
Packages & prices
Enterprise solution
Network of partners
API program
Careers
Free images
Latest images
Become a partner
Sale of photo archives
Live chat
Reviews
Sell: Become a Partner of Depositphotos and make money with your photos, illustrations and videos. Focus on what you love and find new ways to make money.
19M+ customers, 240 countries, 57K+ file downloads per day, 90K+ collaborators, $0.25 – $33.82 earnings per 1 photo, 6 months to make steady profits, $3.82 – $64.22 earnings per 1 video. 
To become a partner in Depositphotos, you must register and submit images for approval. Once approved, you can start uploading files to your portfolio right away. Add the right keywords so that the public can easily find your images on the website.
You get access to data, enrich the content of your calendar, premium collections, creative competitions, exclusive blog.
They work with companies like TripAdvisor, Subaru, Avianca, Bosch, Forbes, and so much more.
Memberships:
Photos & vectors subscription: 30 images/mo – €29 or €299/year, and 3 more packages
Photos and vectors on-demand: 10 images €49 (standard license), 5 images €359 (extended license)
Videos subscription: 10 videos €269 and 2 more packages
Videos on-demand: 5 videos €289 and 2 more packages
Music unlimited subscription: €19/mo or €199/year
Music on-demand: 5 downloads €139 (standard license), 5 downloads €999 (extended license)
Interested in a custom solution?
We can customize all our plans to suit your needs. Contact us for pricing and more information!
About: 98+ million files. Clients in 192 countries. 24/7 support in 20 languages. Success is possible thanks to strong teams located in New York, Milan, Kyiv, Limassol, Moscow and Warsaw.
Founded by Dmitry Sergeev in 2009. Headquartered in Florida, USA, Depositphotos quickly becomes the fastest-growing microstock agency in the world.
Best Photo Editing Online Apps
The Ultimate List
(Free and Premium)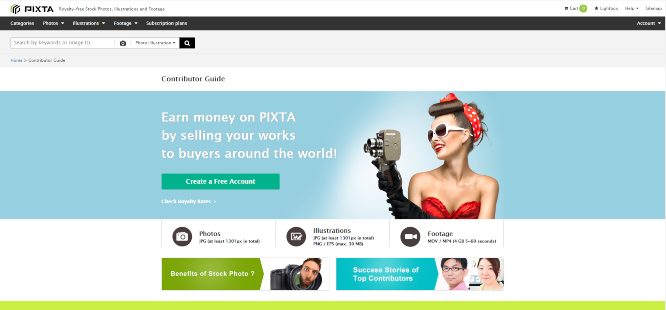 Main slogan: Earn money on Pixta by selling your works to buyers around the world.
Stats: 58M+ stock photos, illustrations, and videos, 350K+ contributors.
Departments:
Photos
Illustrations
Footage
Free images and videos
Blog
FAQ
Licenses
Contributor guide
Photography categories:
People
Face/body, Pose, facial, lifestyle
Health & beauty
Sports & exercise
Leisure/hobbies
Events/festival
Business
Animals & plants
Things
Scenery
Material
Sell: 5 easy steps. Register, upload, keywords & submission, review by Pixta, start selling. 
Royalty rates: your earnings (credits) = (file price + extended license) X royalty rate.
About: established in 2005. Location: Tokyo, Japan. Group company: SnapMart Inc. We noticed that there was a large number of talented amateur photographers not being discovered around the world, and this inspired us to start PIXTA to share their talents with the world. Ever since, we have worked on making the world a "flat" place where anybody can share his or her talent.
Free Stock Photo Sites
The Ultimate List
Regular Updates
Main slogan: Simply art, simply beautiful. For 17 years, artists and buyers have trusted Yessy to buy and sell art. Now find your perfect art.
Categories:
Paintings & prints, photography
Drawings & illustrations, computer & digital art
Sculptures & cravings, ceramics & pottery
Glass, jewelry, furniture, textile & apparel
Antiques & collectibles, crafts & other art
Photography categories:
Abstract, animals, birds, fish
Astronomy & space
Buildings & architecture
Children's art, entertainment
Ethnic, cultural, & tribal
Fantasy & mythology
Flowers, plants, trees
Food & beverage, holidays & occasions
Humor & Satire
Landscape & nature, people & figures
Places & travel, politics & patriotism
Religion, philosophy, astrology
Science & technology
Sports & hobbies, still life
Vehicles & transportation
Sell: Membership costs $5/month or $59/year. There's a 14-day free trial period. There are no other fees. And when your art sells, there is no commission. You receive 100% of the order total. When the buyer pays, the funds are immediately transferred into your PayPal account.
About: Yessy is a private help corporation located in Lakewood, Colorado, and was founded by an artist for the purpose of providing a better way to buy and sell art.
Video Marketing Software
The Ultimate List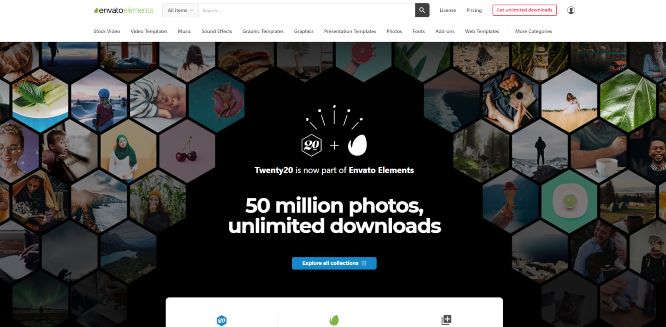 Main slogan: unlock 4,5M+ items, 50M+ photos, 72K+ items added this week, 123K+ graphic templates, 50K+ graphics, 52K+ presentation templates, 63K+ music tracks, 1,2M+ stock footage.
Photo Categories: authentic photos, unlimited downloads, curated collections, cancel any time
Millenial life, art, music, culture
Business, beauty care, celebrations
Real Women, daily life, education
Health & Wellness, family, fashion
Travel, fun activities, health
Food & drink, holidays, home
Technology, inspiration, leisure & relaxation
Diverse people, love, people
Inspirational moments, seasonal, sports
Animals & nature, sustainability, urban
Work
All Categories:
Graphic templates: print, product mockups, websites, UX & UI kits, infographics, logos, scene generators, sketch plugin
Graphics: backgrounds, textures, social, patterns, icons, objects, illustrations
Presentation templates: Keynote, PowerPoint, Google Slides
Fonts: Seriff, Sans-Seriff, Script and handwritten, decorative
Add-ons: actions and presets, brushes, layer styles, Photoshop, Illustrator, Lightroom, Figma, Sketch
Web themes & templates: WP themes, HTML templates, Shopify themes, Bootstrap themes, free WordPress themes
Web templates: responsive, retina-ready, PSD files, Sketch files, admin, email, site, landing page
CMS templates: Drupal, PrestaShop, Joomla, Shopify, Magento, Unbounce, Muse, Ghost, OpenCart, Tumblr
WordPress: themes, plugins, template kits, elements wordpress plugin
3D
Stock video: stock footage, motion graphics
Video templates: broadcast packages, elements, infographics, logo stings, openers, product promo, titles, video displays
Music: music tracks, logos and idents
Sound effects: game sounds, transitions & movement, domestic sounds, human sounds, urban sounds, nature sounds, futuristic sounds, interface sounds, cartoon sounds, industrial sounds, sound packs, misc, sound
Photos: various categories 50M+ items
Code: WordPress plugins, PHP script, Javascript, CSS templates, PrestaShop plugins
eBooks and courses
Free files
Free tools: image resizer, video cropper, video to gif converter
PlaceIt: logo maker, video maker, design templates, free templates, mockups
Tuts+: learn (Javascript, Photoshop, Illustrator, WordPress, how to use PowerPoint)
Other departments and resources: license, ecosystem, careers, help center, become an author.
Sell: Earn more doing what you love. Become an Elements Author. Take your portfolio to the next level. Start earning more money and sell in more places. Applications are now open. Authors are hand-picked by our team to join.
Additional earnings, only the best, 50% share, 1 simple license, no support needed, growing audience.
Who can sell: We're looking for people who can contribute top quality items to Elements. Authors are selected by:
Offering a great online portfolio of existing work.
Consistently creating and offering high quality items.
Creating new items that are on trend with commercial demand.
You can sell all types of digital templates and assets, from graphics and website templates to photography and stock footage.
Plans: millions of creative assets, unlimited downloads. 
Individual plan: from €14.50/mo.
Students: All the benefits of an Envato Elements subscription at 30% off.
Teams: from €9.45/mo/member
Enterprise:

Unlimited creative assets for organizations, agencies and teams of six or more. You need to contact them.
About: As a company, Envato believes that when the community succeeds, we succeed. We're proud to be providing a way for independent designers to earn a living doing what they love. For Elements, we're sharing 50% of net revenue and pioneering the use of subscriber share.
Multimedia
Multimedia resources

 

(AZ directory – images, graphics & design, audio & music, video, animation, themes, plugins, code, apps, tools, education, jobs, buy & sell, communities, freebies)
Free stock photo websites

 

(AZ directory, overviews, reviews)
Video marketing software

 

(AZ directory and overviews)
Beginner's Guide To Making Money Online
The Ultimate List of Multimedia Resources
Regular Updates
Images, Graphics, Audio, Video, Animation, Themes, Plugins, Code, Apps, Education, Jobs, Buy & Sell Art
This is just the beginning of an extended catalog. I will keep the thread updated frequently.
In the meantime, check out the other related resources we have in store for you.
Now, if you're an artist and want help to get your photography business running, beyond showcasing your work on these marketplaces, check out our private training workshops dedicated to selling arts & multimedia.
Showcasing your creative work is only the first step toward building a lucrative business online. You need a strong online presence, adding samples of your work frequently, and making relationships.
You also need your own website to demonstrate your professionalism, and of course, to amplify your reach and exposure with marketing.
That's it, another article has finished, here on Web Market Support. I'm waiting for your comments and thoughts. Which marketplace is your favorite? Which one should I add? Till next time.

Tasos Perte Tzortzis
Business Organisation & Administration, Marketing Consultant, Creator of the "7 Ideals" Methodology
Although doing traditional business offline since 1992, I fell in love with online marketing in late 2014 and have helped hundreds of brands sell more of their products and services. Founder of WebMarketSupport, Muvimag, Summer Dream.
Reading, arts, science, chess, coffee, tea, swimming, Audi, and family comes first.
Some of the links on this page are "affiliate links". For more information, I refer you to the Disclaimer page