I'm always on a hunt for new applications to help me with my various design projects both for me and my clients.
And I use a plethora of them in combination.
Recently, I discovered DesignCap, and it looks like a very professional tool that helps designers and people with no experience at all to create quality graphic designs on the go.
Plus, we teamed up with the brand to offer you an amazing giveaway.
So, let's see what this app is all about:
The header image for this video is created with DesignCap
Main slogan: Make graphic design much easier. Speed up your creative process to make striking graphic designs for your business, event, social media, and more.
Features:
Templates & resources
Built-in fonts
Shapes
Backgrounds
Large library of stock photos and icons
Visual charts
Exclusive and well-grouped modules
*Upload your own fonts
What you can create:
Infographics
Presentations
Posters
Flyers
Invitations
YouTube channel art
Facebook covers
Instagram posts
Charts
Logos
Business cards
Brochures
Facebook ads
Leaderboards
Menus
Reports
Resumes
Schedules
YouTube thumbnails
Twitter headers
Tumblr banners
Email headers
Pinterest graphics
Cards
DesignCap is a project by PearlMountain that has focused on the research and development of graphic design software since 2006. Their most popular product, FotoJet, has millions of users spread over 100 countries and areas.
They say…
With nearly ten years of experience in graphic design and software development, we eventually launched our new product DesignCap, an online graphic design software, to help everyone create professional designs such as infographics, flyers, and social media graphics.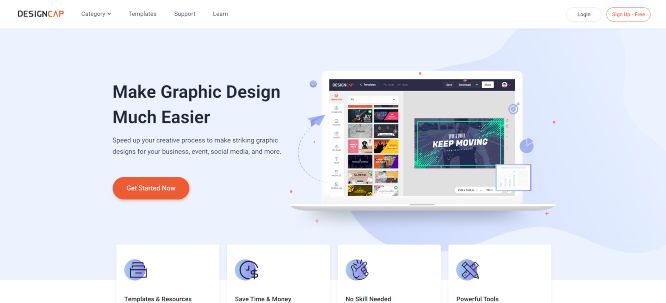 The signup process is fast and all you have to do is verify your email address to start using the app.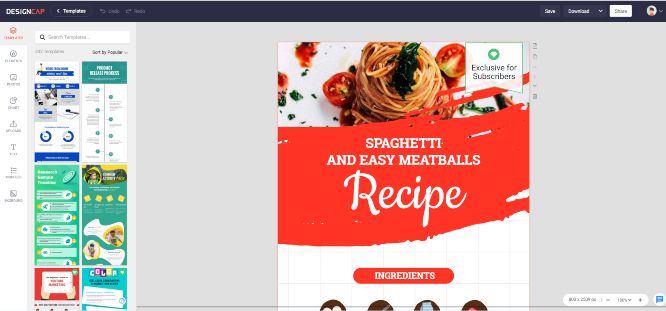 There are 232 infographic templates, an impressive number. I chose the food recipe and I am ready to customize the graphic. 
When I click on the graphic a predefined square opens its settings. You can change the color, you can flip the elements horizontally or vertically, change its opacity.  You can also align it to the page, choose a layer, duplicate the element, or delete it.
On the bottom right corner, there is information about the graphic: its dimensions and the zoom settings.
On the top header bar, you can undo or redo actions, choose between the templates, save the project, download it, or share it. 
The left sidebar contains elements, photos, charts, an upload button, text settings, modules, and backgrounds.
Everything is very well organized.
I changed the colors of the graphic using the color palette of my website. 
The free account is not eligible for downloading or sharing the infographic. But my plus account is eligible for downloading the infographic in these formats: jpg, png, pdf. I choose jpg.
There are 122 presentation templates, the DesignCap team made a good job again. I really like the seminar template. The illustrations are beautiful, there are gra[hs and charts that are simply awesome. Very professional.
This time I did not proceed with any changes.
The free account is not eligible for downloading or sharing the presentation. But now I have a plus account and I can download the presentation in various formats: jpg, png, pdf, pptx. I choose the pdf format.
There are 372 poster templates, so awesome. I created 2 posters on the fly. The first one can be found in the video as well.
I did not make any changes to the 1st poster.
I changed the background image and the headline color in the 2nd poster.
My plus account is eligible for downloading the poster in these formats: jpg, png, and pdf. And there are various sizes: small, medium, large, and XL.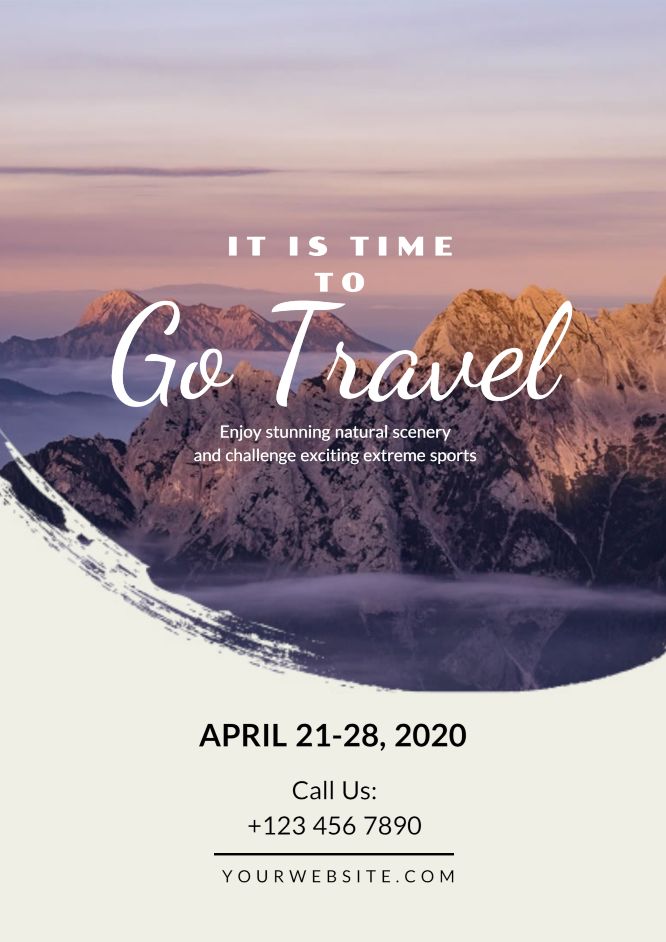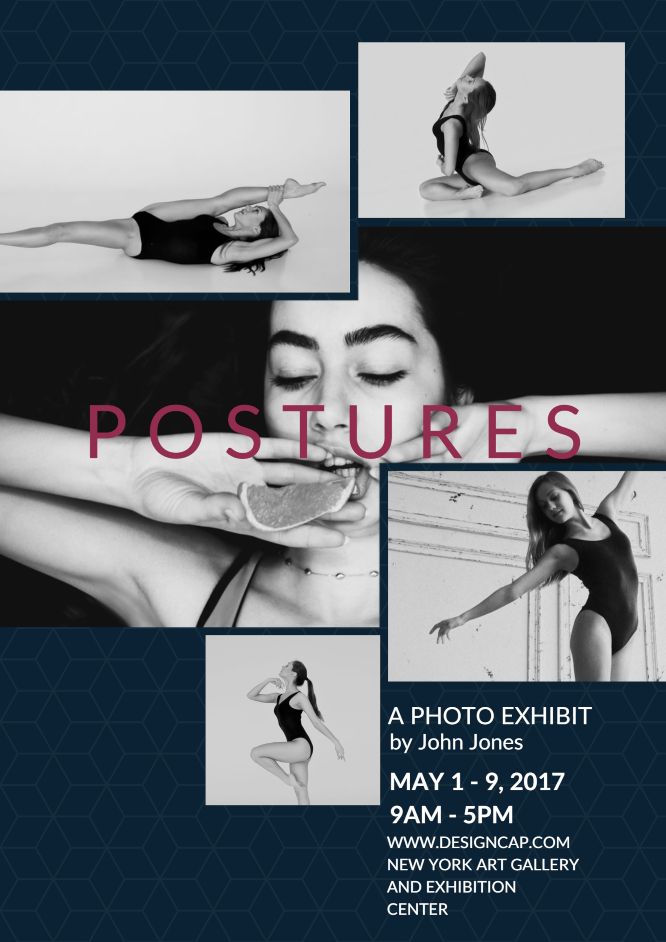 My plus account is eligible for downloading the infographic in these formats: jpg, png, pdf. I choose jpg.
There are 54 logo templates. I am impressed by the quality of the designs.
Here are a few logo examples you can create.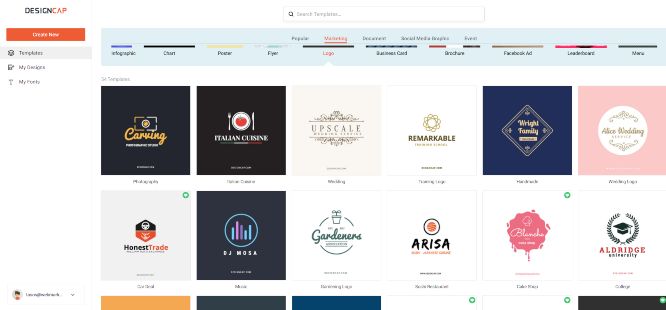 There are 121 business card templates so far. Again, the DesignCap team proves its dedication.
Here are a few business cards examples you can create.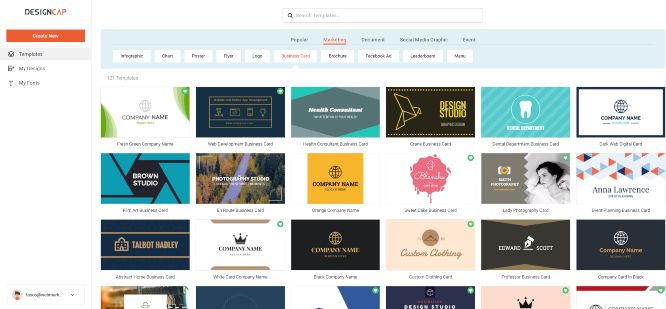 There are 139 chart templates so far. Again, the designs are amazing and can save you tons of wasted time creating them on your own.
Here are a few chart examples you can create.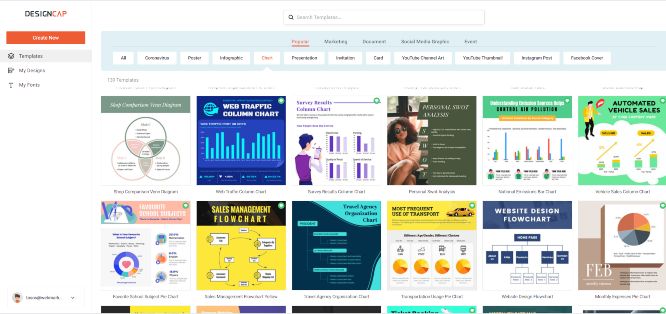 There are 42 resume templates so far. More than enough. Modern and classic designs. 
Here are a few resume examples you can create.
This is a page dedicated to helping DesignCap members make the most out of the app.
They say…Everyone can create beautiful designs. Find some ideas and inspiration here to start.
Examples:
20 customizable YouTube banner templates for your channel art inspiration
How to create a perfect poster: ideas, templates, and design tips
Ultimate guide to infographic design: examples, templates, and design tips
Color psychology marketing
How to design your own Christmas card
5 tips to stay connected with customers during the coronavirus outbreak
There's a "Getting started with DesignCap" tutorial, an FAQ page, and you can contact the team for your suggestions and feedback.
Functionality-Features-Overall Experience
Here are the most important things to consider before using the DesignCap application.
The high-quality ready-made templates will satisfy even the most demanding designer. There are modern and classical designs to help you choose easily the style you want.
There are plenty of elements to create custom designs on your own:
Lines, basic shapes, frame masks, arrows, badges, speech bubbles, hand drawings, miscellaneous, modern decoration shapes, vintage decoration shapes, abstract shapes
Charts: lines, tables & maps, columns, bars, pies, areas
Modules: social icons, icons & text, images & text, options, steps, timelines, diagrams, comparisons, statistics, SWOT's.
Backgrounds
Countless text ready-made designs
You can upload your own images and other design elements to the canvas.
You can upload your own fonts (how cool is that).
There are millions of free stock photos you can choose from. These are high-quality photos, again. 
You can work on an empty canvas to create custom designs with ease.
When you upload an image on an empty canvas you can immediately fix its size with ease.
The application works like a mini Photoshop or Illustrator. There are layers and you can move elements backward and forward.
The application works as a photo effect app as well.
You can add effects to the images (coloring).
There are photo filters (opacity, exposure, brightness, contrast, saturation, hue).
You can crop them, rotate them, and flip them (horizontally and vertically).
You can align elements to the page, use the layers functionality, duplicate, and delete them.
You can add pages to a canvas, copy a page, and delete it.
I believe all the important elements are present. Let me know which feature you'd like to see in a future version of DesignCap.
Functionality & Speed

90%

90%

Ease of use

95%

95%

Features & Settings

85%

85%

Design quality

85%

85%

Number of templates

90%

90%

Helping material

80%

80%

Price

90%

90%
Basic
Unlimited templates

Unlimited stock icons

Unlimited modules

High-res PNG & PDF exports

100 image uploads

Save up to 100 designs

You can save $48 every year ($59.98) billed annually
FREE
Limited templates

Limited stock media choices

5 image uploads

Save up to 5 designs

JPG exports
PLUS
Unlimited templates

Unlimited stock icons

Unlimited modules

High-res PNG & PDF exports

Upload your fonts

1,000 image uploads

Save up to 1,000 designs

You can save by choosing the annual plan ($71.88) billed annually
Final Review & A Surprise
I wholeheartedly recommend DesignCap for anyone. bloggers, marketers, entrepreneurs, authors, and even designers that want to create a design on the fly without having to compromise the quality of their work.
I can create banners and media for emails, social channels, advertisements, and websites fast and easy. 
There's nothing missing. Thousands of templates, millions of photos, icons, fonts, text shapes, various design elements. 
The app is fast and there are no loading times, and my internet speed is not the fastest in the world.
The app has enough features to satisfy everyone. 
Plenty of settings, photo effects, layers, what else would you need?
The membership options are affordable for the majority of people. It's worth the price.
It's an application you should at least try. Don't worry, with the free account you'll be able to perform your tests and see if this app is for you.
We've teamed up with DesignCap to offer you 3 premium accounts for free. Yes, and there's no catch at all.
We will reward the first 3 people that will leave a comment on this page after they used the app with a free account and they believe they need the premium version.
That's all. You just create a free account, use the app for a while so that you know you really need the premium account, and leave a comment on this page using the same email address you used to sign up for DesignCap.
We do that because we want to give the premium account to those who really need it.
Then, we will contact the DesignCap team so they can upgrade your accounts on the spot manually.
GIVEAWAY
DesignCap 3 Premium Accounts For Free
That's it, another review has finished, here on Web Market Support. I am waiting for your comments and thoughts. Till next time.

Tasos Perte Tzortzis
Business Organisation & Administration, Marketing Consultant, Creator of the "7 Ideals" Methodology
Although doing traditional business offline since 1992, I fell in love with online marketing in late 2014 and have helped hundreds of brands sell more of their products and services. Founder of WebMarketSupport, Muvimag, Summer Dream.
Reading, arts, science, chess, coffee, tea, swimming, Audi, and family comes first.
Some of the links on this page are "sponsored". For more information, I refer you to the Disclaimer page.