What is the Fade To Black Masterclass with Joey Xoto
Fade to black is a training masterclass about video creation, editing, producing and marketing created by Joey Xoto.
In a nutshell, the Fade to Black is a step-by-step blueprint to help students step up their video production and video marketing game. It focuses on the mindset and lays out a foundation, the building blocks as they call them. It analyzes the whole video creation process from start to finish. Scripts, customer avatars, hooks, engagement techniques, shots, lighting, tripods, technical arrangements and settings, setup, editing, optimization, publishing, conversions, and more. It's a comprehensive and very detailed course full of techniques, tricks, and secrets, something you don't easily come across.
Joey is a video production expert with massive experience and co-founder of the company Viddyoze, a video animation app.
Notice: Fade to Black is included in my Elite marketing training programs list. More on that later.
Discover The Astonishing Video Creation Secrets That Turned A Flat Broke Teenager Into The Founder Of A $30,000,000 Business
Want the ONE SKILL every business owner needs to comfortably charge top dollar prices, and KNOW you'll make sales?
No Templates. No Apps. Get The Most In-Demand Skill On The Planet And Start Creating (And Charging For!) Videos That Are Truly Unique
Real Video Creation Is Making Something Truly Unique… And When You Can Do That, You Can Open EVERY Door

No Fancy Equipment, Expensive Software, Or Previous Experience Required

This isn't magic. You will need some equipment, but it's all affordable, and most of it you probably have. (Got a smartphone? That's most of it right there)
Video producers

Vloggers

Video fans

Multimedia producers

Artists

Marketers

Business owners

Brands

Entrepreneurs

Influencers

Experts

People with a passion

People with a following

Anyone with a message

Anyone with experience on a field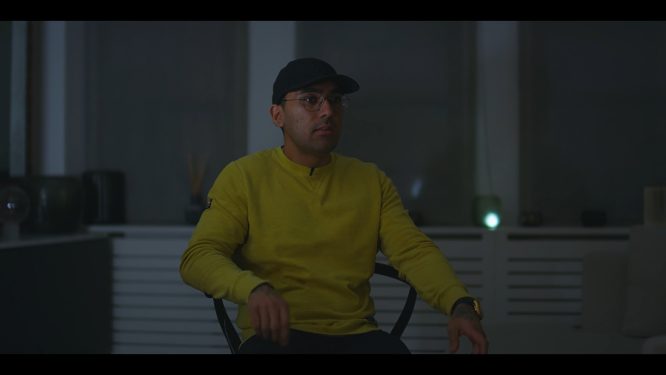 This program is for you if:
You're just getting started with video and you want a step-by-step system to guide you from start to finish
You want to learn the real art of video and you don't want to play around with ready-made templates and applications
You want to build a large following for your video channels
You want to create amazing, engaging, and unique videos that stand out, not just copycats and mediocre stuff
You're an advanced video producer and you want to improve your video messaging, video quality, and your results
You're producing videos for clients and you need a detailed course to enhance your skills and knowledge
You're an experienced videographer and you need insights from a video expert with a proven track record
The Main Advantages of this Business Model
Low-cost to medium-cost entry depending on your equipment
You can target the whole population
You can sell high-priced videos to clients or sell video editing and producing services 
There is high-demand in videos, footage, editing, producing from brands all over the world
You can do a large part of the work from the comfort of your home, office, or anywhere in the world
People are watching videos like maniacs
Video is the medium of our time
I was 9 years old at my cousin's wedding. He gave me the cheapest, most battered video camera you've ever seen, and asked me to record their big day. I did, and haven't put cameras down since.
He grew up in South London, in Slough, and he did not finish his education. He got to become a door-to-door salesman which helped me build his character. 
In 2012, around October time, he lost his job, he got fired. A very tough situation as he was in debt with a lot of bills to pay. He had only 5-6 months to find a resolution to this big problem.
He started searching online for ways to make money. Millions of results, hundreds of different opportunities.
And one day, he stumbled upon the WarriorForum, an internet marketing forum.
Joey discovered in this forum, a product by Alexander Jeffreys. He invested in it, and he was so amazed by the content of Alex that he wanted him as his mentor to personally coach him into the marketing world.
But having Alex as a personal coach would cost Joey $20,000. And he did not have this money at that time.
So, he decided to get Alex's attention.
He kept on messaging him to no avail. He said he's a videographer, and he was willing to work for Alex for free in exchange for his help in some business areas. 
And Alex finally responded.
Show me your work, he said.
Long story short, Joey amazed Alex with a tremendous video production that helped Alex gain even more recognition.
I was 21, at Paddington Station in London. I didn't know it at the time, but I was recording the video that would lead to me generating over $30,000,000.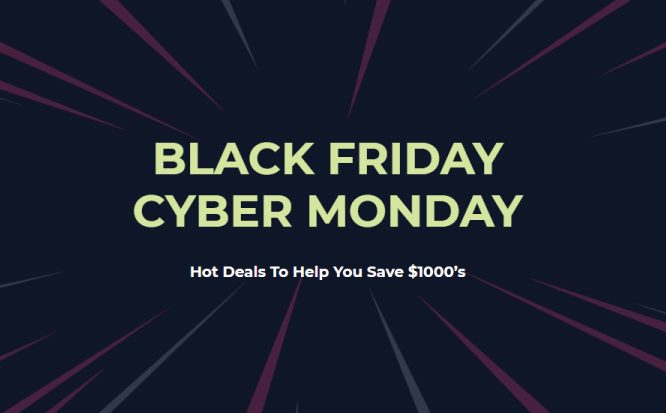 Fade To Black Masterclass By Joey Xoto Review
I got hooked from the first minute of the introductory video and I immediately understood that Joey is an expert.
In just 3 days, I've watched about 80% of the video lessons and I will finish this course during the weekend.
I just got started with video production 2 months ago, and this is the perfect chance for me to step up my game. Hopefully, I have experience with music production, editing software and programs. Music production is not the same as video production, but there are similarities.
I am absorbing information easily as the lessons are very well organized and Joey has a unique way of transferring his knowledge.
In one word, it's a masterpiece.
It's a training program that helps students understand what it takes to create videos that really stand out in the marketplace.
There are theoretical and practical lessons covering everything from the basics to very advanced techniques.
There are strategies, tactics, tricks, tips, and educational lessons where you get to watch Joey working with his cameras, on his computer and explaining advanced concepts, ideas, and frameworks.
Also, the course is teaching students how to market effectively their video productions and how to create messaging and scripts that get people's attention which is the most important factor of success. Without a clear and interesting message, no one is going to watch your videos.
Joey is following a proven methodology we use in marketing, copywriting, and advertising and this shows that this course is not only about the footage, video editing and producing.
The course helps students understand their customers, the viewers, and how to make them engage with their video content.
Additionally, the training helps students avoid common and big mistakes and accelerate their results.
The course is divided into modules and lessons. There is also downloadable material in pdf format that helps students implement what they're learning and guides them with suggestions and recommendations on everything they need to run a successful video production business (software, equipment, resources, and more).
Fade To Black Documentary
This documentary is a perfect example of all the strategies, tactics, secrets, tips, and tricks Joey shares in the training.
Here's a small part of it.
5 Modules – 75+ Detailed Videos and Other Training Material 
The Fade To Black Masterclass is divided into 5 modules and a few sub-modules.
Module 01 – Scripting
Module 02 – The Art of Video
Module 03 – Create
Module 04 – Editing
Module 05 – Optimisation
Every module is divided into video lessons.
There are pdf documents that complement the training.
Learn the foundations of scriptwriting for your video content. These principles are the key fundamentals of selling with video. Study these concepts and use the provided resources to craft your own perfect video script for your products & services.
Introduction: Learn the foundations of scriptwriting for your video content. These principles are the key fundamentals of selling with video. Study these concepts and use the provided resources to craft your own perfect video script for your products & services. 
In this section, Joey underlines, again and again, the importance of having a great script. Because the script is what makes or breaks a video, movie, or production. Even the best cameras in the world can't replace a bad script.
There's also a downloadable pdf analyzing the benefits of video. Very powerful.
Your Avatar: Your avatar is your ideal customer profile. Knowing your customers is very important in order to create the perfect script. The more you know your viewer, the easier it is to persuade them! 
In this section, Joey highlights the importance of creating a perfect avatar before you write the script. This is the process I follow when I market. Without knowing your customers, you can't establish a reliable connection. Joey knows what he's talking about.
The pdf worksheet helps you learn more about who your customer really is. This will enable you to sell more effectively and create a strong rapport with your viewers.
The Money Video: the 'anatomy' of a money video, i.e. what makes a video script persuasive, compelling and most importantly profitable!
Here, Joey discusses all the moving and necessary parts that a video should contain. How to get the attention of the viewer, how to keep them engaged, exactly how and when to offer a solution, how to close the video.
The pdf includes the 4 pillars, the big picture.
The Hook: The 'Hook' is made up of a simple yet powerful formula used to entice, engage and glue people to your video. This is the secret to a higher retention rate for your video content. 
Powerful marketing lessons by Joey. He uses the same exact copywriting techniques I use when I market through written content, sales, and landing pages.
The 3 pdfs that come along get students to action. Very valuable stuff.
The Story: In this video, Joey talks about how to create a story in your script, along with why this is such an important part of you're 'money' video.
Joey analyzes storytelling and how powerful it is to get your message through. I use storytelling all the time, when I write blogs, emails, on social media, in videos, everywhere. A story creates a bond and it's the 1 thing that keeps viewers and readers interested. This is how they can relate to your script.
In the pdf, he talks about creating emotion in your video which is actually a very simple process. Remember, emotional
selling far outweighs "in your face" styles of selling.
The Offer: It's time to sell! Learn about how to properly present your product or service in your script.
Joey explains how exactly to transition from the story to the actual offer. When to do it, how to position your product or service, everything is explained accurately.
The 2 detailed pdf's make students work easy and again, get them into action. 
Call-To-Action: Want your viewers to do something after they watch your video? I should hope so! Here's how to direct your viewers to action in the most powerful way.
Joey analyzes the importance of including a call-to-action at the end of the video. 
Don't Do This: There are some big "no no's" when it comes to your script. Here's what NOT to do when it comes to writing your video script.
Joey clearly states various mistakes you should avoid when creating videos. The pdf checklist helps you even further as a reference.
The 2nd pdf that comes along includes mistakes to avoid when filming and a link to an external YouTube video to help you understand the concept better.
Proven On YouTube: The YouTube script formula is different from any other type of video. Learn about why that is, and how you need to approach your content.
Joey makes an introduction to YouTube videos and what format you should use based on his experience and on YouTube channels with millions of subscribers.
The Engagement Formula: the proven step by step formula to crafting a YouTube video script, used by the best YouTube channels on the planet. 
Joey breaks down the YouTube formula step-by-step with details and examples.
The pdf includes instructions on how to build interest with your viewers and there's a link to a YouTube video he made for a client.
Module #2 The Art Of Video
Before you pick up a camera and hit the red button, let's dive deep into the theory of cinematography. These are skills the skills that will help you to become the best video creator possible. Get your notepad ready! 
Introduction: A quick overview of what you're going to learn in this section
Joey will analyze theoretical and practical aspects when it comes to creating videos. 
There's also a pdf about live video equipment guide (I'm gonna need this). Here Joey talks about various cameras, control, storage, sound capture, lighting, iPhones, and tripods.
The 2nd pdf explains what makes a good video (powerful)
The Rule Of Thirds: Understand the core foundational concept of cinematography and photography, this will get you started in the right direction. 
Joey explains the rule of thirds and how you can apply this simple concept to create better photographs and videos.
The pdf explains the concept even in more detail.
Depth of Field: Ever want that blurry background in your videos? Here's how it's accomplished. Totally beginner friendly! 
Joey explains the depth of field concept and the factors that affect it (aperture, distance between camera and subject, focal length of the lens, size of the sensor)
Camera Angles: Discover the concepts of camera angles, how to use them correctly and when not to over-do it! This is how you'll elevate your content to the next level.
Joey explains that camera angles are essentially perspectives. Angles make videos more interesting and engaging. Joey explains when to use them and when not.
Using a Tripod (or not): Using a tripod is normally what most people THINK they need to do… but do you really? Find out in this video. 
Joey explains that not all videos should be created using a tripod. Tripod can be used in conjunction with other techniques to make your videos more engaging.
Zooming: Is your subject too far? No problem, zoom in. WRONG! Find out why zooming in is killing your videos. 
Joey explains how and when to zoom for your video scenes.
Module #2 Subcategory – The Art Of Video/Your Camera
Learn the foundations of scriptwriting for your video content. These principles are the key fundamentals of selling with video. Study these concepts and use the provided resources to craft your own perfect video script for your products & services. 
The Key Settings: Camera confusion? No more! Learn about all the ins and outs of your camera, what settings you need to worry about, and which ones don't need touching. 
Joey analyzes ISO, shutter speed, aperture, and white balance and how to use these settings to improve your video quality.
Automatic vs Manual: Should you set your camera to automatic and just start shooting? The answer is yes and no. Find out why in this video. 
Joey explains when to use automatic mode and when to use manual mode. Manual gives you more control and a more professional outlook if used right, of course.
Colour Profiles: What are colour profiles? Do you need to sue them? If so, how do you do it? 
Joey analyzes color profiles that can be used to create better videography without having to work later on with video editing software.
Zebra Pattern: Learn about the importance of using Zebra patterns to ensure you shoot the best video possible and avoid potential headaches in your post-production. 
Joey suggests that you use zebra pattern if this setting is available with your camera.
Focus Peaking: Focus peaking is one of the most important and useful features of your camera. Here's how to ensure you'll always have crystal sharp video footage. 
Another setting that you should be using if it's available with your camera.
It's time to create your video! Using all the concepts you've already learned, you're now ready to hit the record button. Joey walks you through the A-Z steps of creating powerful screen capture videos. Ready, set, action!
What Makes a Good Video: Is every video great? Of course not. Here are the key elements to consider that truly make a video great.
Joey goes deep into analyzing all the important elements of a good video.
The 1st pdf is about equipment and how to choose the best camera.
The 2nd pdf is about the benefits of using DSLR for video.
The 3rd pdf is absolutely essential. It's about the best camera settings for recording video.
The 4th pdf is about recording audio for presentations with examples and various options.
Pick Your Path: There are 2 types of videos you can create, here's a quick overview on which one you should go with, and why one may be better than the other.
Joey talks about on-camera video scenes and off-camera scenes, how to use them, when, and when to use a combination of both.
The pdf that comes along is all about recording your screen with Camtasia.
Pros and Cons: We go deeper into the positives and negatives of deciding which video style you should use. Clue: It's not one or the other!
Joey analyzes the pros and cons of the 2 previous techniques, on-camera and off-camera shootings.
Overcoming Fears: Can't get on camera? Scared? Nervous? Fear not! Here are a few tricks to overcome your camera phobia.
Practical steps you can take to improve your camera presence.
The pdf about how to perform on camera explains the concept in big detail and shows you what you should avoid in order to come across trustworthy and reliable.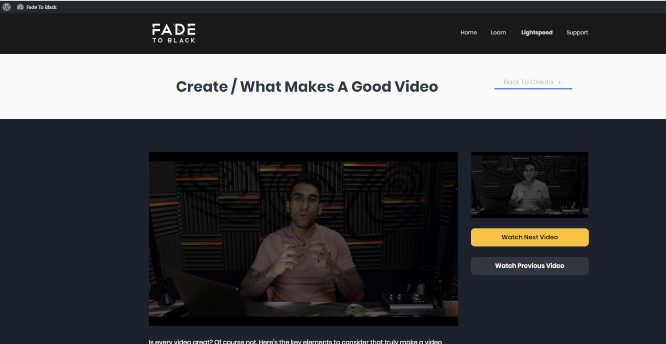 Module #3 Subcategory – Off-Camera Video Creation
If you'd like to learn about creating video content off-camera, i.e. using screen capture and presentation software, head into the 'Off Camera' video tutorials. These are perfect for creators who need to create videos fast, or are not comfortable being on camera themselves. 
The Flow: In this video Joey walks you through the overall blueprint to creating a video off-camera, i.e. a video not recorded on your camera.
One of the most important video lessons in this course. Joey shows you how exactly you should be recording everything and how to mix it up.
The Tools: Joey talks about the tools and equipment you will need to properly create off-camera video content. 
Joey displays various options, both free and paid for screen capturing, recording presentations, audio capturing, and video editing and he analyzes the pros and cons of each option.
Preparing Your Script: In this video, you'll learn about how to prepare yourself to record your script (plus an incredible time-saving hack).
Joey shows you various ways you can use to record your audio-script and most importantly when to do it.
Edit Your Voiceover: Watch Joey chop up and edit a voiceover in a matter of minutes! You'll be able to fix your audio files in no time following these techniques. 
Creating Slides: Joey walks you through some simple tricks to creating good looking slides. Don't want your video looking like a PowerPoint presentation? Here's how it's done. 
Here Joey creates a slide deck from start to finish.
Recording Your Playback: Joey shows you how to hack your video together faster by recording your voice over and video at the same time. Confused? Watch this!
Nice hacks to save you time and improve the quality of your off-camera presentation recording.
Edit The Video: Joey walks you through the final phase of stitching the video together and cleaning it up. 
Joey mixes things up with the final touches. He uses Adobe Premiere Pro. A great foundational video to get you started in the right direction.
Module #3 Subcategory – On-Camera Video Creation
If you're ready to learn about on-camera video creation, this is the section for you! We're going to dive deep into the technicalities of video creation. We'll be going over camera gear, settings & best practices to creating stunning, highly professional video content. Let's go! 
The WorkFlow: Learn the foundations of scriptwriting for your video content. These principles are the key fundamentals of selling with video. Study these concepts and use the provided resources to craft your own perfect video script for your products & services.
The workflow is about getting prepared before starting shooting video scenes. It helps you avoid losing time and to be more creative when shooting.
Equipment/Choosing a Camera: In this video, Joey walks you through the overall blueprint to creating a video on camera.
Joey discusses the features you should be looking for when buying a new camera. He's not suggesting models as they change all the time.
The attached pdf comes very handy as it contains great tips and advice.
Equipment/Recording Audio: Joey talks about the tools and equipment you will need to get going and creating on-camera video content. 
Joey explains why cameras are not designed to record audio, only video. You should use external audio recording for maximum results.
Equipment/Lighting: Learn about lighting, what you need and what you definitely don't need! Clue: It's not as complicated as you think. 
Basic lighting settings fr pretty much any video project.
Other Useful Equipment: There are a few hacks that can really make your video shine, find out what you can use in this video. 
What else you can add to your arsenal to help you improve the quality of your video recordings.
Have a Plan: Failure to plan is planning to fail! Joey talks about how to have a proper plan and how to make sure you are ready to shoot on set. 
Joey reminds us again how important is to be prepared and organized for every video project.
The Storyboard: Learn about how to storyboard correctly, when it's important and when it might not be so important. 
Crucial tips and hacks to get you organized and prepared before every shooting.
Shooting Conditions: Discover the keys to figuring out how to properly decipher if you have the correct conditions to shoot a video. This is important to ensure you make the most of your environment. 
Joey underlines the importance of having control over the environment you shoot.
Lighting/Why and How: Find out the best practices when it comes to lighting your shots, when to & not to and how to do it like a professional.
How exactly to use lighting sources to create the best atmosphere for your shootings.
Audio Preparation: Audio is the key to creating great content! You need to ensure you do this the right way to avoid a terrible end result. Here's how it's done. 
Which types of microphone you should use for better results and when to place them during the recordings.
The attached pdf is a list of the best options in the market.
Performing On Camera: Get Joey's top tips on performing like a pro on camera. How to look, sound and act confident (even as a total green newbie).
You don't have to be the next Tony Robbins or to show up as a celebrity. Be yourself. Also, Joey helps you overcome your inner demons and disbelief.
The attached pdf is about body language. 
Shooting Your Content: Time to hit that record button! Here are the top things to consider when it's time to actually record. What do you shoot? How do you shoot it? 
How to organize your shootings, which scenes to shoot first, which next, and why.
Framing Your Shot: Believe it or not, regardless of how good your camera is, a bad shot can totally ruin your video. Here's how to properly frame your shots for an epic video.
Additional tips, tricks, and hacks to maximize your shootings and capture subjects in the most interesting and engaging way.
The 'ABC' Rule: Joey's signature ABC rule of filming explained! This is the secret ingredient to making absolutely any video (no matter the topic) more interesting and engaging!
Joey explains how important is to record content and shoot scenes relevant to your initial idea and topic.
Shooting B Roll: Here are Joey's top tips on shooting B-Roll footage, what kind of angles and shots to take when considering B-Roll for your video.
Better have enough B roll footage rather than to not have anything.
Learn the foundations of scriptwriting for your video content. These principles are the key fundamentals of selling with video. Study these concepts and use the provided resources to craft your own perfect video script for your products & services. 
Introduction: a quick overview of what you'll learn about in the Editing section of this course.
The attached pdf comes very handy as it's a list of software.
The Video Editor: The video editor is your canvas to greatness! In this video you'll learn about the most important elements on your editor. 
Joey talks about software. Which one he uses, other he recommends.
The Workflow: Every good editor has a proper workflow they use when they create videos. Your about to discover the master blueprint to fast, effective video editing. 
How to organize your video editor, what actions to take first, what next, all the way to the final video outlook
Import Your Footage: In this video you'll learn about importing your recorded footage into your video editor.
Joey is going to edit a video from scratch. He uses Adobe Premiere Pro, the best software in the market, and he explains the basic features and the canvas.
Fixing Your Main Shot: Joey walks you through how to correct any mistakes you've made in your primary footage, as well as clean it up to look more interesting.
A very detailed tutorial on how to get your main shot and frames right. He explains everything, why he does what he does, how he cuts certain areas and why, Joey simply does not leave anything behind. An eye-opening video lesson for those that want to really step up their game in this industry.
The "Crop" Trick: Joey shows you how to make it appear as though there are zero mistakes in your video, making it appear as though you recorded everything in just a single take.
Another superb video lesson where Joey takes you by the hand and shows you exactly how to apply these crop tricks to make the cutting of scenes look smooth and natural, on purpose. 
Brilliant videography.
The "Carry" Effect: Joey shares one of his favorite cinematic transitions, giving your video slick production value.
Amazing stuff, indeed, a cinematic effect/transition that shows the professionalism of Joey.
Another Fix: In this video you'll see another example of how Joey cleans up a video clip, going over the same concepts but with a different style of video. 
More tricks and tips from Joey on another video footage this time. Now a whole new world of videography opens up for you.
Separating Tracks and Nesting: In this video you'll learn about how to properly organise and separate your audio tracks from video. This is a critical step in ensuring your workflow is efficient and simple.
Joey explains in detail when to nest or when to separate tracks, how to do it, how to save time and more.
Very powerful video lesson
Adding Music: Joey reveals his favourite sources of music and also how to actually add them to your video projects. 
Joey shows where he buys music tracks, the importance of the "right" music track and its relevance to the video footage. Music has to complement the footage.
Another masterpiece by Joey.
Music, Volume, and Balance: In this video you'll learn about how to properly balance your dialogue against the music. This will ensure you don't drown out your dialogue with overly loud music.
Here, we discover how Joey sets up the music in the background to compliment the video footage. A very important lesson that goes deep and watching Joey working in the video editor is absolutely precious.
Automation: Joey shows you how to automatically raise, lower and alter the volume of your audio tracks. This is a great way to always maintain the correct balance of audio in your video.
This concept is something I know from music production. It's the same exact process we use to create sections where something changes, eg the volume of a music track, an effect in a video track, anything at all.
Joey explains this in clear language.
Mar 06, 2020: This is how far I've progressed.
EQ Tricks: Joey talks you through how to use equalisation to fine-tune the sound of your audio tracks. This is great to bring better production value to your video.
Another powerful lesson teaching you how to improve audio quality, especially the voice of subjects in order to balance voice volume with the music track volume.
Voice Audio Correction: Sometimes the sound of the dialogue in your video might not be up to scratch. In this video you'll discover the simple-to-apply tactics to make your dialogue sound a lot better.
Joey is experimenting with audio effects to improve the voice track even more. Compressor, limiter, auto gate, etc.
Organize the Footage: Joey talks about some project management in this video and how to ensure things don't get too messy. This is important at this stage when you have multiple layers and lots happening in your project. 
Joey in this video proves that he's not only a video expert but also a very well organised producer. Very important stuff.
Adding "B Roll": Joey talks about the magic of adding B Roll to your video! This is the icing on the cake to get your video looking much more professional and interesting.
I was excited to watch this lesson, as I always wanted an expert opinion on adding B roll. Joey proves that the whole process is actually pretty simple. Amazing stuff!
Cutting To Music: Joey reveals his in-house tactics to making your video look mesmerizing. The secret sauce is "cutting to music". You'll discover how Joey gets viewers hyper engaged to his video content.
Joey adds more b roll music in conjunction with the music track. Very powerful lesson as it shows how professional a once "shy" footage can become.
Creating Musical Sequences: Joey talks about creating 'breaks' in the content, and how to use just music and video without any dialogue to create engaging and interesting parts of your video.
Joey continues to work on his "Shawn" painting footage, adding b roll in conjunction with the music background track. 
Watching over Joey's shoulder is a precious lesson.
Color Grading: Joey shows you how to colour your footage and grade it to look like a professional peice of content. These are the industry tricks to getting your video to look cinematic and amazing. 
Joey transforms the footage by playing with color settings. There are no best settings for every video here, the only way to get great results is by experimenting and trying new settings.
Using a LUT: Not sure how to colour correct? No problem, Joey shows you how to apply LUT files to add beautiful "filters" to your videos for instant gorgeous videos.
An alternative way to change colors based on LUT presets you can easily find online for free.
Adding Text, The Old-Fashioned Way: In this video you'll see how to add text to your videos. 
How to add text, how to manipulate and change settings, how to give the text motion and more. Great stuff, as always.
Dancing Text Effect: Joey has a very smooth way to add a "bounce" effect to his text during his videos. He loves to make this text move with the music. In this video, you'll see how it's done.
Another superb effect, Joey makes the text looks like dancing. You have to watch it to fully enjoy it.
Graphics Workspace: Joey talks you through the "Graphics" section on Premiere Pro, and how you can add animations right inside of Premiere.
More cool effects by Joey playing with graphic templates and various settings. 
Adding Viddyoze Animations: Not using Premiere Pro? Want a simpler way to add animations? In this video you'll see how it's done.
Joey mentions Viddyoze, his company, but this is not a sales pitch video. It's a lesson that can save you tons of time if you want to add animations to your videos.
Adding Transitions & Fades: Joey talks about how to add segue ways and transitions between scenes. Most importantly though, he talks about when NOT to use this effect. Remember less is more!
Joey gives some examples with transitions and fades and talks about his own preferences and when to use these effects and when to avoid them.
Valuable lesson.
Exporting Your Video: Joey talks about how to finalize your video and export your project as an MP4 video, ready to upload.
Another important lesson to help students render their videos with the best quality and settings.
You've made your video, awesome! Now it's time to get that video file optimised and looking the best it can, and getting it uploaded to the web for everyone's viewing pleasure. 
Optimize Your Video: In this video Joey shows you how to optimise your video size so that it's not massive when uploading. A great way to save space & time.
Joey shows a pretty fast way to preserve video quality while reducing the size. All for free online. 
Uploading Your Video: Joey talks about the various platforms to which you can upload your video content, pros, cons & his personal preferences for hosting video content.
Joey underlines the importance of hosting your videos online rather than storing them on your end.
Various options to choose from, Joey analyzes the best of them and which he uses.
Video Thumbnails: Joey talks about the importance of video thumbnails, why you must consider this topic & some tips on how to create them. 
Great looking thumbnails can make videos stand out in a video queue so why not take advantage of that?
Joey shows you some tools online you can use immediately.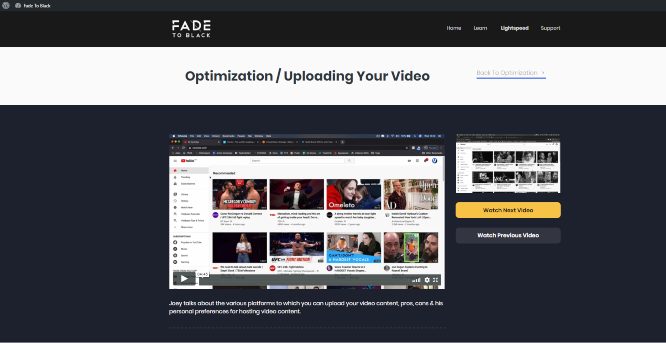 Fade To Black – Lightspeed (EXTRA Module)
In this section, you'll get to learn, emulate and practice honing your video editing craft by following along with Joey Xoto's real-life projects. You'll get access to all source files for each project so that you can learn in real-time.
The Stock Challenge: In this first project, you'll learn to create a highly engaging, high impact video using just stock footage! This is a highly challenging piece where Joey will only be using totally free resources. This project will walk you through the thought process, and live step by step instructions to make a fantastic video.
Amazing stuff by Joey. A whole new level of training, an implementation plan to keep his students working, on alert, and so they start being creative and producing videos, because this is what this course is all about.
Joey uses a piano-driven background track to enhance Jobs's speech and around 20-25 free footage scenes.
The end result is so professional but also sentimental, exactly as the speech. This is a great balanced video.
A trailer with Steve Jobs speaking, a very dramatic but so inspiring speech that can motivate you to change the way you see things. 
"Have the courage to follow your heart and intuition, they somehow already know what you truly want to become"
A Documentary In The Making: Documentaries are the perfect type of video to tell a story. Watch how Joey organises footage and audio to create a perfect documentary. Learn the specific concepts and practical skills to create compelling documentaries. 
The $1,000,000 Sales Video: Watch Joey create a proven, $1m sales video right in front of your eyes! You get access to all the files and project so you can follow along and play with a real-life, 7 figure sales video! Exciting.
The High-Impact Trailer Video: In this project, you'll learn how to create a high impact trailer video that keeps your viewers on the edge of their seats! These are the exact types of videos that Joey has personally used to create huge engagement, excitement, and hype for his products & service videos.
What Others Are Saying/Testimonials
Ryan Banes wrote: "
The quintessential training course for anyone who wants to make money making videos.
Consume consume consume! That's all I could do once I unlocked "Fade to Black". This course gives you the knowledge bank to build a video empire from the ground up. There's information for up and coming YouTubers, advertising agencies, niche markets, and freelancers, and the price for the content is absolutely impossible to beat.
If you have four of the five fundamental skills necessary to create quality video content, why would you not want to learn about the fifth? If you have one of the five, you can't beat this price for the other four. If you think you have all five… I would recommend you give this course a shot and see if you don't learn something, I know I did!
Joey takes quick, impactful, engaging videos, and uses them to tell you how to make quick, impactful, engaging videos. You're literally watching the product you're being taught how to create, so there's no question as to whether or not it works.
If you've been making videos for years, buy this course. If you've never made a video in your life, but are looking to start, buy this course. If you want to learn more about how to turn a hobby into a career, BUY THIS COURSE. I have spoken."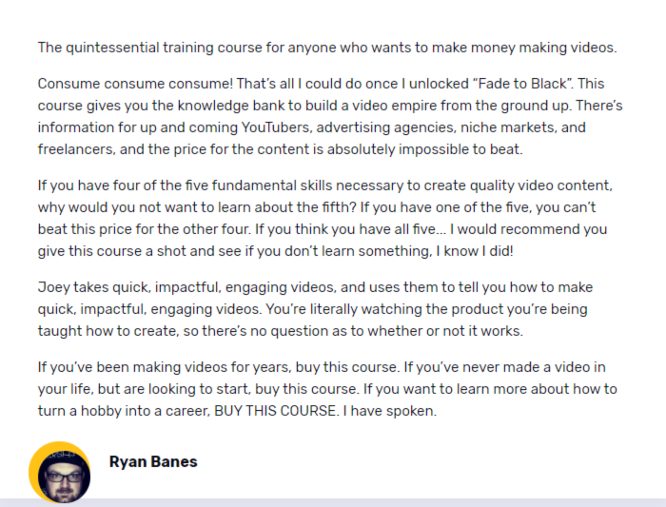 Angela P. Lewis wrote: "After being a long time user of the software, Viddyoze, I knew that the Fade to Black series would be well worth the watch! It did not disappoint. I particularly loved Joey's clear and succinct delivery. The quality of the information is great. He gives you actionable items and steps to make quality videos that will convert! I am excited about taking my marketing videos to the next level! Thank you, Joey!
Marc Gray wrote:
I get asked to leave testimonials a lot but rarely do but in this case I have to say that FTB is seriously great training that anyone can benefit from.
Mike Richards wrote:
A very comprehensive course and covers all aspects that even people with a bit of previous knowledge in some areas will still find essential if they are to progress successfully.
Scott Rodden wrote:
So many decisions on a successful campaign. Viddyoze has supplied The Template for success. The Best Non-Video, tool they've offered yet. "Guessing" eliminated.
Rob Herget wrote:
Fade to Black is a very thorough training starting with the thought process, the mentality, going right into the details
I have only done basic editing, and this training walked me through the details of editing a video to make sure that it looks its best. Many of the things Joey goes over are areas I had never thought of
I really liked hearing him talk about what he was thinking when he was editing and the entire thought process
The training does a very good job of outlining everything, getting you to think out the entire process, all the details that you need to put down before even starting the project. It is making me much more thought conscious of every aspect of making my video much more professional the message I want it to portray.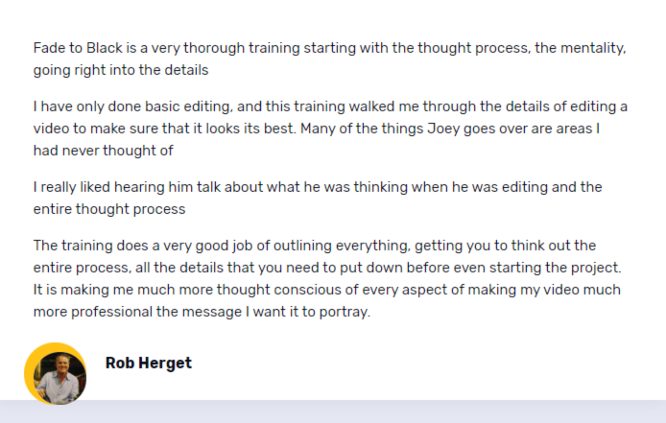 Jim Fisher wrote:
I've had the opportunity to preview Joey Xoto's new course "Fade to Black" and it's fantastic!
It really is the A to Z for producing videos for marketing, and Joey is an excellent instructor.
The editing section is quite comprehensive. The tutorials in it are illustrated with Joey's favorite video editing software Adobe Premier Pro, but they apply to any higher end video editing software you might use.
I've had some of Joey's previous training courses, and I'm really glad he has put this new one together to help us video marketing people out!
Quick Recap – Everything's Included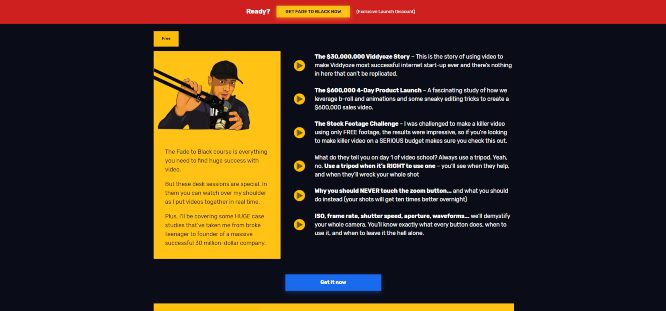 5 training modules
All the sub-categories
An extra implementation module – the lightspeed
The $30,000,000 Viddyoze Story

 – This is the story of using video to make Viddyoze the most successful internet start-up ever and there's nothing in here that can't be replicated.

The $600,000 4-Day Product Launch – A fascinating study of how we leverage b-roll and animations and some sneaky editing tricks to create a $600,000 sales video.
The Stock Footage Challenge – I was challenged to make a killer video using only FREE footage, the results were impressive, so if you're looking to make a killer video on a SERIOUS budget make sure you check this out.
ISO, frame rate, shutter speed, aperture, waveforms…

 demystify your whole camera. You'll know exactly what every button does, when to use it, and when to leave it the hell alone.
Via the contact page on Viddyoze.
1-time payment option: $47
5 main training modules and their subcategories

An extra training module – the lightspeed

The $30M Viddyoze story

The $600K 4-day product launch

The stock footage challenge

All Joey's knowledge

PLUS My Extra Bonuses

Unlimited email access and support 

We'll create your 1st video together, hand-in-hand, step-by-step (details below)
There's a 30-days money-back guarantee:
Joey says: 
Get your copy of Fade to Black now. Watch the videos, read the supplemental materials, put the strategies into action. It won't take long.
If you're not 100% convinced that you'll be able to create spectacular videos using my video method, videos that don't just LOOK amazing, but spread like wildfire and covert better than any video you've created previously, then I INSIST you contact me for a full refund. No questions asked.
So far I've consumed over 60 videos, around 80%-90% of the course.
I am blown away by Joey's video production know-how.
I have experience with music production and I can tell right away that Joey is a top-class producer.
I just got started with video production myself, and now I can really step up my game.
Fade to black is not only about videos, footage, and production.
It's also about creating a solid message to get people's attention and make them engage with your videos.
You'll have the chance to create outstanding video channels, to get paid top prices for high-class videos for clients and brands, and you'll learn secrets, tactics, strategies, and tricks that only a few know.
A so-very complete course gives you anything you need to master the real art of video.
This course is not for people looking to create videos on-the-go or mediocre stuff messing up with apps and templates.
This course teaches you the fundamentals of serious movie production and there are so many advanced techniques that you may use to create Hollywood-like productions if you believe in yourself.
For this price, it's a STEAL for Joey and a massive opportunity for you.
Important things to Consider:
Video is the #1 medium of our time. People all over the world spend hours daily consuming videos on You-Tube, Vimeo, Dailymotion, and so many other channels.
Brands and entrepreneurs around the world are looking for great videos that will help them sell more of their products and services.
There is a huge demand for videos and the statistics predict that the future is even brighter.
BUT…
Have in mind that just because you're investing in such an ELITE training program that does not mean you'll get the results you need.

There's hard work associated with this training and with all the ELITE training programs I whole-heartedly recommend to my readers, followers, and subscribers.
If you're not willing to work hard, practice, and apply this knowledge then this program it's not for you.
Don't become someone who just pays for a course and never finishes it. 
Invest in yourself and learn everything that's included as quickly as possible. Why? To gain a competitive advantage and draw attention to YOU.
And The Most important THING
If you don't enroll, nothing will change. Your videos probably aren't great right now, that's why you're interested in buying this course, and they won't improve just by magic.
This training program can really save you tons of time. There are decades of knowledge condensed into days here.
I know Fade To Black can work for you. Because it's an exceptional, complete, and comprehensive program. I almost finished it in 2-3 days. Of course, you will need to go through some of the videos multiple times and practice, especially if you're a newcomer.
But looking over Joey's shoulder working with cameras, his computer, explaining everything, and with all the downloadable material in place, nothing can stop you.
MY BONUSES
I believe so much in this program, and although the value you're getting for what you're paying is tremendous, and although there are huge bonuses packed by Joey and his team in Viddyoze, I'd like to offer you some additional bonuses that can help you get the results you want faster.
It's something temporary, it took me about 2-3 hours.
It's a project under development. I plan to add some dialogue, maybe a few vocals, more scenes, photos, and off-camera recordings.
I'm definite this is just the beginning of a long journey for me in video production.
I'm super excited!
Wait, There's More…My Bonuses
Let me make sure you gain self-confidence, apply what you learn and help you with your 1st video
But before I announce the bonuses I need to introduce myself very briefly.
I do marketing since December 2014. I live, breathe, and dream marketing. This is what I do for a living. I help companies sell more of their products, both locally and globally. I offer marketing and advertising services to clients directly and as a marketing publisher indirectly through this website.
My passions: marketing, advertising, sales, human psychology, personal development. I have a Business Administration degree from the University.
I read like a maniac and produce content and campaigns for me and clients like crazy.
2 times crazy. Don't trust me so much!
To help you even further I decided to add some extra value to the already extreme package that Joey and the Viddyoze team compiled. And this is to help you realize how much I believe in this program.
And I have to be honest, I only promote HIGH-QUALITY programs that I firmly believe in. It would have been very easy for me to promote every program under the sun, but during my online journey that started in 2015, I only promoted the BEST of the BEST, and I will continue to do so in the future.
I am a huge fan of quality and I don't promote mediocre or incomplete programs.
Unlimited email access and support for as long as you need it (lifetime) (real value $500 – FREE for you)
I want to make sure you get results with the Fade to Black training program
I want to help you with marketing and to make sure you understand how businesses work
You may hit a wall at some point, and I'll be there to motivate, inspire, and guide you
Nothing is more important than You reaching your goals
Bonus #10 (EXCLUSIVE for Fade to Black)
Let's create your 1st video together, step-by-step. I'll be showing you the way from start to finish and we'll be exchanging ideas all along till we have something we're proud of (real value $can you price it?)
Where to find assets externally (free and paid)
How to record your own assets
Equipment and software
Technical analysis and implementation
Music production secrets
PLUS
I'll shoot some footage and photos for you with my DSLR camera
To Get Your Bonuses Complete The Form On The Bonuses Page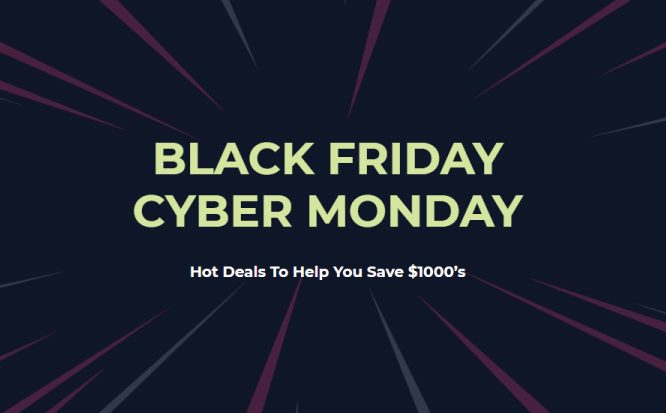 That's it, another review has finished, here on Web Market Support. I am waiting for your comments and thoughts. Till next time…
Tasos Perte Tzortzis
Marketing Consultant, Creator of the "7 Ideals" Methodology
Although doing traditional business offline since 1992, I fell in love with online marketing in late 2014 and have helped hundreds of brands sell more of their products and services. Founder of WebMarketSupport, Muvimag, SummerDream.
I enjoy reading, arts, science, chess, coffee, tea, swimming, Audi, and playing with my kids.
Enroll In Fade To Black
And Unlock the Vault of Bonuses
Some of the links on this page are "sponsored". For more information, I refer you to the Disclaimer page