Online photo editing apps have become a trend. More and more apps are being developed to attract companies, website owners, bloggers, and personal users.
They are necessary and they improve our lives. We can edit our photos, apply effects, add text or animation, make collages, various designs, and so much more.
The majority of online apps can be used in your browser and there are others that you need to install on your computer. There are free options and premium products that come with a free trial period.
Let's dive in!
Best Photo Editing Online Apps
Main slogan: Everything you need in an image editor. It's an app for Mac 10.11 and later, including macOS 10.14 Mojave. Current version 6.2.3 Available on the AppStore.
Editing options:
Layer masks, curves, levels, filters
Text on a path
Non-destructive filters
Circle text tool
Photo effects
Vector tools
Clone
Smart layer export
Crop, brush, transform, resize, rotate
Raw image import, color picker, snapping and alignment
Batch edit, shape processor
Photoshop brush import
and more…
Acorn is a premium product with plenty of options, tools, and effects. You can try it for free for 14 days. Try it out.
Main slogan: Make photos magic. Bring creativity to your fingertips with powerful tools and creative supplies that give you everything you need to make beautiful photos in seconds
Aviary editing options:
Enhance, effects, frames
Adjust, overlays, stickers
Orientation, crop, resize
Sharpness, focus, vignette
Blemish, whiten, Redeye
Draw, splash
Text, meme
Aviary is a free to use online app you simply can't ignore. It's owned by Adobe. It's very easy to use with plenty of features for editing photos. A must have tool.
Main slogan: Photo Editing & Graphic Design Made for Everyone. Produce stunning photographs and captivating designs with fun, easy-to-use editing tools.
With BeFunky you can:
Edit photos
Create collages
Design projects
Editing Options:
Crop, resize, rotate, cutout, background
Replace color, exposure, fill light, auto enhance
Beautify, color, vibrance, sharpen, clarity, glow, vignette
Smoothing, blur, funky focus, soften, blue edges
Tilt, tint, levels, color mixer
Other Features:
Touch up skin, touch up eyes, touch up mouth
Misc
Effects (lens flare, chromatic, charcoal, and more)
Artsy (digital art, cartoonizer, impressionist, and more)
Frames
Graphics
Overlays
Text
Textures
BeFunky is the tool I use the most. It has extended capabilities even for free members. It's one of the few tools that have a layer feature (combine photos onto another like PhotoShop) and this feature is included in the free membership. Of course, there are various effects and other features locked for upgraded members.
The BeFunky collage maker is impressive and you can select from a wide range of grids, layouts, patterns, graphics, and text, and is fully customizable.
The BeFunky designer lets you create:
Invitations, menus, cards, posters, brochures, flyers
Letterheads, wide skyscrapers, leaderboards, rectangles
Blog designs (images, titles, infographics)
Social media headers
Social media graphics
Greeting cards
and more…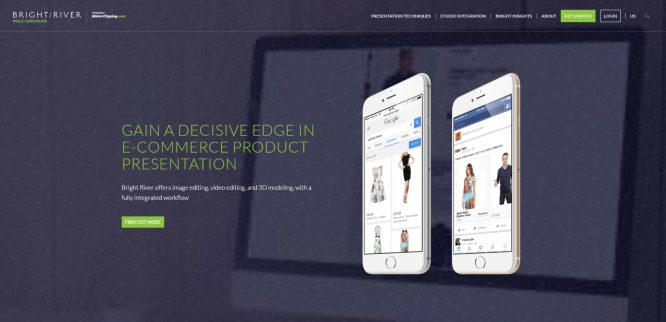 Main slogan: Gain a decisive edge in eCommerce product presentation. 
Bright River features:
Edit photos 
Edit videos
3D modelling
Bright River editing options:
Masking
Invisible mannequin
Retouch
Shadow/reflection
Recolor
Color correction
Bright River is a premium service. You fill out a form and they contact you to discuss the possibilities of their image editing services.
Main Slogan: Simple, awesome designs for you and your team. Unleash your creativity.
Canva is more of a design creation app but it can be used to edit photos and other design projects as well.
With Canva you can create various designs:
Social media posts, presentations, posters, covers, flyers
Blog banners, cards, email headers, graphics
Facebook apps, Pinterest graphics, Tumblr graphics
US letter documents, A4 documents, Letterheads, magazine covers, certificates
Resumes, yearbooks, book covers, desktop wallpapers
Wattpad book covers, photo collages, CD covers, infographics
Menus, logos, brochures, gift certificates, business cards
Labels, Facebook event covers, YouTube thumbnails, Tumblr banners
YouTube channel art, Twitter headers, G+ headers, Etsy shop covers
Etsy shop icons, Twitch banners, LinkedIn banners
SoundCloud banners, postcards, invitations, tags
Programs, announcements, Facebook ads
Wide skyscraper ads, large rectangle ads, leaderboard ads
Additionally, you can create designs using your own custom dimensions. There's a variety of templates to choose from, free photos, graphics like grids, shapes, charts, illustrations, and more. There are pre-made text and combinations of texts, backgrounds, and you can upload your own media to the canvas.
You can save and download your projects or you can immediately publish them to your social media profiles and pages.
The Canva Design School shows people how to make beautiful designs with Canva.
The Free Canva is an excellent option for the majority of people, however, Canva for Work is a tool for companies with extended capabilities.
Main slogan: Advanced photo editing software. Designed by and for photographers with exacting standards and a love for beautiful images, DxO PhotoLab 2 offers the most flexible and powerful processing and correction tools on the market.
Editing options:
Improved U point technology: select a point of interest and add a control point. DXO intuits what you want and automatically and intelligently extends your selection to areas that share the same characteristics within an adjustable radius
Graduated filter
Brush
Automatic repair
Remove noise
Clearview: brightens the horizon by removing any haze from your landscapes or smog from urban photos.
Unparalleled optical corrections
PhotoLibrary
Advanced color management
Smart lighting, spot weighted corrections
Filmpack and DXO viewpoint
DXO is a premium product and one of the most sophisticated in this list. You can try it out for free for 30 days. A must-have tool in your arsenal.
Main slogan: The world's most advanced online image editor. Create dazzling photo effects for free in your browser.
Editing options:
Effects
Fonts
Shapes
Doodling
Distortions
Retouch
Layers
Advanced (recolor, curves, morph)
FotoFlexer is a free product with a variety of tools, options, and effects. You should try it out.
Main slogan: Turn Your Ideas into Stunning Artworks. FotoJet meets all of your needs for making quality graphic designs, creating photo collages and editing photos!
With Fotojet you can:
Edit photos
Create collages
Design projects
Editing Options:
Radial and tilt shift
Rotate & flip
Photo frames
Overlays
Color splash
Vignetting
Photo Collages:
Photo montages
Love collages
Birthday, family, baby, anniversary
Graphic designs:
Facebook covers and ads
Magazine covers, brochures
Birthday & wedding cards
Fotojet offers plenty of tutorials & design tips. There are also various templates to choose from. You can try the app for free.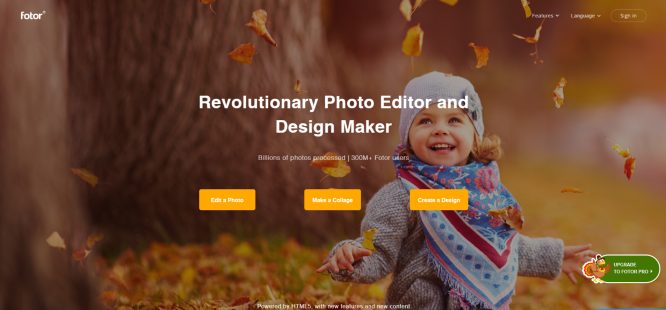 Main slogan: Revolutionary photo editor and design maker. Billions of photos processed. 300M+ Fotor users.
With Fotor you can:
Edit photos
Make collages
Create designs
Editing Options:
Enhance (magic clipper, crop, rotate, basic, fine-tune, color, vignette, curves, resize)
Effects (artistic, classic, warm winter, Christmas, festive, and more…)
Beauty (blemish fix, smoothing, wrinkle remover, and more…_
Frames (vintage, old school, retro, and more…)
Sticker
Text
Collages:
Classic
Artistic
Funky
Photo stitching
Designs:
Social media posts
Social media covers and backgrounds
Posters, business cards, logos, email headers, ETSY covers, menus
Gift certificates, tickets, flyers
Events (cards, invitations, programs)
Documents (planners, certificates, letterheads, resumes)
Banner ads
Book covers, wallpapers, labels, album covers, postcards, mobile wallpapers
Fotor is a complete, comprehensive tool you can use daily to edit your photos, create magnificent collages, and designs. Simply put, with Fotor, you can do anything. Very easy to use, there are plenty of tutorials and a blog section to help beginners and advanced users.
The premium version unlocks all the features.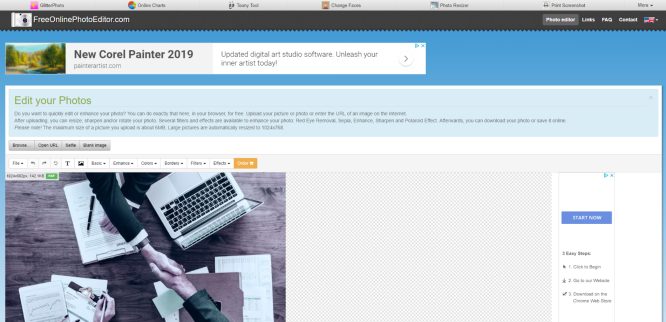 Main slogan: Do you want to quickly edit or enhance your photo? You can do exactly that here, in your browser, for free. Upload your picture or photo or enter the URL of an image on the Internet.
With FreeOnlinePhotoEditor you can:
FreeOnlinePhotoEditor editing options:
Resize, crop, rotate, flip
Brightness, contrast, sharpen, blur
Improve colors and tone, redeye removal, fix, enhance, despeckle, smooth
Colors (saturation, black & white, mono, sepia, invert, red/green/blue)
Borders (colored, painting frame, fancy frame)
Filters (gotham, toaster, nashville, and more…)
Effects (cartoon, spots, Sketch, vignette, Polaroid, and more…)
FreeOnlinePhotoEditor is a powerful and very easy to use tool. The maximum size of a picture you upload is about 6MB. Large pictures are automatically resized to 1024x768.
Main slogan: Make funny pictures online.
With FunPhotoBox you can:
Edit photos
Make collages
Create designs (facebook covers, cards)
Create animations from templates (movie, road, flood, prison break, locket, Halloween, and more…)
Editing options:
Enhance, effects, frames
Stickers, crop, resize
Orientation, focus
Brightness, contrast, saturation, warmth
Sharpness, splash, draw, text
Redeye, whiten, blemish
Face photo effects
FunPhotoBox is a free product with a variety of tools, options, effects, and features thus making it one of the most complete solutions online.
Main slogan: GNU image manipulation program. The Free & Open Source Image Editor
With GIMP you edit photos in various ways, it's a mini Photoshop:
Shapes
Tools
Cut
Text
Colors
Rotate
Move
Transform
Blur
Clone
and much, much more…
GIMP is a software you have to download to your computer, the latest version is 2.10.8. There are plenty of tutorials and a complete manual to help you get started. In August 2018, Handshake and GNOME Foundation donated $100,000 to GIMP.
One of the most sophisticated solutions you can use for free to manipulate your photos and design projects.
Main slogan: All your photos are backed up safely, organized and labeled automatically, so you can find them fast, and share them how you like.
With Google Photos you can:
Edit photos
Create slideshows
Create albums
Editing options:
Filters (original, auto, west, and more…)
Basic adjustments (light, color, pop)
Rotate
Google Photos is a free product and the most basic in this list without flashy options. But it's very easy to use, you can create albums and slideshows and share your photos with friends. It is worth trying it out. 
Main slogan: Draw freely. A professional vector graphics editor for Windows, Mac OS X and Linux. It's free and open source.
InkScape features:
Create objects (drawing, shape tools, text tools, embedded bitmaps, clones)
Manipulate objects (transform, z-order operations, grouping objects, layers, alignment and distribution commands)
Fill and stroke (color selector, color picker, copy/paste, gradients, patterns, dashed strokes, path markers)
Operations on paths (node editing, convert to path, boolean operations, path simplification, path insetting and outsetting, bitmap tracing)
Text support (multi-line text, outline fonts, kerning, letterspacing, text on path, text in shape)
Rendering (fully anti-aliased display, alpha transparency support, interactive transformations)
File formats (SVG, XML editor, PNG, OpenDocument Drawing, DXF, sk1, PDF, EPS, PostScript)
InkScape is a mini Illustrator which you can use to create beautiful vector graphics and more. With Inkscape, you can do anything. There are plenty of tutorials, books, and manuals to get you started.
It's a software you need to install on your computer. Current stable version: 0.92.3.
Main slogan: Create beautiful photos with 1 click. The simple way to enhance your photos.
InPixio editing options:
Presets (popular, lomo, black & white, vintage, photography, cinema, environment, color, trendy
Crop
Adjust (temperature, hue, exposure, brightness, contrast, shadows, highlights, clarity, saturation)
Gradients (linear, radial, paintbrush)
Sharpness, noise reduction, dehaze
Color balance, creative blur, film grain, vignetting
Frames, textures, text
Photo prints
Customized cards
Thanks to the free photo editor of InPixio anyone can now produce professional looking photos that you can share on social media or send as postcards to family and friends. The free photo editor from InPixio lets you add a wide range of impressive effects quickly and easily. A must have tool.
Main slogan: Everything you need to make your photo awesome online
With iPiccy you can:
Edit photos
Make collages
Create designs
Editing options:
Auto-fix, crop, rotate, flip
Resize, exposure, sharpen, vibrance, colors
Hue & saturation, curves, clone
Erase background, dodge, burn, draw, levels, liquify
Equalize image, contrast, adjust threshold
Black & white, sepia, color tint, color balance, invert
Add noise, emboss, blur
Create designs:
Squares, various preset sizes
Facebook cover, YouTube & Twitter banners
Full HD, iPad, iPhone, and more…
iPiccy is a free product and the blog section will help you get started immediately. You simply can't ignore such a pwoerful tool.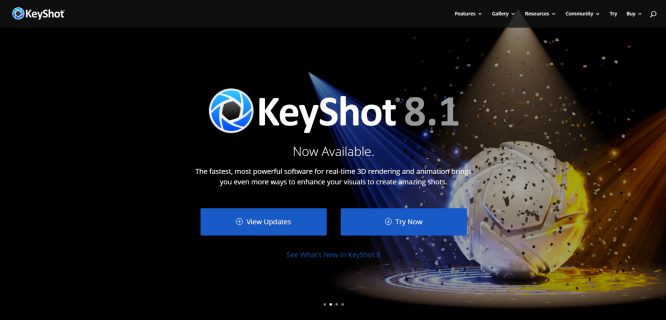 Main slogan: The fastest, more powerful software for real-time 3D rendering and animation brings you even more ways to enhance your visuals to create amazing shots.
Keyshot features:
Real-time render quality
Mouse/touch interaction
Full 360° view control
Configurator support
Image/metadata output
Security control
How it works: Open, view and interact with a KeyShot scene in real-time. Use mouse, touch, pen or stylus to explore the scene or change materials and lighting.
Keyshot is a premium product. But the KeyShot Viewer is free to download and use. Use it to securely share your scenes, present your design, and interact with your product configurations.
Main slogan: There is no must in art, because art is free by Wassily Kandinsky.
With Lunapic you can:
Edit photos
Open images from various apps and sites (Instagram, Facebook, Dropbox, Imgur, Google Photos
Post images on social media (Tumblr, Pinterest, Facebook, Imgur)
Convert file formats
Add animation
Editing options:
Crop, layers mask, magic wand
Skew, autocrop, resize, scale
Resize canvas, rotate, erase, transparent background
Adjust (levels, colors, saturation, focus, dehaze, pixelate, and much more…)
Draw (paint, drawing, text, background, watermark, color picker, and much more…)
Borders
Filter (black & white, sepia, lomo, rainbow, negative, and much more…)
Effects (blend two images, gradient, masking blend, color bars, and much more…)
Art (famous artworks, newest art effects, Sketch2, Scribble, pen, and much more…)
Animation (edit gif animation, video editing, dissolve animation frames, and much more...)
LunaPic is a free product with a variety of tools, options, effects. You can edit videos, create animations, edit gifs, add watermarks, and so much more…One of the most complete online solutions. Try it out.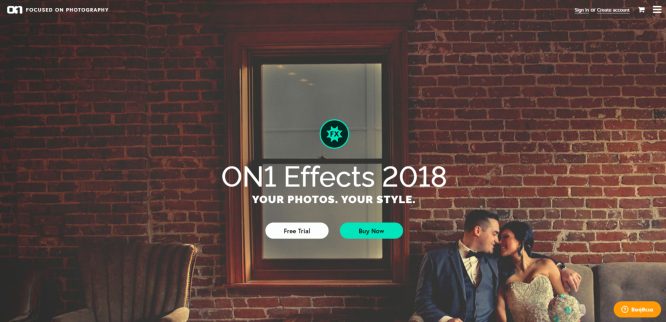 Main slogan: Your photos, your style. Hundreds of stackable filters, presets, and more!
ON1 editing options:
Multi-photo texts
Turn photos into memes
Turn part of photos into Sketch
Add polish, border overlays
Replace backgrounds
Combine multiple shots into one photo
Group shots
Overlays, watercolors, double exposures
Photo painting
Collage of effects
Move, open closed eyes, turn frowns upside down
Remove camera shake, custom looks, crop
Fix tilt
and much, much more…
ON1 is a premium product but you can try it for free. One of the most sophisticated solutions in this list. A must have tool in your arsenal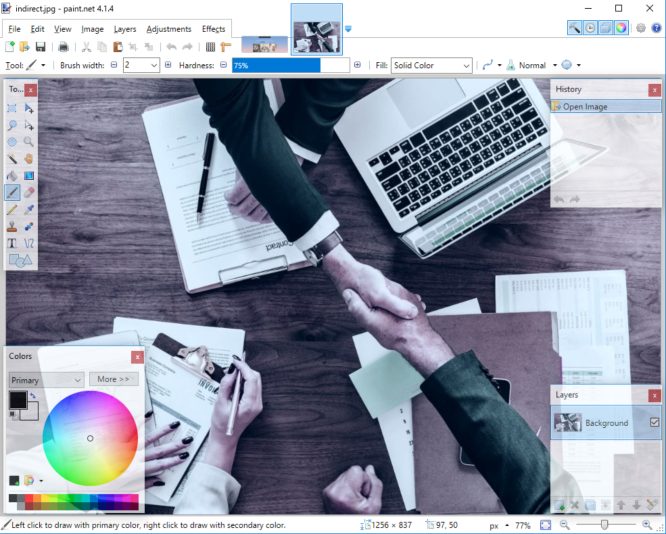 Main slogan: Paint.NET is an image and photo editing software for PCs that run Windows with an intuitive and innovative user interface with support for layers, unlimited undo, special effects, and a wide variety of useful and powerful tools. 
With Paint you can:
Edit photos
Create designs
Paint editing options:
Tools (rectangles, move, lasso, ellipse, zoom, magic wand, pan, paint bucket, gradient, paintbrush, eraser, pencil, color picker, clone stamp, recolor, text, line curves, shapes)
Image resize, flip, rotate, flatten
Layers (add, duplicate, flip)
Adjust (auto-level, black & white, brightness, contrast, curves, hue, saturation, invert, posterize, sepia)
Effects (artistic, blur, distort, noise, photo, render, stylize)
Paint is a mini Photoshop with plenty of options and features. A tool you have to try.
Main slogan: Best free & premium photo editing tool. More powerful, friendly, and faster. Turn your digital photos into stunning artworks.
With Photo POS Pro you can:
Edit photos
Make collages
Photo POS Pro editing options:
Filters, layers, masks,
Curves, scripts, effects, brushes
Backgrounds (remove, erase, replace)
Remove unwanted objects
Fix poor photos
Frames and collages
Advanced photo effects
Stunning text effectsRaw files support
With +10,000,000 Downloads, Photo Pos Pro became one of the most popular photo editors around the world! Version 3 has free and premium photo editing features offering users a wide variety of possibilities. A must have tool.
Main slogan: With Photolemur, even kids can make beautiful photos. The world's first fully automated photo editor that makes all your images great with the help of Artificial Intelligence.
With PhotoLemur you can:
Edit photos
Create collages
Design projects
Create logos
Print your projects
PhotoLemur is a complete and comprehensive online app that lets you create stunning design projects and edit your photos with ease. Additionally, they offer tutorials, tips, and articles on how to use their software in order to make the most out of the app.
You can try the app for free, and the premium memberships unlock various features and capabilities.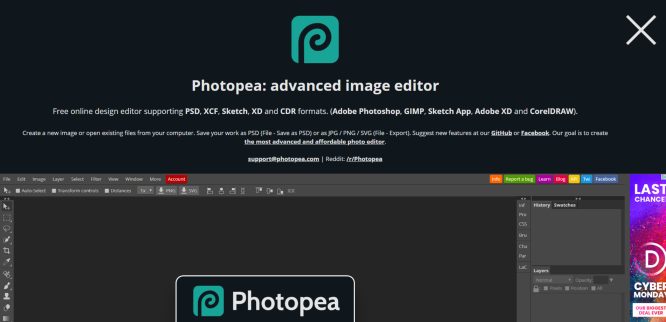 Main slogan: Advanced image editor. Free online editor supporting PSD, XCF, Sketch, CR, and CDR formats. 
Editing options:
Adjust (brightness/contrast, levels, curves, exposure, vibrance, hue/saturation, color balance, black & white, photo filter, and more…)
Layers
Filters (liquify, blur, distort, noise, pixelate, render, sharpen, stylize, and more…)
Rectangles, lasso, magic wand, quick selection, eyedropper, ruler, brush, pencil
Clone, eraser, gradient, dodge, burn, sponge, text, pen, ellipse, line, hand, zoon, and more…
PhotoPea is a free product and the easiest to use in this list. You don't even have to create an account or sign in, you just visit the site and start working on your photos. The variety of tools, features, and options make this app a mini Photoshop. Definitely, it's worth trying it out.
Main slogan: Everything you need to edit photos.
With PhotoScape you can:
Edit photos
Make collages
Create GIFs