Creating forms online does not have to be a daunting experience. 
With the plethora of websites dedicated to creating forms, you will enjoy the process and get awesome results for your business.
We compiled a list of the most reliable resources so that you'll be able to create any type of form you need for any industry. 
Countless features, integrations with your favorite apps and services, various pricing plans for every budget.
From contact forms to payment, applications, reports, scheduling, and so much more.
Let's dive right in!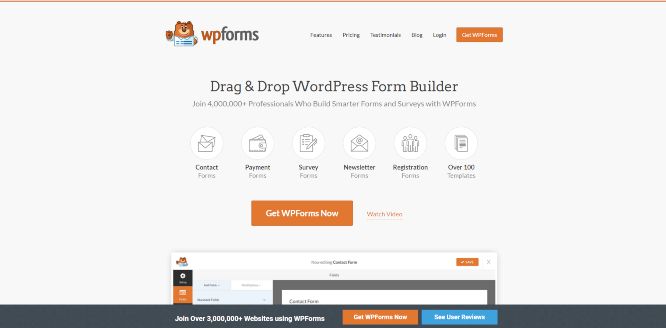 Main slogan: Drag & Drop WordPress Form Builder. Join 4,000,000+ Professionals Who Build Smarter Forms and Surveys with WPForms. 
Options:
Contact forms
Payment forms
Survey forms
Newsletter forms
Registration forms
Over 100 templates
Features:
Drag & drop form builder: 

Easily create an amazing form in just a few minutes without writing any code.

Form templates: 

Start with pre-built form templates to save even more time.

Responsive and mobile-friendly: 

works on mobile, tablets & desktop.

Smart conditional logic: Easily create high performance forms with our smart conditional logic.

Instant notifications: Respond to leads quickly with our instant form notification feature for your team.

Entry management: View all your leads in one place to streamline your workflow.

Multi-page forms: Split long forms into multiple pages to improve user experience.

File uploads: Allow users to upload files and media with their form submissions.

User registration: create custom WordPress user registration forms

Spam protection: Our smart captcha and spam protection automatically prevents spam submissions.

PayPal add-on, 

Stripe add-on, 

Authorize.net add-on.

Constant contact integration, 

Aweber add-on, 

Mailchimp add-on

GetResponse add-on, Campaign monitor add-on, ActiveCampaign add-on, SalesForce add-on, Drip add-on, Sendinblue add-on,

Custom CAPTCHA

Geolocation data

Zapier add-on, post-submissions add-on

Surveys and polls add-on

Signature add-on

Form pages add-on, form abandonment add-on

Offline forms add-on, form locker add-on

Conversational forms add-on, user journey add-on

Webhooks

Form templates pack add-on

Suggest a feature
Plans:
Basic: $39.50/year, essential tools
Plus: $99.50/year, great for businesses who want to do more
Pro: $199.50/year, everything to build a perfect form
Elite: $299.50/year, premier solution for smart business owners
Over the next 14 days, if WPForms isn't the best fit, simply reach out! We'll happily refund 100% of your money. No questions asked.
Other departments:
Careers
Testimonials
Templates
Press
Blog
Support
Documentation
WordPress forms for nonprofits
About: Over the years, we found that most WordPress contact form plugins were bloated, buggy, slow, and very hard to use. So we started with a simple goal: build a WordPress forms plugin that's both easy and powerful.
Syed Balkhi is the co-founder and CEO of WPForms. Jared Atchison is the co-founder and CTO of WPFormsThomas Griffin is an advisor at WPForms. He is an expert developer with deep knowledge of building products for mass-market.
Main slogan: Easy-to-use online form builder for every business. Create online forms and publish them. Get an email for each response. Collect data.
Form types:
Order, registration, event registration, application, Booking, request, feedback, membership, Signup, Payment, evaluation, contact
Survey, questionnaire, file upload, Education, abstract, advertising, Alumni, animal rescue application, animal shelter, Apparel order, appointment, audit
Award, bakery order, banking application, Banking, book order, business, Business registration, CAHPS surveys, cake order, Calculation, camp registration, catering order
Change order, charity, church, Conference registration, consent, content, Contest entry, contest registration, cookie order
Coronavirus response, course registration, credit application, Customer registration, customer service, dance registration, Delivery order, donation, eCommerce
Employee evaluation, employee incident report, employee information, Employee survey, employment, enrollment, Entertainment, event booking, exit interview
Florist order, food & beverage order, fundraising order, Gaming, guest application, healthcare, Hotel booking, IT requests, information requests, Informed consent, inspection, insurance
Internship application, job application, lead generation, Leave of absence, loan application, marketing, Marketing survey, medical application, medical survey & questionnaire
Membership application, membership registration, patient registration, Pet adoption application, petition, pharmacy, Photo release, photography booking, photography
Photograohy order, polls, preoder, Product order, product survey, purchase order, Purchase order request, quizzes, quote
RSVP, race registration, real estate, Recommendation, relationship, rental application, Report, reservation, return to work
SEO, sales order, salon, Satisfaction, scholarship application, school application, School registration, sponsorship application, sponsorship
Services, service booking, school survey, Sports, sports registration, student registration, Subscription, summer camp application, summer camp consent, Summer camp job application, summer camp medical, summer camp survey
Summer camps, supply order, t-shirt order, Tax, telecommuting, telehealth, Tenant application, ticket order, time off request
Tracking, transportation request, travel booking, Uniform order, vendor application, veterinary service, Virtual events, volunteer application, volunteer
Volunteer registration, voting, web design, Wedding, work request, workshop registration
Forms industries:
Education
Business
eCommerce
Healthcare
human Resources
IT
Marketing
Templates:
Forms
Card forms
Table
PDF
Integrations (115+ apps):
Analytics & reporitng
Blogging
CMS
CRM
Data management
Emailing apps
File sharing & storage
GEO & mapping
Other
Payment processors
Wrapper/Library/SDK apps
Platforms:
Browsers
Desktop
mobile
Web
JotForm Enterprise:
A digital workplace productivity tool that provides a powerful ROI across your entire organization. With more than 400 special apps and integrations, JotForm Enterprise can easily integrate directly into your daily workflow.
Build custom apps with the API, user management, security and compliance, priority customer support, geolocalization, import existing forms, custom domain, service level agreement, business associate agreement, white label, enterprise-level limits.
JotForm HIPPA-compliant forms:
Create HIPAA Forms Effortlessly, Schedule Appointments, collect consent, payments, untegrations, enable mobile responses, obtain patient signatures and files, store patient data.
Other departments:
Report builder, assign forms, mobile forms
PDF editor, online payments, secure forms
Apps & integration, form widgets
FAQ, user guide, forum, blog, videos
Marketplace
Examples, webinars, report abuse
Media kit, in the news, newsletter
Partnerships
Plans:
Free: all features included
Bronze: $24/mo billed annually
Silver: $29/mo billed annually
Gold: $79/mo billed annually
About: Trusted by over 9M users worldwide, such as nonprofits, educational institutions, small businesses, and enterprises, JotForm is a gateway to gathering better information to power your business. We've come a long way since 2006 when Aytekin Tang was sick and tired of coding online forms and decided to create the first WYSIWYG online form.
111 Pine St. Suite 1815, San Francisco, CA 94111.
200+
Business & Marketing Tools Collection
Work management, tracking, organizing, payments, accounting, Google, keyword, market, and competition research, SEO, analytics, and related, marketing & advertising, web development, website monitoring, domains & website hosting, coding, and related, design & multimedia, marketplaces, entrepreneurial communities, hiring & outsourcing.


Main slogan: Beautiful Forms That Feel Like Yours. Over 6,000 businesses use Paperform to create beautiful forms, automate workflows and save time.
Forms categories:
Agreement, application, appointment
Assessment, booking, business
COVID, calculation, church
Consent, contact, donation
Employment, evaluation, feedback
Human resources, insurance, lead generation
Medical, membership, onboarding
Order, payment, petition
Photography, poll, questionnaire
Quiz, quote, RSVP
Real estate, referral, registration
Report, request, reservation
Signup, subscription, survey
Travel, volunteer
Features:
Text, email, URL, Yes/No
Color picker, number, phone number
Address, country, date, time
Appointment, scale, multiple-choice
Dropdown, file upload, signature
Price, product, subscription
Calculation, hidden
More than a form, more than landing page, it's a landing form.
Not just questions and answers, you can insert pictures, videos and styled text anywhere on the page. Every form has its own URL, so you can share the form with or without your own website.
Paperform takes all the pain out of taking payments with Stripe, Paypal Business, Braintree and Square.
Take bookings, schedule appointments.
Only ask the relevant questions, and control your customer's experience depending on how they answer the form.
Define your own logic rules to control when questions, pages, sections of content, and success pages should be displayed to your submitters, or even when custom emails should send.
Seamlessly embedded forms on your website, or share directly with a custom URL. Analyse results on Paperform. 
Automatically receive a submission summary in your inbox, or send custom emails to yourself, the submitter or anyone else.
Show a success message that is tailored to the responses, or redirect the submitter to another page.
Integrates with over 1000 apps.
Plans:
Essentials: $12/50/mo billed annually
Pro: $32.50/mo billed annually
Agency: $82.50+/mo billed annually
Other departments:
Resources: help center, community, Covid-19 hub, FAQ, inspiration, templates, blog, API, security, GDPR
Use cases: data collection, invoicing, event management, real estate, gym management, customer service, healthcare, human resources, and so much more
Comparisons
Jobs
Guest writers
Not for profit
About: It all started while we were minding our own business in tech jobs, when one by one our friends began asking us to build bespoke online forms for their community projects and businesses. The friends who were approaching us had strong local brands in place, and were looking for something that could let their personality shine through to their audience as they saw fit. They wanted to take control, but there was nothing on the market to help them.
Founders: Dean McPherson, Diony McPherson.
This is just the beginning of an extended catalog. I will keep the thread updated frequently.
In the meantime, check out the other related resources we have in store for you.
That's it, another article has finished, here on Web Market Support. I'm waiting for your comments and thoughts. Which resource is your favorite? Which one should I add? Till next time.
Tasos Perte Tzortzis
Marketing Consultant, Creator of the "7 Ideals" Methodology
Although doing traditional business offline since 1992, I fell in love with online marketing in late 2014 and have helped hundreds of brands sell more of their products and services. Founder of WebMarketSupport, Muvimag, SummerDream.
I enjoy reading, arts, science, chess, coffee, tea, swimming, Audi, and playing with my kids.
Multimedia
Multimedia resources(AZ directory - images, graphics & design, audio & music, video, animation, themes, plugins, code, apps, tools, education, jobs, buy & sell, communities, freebies)
Free stock photo websites(AZ directory, overviews, reviews)
Video marketing software (AZ directory and overviews)
Some of the links on this page are "affiliate links". For more information, I refer you to the Disclaimer page