I came across a very promising digital marketplace a while ago. A Miami-based established brand with a platform full of amazing creative assets for website owners and designers.
A place where you can find thousands of products for every website use.
TemplateMonster has been at the forefront for quite some time where people can buy and sell digital products with ease.
In this review, we're going to discuss the company's background and history, the product categories, filters, why to use their assets, the licenses, other departments, how to sell your products as an author, the service center, the top web design & development companies department, the academy, the forum/community, the help center, the MonsterONE subscription (the flagship product), pricing plans, blog, 
Additionally, we'll examine all the related online ratings, traffic and other related and domain statistics, and I will give you my final review.
I'm also sharing some amazing marketing bonuses.
Let's dive right in!
TemplateMonster & MonsterOne Review
Main slogans:
Best place to buy and sell digital products
Look through the best website designs hand-picked by our expert review team
Get new products, freebies, and news to your inbox

TemplateMonster is a large and growing marketplace where you can find high-quality digital products matching the latest web standards. The collection of items includes a wide choice of website templates suitable for all kinds of niche-specific projects, small or large companies, startups, and any other kind of business that you happen to run. There are premium-quality and free website designs that you can download for your creative web project. The marketplace includes Bootstrap-based website templates, HTML5 and CSS3 ready-made solutions, website templates loaded with a website builder, and more.
Simplifying design processes since 2002. TemplateMonster was established with a simple idea: all web PROs should get high-quality digital products with ease. Now you can build and customize a website or do anything else using only high-quality design essentials.
Statistics:
5,000,000+ clients
1,640+ authors
60,000+ digital products
1,001-5,000 employees. Public Company. Miami, US. Dmytro Kuriksha, CEO. 
Owned by Theme Technologies LLC. Operated by Jetimpex Inc. 
Timeline:
2002: launch
2003: leading provides of HTML templates
2005: launch of the blog, 10,000 templates reached
2006: WordPress themes launch
2017: becoming a marketplace
2018: TM studio
2019: MonsterONE subscription
Partners:
BlueHost
HubSpot
Elementor
LiveChat
CrocoBlock
TemplateMonster Projects:
Marketplace:

you can build a site or web project with one of our templates in a few hours. Think of our products as the easiest way to create a site and anything that relies on the use of digital products.

MonsterONE subscription:

It includes everything you might need for your web projects, be it a template for an HTML-based website, a theme for a specific CMS, or a set of graphics or Audio-Video assets.

Service center:

At Service Center one can order website development from scratch. Our team will help you install, design, and fill your website with content. What's more, you can get design and marketing services that will cover all of your digital needs.
Website templates:
WordPress store (templates, WooCommerce themes, marketplace for Elementor, maintenance)
eCommerce templates (Shopify, Magento, PrestaShop, OpenCart, MotoCMS, VirtuMart, ZenCart, BigCommerce)
HTML templates (HTML5, landing page, admin, newsletter, specialty, muse)
CMS templates (Joomla, Moto CMS 3, Drupal)
Website builders (MotoCMS, TemplateMonster sites)
Popular categories: software company, construction, business, travel, web design, medical, news & magazine, pet shop, consulting, advertising agency, jewelry, auto parts
Website categories: art & culture, animal & pets, design & photography, education & books, business & services, cars & motorcycles, computers & internet, electronic, entertainment, games, nightlife, home & family, fashion & beauty, food & restaurant, holidays, gifts & flowers, medical, real estate, society & people, sports, outdoors, travel
WordPress themes:
2,600+ items
Business, real estate, marketing, software, education, news & magazine, medical, travel, food & restaurant, construction, cars & motorcycles, church
Monthly bestsellers
Marketplace recommends
Award-winning
Newest
Featured authors
Trending
Presentations:
Types: PowerPoint, Google slides, Keynote templates, infographic elements
Popular categories: design, consulting, web design, art, business, fitness, design studio, transportation, education, fashion beauty, real estate, food, architecture, lawyer, cars
Graphics:
Graphics: illustrations, fonts, icon fonts, icon sets, patterns, vectors, backgrounds, product mockups
Templates: logo, PSD, resume, certificate, magazine, planners, corporate identity, t-shirts
Web elements: UI, animated banners, social media
Extra: Unbounce, Sketch, App, bundles
Plugins:
WordPress
PrestaShop modules
JavaScript
Magento extensions
Video:
Video templates: AfterEffects, Premiere Pro, Final Cut Pro, Motion graphics
Stock videos
Audio:
Stock music
Sound effects
Services:
By platform: WordPress, HTML, Joomla, WooCommerce, Shopify, Magento, PrestaShop, OpenCart, MotoCMS 3
By type: web design and development, website optimization, graphic design, ads & marketing, content writing
Popular: website installation, ready-to-use website, all-in-one website, online store setup, website maintenance, website content writing, on-page SEO, website creation from scratch, must-have WordPress plugins
Categories
Topics
Marketplace-membership
Tags: background, texture, pattern, abstract, vector, design, template, modern, illustration, shape, and more
Color
Price
Last time updated
Number of downloads
Premium quality
Free website designs
Niche-specific projects
All kinds of businesses
Works for a multitude of industries
They love WordPress
eCommerce is their passion
Breathtaking graphics & presentations
Affordable prices
TemplateMonster marketplace sets special permission for the right to use its products. Each purchase on the templatemonster.com website is certified (confirmed) by a license document. By proceeding to the checkout, our customers automatically accept the TemplateMonster license agreement and adhere to the rules for the use of our products and services.
In practice, they have separate license agreements for each of our product and service types.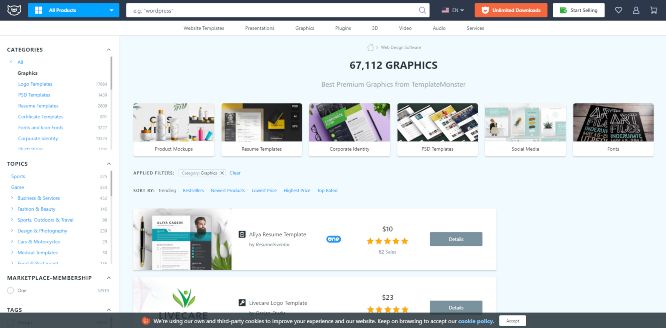 Blog
Promocodes/coupons
Best website hosting
Service center
Partners' coupons codesCertification center
Gift card
Help center
Report spam
Knowledgebase
Become an author
Main slogan: Join our community and sell your website templates, eCommerce themes, plugins, and graphics to more than 2 million monthly visitors.
Advantages:
Huge network
Simple product approval system
Set your own prices
High commission rates
Transparent and clear payout system
Community support
Get personal assistance
Additional ways to increase sales:
Sell exclusively: Exclusive products ensure high commission rates. Authors of exclusive web templates get a 65% cut, and at the same time, both exclusive and non-exclusive graphics products authors get a 65% cut.
Author-driven pricing: All authors can benefit from the author-driven pricing policy. It allows you to set custom prices for website templates, graphics, audio, and video.
MonsterONE: Boost your earnings and add your products to MonsterONE subscription. Fill in the application, follow the guidelines, and expect feedback from MonsterONE team.
Affiliate program: Authors who will self-promote their graphics products as affiliate partners, get two types of commissions: 30% as affiliates, and 65% as authors. Overall they will get a 95% cut from such sales.
What you can sell:
Website templates
Plugins
Presentations
Graphic design
Audios
Videos
Main slogan: Website Services for First-Class Online Performance.
Website design and development
Website optimization
Graphic design
Ads & marketing
Content writing
By platform: WordPress, HTML websites, Joomla, WooCommecre, Shopify, Magento, PrestaShop.
15+ years of experience
2M+ happy customers
500+ employees
24/7 availability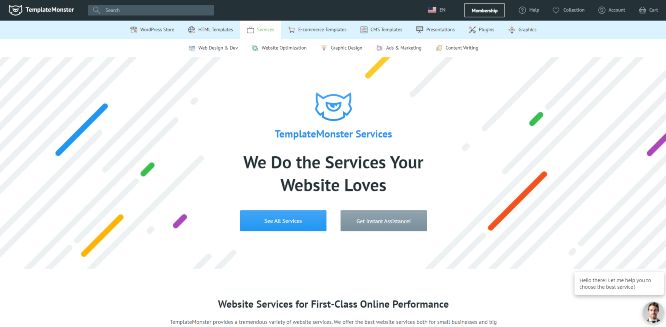 Top web design & development companies
How it works:
If you are a customer looking for a web studio: pick the theme, find a web studio or freelancer, get in contact
If you are a web studio or freelancer looking for customers: add your web studio, pass quick certification, get leads
You can also find TemplateMonster's certified web developers in your city. Ther's a search tool that is very handy.
Filter by country, city, CMS.
TemplateMonster will teach you how to create your own unique websites.
Courses:
WordPress
Elementor
Gutenberg
Shopify
HTML
Landing page
Web design
PrestaShop
Joomla
PowerPoint
MotoCMS
Resume
Get a certificate: If you want to get official proof of knowledge in CMS website development, take a test in their Certification Center and receive a personal e-certificate from TemplateMonster that confirms your skills.
Who can benefit from the certificates:
Web studios:

Small teams that build websites, web apps, create content, or whatsoever.

Freelancers:

A one-man band who can code, use PhotoShop, write blog posts, and who's good at everything most people are bad at.

DIY'ers or beginners:

Someone who's going to build a website or just wants to fill a blank spot in a LinkedIn profile.
General discussions on certification center
Say hello to everyone
What are you working on?
Categories:
Web templates
eCommerce templates
CMS & blog templates
Facebook templates
Website builders
FAQ:
Pre-sale questions
Billing questions
Marketplace
General tutorials:
Developer tools
Hosting FAQ
Working with CSS
Photoshop
HTML
Working with files
JQuery
Working with fonts
There are over 40 pages with helping guides and tutorials.
The MonsterONE service provides thousands of products for building websites, along with multiple first-class offers. It includes everything from themes for different CMS and HTML templates to extensions and graphics
Unlimited subscription for your creative projects.
Unlimited downloads:

No need to pay any extra as far as you need to start a new project. Use your subscription and download as many products as you need

New items weekly:

We constantly 

look for new contributors

 and add fresh web and graphic assets. Check our ever-growing collection, and you will always find new up-to-date products to download.

Simple licensing:

Each product goes with a 

lifetime license

 for the end-projects. It means that once you use our digital item on a website, it's all yours, even if the subscription expires.

Reliable support 24/7 help: enjoy free support during the next 365 days. Get instant general assistance in chat or extended product support in the ticket system to handle your requests.

178,000+ premium digital products
Additional benefits: In addition to the subscription, all members get exclusive discounts from top digital companies on the market.
MonsterONE exclusives:

Enjoy TemplateMonster marketplace products, Draftium PRO, and more with special discounts for all MonsterONE subscribers.

Custom services:

Get professional help with your project design, development, and marketing at a tasty price.
Share your perfection – become an author: Each member of the MonsterONE community is a creative star. If you have products that could perfectly fit our collection – don`t be shy and join us! Increase your brand recognition, deliver your items to a huge audience, and get additional profit.
Fill out a registration form
Get feedback from the team
Upload your products and enjoy sales
Products: 
WordPress themes & plugins

WooCommerce themes

Elementor kits

Plugins

PrestaShop modules

Graphics: all graphics from template monster

Presentation templates

HTML templates

CMS templates

Video

Audio

3D

Stock photos

Partner offers

Services

Hosting
Creative
Graphic & design assets

Presentation templates

Video & audio

3D models

1-year product support and chat

1-year general assistance

Unlimited projects
Lifetime
Graphic & design assets

Presentation templates

WordPress, CMS, HTML themes

eCommerce themes

Plugins

Video & audio

3D models

1-year product support and chat

1-year general assistance

Unlimited projects

Unlimited lifetime access
All-in-one
Graphic & design assets

Presentation templates

WordPress, CMS, HTML themes

eCommerce themes

Plugins

Video & audio

3D models

1-year product support and chat

1-year general assistance

Unlimited projects
Monster Learning
Free how=to's and courses
Web design
WordPress tutorials
Free stuff
Plugins
Graphic design
Presentations
Resume
Shopify knowledge base
Theme collections
Tools
Free eBooks
TemplateMonster school
WordPress 5.1 and Gutenberg
Customer success stories
Certification center
Monster Alibi
Startup Hub
Webinars
Interviews
Podcasts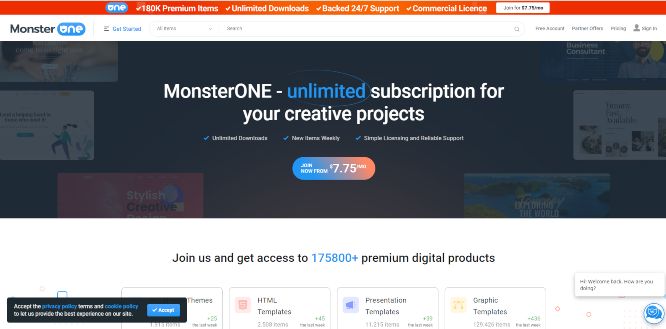 Trust Pilot: 4,770+ reviews, 4.8 stars out of 5.
SiteJabber: 1,650 reviews, 4.73 stars out of 5.
Traffic and Related Statistics/Domain
Alexa:
Rank 90-day trend (site's popularity): #5,901 in global internet engagement
1:60 daily time on site
Country rank (US): #9,956
Most visited by countries: USA, India, Turkey
Daily pageviews per visitor: 2.5
Bounce rate: 54.7%
Total sites linking to: 7,072
SimilarWeb:
Global rank worldwide: 30,576
Country rank (USA): 45,697
Category rank (computers, electronics, and technology): 120
Total visits: 1.99M
Average visit duration: 2:30
Pages per visit: 3.03
Bounce rate: 60.82%
Most visited by countries: USA, India, Russia, Ukraine, Germany
Domain:
Registrar: GoDaddy
Registered on: April 26, 2002
Expires on: March 16, 2026
Registrant Organization:

Registration Private

Registrant State/Province: Arizona
Registrant Country: USA
TemplateMonster is a marketplace where you can find products from a wide range of authors. I'm very satisfied with the quality, the prices, and the variety in the majority of the departments.
I was impressed by the supreme quality of the After Effects and Premiere Pro templates, the infographics, presentations, and various illustrations and vectors.
The live demo option for website themes is very useful and helps you navigate through each theme before you make a buying decision.
Everything one needs for a website is right here.
You can sell your products and you can also promote them as an affiliate and double up your commissions.
There are also exclusive benefits and perks for authors and vendors.
The help center is full of tutorials, they provide free courses on everything that has to do with web design and development and they also provide certifications to enhance your portfolio and online presence.
The majority of online reviews are positive and of course, there are negative reviews as well. You can't satisfy everyone. Especially when a company is cooperating with thousands of sellers and vendors worldwide, problems will arise.
Additionally, from the traffic statistics I overviewed, I come to the conclusion that this is a very popular site, with millions of visitors. That means it's indeed a company that is growing.
I recommend that you start using some of their design or website items independently to check their quality.
If you are satisfied, then the MonsterONE subscription is the next logical step with various options to choose from. It will save you tons of money and time.
They run a very interesting blog which is a pleasant surprise for a marketplace. That means they do their best to satisfy both sellers and buyers and improve their experience.
It's a well-established brand operating since 2002. You simply can't go wrong with them. They receive millions of traffic, they have a plethora of digital products to dive into.
Please contact me in private to schedule a live 30′ demo of the "7 IDEALS" methodology.
I hope you enjoyed this review and that it can help you shape an opinion.
If you have experience with TemplateMonster or MonsterONE either as a customer or as a seller, I would like to hear from you.
I'm looking forward to their growth and expansion in the highly competitive digital marketplace industry. 
Another review has finished, here on WebMarketSupport. I'm waiting for your comments and thoughts. Till next time.

Tasos Perte Tzortzis
Business Organisation & Administration, Marketing Consultant, Creator of the "7 Ideals" Methodology
Although doing traditional business offline since 1992, I fell in love with online marketing in late 2014 and have helped hundreds of brands sell more of their products and services. Founder of WebMarketSupport, Muvimag, Summer Dream.
Reading, arts, science, chess, coffee, tea, swimming, Audi, and family comes first.
Some of the links on this page are "sponsored". For more information, I refer you to the Disclaimer page.