Welcome back to this series of articles where we're explaining how our brand-new "7 Ideals" methodology works in detail.
This is article #2 in the series, and last time, we shared the main framework of the methodology. 
Today we'll be discussing the basic principles of the method that are infused in everything we do and will give us direction going forward.
So, let's dive right in!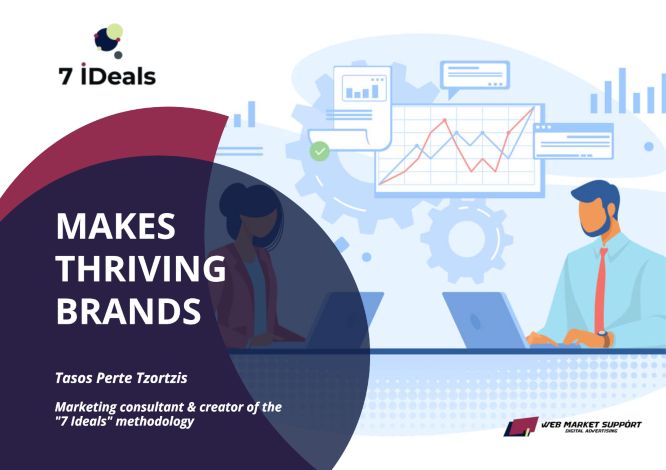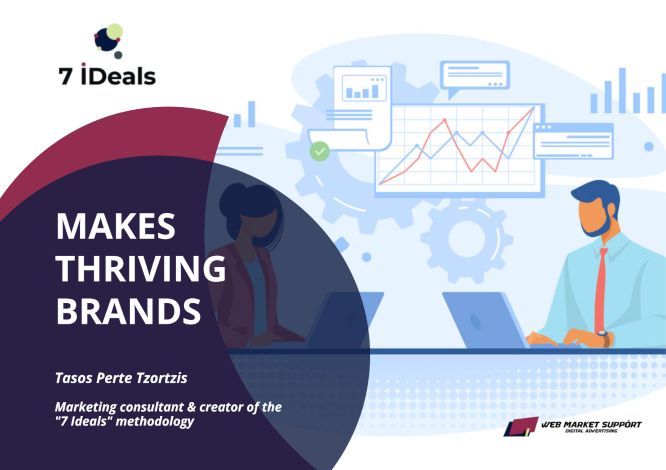 Overview of the "7 Ideals" Methodology
The "7 Ideals" uses a holistic approach. We look at businesses as a whole, not just from a marketing perspective.
We help you run a healthy business in the most effective way. Every department in your organization should be run smoothly and we'll investigate every aspect of your business to solve issues and make improvements whenever necessary.
The methodology is helping you develop your own unique brand voice that is key in differentiating from the competition and gaining instant authority, visibility, and fans, not just mere customers.
The 7 Ideals model is giving you a clear path, a unique language to interact with consumers and other brands in a powerful way, and helps you create digital products that you can add to your product line.
It works for any industry and it helps you innovatively target specific audiences. You'll experience high conversions and growth.
In a nutshell, it's a value-driven customer-centric marketing strategy.
The "7 Ideals" method is all about putting the customer first, not our brand. What we sell is just a medium to get in touch with our people.
We're not just selling our products, we're improving our customers' lives, meeting their needs and wants, and satisfying their desires.
And as a result, we are building a loyal fan base, we are not just acquiring customers.
And we'll do that ethically, without having to hard sell or bombard our prospects with annoying messages.
It's all about adding value to your customers' lives, educating and entertaining them, and building a community.
It's also about the experience people have with your brand. A superior experience that they'll remember forever.
Everything we do is strategically organized. We build a roadmap that shows where we are, where we want to go, and how to get there.
We define, articulate, and communicate our core company's values in a way that every team member is welcomed, appreciated, feels understood, and that their work is absolutely meaningful.
We establish why we do what we do and what we stand for.
We are developing and distributing high-quality products and services.
If you're not selling HQ then we are not a good fit together.
We bring value to the market. We help,  guide, entertain, and educate people on every touchpoint. We share wisdom, expertise, and stories.
We abide by ethical business practices, we do not do anything fake.
We are alive. We interact with people in real-time and demonstrate competence, expertise, and authority.
We strive to be excellent entrepreneurs. We develop and hone skills that will help us evolve, innovate, become more productive, spot opportunities everywhere, and create new environments when necessary to satisfy the needs of consumers and expand our horizons.
We are in it for the impact. Not for the money. This is key in the methodology. Money is just a by-product to move the needle. Besides, if you manage to impact people's lives, money will follow. That's inevitable.
We care about conversions, maximizing profits, and other financial and administrative metrics that are critical for any business.
But our main drive is to maximize people's satisfaction.
We want to impact people's lives, and build a community, a movement.
We don't just want to build money machines. We have a vision as well as a brand.
We use emotional and empathetic messaging in all our communications with the marketplace. We touch people's emotions. We are a personal brand that cares.
We love stories and we use them to get people's attention and keep them interested throughout the buyer's journey. From unknown visitors to prospects, customers, repeated buyers, advocates, and promoters of our brand.
We use branding to build authority, our brand's image, and a unique voice that speaks to the heart of the customers, positions our brand as the top of mind and trusted resource that cares, and helps us scale and grow.
It's all about what people say about our brand. It's what they share with their circles.
And, another important factor in the methodology. We work with brands that respect the environment, our planet, animals, and every living organization.
The whole ecosystem.
Customer-Centric, User Experience-Oriented
Deep Research-Driven, Data-Driven, Feedback-Driven & Analytical
Custom-made strategies and action plans for all our business operations (management, branding, product development, marketing, advertising, sales, customer service, finances, human resources, innovation, and more depending on the size, type of your business, and your goals)
Unique Brand Culture, Identity, Voice & Value Proposition
Unmatched, HQ Products/Services
Innovation
Quality
Results
Impact
Growth
Value to the market (helpful, guiding, sharing, solving people's problems and challenges, educating and entertaining them, relieving their pain, covering their needs, wants, desires, and aspirations, and adding quality to their lives)
Ethical Business Practices
Live Interactions & "Gourmet" Live Events
Time-tested, proven, and unconventional marketing, advertising, sales, and customer service tactics, methods, and frameworks
Constant Improvements
Entrepreneurial Excellence & Vision (a higher cause and mission-oriented business model)
Community & Movement Building
Emotional, Empathetic Messaging & Storytelling
Environmental-Friendliness
Pioneering
Customer-Centric, User Experience (UX)
There is a reason for putting this specific principle first.
Here, we don't follow a product-centric approach that focuses on our products. I've used this approach countless times and it works but, in many cases, can lead to unwanted results and sometimes catastrophic events.
It's one thing trying to sell an existing product in the market by chasing down customers and trying to differentiate from the competition and it's another thing to research what the market needs right now and then develop products to satisfy those needs in a unique way.
Imagine what happens if you develop a product after months of operations and see this product failing because people don't need it. They might not need it at that time, or even worse, they might not need it anymore.
And have in mind that people's needs change all the time. The competition landscape is changing, the market evolves, it's a living organization.
Many variables influence people's decisions and preferences.
With a customer-centric approach, we focus on the end consumer and the market. We devote time and resources to research the market, the competition, and our business itself. We perform tests, collect feedback, and start discussing with the market and potential customers in real-time.
Then, when we are confident about what the market needs, we proceed with product development to meet those needs.
Developing products and services that solve current problems in the market is key because you can attract the right-fit customers easier and faster as you're building trust in the first place when you perform research and start interacting with people.
It also helps in building long-term relationships with customers. And it results in superior customer experience (CX).
With our unique frameworks, we engage with customers at every stage of their buying journey, from strangers to leads and subscribers, customers, repeated buyers, fans, and promoters of our brand.
With our customer-driven marketing strategy, customers are at the center of everything we do.
We are trying to improve and make people's lives easier.
We want to provide superior customer service and it's the only way to choose. It has countless benefits and not taking your customer service seriously will result in huge losses both short and long term.
We enjoy rewarding our customers by giving away bonuses, prizes, and gifts.
We keep on our promises and we overdeliver.
Adding value to the market is our mantra.
We educate, entertain, interact with people in real-time.
We are an alive brand that cares about customers and society at large and we do our best to elevate them at any given moment.
We share knowledge and insights, demonstrate expertise and competence, we help and guide.
We answer questions and reject objections. We listen carefully to complaints and concerns, and we try to make things up.
No customer gets left behind.
A catchy slogan but so powerful.
We are not here to sell like crazy, we are not money machines.
We are humans and we have to do with humans.
Labels such as B2B (business to business), B2C (business to consumer), D2C (direct to consumer), and C2C (consumer to consumer) are welcomed but are not so important.
We deal with people.
If we had to use only one label that would be H2H, human to human.
By focusing on consumers we have higher chances of building trust in the marketplace hence we can build a community of loyal followers.
We work with brands that care about people.
We are trying to provide the best possible experience for everyone that is interacting with our business no matter the platform or touchpoint.
Plus, customer-centric companies are 60% more profitable than companies that don't focus on customers, according to ReveChat and a study by Deloitte.
All our operations are focused on the end consumer. Management, product development, design, marketing and advertising, sales, customer service, partnerships, and so on.
When the end consumer is happy, then the brand, the partner, the supplier, the middleman, the market, the industry, and everyone involved is happy.
Happy customers spread the news.
Happy customers make a sales team working for you 24/7 but in this case, you're not hiring them.
Customer-centric companies are 60% more profitable than companies that don't focus on customers, according to ReveChat and a study by Deloitte.
Strategic Operations/Core Values
In the first phase of the 7 Ideals, the 7ID Zone, which is the phase of research, evaluation, and planning, we deploy and shape our overall strategy.
A roadmap that will help our brand evolve and thrive in the competitive marketplace.
We do not move forward without a plan in place, and a plan B, or even C…we want to be organized and prepared for what's coming next.
Having a strategy in place gives you direction, clarity, confidence, focus, and momentum.
As I mentioned in the "7 Ideals Story", there's an exceptional book on this topic – having a plan B in place. It's written by John Mullins & Randy Komisar – Getting to Plan B: breaking through to a better business model.
In this book, Mullins and Komisar present a field-tested process for rigorously stress-testing your initial business idea, and using the evidence you uncover to make swift corrections that tip the business equation in your favor. Focusing on five elements that determine any business model's economic viability— its revenue, gross margin, operating, working capital, and investment models—the authors' approach significantly reduces your risk of failure.
We evaluate all our business assets and we make a plan to cooperate with established brands and/or startups that share the same vision.
We understand our business better, set goals, and can make wiser decisions because we have a sense of purpose.
We know where we are right now, where we are heading, and we have a plan of how to get there.
We identify the key steps we need to make and this way we plan our everyday activities stress-free.
It also helps us differentiate from the competition and position our brand in a unique way, monitor and measure success, and increase employee satisfaction. It helps create a bond between team members, promotes discussion, and everyone is aligned on the same track.
We become creative, a key element for business success, and so we spot untapped opportunities and come up with big ideas.
Big ideas, is the 2nd phase of the 7 Ideals.
We improve performance, become analytical, and get better results.
We look ahead, to the future, we have a vision. We are not on a ship sailing to the unknown.
We plan and execute all our operations strategically, systematically, methodically, and efficiently:
Management
Research
Product development
Design
Marketing and advertising
Sales
Customer service
Finance
Partnerships
and so on
Every operation and every detail matters.
We are obsessed with the overall image of our brand, what we communicate in the market, and the impact we have on our clients' lives.
For example, we prefer satisfying more customers with a slight profit loss rather than earning more money from every customer and providing a mediocre experience.
We do not risk operations that can backfire on us. That's why we are focused on the end consumer, not our brand.
Our roadmap is constantly evolving as our brand grows.
We define, articulate, and communicate our core company's values in a way that every team member is welcomed, appreciated, and feels understood.
This way, we motivate our members to do their best.
It's a system of beliefs that drive every activity, behavior, and interaction with the market.
We establish why we do what we do and what we stand for.
When we have a strategy in place and a set of values that our team members respect and practice, no one can stop our progress and growth.
What makes customers happy
in the contact center?
We want to provide the best possible experience to the end consumer and that can't happen if we sacrifice quality.
High quality equals trust, bond, satisfaction.
When people trust your brand, you gain momentum. When they are satisfied and feel connected, they are sharing their favorite brands with their friends and network so we gain publicity and visibility.
High quality ensures fewer problems in customer service, fewer complaints, and returns or refunds.
High quality in the design plays a huge role and people are drawn to aesthetically pleasant experiences.
High-quality products are more profitable in the long run.
Improving our quality should be our #1 priority if we want to increase our customer base and build a strong reputation.
We base our decisions on data, evidence, facts, research, and of course, intuition.
The human touch plays an important role too.
We want to research the market, the competition, and our business itself thoroughly before we develop products that might flop.
We are listening to customers, interacting with the market, and always testing things out.
We use beta groups, info-products, and temporary marketing funnels to collect data before we move on with product development.
And that's why we care about people.
We are improving their lives by offering superior products, services, and experiences and we know that there's always room for progress and advancements that's why we're always on the lookout for new ideas and solutions.
Your brand deserves the best that's why you gotta give your best first.
Bad digital experiences result in an 8% loss in revenue
Value to the Market/Ethical Business Practices
If you want your brand to be remembered you need to give people reasons to do so.
Every touchpoint, every platform, every transaction, every contact, every discussion and interaction with strangers, prospects, customers, fans, employees, suppliers, vendors, partners, other business owners, affiliates, matters. And it matters a lot.
We abide by ethical business practices. We do not behave in a way that is morally wrong.
We follow the high standards of the business code of conduct.
We are authentic and transparent.
We do not deceive, defraud, cheat, or mistreat people, animals, and the environment (see below in the section environmental-friendly).
We do not speculate in the market or take advantage of circumstances to skyrocket our profits at the expense of others.
We do not make false product claims, we do not hide terms in our agreements, we do not practice unethical accounting just to attract investors or save tax money.
We do not provide poor working conditions, we respect everyone in our company.
We play fair, we do not defame or discredit other brands, we do not need unfair economic advantages, and we do not bribe politicians, journalists, accountants, or people.
We do not share our customers' data with anyone.
We do not do anything fake.
Instead…
We want to give our best, yet again. We provide value to everyone, not only to our customers.
We help, educate, and entertain strangers by providing superior content on a multitude of platforms and we organize unparallel live events that they'll remember for a lifetime.
We reward our employees and team members. Rewarding and recognizing employees' efforts is paramount to success for all companies regardless of size. Companies that embrace reward and recognition programs stand out and gain a competitive edge.
We provide the best possible working conditions and we listen to complaints and concerns.
We take care of our suppliers and vendors. We also encourage them to level up their quality and customer service because our businesses are interconnected. 
We take care of our partners and affiliates. We cooperate with them on a deep, personal level. We share resources, organize joint ventures, and train our affiliates live and in-person so they can promote our brand with all their power. We give away prizes, offer countless incentives, and share knowledge, insights, and expertise.
We listen carefully and collect feedback. Their professional opinion matters and it helps our brand grow and become more efficient.
If we organize events with joint-venture partners we give our best to turn them into a win-win-win scenario for everyone: our brand, our partners, and our participants. 
We also take care of our local communities and societies, we leave no one behind. We like to contribute to a higher cause and there are always ways to do that even without spending money at all.
We are not trying to sell, we are trying to establish an authoritative position and build a brand name, and then, everything becomes so much easier.
Then, we won't have to sell in order to make sales.
Are not satisfied with their customer service experience
Of customer service issues go unsolved
Live Interactions/Gourmet Events
We interact with people in real-time whenever possible. We use live chat solutions, video chat, phone calls, face-to-face meetings, social audio platforms, seminars, webinars, and so on.
We are personal brands, not impersonal organizations.
We are known for being alive.
For example, here on WebMarketSupport, our second contact touchpoint, following usually an email response or a live chat written conversation, is scheduling video-call meetings to discuss with prospects in real-time and get to know each other.
So, even before someone becomes our client, they know who they are dealing with.
And of course, we get to meet live online and face-to-face with our clients very often.
But that is the nature of our business as a marketing agency.
For your business, things might be different and you probably won't be able to discuss with all your prospects and customers personally but there are always ways to add live interactions to your business.
It doesn't have to be a video call or live conference.
We interact with people on our website through live chat, phone calls, social media, and social audio platforms by organizing live events, discussions, and chat rooms, we participate and answer questions on communities and networks, and on every platform our clients and prospects hang out.
For example, we use platforms like Zoom, Skype, YouTube and Facebook live, Clubhouse…
We organize webinars, workshops. challenges, masterclass training events, offline seminars and conferences, and our special form of live events that we are not revealing yet 🙂
During the covid-19 pandemic, brands started putting emphasis on values rather than consumption, ensuring that we are still spiritually connected despite being isolated physically and will get through this together.
Live interactions give us momentum. a sense of satisfaction, it's rewarding our efforts and it's the fuel that drives our innovation.
We get to know our clients better, we discuss and listen to their problems, issues, and challenges, and we help, give advice, and provide solutions.
We increase customer satisfaction, strengthen relationships, collect data and feedback, and so much more.
We get more repeat buyers, and we have to deal with fewer product returns or refunds. 
People appreciate these live interactions like nothing else in their shopping experiences and other financial exchanges and transactions.
Just like you want to be treated as a customer by another person when you enter an offline store, the same principles can be applied to the online world.
Websites, social media platforms, and other online properties are just mediums to get in touch with people.
We're always looking for touchpoints of contact where we can replace the traditional impersonal or automated way with live interactions.
The competitive advantage of using this method is huge.
We increase sales as a result of a better user experience.
According to 1440: Per Forrester, 55% of shoppers will abandon their online purchase if they can't find a quick answer to their question. And 77% of consumers won't make a purchase if live chat support isn't available.
55% of shoppers will abandon their online purchase if they can't find a quick answer to their question
77% of consumers won't make a purchase if live chat support isn't available.
Entrepreneurial Excellence & Vision
There is always room for improvement and that's especially true in the entrepreneurial world.
Entrepreneurship is not just running businesses.
Entrepreneurs have a vision, dreams, and they are obsessed with their mission.
And these are the most common traits of successful entrepreneurs:
Risk takers
Innovators
Creative
Action-takers/highly-motivated
Decision-makers
Productive
Responsible
Disciplined
Problem solvers
Good listeners
Leaders
Open-minded
Learners
Practitioners
Collaborative
Supportive
Self-confident
Self-critical-self-aware
Persuasive
Privacy
Impact
Visionaries
and more
We study those characteristics carefully and we practice them on a daily basis.
We offer an extra layer of training through private workshops. This training will help you become an unstoppable entrepreneur and give you unparallel momentum. This happens in the 1st phase of the methodology, the 7ID Zone.
You'll be able to hone your skills, understand what the market needs, embrace failures and learn from them, create amazing products that people love immediately, and so much more.
38% of consumers switched brands during the last recession in 2008/09
63% of consumers say companies need to do a better job of listening to feedback
36% of consumers are unhappy with the empathy shown in their customer service interactions
Impact, Community, Movement
In the 6th phase – IDiosyncrasy, we collect all the data from the other stages, and we start finalizing how exactly we are going to communicate our vision to the market.
Now, in order to be able to create a movement, we need to interact with the market and experience first-hand what our best, right-fit prospects, need.
A movement can't be created instantly. We need data by listening to people's problems and we want to build trust and authority first.
When people trust our brand, it's time to move on with our vision.
Some entrepreneurs use a special messaging technique to attract not only buyers and consumers, but also to create a movement, a community of people with common beliefs, ideas, and visions.
It's the minority.
The technique we use here is called movement-based messaging.
Movement-based messaging is a marketing approach that consists of 3 components. 
A charismatic leader or attractive character (the business owner, a brand, someone with a message), a cause (your culture), and a new opportunity (the vehicle of change).
This approach helps brands adopt a strategy where they do not just sell a product or service, they create a movement. 
And movements allow people to unite in a shared interest, passion, or cause. When that happens, people do not identify themselves as customers of the brand, rather than loyal followers of a movement that has a leader, the brand.
Why would brands, entrepreneurs, and people with a message want to follow this approach?
Because when you adopt such a marketing methodology you get attention. And we all know how competitive is the online and offline business landscape. Attention is huge. And attention creates momentum.
When you have momentum and more and more people are attracted to your message, you slowly create a movement.
Why is Disney using a fictitious character like Mickey Mouse? Enter the charismatic leader we mentioned. Mickey created a movement. People can relate to fictitious characters way more than they do with impersonal brands.
Brands that sell only products and services are empty of emotions, they are money machines.
And no one relates to machines.
And the big question is…how do we get attention anyway?
First, you need to be passionate. And you need to follow the process of creating movement-based messaging.
You will be picking a micro-niche, you'll be targeting a very specific group of people that have a common problem that you will be solving by presenting your product as a solution to their problem and as a vehicle to a new opportunity (the desired outcome) for your ideal customers using language they can relate to.
It requires an open mind, market research, and copywriting.
Emotional, Empathetic Messaging & Storytelling
Emotional marketing plays a vital role in the marketing campaigns of most brands. It is not surprising considering that more than 70% of the time, we make decisions by the typical instinctive subconscious part of our brains, commonly known as our "reptilian brain."
Not every decision taken with gut or emotions can be correct, but a majority of them are. This might sound crazy to most of the readers, but it is not. The emotional decisions are better- they save time and effort.
Emotional marketing is a kind of marketing technique that uses emotional appeals to evoke emotions in the heart of potential clients. The purpose is to build trust and awareness,  gain leads, and ultimately convince the customers to buy the business products or services.
According to Unruly, research over a long period has revealed that when a brand creates emotional engagement with its audience, it brings about a corresponding increase in all marketing metrics that are of importance to advertisers and business owners.
If you want your brand to be loved, trusted, and one that your customers can recommend, you need to start looking at maximizing emotional relationships for your brand.
For your emotional marketing efforts to be successful, you first of all have to shift your focus to your audience, you have to know and understand your ideal audience. Know their needs, their pain points, and desires. When you know and understand your audience, you're better able to engage and connect with them the right way.
If you do not understand your audience, you may end up creating content that may not resonate with your audience; this may lead to a wrong emotional response from your audience. Before you dive into emotional marketing, you need to carry out target audience research. Analyze every data carefully, monitor their responses on social media, do not generalize, find out what they are saying about your competitors. This process can be time-consuming, but it will be worth it in the long run.
When you know and understand your audience, the next step is to target the right emotions of your audience based on your understanding. When you focus on the right emotions of your audience, your emotional marketing campaign becomes easier.
Your prospects are more likely to share your content, products, and services when it brings about feelings of happiness. Studies have shown that good news spreads fast on social media. Likewise, when your brand elicits fear and surprise elements in its emotional marketing content, your prospects are more likely to see your brand as a solution, and they are more likely to lean towards your brand. Also, campaigns that target strong emotions like anger and passion are more likely to enjoy increased views and virality.
Incorporating the use of colors into your emotional marketing campaign might look like something very simple, but it is really very effective. Color and emotions work together. Have you ever entered a place, and the color of the building made you feel a certain way? This is known as color psychology.
Storytelling is an invaluable tool you can use to create an emotional connection with your audience. You can create stories that elicit passion, anger, excitement, sadness, etc. Stories are good vehicles through which you can tap into the emotions of your audience. People can easily share your stories when your stories resonate with them.
We use various storytelling frameworks that exist and we have our own framework as well.
Create a community by bringing your ideal audience together under a common umbrella. When your audience sees that you share in their values, pain points, concern, mission, and purpose, they are able to identify with your community. You can create your community on social media, or you can use membership features on your website.
Multiple kinds of emotions used in advertising are anger, fear, sadness, disgust, surprise, anticipation, trust, and joy- you must have seen businesses using these emotions in their advertising campaigns to make more sales and keep the customers loyal.
According to Malcolm Gladwell, emotional advertising not only prompts the sales of a business but also makes it stand out amongst others in the market and increase the loyalty of the customers.
Research conducted in this regard proves that marketing campaigns that are based on emotions perform double in comparison to those that have only rational content.
We use both direct response marketing techniques and branding for different reasons and to maximize our results.
Direct response is a marketing approach where we use messages and campaigns to motivate people to take some kind of action. 
Direct response marketing is about asking for a response from consumers in contrast to branding, a marketing approach where we communicate a brand's values, beliefs, standards, and build its image over time.
Think of direct response as a call-to-action, a brand's offer.
We use direct response early in our business and start using branding as our brand grows and matures.
Branding, also known as delayed response advertising, is a long-term effort to build up the brand image and value of your company and its products.
It's about creating a unique brand identity, demand for your brand as a whole, a belief in customers' minds that something special exists.
It's about communicating your beliefs, values, and standards, and expressing a brand's vision.
It's about creating a buzz around your brand. Getting people to discuss your brand. It's about creating loyal fans.
It's also about consistency in behavior, customer service, marketing communications, and material.
Branding is caring about customers, feeling their pain and problems, expressing empathy.
Branding is authority, owning a market share, having a mindshare lead in a segment.
It's the attribution of the qualities, values, and perspectives of a company's founding members to a fictional character in a unique and interesting way by revealing aspects, traits, and weaknesses of their personalities.
It's an emotional connection with customers. It's what makes a company matter and be missed.
It's about telling stories people can relate to. It's about sharing why you do what you do. It's about what a brand wants to change that is wrong universally and hurts the lives of customers.
Branding helps brands differentiate from the competition, gives them authority and a unique voice that speaks to the heart of the customers, position them as the top of mind and trusted resource that cares, and helps them scale and grow under a unified vision
More than 70% of the time, we make decisions by the typical instinctive subconscious part of our brains, commonly known as our "reptilian brain."
This principle is very important. We care about the environment, our planet, and every living organization.
We hate seeing animals or people mistreated and abused just for the sake of profit.
Running an environmental-friendly business helps preserve natural resources.
Recycling reduces costs, good practice can attract new customers, improves the sustainability of our business.
Taking care of our environment rewards our planet and the solar system and the galaxy at large to continue protecting us without issues.
We are not alone, we live in a universe that has its own rules.
In addition to attracting employees with similar values, an eco-friendly business can help to keep them healthy.
More and more consumers are looking at product labeling to see if what they're buying has been manufactured according to eco-friendly practices or is recyclable.
In fact, up to 72% of consumers aged 15-20 have said they will pay more for products and services from companies with a strong social and environmental commitment.
More and more government procurement policies require that governments use contractors who are providing environmentally conscious services.
The federal government also offers significant incentives to environmentally-friendly businesses. Not in all countries, but I believe the number of countries that offer such incentives will increase dramatically in the very near future.
Why not protect our mother Earth? It's our home, and it's the only one, at least yet. Let's keep it safe.
Up to 72% of consumers aged 15-20 have said they will pay more for products and services from companies with a strong social and environmental commitment.
These are the basic principles of the methodology. We have a long way to go.
These principles define everything we do so we want to study them carefully.
The next article will be released soon.
So stay tuned for this.
Thanks again for joining me in this journey and I look forward to working with you privately.
Tasos Perte Tzortzis
Marketing Consultant, Creator of the "7 Ideals" Methodology
Although doing traditional business offline since 1992, I fell in love with online marketing in late 2014 and have helped hundreds of brands sell more of their products and services. Founder of WebMarketSupport, Muvimag, SummerDream.
I enjoy reading, arts, science, chess, coffee, tea, swimming, Audi, and playing with my kids.