I was asked to research another MLM opportunity, in the travel industry this time. The website I landed on mentions …"Make more, Travel more, Save more", "a business opportunity designed for people like you"
What is Surge365?
They say …"An awesome home based business selling a unique and valuable wholesale travel membership."
Access to hundreds of thousands of hotels, resorts, cruises and all-inclusive around the globe
Unlimited bonuses – $1,000 and $10,000 paid through infinity – An amazing $1 million paid to top performers
Earn override on 6 Infinity generations and on bonuses
Earn up to $6 residual on 6 infinity generations
The team
Scott Tomer – CEO – 30 years of experience in direct sales as top income earning distributor and co-founder of a major, publicly traded travel company.
Chris Cokley – from vice president of marketing to executive sales director to CEO on leading companies in the home based business arena
Surge365 operates since March 2015.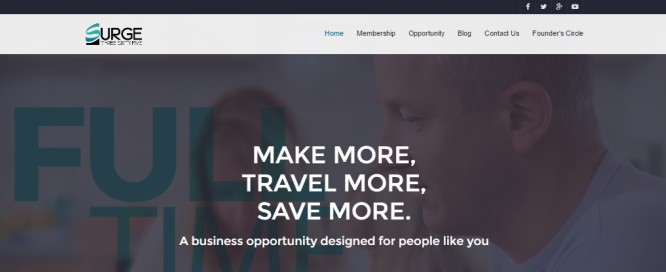 Looking for Ways to Start an Online Business? Here's a List of the Best Solutions
Memberships
Surge365 Basic
$399 one time fee … plus $59,95 monthly fee, including
Exclusive all-new vortex
Exclusive members-only pricing platform
Exclusive weekly specials
Personal concierge
110% price match guarantee
Surge365 business associate
$10 monthly fee including
Mobile app
Back office
Commission tracking
Reporting
Marketing sites
The Opportunity – Compensation Plan
They mention that Surge365 is a fun, simple system and you can work from anywhere in the world. It is an 8.1 trillion industry, you don't need any experience, with a low-cost entry and unlimited bonuses, with tools and systems to help you succeed.
#1 Way of earning with Surge365 – Vortex – No selling – No recruiting
When you join you get your own version of the Vortex (patent pending).Your job is to share it with the world. When people buy through Vortex, whether it is a trip, car rental or a cruise, you get paid, it's that simple.
#2 Personal Travel Agency
A fully functional agency through their sister company, Pro Travel Network. With a few simple trainings, you can start promoting cruises, tours, destination weddings and earn big bucks.
Again no selling or recruiting is necessary, just to help people find their best vacation options.
#3 Sharing the business model
Refer 3, yours free.
Refer 7, $1000 bonus
Refer 100, $30K in bonuses
If you grow a team and work hard enough to be a marketing director you will be enjoying $2000 per month in bonuses
Marketing Plan
Every member gets 10 EZ Travel Buttons worth $250 to give their best friends
You can achieve the position of a Team Builder Leader if you make 3 personal membership sales (in your first 30 days) or alternatively you can make 7 group sales in any combination/timeline (with 3 personally membership sales)
You earn $20 to infinity on every member sale in your Team Builder Group (TBG)
You receive a 100$ Income match on all personally enrolled members
As a Team Builder Leader, you receive $50 on members sales.
Every 7 sales within your TBG gives a $1000 bonus plus 7 sales X $20 = $140 total of $1140
Every 100 sales in your TBG = $10K bonus plus 17 X $1000 bonus (approx) = $17000 bonus plus override bonuses another $3000 equals $30K bonus
Directors
Marketing – 500 active members – $2000 monthly bonus – $30K Dodge car bonus
Regional – 2000 active members – $4000 monthly bonus – $50K car bonus (Mercedez , BMW or Jaguar)
National – 5000 active members – $8000 monthly bonus – presidential Rolex watch
Executive – 10000 active members – $12000 monthly bonus – Bentley car
Presidential – 25000 active members – $12000 monthly bonus – $1 million bonus
Positions / Promotions
First 3 members – $30 bonus
Team Builder Level (every 7 sales in TBG = $1000) – $50 Direct bonus $20 open line – $2 residual to infinity (from monthly fees)
Regional team builder (30 members in TBG) – $70 direct $40 open line – $4 residual
National team builder (100 members in TBG , every 100 sales = $10K) – $80 direct $50 open line – $6 residual
Marketing director (500 members in team) – $80 direct $50 open line – $6 residual
Training Found on Distributors Properties
Complete basic travel agent training
Series 100 videos academy training
Winning Mindset
Wealth builder academy 5 videos
Who are my prospects
SBA – Surge Business Associate
As an SBA you are selling the ultimate travel solution
Package 1 – access to a full-service travel agency
Package 2 – adds Vortex plus to the travel agent opportunity
Package 3 – is Vortex Platinum with additional benefits such as the opportunity to earn reward credits and exclusive wholesale travel pricing.
You will be building a team of SBAs to help you leverage the efforts of others while also helping them achieve financial freedom. You have access to sell the following products
Travel agent – $99 license fee – $39.95 monthly fees – Commission $15
Vortex plus – $199 license fee – $49.95 monthly fees – Commission $15
Vortex platinum – $399 license fee – $59.95 monthly fees – Commission $30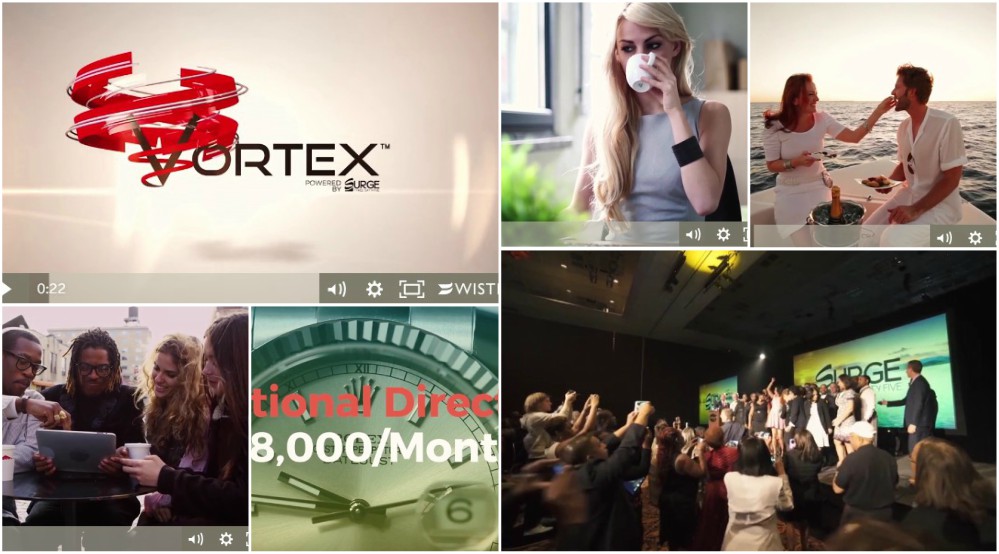 Conclusion
That article was a marathon for me to complete. The official Surge365 website does not include many details, apart from a few promotional videos.
I managed to find the compensation plan (3 different parts) on distributors web pages and Vortex on other travel agents.
The key thing is that Surge365 official website pushes the MLM opportunity. The compensation plan has many bonuses for top performers and if you are good at recruiting you will get exclusive rewards.
I can't evaluate Vortex properly but before you join you should investigate further if Vortex is a better alternative than Expedia, TripAdvisor or other bookings/travel search engines out there. Which hotels/cruises/car rental companies are included in the list? What prices and discounts give Vortex?…the competition?…there are hundreds of questions to be answered.
The thing is you want to be sure that retail customers who want to travel will choose Vortex against the hard competition.
The training remains a mystery as there is no information unless you become a Surge365 member.
The membership of Surge365 is a little expensive with monthly fees that the majority of newcomers won't be able to overpass.
Generally, the MLM opportunity is for experienced marketers and/or specialized travel agents with a huge following/email lists.
Yes, you can make money with this opportunity but if you are a newbie do not expect to achieve your goals easily. It needs hard work to get there. And it needs tons of recruiting as with MLM compensation plans.
***CLAIM MY EXTRA BONUSES***
That's it, another review has finished, here on Web Market Support. I am waiting for your comments and thoughts. Are you a Surge365 business associate? Why don't you share your experience with me? Till next time.