Last Updated: Dec 16, 2018
This review comes as a result of a user request one week ago. Another MLM opportunity that is tied to a new transport technology project in the primary stages of development. There is a lot of online buzz lately and I have watched many related ads in various marketplaces, meaning people are promoting it. As I dug deep for information the subject became really interesting…
SkyWay Group of Companies
At first, I landed on a company named SkyWay Invest Group…A site that is written in Russian so the info comes from the browser translator…A company that has to do with transport projects.
Researching more and came across SkyWay Capital, another Russian transporting company where on the about us page refer to a matrix company named SkyWay Group of Companies.
On the SkyWay Capital website, the "External Partners" page redirects to a 404 (error – not found). The other main "Partners" page is about the income opportunity.
SkyWay Capital – Their main task is financing the SkyWay project for the soonest introduction of an innovative transport system in the market. The rapid development of civilization expresses a need for breakthrough technologies and SkyWay is far ahead of our times…
SkyWay Capital Team
Evgeny Kudryashov – Director, Internet marketing specialist
Irina Volkova – Member of the General Board – economist and financial expert
Ineta Andzane, Larisa Artamonova, Vladimir Maslov, Grigory Miroshnichenko
Alexander Mynko, Lidia Chermashentseva, and others…
..A domain search uncovers registration taking place on November 2014 with an expiry date on November 2016, in less than one month. The owner is shown and is Evgeny Kudryashov.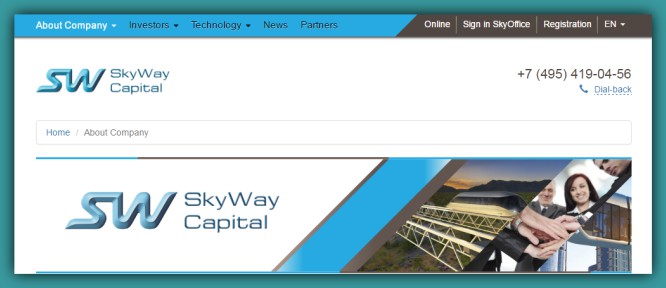 SkyWay Invest Group – an educational investment project, trademark of Rail SkyWay System. Experts in the field of investments can teach us how to save and multiply our capital choosing the optimal tools for our portfolio.
They aim to combine 2 projects
Educational investment project of Academy Private Investment
High tech Euroasian Rail SkyWay Systems Ltd.
By doing so they help people raise their level of personal income and/or become shareholders of high-speed safe environmentally compatible transport. Since September 2011 more than 100,000 people have completed their investment training courses.
..A quick search for the domain uncovers registration taking place in July 2014. The owner is using privacy for personal data.
..Searched for the Keywords "Academy private investment", "Euroasian Rail", "Euroasian Rail SkyWay", "Rail SkyWay Systems" in my Keyword Research Tool (not on search engines) but returned no results meaning no one is searching for these terms.
..another search on Google for Euroasian Rail SkyWay Systems Ltd uncovers a pdf doc published from the Bank of Lithuania (Lietuvos Bankas)…informing people that by performing supervision of markets in financial instruments , warns investors that individuals who invite (online or by public channels) residents of Lithuania to invest in next-generation string transport by acquiring shares of the above company, are engaged in illegal activities…September 2014.
The Bank of Lithuania has not approved the prospectus for shares of Euroasian Rail SkyWay Systems Ltd. Therefore if you invest you risk losing your money.
SkyWay Invest group team
Andrey Khovratov
Sergey Sibiryakov – consultant and major shareholder
Igor Korsun – Head of IT and automation
Igor Romanenko – investor and shareholder, director of SkyWay Russian company.
Victor Sobor – development, education, motivation, premium class coach
Olga Shantina, Alexey Sukhodoev, Irina Raltseva, Dmitry Schastlivy and others…