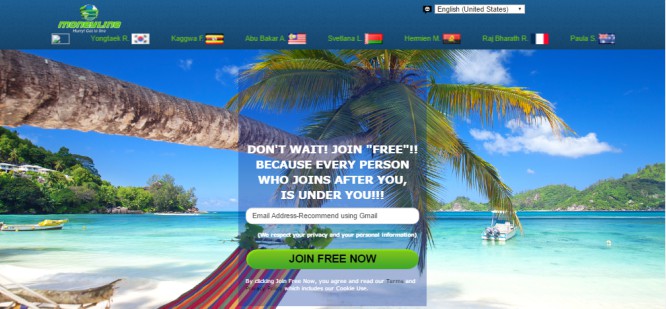 The landing homepage of this site displays an exotic beach with a big curved palm tree catching our attention at the background … the headline above it says …"Don't wait , Join FREE"…and explains …"because every person who joins after you , is under you"
Easily we understand that this is an MLM opportunity , let's see what we got here
Introductory Video of Global Moneyline
The old man tries to be as passionate as he can be .."Success is not about What you know , but Who you know"…
Now I am all ears because I am eager to know the owner's probably giant valuable connections list.Does he know the president of a country?…a marketing guru?.. a celebrity?
The short video ending mentions that this is a free private messaging system between entrepreneurs , a place to get leads for free..
Examples of Ad Messages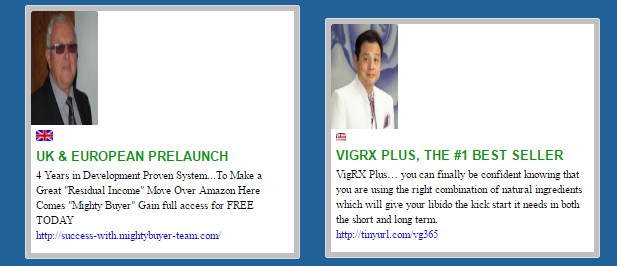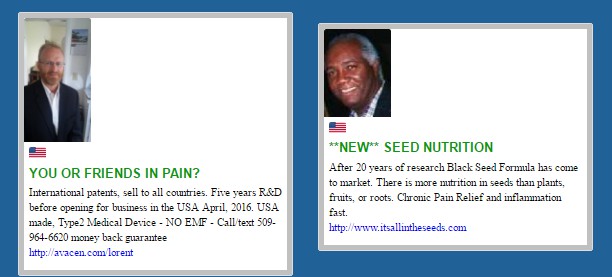 What Global Moneyline is All About?
The welcoming email informed me that this is the World's Largest straight one-line of people , my Moneyline.
A quick look for the domain uncovers the first registration earlier this year.
Subscriptions
Free – interaction with those signed up after you , 1 message to 1 person at a time unless someone responds back.
Bronze – $20 one time – interaction as free members , 20 messages at a time , 1 message to 1 person at a time unless someone responds , bronze messages displayed above free
Silver – $50 annually – interaction same , 50 messages at a time , 1 message to 1 person at a time unless someone responds , silver messages above bronze , own targeted ad message
Gold – $100 annually – interaction same , 100 messages at a time , 1 message to 1 person at a time unless someone responds , gold messages above silver , own targeted ad message
Platinum – $250 annually – interaction same , 250 messages at a time , 1 message to 1 person per month unless someone responds , platinum messages above gold
Diamond – $500 – coming soon
You must purchase a membership yourself in order to qualify for sales via your sponsored members.If not your sales pass ups to the first qualified upline.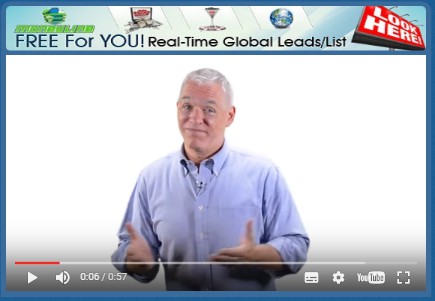 Compensation Plan – Compound Leverage
The speaker mentions that nobody in the world has such a powerful comp plan in place , let's see…
You pass up your first 2 sales to your qualified upline
There is a floating qualifier on each line of your sales organisation.
You can become an IR (Independent Representative) if you make 3 sales of the Bronze membership (one of which may be your own).At this point if you keep the default settings option to "Do not allow pass-up" and when a sale is made to one of your personally sponsored individuals and you have not purchased your own Bronze subscription yet , you only watch the sales volume go to your upline , but not the individual nor any future genealogy they bring in the company.
If you choose to set the options to "Allow pass-up" you are reclassified in the system from a Prospect status to a Retailer (someone who intends to make sales but does not want to purchase any membership on its own).
If you become an IR you are qualified to earn upline commissions
Once your sales qualified (above) you apply to become an IR.Once approved there is a $20 monthly fee maintenance
The 2 principles
You can make unlimited sales.Each of these sales starts a separate sales leg to you.
You give the sales commissions to your upline of your 2 fastest growing legs
On your line 1 you give up your first 2 personal sales which qualifies you to get paid to unlimited width on all other personal sales on that line.
After your 2 qualifiers , the IR (You) receive 100% of the proceeds of each personal sale paid directly to you (unlimited width)
On your line 2 and below the company processes the qualifiers for all of your personals and you receive the qualified upline sponsor commissions on their sales.
When a sales is made but you have not purchased the Bronze subscription yet , the system will notify you and you have 72 hours to purchase the membership in order to receive commissions from the sale that is already placed.
Dashboard – Features
The messenger displays messages that you can open and / or respond.
You can communicate with your sponsor and personal referrals.
MoneyLine News
Order center
Open sales orders
Financials / purchases
Genealogy (view your team , view prospects with a ready made message if you want to use)
Marketing banners
Support with tickets
FAQ
Final Words
There are NO RETAIL sales , although the compensation plan , the videos , the description and everywhere on the site all the memberships sales are referred as retail.But these are only membership sales purchased by referred affiliates.
You only can earn commissions on the packages you have purchased yourself (Pay to Play?)
I could not find anywhere on the site who is the founder / owner (personally I never do business with an MLM company that is not crystal clear on that detail alone)
You can cancel the Bronze subscription and ask for a refund in 3 days.
The $20 one time advertised payment fee is not actually one time , if you become an IR in order to earn commissions you will be obliged to pay an additional $20 / month fee.
I am not impressed of the messages (unlimited spam with other Biz Opps)
You don't have access to email addresses (only the administration).You only send / receive messages using the internal system
Referrals probably use secondary or email addresses that are rarely opened (just like I did)
It is a making money opportunity but you have to keep in mind the endless spam
Such systems are mostly beneficial for the owners (who are granted the majority of passed up commissions) and a few early investors
Once the recruitment of new affiliates slow down then the clock ticking backwards.Because affiliates are the only source of income for the Global Moneyline.
However , if you are a newcomer and want to market and promote the Global Moneyline or any other program for that matter it is essential that you educate yourself and build an online presence with a website.
Because offline connections are not enough and you miss a ton of opportunities that arise online.
You can follow my top recommended platform and test it out for one week.You will be building websites , attracting traffic by creating content and then you will have the chance to monetise those sites in a hundred different ways and promote any company or products you want without restrictions.
But , there is one and only catch … your devotion / personal work…
Top Places to Get Affiliate Marketing Help
That's it , another review has finished , here on Web Market Support.I am waiting for your comments and thoughts.Till next time , your online partner.