We discussed product launches so much these days but we won't get the whole picture if don't take a look at the book that Jeff Walker published that explains everything.
In his book "Launch" Jeff is not only analyzing the system that's responsible for over $1 billion in sales for so many brands around the world in all kinds of industries and markets, but more importantly, he shares how it all started.
So, let's dive right in!
Jeff Walker "Launch" Book Review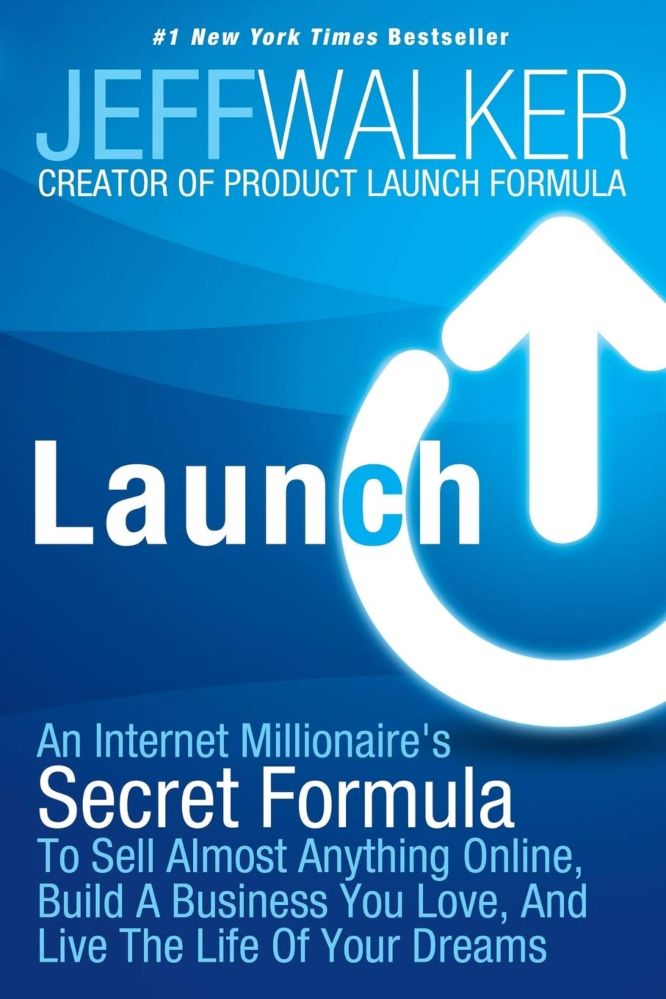 I'm Jeff Walker, the creator of the Product Launch Formula… it's a system that's been used by thousands of entrepreneurs in hundreds of different niches and markets to create hugely successful businesses.
The impact has been crazy huge… my students and clients have now done well over $1 billion in product launches.
Along the way, I've coached or helped all kinds of experts such as Tony Robbins, Brendon Burchard, Dan Kennedy, Bill Glazer, Rich Schefren, Frank Kern, Dean Graziosi, Yanik Silver, Greg Clement and dozens more "gurus" — but I get most excited about all of the "regular folks" that I've helped quit their jobs and grow serious businesses.
When I first started publishing online way back in 1996, I had no idea how to sell my products or build an online business. Then (almost by accident) I created what's become the Product Launch Formula. That formula has become the gold standard for launching products, services, and even entire brands with huge momentum and great success. It's literally transformed the way stuff is sold online. And it's also helped me become one of the top entrepreneurial and marketing trainers in the world. 
When I started, I was a stay-at-home dad taking care of two small children.
It had been a few years since I quit my corporate job. I hadn't made any money since then, and that felt terrible. I knew I needed to make a change.
I launched my "business" from the babies' changing room – and it started with a free email newsletter sent to 19 people. That was in the Internet Dark Ages of 1996.
'll never forget how nervous I was the very first time I made an offer to my list.
Back then, my business was a simple newsletter about the stock market. I just kept sending more and more free content – and people loved it.
The problem was that I wasn't making any money.
I knew I needed to sell something, but I kept delaying making that offer because I wasn't a salesman – and I didn't know how to ask for the offer.
So I kept delivering more value… and when I finally made the offer, people were really excited to buy.
And that's when I knew I was onto something…
I kept refining my "launch" process, and the results kept getting better… until my formula was almost guaranteed.
I started sharing what I learned about launching new products and businesses with some other entrepreneurs I knew. And their results were incredible.
Pretty soon, I was getting asked to speak on stage and teach people about how they can use my formula to launch their own products and businesses. The amazing results continued to pour in – and that's when I decided to turn it into a step-by-step program that anyone could follow.
That was the start of an incredible wave of entrepreneurs with tiny, home-based businesses doing launches that sold tens of thousands, hundreds of thousands, and even millions of dollars in sales with their launches.
The main slogan is this…sell almost anything online, build a business you love, and live the life of your dreams.
A book about launching products and growing businesses.
But it's about so much more.
It's about creating a movement, making an impact, and delivering huge value into the marketplace – and it's based on experience and results.
Chapters:
A note to the reader
Chapter 1 – From stay-at-home-dad to 6 figures in 7 days
Chapter 2 – Food stamps to 6 figures: the product launch formula explained
Chapter 3 – A license to print money: your list
Chapter 4 – The sideways sales letter: how to sell your stuff life crazy without being "salesy"
Chapter 5 – Weapons of mass influence: the mental triggers
Chapter 6 – The shot across the bow: your pre-prelaunch
Chapter 7 – Sell them what they want: the magic of prelaunch
Chapter 8 – Show me the money: it's time to launch
Chapter 9 – How to start from scratch: the seed launch
Chapter 10 – How I made a million dollars in a single hour: the JV launch
Chapter 11 – Creating a business from the Ether: the business launch formula
Chapter 12 – Creating a business you love
Chapter 13 – A recipe for a big life
Chapter 14 – It's your time to launch
The book is praised by numerous industry leaders and other authors, I bet you'll recognize many of them.
Daniel G. Amen – MD, author of "change your brain", "Change your life" and 8 other NY Times bestsellers
Dan Sullivan – President and founder of the "Strategic coach"
Eben Pagan – Founder of "Hot topic media" and serial online entrepreneur
Darren Hardy – Publisher and founding editor of "success" and NY Times bestselling author
Reid Tracy – CEO, Hay House Inc.
Brian Kurz – Executive vice president, Boardroom Inc.
Vishen Lakhiani – Founder and CEO, Mindvalley
Joe Polish & Dean Jackson – ILoveMarketing
Randy Gage – Author of the NY Times bestseller "Risky is the new safe"
Christian Mickelsen – CEO, CoachesWithClients
Eric T. Wagner – Founder and CEO of "Mighty Wise Academy", writer on Forbes
JB Glossinger – Founder of MorningCoach
John Carlton – Legendary copywriter and author of the "Simple writing system" and the "Entrepreneur's guide to getting your shit together"
Janet Bray Attwood – NY Times bestselling co-author of the "Passion test"
Paul Myers – Publisher of TalkBizNews
JJ Virgin – CNS, CHFS, NY Times bestselling author of the "Virgin diet" and the "Virgin diet cookbook"
David Bach – 9-time NY Times bestselling author and creator of the "FinishRich" book series
Bob & Susan Negen – Founders of Whizbang training
Sonia Simone – co-founder of CopyBlogger Media
Ray Edwards – Founder and publisher of RayEdwards, creator of the "Copywriting Academy"
John Jantsch – author of "Duct Tape Marketing" and "Duct Tape Selling"
Valerie Young – dreamer in residence of ChaingCourse
Marie Forleo – Founder of B-School, award-winning host of MarieTV, MarieForleo.
Jeff's personal story is heartbreaking, at some point, they had given him the nickname Mr. mom.
But I won't reveal it here, I believe you should it read it on your own.
Jeff says…
And I say all that from experience. I started my first online business in the "Internet Dark Ages" of 1996, and I've been profitable every year since then. Right through the dot-com crash, right through the Great Recession, right through every Google update. I've sold tens of millions of dollars of my products online in four distinctly different markets. And along the way, I've taught thousands of online entrepreneurs how to start and grow their businesses. My students and clients have done more than $400 million in sales (and counting).

The rules of business and marketing have changed, and those changes have killed many businesses. But the changes have also created enormous opportunity for thousands of others. If you understand the new playing field, grabbing your prospect's attention and building a relationship with him or her has actually gotten a lot simpler in many ways. And that's what this book is all about.

People have used PLF in every type of market and niche you can think of and realized tremendous success. In fact, it's almost become a hobby of mine to keep track of many of those markets.
Jeff is also giving us access to some additional resources with various links throughout the book.
The story of John Gallagher with some of his Wildcraft games and how he was able to launch successfully. Incredible story.
The "Secret" World of Online Marketing:
There really is a "secret" world of business that most people have never heard of—a world of colorful characters, real-world rags-to-riches stories, and nearly unbridled opportunity. It's a world where businesses can be created from the ether—start with an idea and you could be in business in a matter of days, often with almost no investment.
The early days of the internet in '96 and how even the big corporations got surprised as they had no plan in place. This created the perfect environment for aspiring entrepreneurs with few resources like Jeff.
Jeff answers this critical question "What exactly IS the Product Launch Formula?" And, more important, "Will it work for me?"
Here's the big picture: The Product Launch Formula® is a system to get your target market so engaged with your product (or business) that they almost beg you to sell it to them. And this all happens before you even release the product.
Our era characteristics: speed of communication, cost of communication, interactivity,
He discusses how to deal with your market and invite people to a conversation which is key.
He goes on to analyse sequences, stories, and triggers, and the primary sequences in PLF are:
1 pre-pre launch, 2 prelaunch, 3 launch, 4 post-launch.
He discusses stories and how they are so powerful and how humans use them to communicate.
He also analyzes how people buy and how they make decisions.
He explains exactly what to do with this information and how to put it all together to create an influential message.
He shows his golden strategy that is no other than building an email list of dedicated subscribers, willing to open and read every email that you send out.
He clearly mentions the distinction between healthy emails and spam emails.
It's all about making relationships with your audience, with your market.
He discusses social media and how you should approach these kinds of platforms.
Of course, he highlights that nothing can be compared to having your own list, your own community, your own assets.
That is what I recommend each and every time to business owners.
Then, he analyzes different types of lists and why it's important to understand the differences.
He also shares how to build your email list from scratch.
He also shares some amazing resources that you can access online.
He discusses A/B testing or split testing, squeeze pages, landing pages, and how to get people to say yes to your offers every single time.
He shares examples of effective squeeze pages.
Then he discusses traffic methods and tactics, search engines, paid ads, social media, affiliates, and joint-venture partnerships.
And the secret to having a list is this…just get started. Obvious? Not so!
The next chapter is all about the sideways sales letter and how to use it to sell your stuff like crazy without being "salesy".
He uncovers the whole story and how he came across those long-form sales letters that every business was using with great results.
But he decided to make an experiment if you will. He then analyzes how he is using the long-form sales letter as the base for his email sequences.
He discusses what happened during the dot-com bubble and how brands were using sales letters at that time.
He reveals how he flipped the sales letter on its side.
He emphasizes the importance of valuable content and great content is not a sales pitch.
He then shares a powerful story.
Barry Friedman is a professional juggler with great success in his career.
But when he had an accident, he could not work as a juggler anymore. Long story short, he came across the Product Launch Formula and he created a new business teaching other people how to become successful juggles and enjoy high-ticket fees and contracts.
The next chapter is all about mental triggers, which are very powerful, and we use these triggers in our messaging and marketing copy to help people with their decisions and propel them to take action. 
Jeff says…The funny thing is that when people started using the Product Launch Formula, many experts in the market almost immediately started to predict that all that success would start to die off once the tactics became widespread.
They said that PLF was a fad, and people will soon stop responding to the launches.
But that did not happen. In fact, up to this day, launches have been the most effective way of releasing products in any industry and market.
To mention here, these launches have also helped me scale my affiliate business. I participated in hundreds of those launches.
There are thousands of brands using PLF launches because they absolutely work with phenomenal results.
I've also used PLF-style launches many times with great success for my products and services.
And of course, I'm still using launches. They are so effective, create reciprocity, excitement, and anticipation.
Then Jeff highlights that with great power comes great responsibility, this reminds me of Spiderman's uncle.
When you combine these mental triggers and bundle them together, your message is magnified and you're building a strong case.
Let me share a powerful phrase directly from the book…
If you make sure there's always some scarcity built into your launch, it will take your results to a completely different level.
The next step is layering and sequencing – taking your mental triggers to the next level.
The shot across your bow: your pre-prelaunch.
Then he discusses the 10 very important questions that you need to find answers to before you move onto the pre-prelaunch phase.
To make this all work you only need to have one thing in place…
If you want to know what this 1 thing is please register for the free masterclass series by completing the form below. Plus, you'll get access to all the replays of the trainings we hosted and other resources related to this kind of launches.
I'm very skeptical by nature and I monitor every marketing methodology for results. If one method passes all the tests and stands the test of time, then yes, it's a methodology I'm going to adopt.  
Having watched the product launch formula in action a thousand times all I can say is this:
The formula works. 
Damn, this book is responsible for over $1 billion in sales. Yes, of course, it works. But…you need to follow the recipe to make it happen.
That's why so many brands keep on using it on every single launch and event.
But this is just a small minority of all the businesses that exist out there.
And that's a huge advantage for you if you want to take your product launches to the next level.
The formula is all about turning your marketing into an event. It's about giving power to your community, your people and exchanging ideas with them. 
Products and services become mediums for delivering value to your audience instead of getting their money for transactions.
It's about building a loyal following of fans that will do anything in their power to stand by you and promote you with no other incentive than they love what you do.
It's about changing people's lives with your products and services, it's not about selling and becoming a master in sales.
It's for ordinary people with no marketing or sales skills that want to cut through the noise and get heard in a very competitive landscape.
It's also an excellent addition to established business owners and other professionals that want to build anticipation and excitement for their next release.
It's all about touching people's emotions and building trust before you even release a product in the market.
I read it twice but I always refer to it when I have an upcoming launch to organize or support as a partner.
That's it, another review has finished, here on Web Market Support. I am waiting for your comments and thoughts. Till next time.
Tasos Perte Tzortzis
Marketing Consultant, Creator of the "7 Ideals" Methodology
Although doing traditional business offline since 1992, I fell in love with online marketing in late 2014 and have helped hundreds of brands sell more of their products and services. Founder of WebMarketSupport, Muvimag, SummerDream.
I enjoy reading, arts, science, chess, coffee, tea, swimming, Audi, and playing with my kids.
Some of the links on this page are affiliate links. For more information, I refer you to the disclaimer page.