Affiliate marketing is one of the most popular online business models. It's flexible, you can get started even for free, it's lucrative, there is huge potential, you don't have to own or develop products and services, the commissions are awesome, you can work from home or anywhere in the world, you can do it on your own terms, there are millions of products to promote, there are no limits.
But how do you set up yourself for success?
You need proper training and help (I'll get back to the latter at the end of this guide).
Here are the best affiliate marketing training programs I've been through myself. This is an ELITE list of comprehensive and high-quality programs that cover everything you need to know about this business model and can help you become an affiliate marketing ninja. These are training programs that teach you every aspect of affiliate marketing.
Also, I wanted to keep this list short and I did not want to overcomplicate things for you, that is why I am not including independent lessons and courses that do not cover the whole affiliate marketing spectrum.
No matter which program you'll choose from this list, you're going to master the affiliate marketing arena.
Let's dive right in!
Best Affiliate Marketing Training Programs
Main slogan: we'll teach you how to make money with CPA.
Overview: Admitad is an affiliate network that brings together 1600+ advertisers and over 724k publishers around the globe. In 2018 total sales amounted to $3,4B. 
They provide a wide range of sophisticated business and marketing tools and a dashboard that advertisers and publishers can benefit from, expand their reach, and explode their profits.
They truly care about their members, they want you to be successful because when you make money, they make money too.
Their courses focus on both sides of the affiliate marketing industry, publishers and advertisers.
The Admitad Academy is a blog in four languages ​​(and there will be even more!), a YouTube channel, the CPA Academy Facebook community, and the courses department.
Categories of courses:
How to begin
Business models
Affiliate programs
Hot!
Launch an affiliate program
Success stories
Tools
CPA courses
Examples of courses:
Affiliate marketing for beginners (5 units, 16 videos, 5 homework exercises)
Making money out of streams
How to use CPA to earn from friends
Affiliate marketing for dummies
White label in affiliate marketing
What to sell during the crisis and how
Selling without selling: how content triggers work
Beginner's guide to keywords for SEO and content
How to create selling reviews for goods and services
How to harmonize campaigns in the advertising account
Setting up ad campaigns with Facebook ads
Popular affiliate programs
How much should you pay publishers? Guideline for advertisers
7 ways to write an affiliate marketing strategy
How to promote travel affiliate programs
How advertisers should work during sales and attract more publishers
Integration with affiliate network: tracking code
How affiliate marketing can help expand your business into an international company
Creating a successful affiliate store
Types of coupons and promo codes and how to export them
Admitad Academy is an academy, indeed. There's a plethora of lessons for beginners and advanced marketers, for publishers and advertisers. 
Main slogan: learn how to make money online as an affiliate. Promote other people's products and make money for yourself. We show you how.
Overview: Affilorama is an affiliate marketing portal. There are training courses, a blog, a community forum with thousands of marketers you can interact with, and tools for affiliate marketers.
The majority of courses are accessible to free members but there are also advanced training programs and tools.
Affilorama was founded in 2006 by prominent affiliate marketer, Mark Ling, and co-founder and CEO Simon Slade. Mark drew on his 8 years of experience as an affiliate, product owner, and affiliate program manager to create Affilorama's first step-by-step video lessons. Since its launch, Affilorama has grown to a membership of over 300,000 people worldwide.
Categories of courses
:
Affiliate marketing quick start guide
Downloadable roadmap to success
120 free video lessons
Pathway to passive (

A content strategy for affiliate sites that boosts traffic, increases sales, and leads to a fantastic passive income.)

AffiloBlueprint (market research and keywords, creating content, setting up your website)
Examples of courses:
Intro to affiliate marketing
Step-by-step guide for beginners
How does affiliate marketing work?
How to identify affiliate sites
Best examples of successful affiliate marketing websites
Affiliate marketing without a website
What does your market want?
Best niches for affiliate marketing
Building a basic web page
Anatomy of a web page
Writing product reviews
Writing pre-sells and sales letters
How to record affiliate videos
Intro to blogging
5 ways to monetize your blog
Intro to email marketing
Inbound marketing: 5 forgotten traffic methods
Getting backlinks for SEO
Top 6 on-page SEO factors
PPC landing pages
Conversion tracking
Intro to outsourcing 
Top tips for hiring
Affilorama is one of my favorite destinations for all things affiliate marketing. An active forum, a helping community, a variety of tools and resources, comprehensive and step-by-step training. top-recommended solution for beginners and advanced marketers.
Special Bonus: 
if you join Affilorama, you find their training useful, and you decide to purchase
AffiloJetPack
(the system for building money-making machines), then we offer a pack of marketing bonuses to complement your decision and to help you succeed.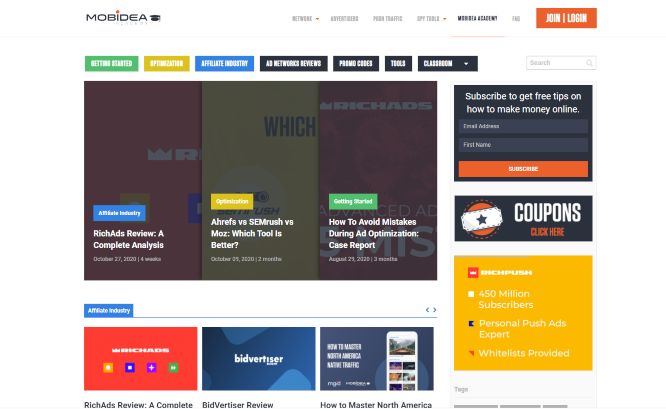 Main slogan: A different kind of network. Mobidea is a whole other game, join us and experience the network where a passion becomes your profession.
Overview: Mobidea is an affiliate network. They provide a range of tools for affiliates and a dashboard where publishers and advertisers keep track of their activity and sales.
Like Admitad, they care about their members, they want you to succeed because when you make money, they make money.
There are training resources both for publishers and advertisers. They are experts in CPA marketing and Push ads.
Categories of courses:
Getting started
Optimization
Affiliate industry
Ad networks reviews
Promo codes
Tools
downloadable affiliate guides 
Classroom (resources, affiliate marketing glossary, learning paths, learn the platform)
Examples of courses:
Push ads: the essential guide for affiliate marketers
How to use social data to launch a successful campaign
CPA marketing: a step-by-step guide
Push notifications essentials from Zeropark
eCommerce and affiliate marketing: the dream team
A step-by-step guide to find expired domains
Content mapping made simple
Why SERP analysis is crucial for SEO
eCommerce landing pages: all you need to know
How to master North America's native traffic
Covid-19 and affiliate marketing: any gold
Bidvertiser ad network review
Adcash ad network review
The best affiliate marketing tools (free and paid)
How to get ahead of the curve in media buying
How to get started in media buying
Getting started with Mobidea
Mobidea is a trusted resource for affiliate marketing training and a platform that is growing day by day. The training resources are endless and they always provide new content. 
As I mentioned in the prologue, all the programs in this list are handpicked very carefully, and Mobidea is not included by accident.
If you want to become a successful media buyer and top up your game with push ads and similar traffic methods, then look no further than Mobidea Academy.
Matt McWilliams – No Product No Problem
Main slogan: Make money online without creating a product.
Overview: No Product No Problem is a marketing course created by Matt McWilliams and aims to teach affiliate marketing to aspiring entrepreneurs.
Matt is an exceptional marketer and an award-winning affiliate manager. He has helped top industry names launch their products empowering affiliate partners, names like Ray Edwards, Brian Tracy, Lewis Howes, Shutterfly, Peter Voogd, Claire Diaz-Ortiz, Ziglar Inc., and Jeff Goins.
He has helped me 3X my online income in a few short months when he discovered my blog back in 2016. 
In 2010 he was recognized as the top Affiliate Marketing Manager in the world by the Affiliate Summit Pinnacle Awards and he's won numerous other awards in that field as well.
He has over a decade and a half of affiliate marketing experience across multiple industries and has taught over 123,000 affiliates make money in affiliate marketing and now he's put everything he knows into No Product No Problem to help his audience make their first dollar online in affiliate marketing.
Training curriculum (9 modules – 80+ lessons in video and other material) :
The basics (history of affiliate marketing, how it works, benefits, why companies want you, who's doing it, different ways to promote offers, different models
Mindset (intro,m how to sell, avatar, what to focus on, small list, I didn't use the product, without a website, my audience does not buy, losing subscribers, comparisons, naysayers)
Find programs (intro, the first rule, ways to find programs, if there is no affiliate program, guarantee acceptance, if you get declined, promoting competitors, how to decide what to promote, next steps, how many programs, top recommended programs)
Legal/Rules (intro, consequences, FTC rules, program rules, paid advertising)
Promo prep (intro, content creation, promotional goals, sequence of success, conditioning your audience, calendar and plan, warming up your audience, different material, paid ads, go all in)
Selling (intro, basics, best practices, fear of selling, copywriting, selling in email, swipe copy, blog posts, podcasts, video, ninja tactics)
Finish strong (intro, from free to paid, opt-ins, when someone buys, closing sales, staying motivated, the extra mile)
Post promo (intro, promo recap, future plan, build relationships, your buyers, housekeeping, getting paid, promote more without fatigue, next steps)
Different promotions: intro, digital courses, book launches, physical products, live events, summits, webinars, evergreen, affiliate offers in books)
Matt is an exceptional affiliate marketer, an affiliate manager that top-industry names trust and run their promos and launches with his help, and he has helped thousands of students worldwide, and he's responsible for my affiliate-side of business growth as well.
No product no problem is a comprehensive, top-class affiliate marketing training, that comes bundled with a huge package of bonuses (swipe files, templates, case studies, private community, live coaching calls, other training programs, and various resources).
Succeeding in affiliate marketing with this training program is guaranteed, if you devote yourself to learning, practicing, and putting your knowledge into action.
Unfortunately, NPNP is only available once in a year, the registration doors open up for a limited time, usually 7-10 days.
But you can join the waitlist.
Special Bonus: if you enroll in the No Product No Problem training through our links, then we offer an extra pack of huge marketing bonuses to complement your decision and to help you succeed.
Main Slogan: a platform designed for affiliate marketers of all levels. Whether you are just getting started, have some experience, or are an ultra-successful affiliate marketer, WA is made for you.
Overview: A complete business package for aspiring entrepreneurs. Top-notch marketing education and various marketing and management tools to build an online business such as website builder, hosting, domains, keyword and niche market research tools, community, forum, all under one roof.
This is where I learned the ropes of the online business, this is my everyday hangout with other like-minded marketers. Thousands of successful members have built extraordinary careers thanks to the powerful training.
WA started back in 2005 and only continues to grow. The platform's constantly evolving to meet the latest tech and marketing trends. A top recommended solution at very affordable prices.
The training goes very deep, especially the video webinars by Jay Neill. Every Friday Jay shares an over his shoulder training like no other on the planet. Full case studies divided into parts where he demonstrates website creation and development from start to finish, from an idea to revenue in any niche of the market. Hot marketing topics, regular SEO, keyword, and local marketing updates, paid advertising, social media, in a very friendly atmosphere.
There are courses available both for free members and premium.
Categories of courses:
Online entrepreneur certification (5 courses, 50 lessons: getting started, traffic producing website, making money, social engagement, content creation)
Affiliate Bootcamp (7 courses, 70 lessons: getting your business rolling, content, keywords, and conversions, social value, get a brand through visual media, knowing your audience and catapulting your referrals, PPC marketing, scale successful PPC campaigns)
Live video class with Jay Neill
Video classes by community experts
Classrooms
Examples of courses:
Affiliate marketing for beginners
Making money online
Traffic producing websites
Social media
PPC advertising
SEO and keyword research
Market research
4 steps to creating a successful business online
How to generate unlimited content ideas for any website
Becoming an authority copywriter
YouTube foundation
Hiring expert freelance writers
Picking up your perfect and profitable niche
SEO plus – advanced SEO optimization strategies
Building a pandemic-proof business in 2021
How to use WA to sell your own products
Optimize your business for 5x efficiency
Structuring your videos for high-watch rates
Social media research
Popular keyword research tools
Video creation and editing
Monetization strategies
Email marketing core concepts
Typography and colors
Components that make a beautiful website
Reviews for local businesses
You won't find a more comprehensive training program for all things affiliate and online marketing.
They cover every aspect of this business model.
The training courses are literally endless and new content is being published daily.
This is the community and portal that helped me build my business from scratch with no prior experience in online marketing.
There are thousands of members hanging out daily to the live chat, the forum, and produce content. And they willing to help anyone in the blink of an eye.
A top-recommended platform for beginners and for advanced marketers.
Their suite of products makes this portal a no-brainer. Website builder, hosting services, keyword, market, and competition research tool, domain names provider, live chat, content creation platform, and so much more.
Special Bonus: if you join the Wealthy Affiliate community through our links, and you stay satisfied with their training and resources. then we offer an extra pack of huge marketing bonuses to complement your decision and to help you succeed.
WebMarketSupport – Marketing Publishing Mastery
Main Slogan: Promote other companies' products and services for commissions, master every aspect of affiliate marketing, and become a brand by developing your own products 
The most flexible online business model. A multi-billion dollar industry. Just connect consumers with brands by sharing information on your websites. Marketing and business training via private live video-calls for brands and aspiring entrepreneurs.
Overview: the marketing publishing mastery is part of our newly released private training workshops. 
Since 2015, WebMarketSupport, the site you are on right now, helped hundreds of companies sell more of their products and services and helped them acquire qualified leads as a marketing partner/publisher.
Now WMS offers exclusive marketing and business services as an agency as well and it's an advertising platform where advertisers from all over the globe get featured on our pages, lists, and catalogs.
Also, there are free educational guides, resources, and a very active blog where various contributors share their insights.
The "Marketing Publishing Mastery" is not the typical training program where you read articles or watch videos on your own. 
All the lessons are being delivered online via live video-calls on Zoom or Skype, 1-on-1.
It's interactive training and there's a lot of homework, too.
Training curriculum:
What is affiliate marketing
History
Key benefits
Why companies need you
Mindset
Legal
Statistics
Pricing models
Keyword, market, and competition research
Profitable niche markets
Affiliate website examples and types
Building a website
Content creation
SEO
Advertising and affiliate networks
Joining affiliate networks
Working with affiliate managers
Promoting products and services
Connecting effectively with people
Overcoming fear of writing and producing
Earning money through product reviews
Popular ways to make money with blogging
Becoming an expert
Adding multiple streams of income
Hiring and outsourcing
Tools and resources
PLUS
A pack of 8 bonuses
This training goes above and beyond other affiliate training programs, as it is not only a typical affiliate marketing training.
When you'll master the affiliate marketing arena, we will dive deeper into the online business world, and we will teach you how to become a real "Brand" and how to develop your own products and services. 
We Teach
Marketing & 

Business
Promote other companies' products and services for commissions, master every aspect of affiliate marketing, and become a brand by developing your own products 
Live on Zoom
Your host: Tasos Perte Tzortzis
Schedule an interview so we can evaluate where you are right now, your needs and goals, and we'll give you a detailed analysis of how the workshops work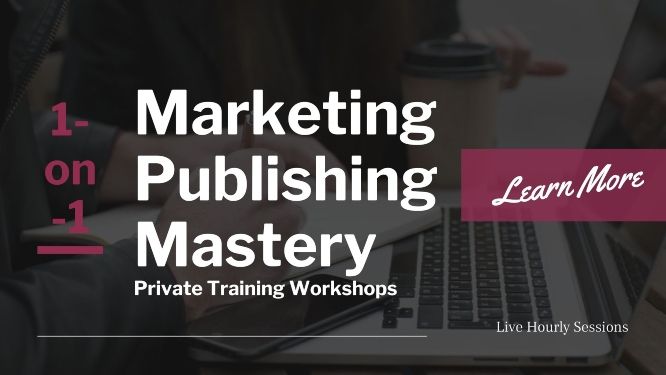 There you have it, a list of the most comprehensive affiliate marketing training programs. I am sure that no matter which program you'll choose, you'll become a fully-equipped publishing ninja.
These are all tested and proven programs that I personally have gone through.
And if you need help in your affiliate marketing journey, you can check the related resources below. Or you can get in contact with us.
I look forward to seeing your next affiliate marketing success story.
That's it, another article has finished, here on Web Market Support. I am waiting for your comments and thoughts.

Tasos Perte Tzortzis
Business Organisation & Administration, Marketing Consultant, Creator of the "7 Ideals" Methodology
Although doing traditional business offline since 1992, I fell in love with online marketing in late 2014 and have helped hundreds of brands sell more of their products and services. Founder of WebMarketSupport, Muvimag, Summer Dream.
Reading, arts, science, chess, coffee, tea, swimming, Audi, and family comes first.
Some of the links on this page are "affiliate links". For more information, I refer you to the Disclaimer page.