Project Next Is Open Until May 20
Is This Day One or Just One Day?
KK discussed the strongest need of a human being that she learned from entrepreneurs with vast experience. And that is to remain consistent with how they identify themselves. 
And why does this matter to us? 
Because we've been exposed to the knowledge industry, we learned from some incredible humans, we gained new knowledge and capabilities, and these opened our eyes to a new opportunity that maybe did not see before.
So, what's your new standard? What kind of person creates this future? What kind of decision-maker are you? What kind of energy do you have? How do you sell? How do you display your passion? How do you love your community? 
KK invited us to start today from a new place. Let's coach ourselves every moment of the day to act in alignment with who we really are. 
Because we are not the same people as we were before this event started.
Today's challenge was about thriving and shining.
Day's 5 content is all about implementation.
Let's see what happened today…
Own Your Future Challenge
5-Day Free Virtual Event – Day 4 Recap
Today 2 pm ET
Another epic production, they were broadcasting on Facebook, YouTube, and Zoom (VIP) simultaneously.
Dean started out by mentioning that every day the viewership gets a little bit less. Some people watch the replays. It gets a little less because people give up on themselves. And it's sad, they miss out on huge opportunities, capabilities, the ability to shift and change.
Dean congratulates those that feel uncomfortable but move on anyway. 
We navigated new territories, we became new versions of ourselves, even in micro-doses. 
Dean received a text message yesterday from a dear friend who is in this business for a long time. And he said the last day was the most profound day in his life. 
And he received a text from his dad saying I've been watching you forever, but yesterday was the most profound day ever. 
When we can look through the lens of service, it changes everything.
Here's a new kind of exercise, it's not homework or challenge-related. Go someplace for 10 minutes, and truly visualize your life one year from today, just let yourself dream, Don't get to the tyranny of "how", visualize if this was the best year of your life. What does it look like?
Then Dean explained what entrepreneurs really do. He said…We make stuff up, and then we make things real.
He underlined that in today's challenge, we are going to take away the fear of sharing our message with the world.
Dean shared the story, teach, action framework. 
A very elegant framework to get people hooked on what is about to happen, motivated, and get them learning. 
Events and live presentations that start out with technical stuff all the way through the end leave us overwhelmed to death.
On the other hand, events that are motivational and inspiring, but there's nothing else to do like a call-to-action leave us feeling good but we don't know what to do next.
Dean taught the framework by picking up attendees to participate in real-time.
Then, he discussed that it's time for us to use social media to our advantage instead of the other way around. Don't be a consumer, be the person who is putting out the content. Use it to find the ideal people that need your message and offers. 
Rachel Miller, a social media organic growth hacker, and mom blogger published multiple books, sold 100,000 copies and more, and she is a mom of 6 kids. 
She shared her incredible story and how she was literally unemployable. 
So she started talking to people online. 
Then, she discussed her framework for social media. First, you need to find where your ideal people are. This is when the magic starts. You only need 100 people to be obsessed with what you reach. they will bring in people and you'll grow your community. Then you have a whole movement. 
But how do we find those people? The strategy is made up of 3 things: post a 15-question on your social media profile, in a group you're in or you own. These questions are not about you and your products. These are questions to find your first 100 people. 
Questions like who else is a mom, who else is your…your niche. Or you know you are a …dog trainer…if…blank.
Then add those who respond to an interest list. Facebook for example lets you segment people. Then you need to interact with this list. You have to intentional with these relationships. 
The next step is to use the message you have inside you and tell those people about it. 
The next guests, Bossbabes entered the stage dancing.
They were so excited for being on this stage with people like Dean, Tony, and the others.
They could not even believe that Dean Graziosi one day made a phone call to invite them to this huge event.
And they shared their story of how it all started. They were humble and hungry for more. Like all of us are.
don't wait for the inner negative voice inside you, disappear. That will never happen. You don't need to know all the steps you need to take, just do one step at a time and you'll find out how to continue.
Do something every single day, be consistent.
Put a time in your calendar, at least three times a week, to work on what's next for you. 
Text or call a family member or a friend, and let them know what you're thinking. Let them know you're ready for something and that is scary, and you have no idea what is going to happen. Let them know you want to stay accountable.
Next, we had Glo Atanmo. 
Glo started out by sharing an amazing story when she was only 11 years old. She was in school and had to pick up a profession she wanted to follow for the rest of her life by choosing one of 30 or so cards. 
But she could not pick one as all the other kids did.
And when her teacher called her and she stood up, she said to her…go home and find out what the word "entrepreneur" means. 
And when she read about the definition she felt like this was a calling. 
Then she shared the story of what she got started by having a blog and how she tried so many different options, every time with a new blog. 
She was changing her niche, her dot, constantly until she was able to discover the one thing she was meant to do. 
Then she shared the story of her operation surgery. 
She explained that everyone can make it on their own.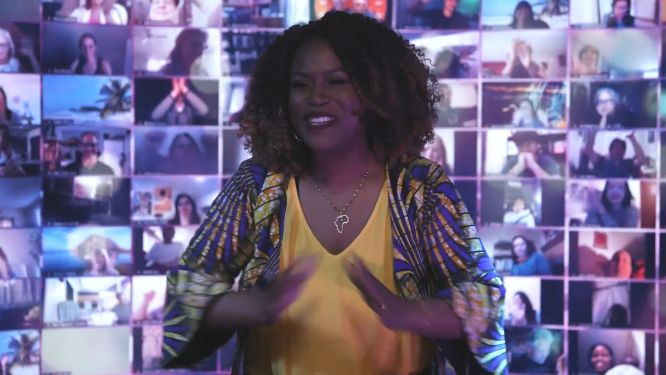 At the end of the session Karisha, assigned homework.
Besides, this is what challenges are all about. Getting challenged.
What a winning training formula looks like? inspiration (story), tactical (teach), anchor tool, action.
There 4 tasks to complete in less than 3 minutes inside the private Facebook group:
Brainstorm 3 scenes from your past that could turn into a story for you to reference as you train
Circle one scene that you could build out to be a "signature story" for you to share when you train.
What is an old limiting belief around sharing your story to teach others?
Leaning into your new empowering belief system, how would you share this story to help your
ideal client overcome THEIR limiting beliefs?
This time, the extra VIP session was all pure Q&A sessions. Dean and Glo answered specific questions people had about their businesses and how to enter the self-education industry.
We listened to a coach that wanted to become unique and show up as different and Dean explained that he had to change the way he was doing marketing. 
We listened to an educator from Canada that he was anxious about what to teach and Glo opened his heart.
And we listened to some other amazing people that were afraid that no one would ever listen to them but Dean and Glo laid out the path for them. 
Again, a session that I will remember forever.
Today is the most important day
The digital industries are growing even during these insane times.
The virtual world is stronger than ever before, and there is room for everyone.
This is when you can gain momentum and make things happen instead of just watching and waiting for something to change.
You know that's not going to happen.
Things happen when we move forward and we step up our game.
Today, Dean is going to reveal how you can implement all this knowledge and transform it into a real business. 
Implementation, the one thing that separates us from success. 
Learning and educating is one thing, and implementing is a whole new level.
Information without implementation is just procrastination.
I'll see you there.
That's it, another article has finished, here on Web Market Support. I am waiting for your comments and thoughts. Till next time.
Power To Pivot
1-Day Live Virtual Immersion Workshop
THURSDAY JULY 15TH @ 9AM PT | 12PM ET
*A secret industry that's exponentially growing even during those unprecedented times
Dean Graziosi & Guests
Inside this 1-DAY live interactive training, you will discover how to take advantage of your own assets to build a better future:
Stop playing small, start or scale your own thing & THRIVE
Gain the roadmap to confidently pivot and take advantage of this window of opportunity
Pivot your thinking
Pivot your plan
Pivot your action
This advertisement is sponsored. For more information, I refer you to the disclaimer page
Tasos Perte Tzortzis
Marketing Consultant, Creator of the "7 Ideals" Methodology
Although doing traditional business offline since 1992, I fell in love with online marketing in late 2014 and have helped hundreds of brands sell more of their products and services. Founder of WebMarketSupport, Muvimag, SummerDream.
I enjoy reading, arts, science, chess, coffee, swimming, Audi, and playing with my kids.
Some of the links on this page are affiliate links. For more information, I refer you to the disclaimer page.