Self-Education is an emerging industry and I was part of it for many years. A great feeling!
And I predict that this industry will surpass other bigger industries – and not just in terms of revenue or number of customers.
Is this a bold statement?
More of a reality.
And here's what I think is the main reason:
Universities and Colleges got left behind.
Students don't want to be in debt. For many decades, we've seen millions of students go broke. Universities and Colleges cost a fortune and what you learn there are not always things you can apply immediately in business and life.
On top of that, knowledge acquired from these sources can become obsolete as things change faster than ever before. Society is changing, technology evolves, and technically nothing stays the same.
Self-Education Is Becoming The New Norm
Robert Kiyosaki Is On Fire
In an interview with Dr. Patrick Gentempo and Robert Kiyosaki, Robert reveals that he quickly discovered that we are taught to get a degree, get a job, and work for money for the rest of our lives. But this was a road he would not follow by any means.
Robert believes that the "educational" system is responsible for the rise of socialism, communism, and fascism, and even anger against the rich. It happens because they don't teach us about money at school.
I received amazing knowledge during my university times. The Business Administration curriculum was extraordinary.
I learned how to manage, organize, and scale businesses, production, economics, sociology, mathematics, accounting, English, and of course, marketing.
This is when I first came across these beautiful sciences.
There was a problem though.
It was all plain theory, no implementation, no action.
There was knowledge – but not so much of a vision – professors did not really intrigue us into following our dreams, nor did they feel passionate about their positions as educators, of course, this comes with exceptions. There were professors you would not want to miss at all. 
Without vision and action, it's a dead game.
Here's the thing.
Universities and colleges are designed to propel people to become employees of big companies and corporations.
Not a big vision, at least for me, that is why the question mark.
And this is when the action takes place; when you become an employee.
This is not necessarily a bad thing. You can have an amazing job that gives you financial freedom and you can climb up the ladder and become a manager, director, and so on.
But being an entrepreneur is who new world, you get creative and adventurous, and you get to change people's lives, that's something you need to experience in order to fully understand it.
There's a Japanese proverb…
Action without vision is a nightmare. Vision without action is a daydream.
I used the proverb in reverse order for a reason.
As we can see, vision and action should work together, in unison, the one feeds the other. A well-equipped entrepreneur is one that has the vision but also takes immediate action. An unstoppable entrepreneur is also someone who believes in things before they even see them. 
But you see I had the vision long before I entered the higher-education levels.
It was infused in me by my parents, both entrepreneurs and partners for life, many of their friends, and other relatives.
And when I was in the University this vision grew with me.
I had the chance to follow my dream from day one. I was studying and working a few hours at my family's manufacturing company and when I graduated, my parents retired and I became the boss.
However, the majority of my colleagues did not have the capital needed to build their own business back in the '90s.
There was no internet back then, and opening just a brick-and-mortar store would cost a lot of money.
So the vast majority of students were trapped in the system.
Get a degree, get a job, and work for the rest of your life for others.
This was not my dream.
When I expanded online back in December 2014, I've entered the self-education world without even knowing it.
I enrolled in training programs, I took independent courses, I've watched countless webinars, presentations, educational and how-to videos, and I've been to seminars.
I've read 1000's of blogs and articles and created 100's of blogs myself.
I've subscribed to giant publications and followed industry leaders and experts.
I've read and studied emails and newsletters.
I've participated in forums, communities, and networks. I've discussed this with other entrepreneurs, marketers, and partners.
I've read books like a maniac.
I've attended masterminds.
And still do, this is part of my everyday life.
In the last 5 years, I've learned way more than I did when I was at the University of Business Administration. 10x more, or even 50x or 100x. 
Why?
Universities are teaching important topics but without having an implementation plan. There's no action. Without practice, you can't forward in business, that's for sure.
I've been at the top of the news and I watched technology change. I was an early adopter.
I've studied and continue to study anything related to business, marketing and advertising, sales, web design, human psychology, etc…
I've acquired new skills that are necessary to fuel my business.
I was able to transform a simple marketing blog into an agency and for the first time 1 and a half years ago, I've got a client in the local market.
And I have some good news to share today. I'm packing all this knowledge in our upcoming training workshops. We kick things off with the model of marketing publisher.
Ordinary people like you and I don't seek out for professionals and college degrees.
They need skills they can use today in their business and life.
They seek advice from people that are active in their field and are successful.
They want to be part of a tribe, a community of like-minded entrepreneurs and students.
They need action and they need it now.
People are wondering…should I go back to college or stick with this job or let me go find somebody who's already done what I want to do and pay them to condense decades of knowledge into days.
It's no secret that the training landscape has changed dramatically over the past ten years as eLearning and mobile technologies have gone from early-adopter novelties to mainstream essentials.
In 2011, 77% of American Corporations were using online learning (in 1995 this number was only 4%)
The eLearning market is now more than 13 years old (the word "e-learning" was coined in 1998).
Self-study e-learning (asynchronous) is on the rise now accounting for 15 % of all training delivered.
American corporations using online learning in 2011
How old is the eLearning market in years
Self-study eLearning percentage in the market
According to Forbes, E-Learning is the future. Market research firm Global Industry Analysts projected "E Learning" would reach $107 Billion in 2015 and it did. Now, Research and Markets forecasts show triple the revenue of 2015 – e-learning will grow to $325 Billion by 2025.
That's nearly $1 billion a day. 
eLearning market's revenue by 2025 in billions of dollars
And here are more data and facts:
Giant companies like Google, Costco, WholeFoods, Starbucks, or Apple don't ask for degrees or credentials.
The rise of platforms like Udemy, Skillshare, Coursera, CreativeLive, or Teachable where you can learn from others any topic, any subject, any profession, in detail.
The rise of training programs like those included in our ELITE list. Programs created by industry leaders like Eben Pagan, Steve Olsher, Kevin Harrington, Jeff Walker, Dean Graziosi, and Tony Robbins, and so many more.
If you're a student, if you just graduated high-school, even if you're a retiree or an aspiring entrepreneur don't wait one more day. Take your future in your hands.
Information is here and is everywhere. 
But, of course, not all resources are equal. 
And one more thing, even more important: you need to apply what you learn immediately, stay active, and you won't fail. That's a promise.
That's it, another article has finished, here on Web Market Support. I am waiting for your comments and thoughts. Till next time.
We Teach
Marketing &
 Business
Live on Zoom
Your host: Tasos Perte Tzortzis
Schedule an interview so we can evaluate where you are right now, your needs and goals, and we'll give you a detailed analysis of how the workshops work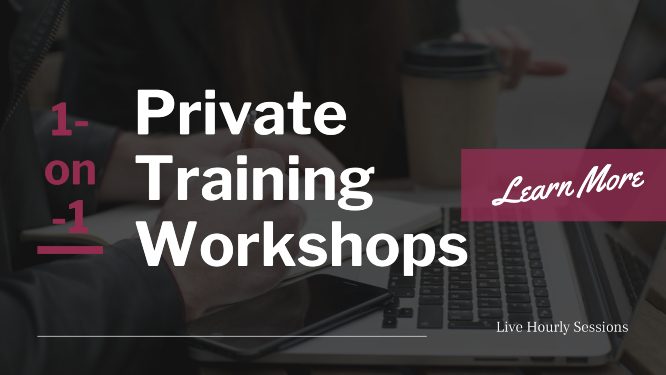 Tasos Perte Tzortzis
Business Organisation & Administration, Marketing Consultant, Creator of the "7 Ideals" Methodology
Although doing traditional business offline since 1992, I fell in love with online marketing in late 2014 and have helped hundreds of brands sell more of their products and services. Founder of WebMarketSupport, Muvimag, Summer Dream.
Reading, arts, science, chess, coffee, tea, swimming, Audi, and family comes first.