Last Updated: Feb 25, 2019
Today I am reviewing another marketplace, in which you can find creative media for your projects, clients or personal needs. Images, music, footage, sound fx, after effects, 3D models. That kind of marketplaces is where artists from around the world meet, communicate, exchange ideas and share their projects.
Not only, but this way artists without or with little online presence are now able to sell their artwork due to the high traffic of these communities. The marketplaces get their cut of the final price and the customers can choose from a wide variety of quality products.
Inside Pond5
Website: Pond5
Let's mention some of their headlines
Bring your vision to life without compromise
Find inspiration by searching the largest library of royalty free HD and 4k stock video
We're here to power every stage of your creative process
Interested in selling media on Pond5?
Our High Quality collection is constantly expanding
6,360,772 video clips
15,000 AE projects
466,000 music tracks
747,000 sound effects
11,467,800 stock photos
4,337,600 illustrations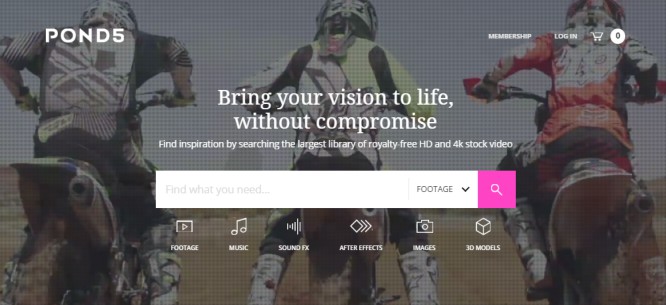 Among their clients, you will spot
ABC, NBC, BBC, National Geographic channel, MTV, The Wall Street Journal
How to Make Money Online as a Designer
Media Categories with Examples
Video Footage
Some of the departments are
360VR, 4k, Abstract, Aerial, animals
Backgrounds, beach, business, celebration, clouds
Earth, ecology, explosion, film, fire, fireworks
Hospital, inspirational, lifestyle, loop
Medicine, military, money, nature, news, R3d, sea
Smoke, snow, space, sport, sunrise, tablet, technology
Timelapse, vintage, water, wedding, winter
Example: Video footage Aerial of New York – 4K 195€, HD 137€
Every week they deliver one video free of charge to their subscribers via email. Those videos can be used for commercial purposes as well under their standard license.
Music Tracks
Acoustic, action, ambient, background, business, Christmas, cinematic
Corporate, dramatic, epic, fun, happy, optimistic, piano
Rock, suspense, trailer, upbeat, uplifting
Example: Rainbow jet blaster 60 sec background 98€
Sound effects
Ambience, applause, bell, bird, car, cartoon, crowd, doorbell
Drum, fire, funny, game, gun, nature, ocean, police, pop
Rain, scary, siren, whoosh
Example: Ship explosion near 5sec 3€
After effects
3D, animation, backgrounds, commercial, hi tech, holidays, intros, logos, motion tracking
News, photo, slideshows, sports, titles, transitions, TV, weddings
Example; 7 Logo reveal pack Cs4 – 18€
Photography – illustrations – Vectors – PSD5
Basketball, beach, car, fashion, food, kitchen, medical
Music, scary, technology
Abstract, flower, map, texture, vintage
Background, business card, green screen, tricaster
Example: Motorbike in the road S81€, M103€, L125€, XL147€
3D models
Aircraft, anatomy, animated, architectural, building, character, city
Earth, female, game, heart, iPhone, male, medieval, military, molecule
Planet, Sci-fi, spaceship, vehicle
Example: This is Sparta 39€
Social Media Videos
Update Feb 25, 2019:
Pond5 announced a new department where you can create videos for social media. You can upload your own video or use any of their collection.
Templates examples:
Creative, travel, professional
Spring, style, winter
Happy, animals, fitness
Food, real estate, belief
How it works
Select a video
Add text
Choose music
Upload a logo
Export and share
They promise a total production time of 2 minutes.
Pond5 Blog
Examples
Education Pro tips: how to shoot with a gimbal stabilizer
6 tools for shooting high-quality films on your smartphone
Everything you need to build your home recording studio
Colour correction basics using Adobe Premiere
6 apps to inspire your creativity and brainstorming
How to Make Money Online as a Designer
Sell your Media
Share your vision, set your price
When you upload your work to sell on Pond5 you set the price and earn 50% of every sale
Pond5 can connect you with tens of thousands of buyers worldwide.
All these agreements between sellers and Pond5 are non-exclusive, leaving you free to distribute your work anywhere you choose.
Careers
Available positions
Data analyst – Prague – Czech Republic – full time
Chief marketing officer / general manager -New York – full time
Front end developer – Dublin – Ireland – full time
Assistant Accountant – Dublin – full time
Head of FP&A – New York – full time
English to Brazilian Portuguese translator – remote workplace – part time
English to Finnish translator – remote – part time
English to French translator – remote – part time
English to German translator – remote – part time
Inside sales executive / digital media – Los Angeles & New York – both full time
The Public Domain Project
Download thousands of historic media files for your creative projects completely free of charge.
Footage 9769 files
Audio 2754 files
Images 63883 files
3D models 121 files
Pond5 Memberships
Members get access to a curated collection of Pond5's best content and can download any of it for free.
But not all Pond5's content is included in those memberships, you have access to
200,000 HD and 4k videos
15,000 music files and SFX
200,000 images
Pro members get 5 downloads per month and premium members get 10 downloads per month
If you need anything else from the whole library you get a 10% discount.
Pro – 70€ monthly, or 549€ yearly
Premium – 136€ monthly, or 822€ yearly
Affiliate Program
Update: The Affiliate program discontinued.
Spread the word and earn money in the process. You get 5% on your referrals purchases within their first year.
But they also mention that you get $25 when you refer friends and they make their first purchases.
Final Words
Pond5 is another awesome marketplace with a huge collection of digital files that you can use for your creative projects.
I believe their prices are above the average but you can have a look for yourself.
The quality of the files is high and their video department is one of the largest in the market.
Related
Other Design Resources
Related Resources
How to Make Money Online as a Designer
That's it, another review has finished, here on Web Market Support. I look forward to seeing your next creative project online and I am waiting for your comments and thoughts, Till next time.