What we covered so far:
April 11: we broadcasted the

 

1st live training session. We discussed the tremendous opportunity associated with podcasting and social audio and why now is the best time for brands, entrepreneurs, and people that want to share their message to invest in these mediums. And most importantly, we helped clarify what an ideal audience is, how to identify your own niche market, your target audience, and we gave numerous examples. Targeting the right people is critical for any business and it's the first step towards success.
April 12: Steve Olsher gave away a free lifetime digital subscription to the "Podcast Magazine".
April 13: Steve broadcasted his 1st live training masterclass – The Rise of Podcasting 2.0.
April 14: Steve gave away free access to "The Ultimate Directory of Podcasters 2021". The directory will sell for $297 in May. Grab it now.
April 15: We broadcasted our 2nd training. This time we delivered a webinar.

 

The Social Audio Revolution Part 2 – Marketing & Planning. We discuss various marketing channels and strategies that you can use to increase your visibility and authority online, what is direct response marketing and branding, how to plan and prepare your podcast show, how to approach and pitch podcasting icons, medium-sized influencers, and hosts, and we give you an overview of Steve's 2 training sessions. You can watch the replay and download the slides.
April 15: Steve broadcasted his 2nd live training masterclass – The 5 Audio Domination Profit Paths.
And today, Steve is giving away a brand new eBook – Crushing it with Clubhouse, how to dominate the social audio app that took the world by storm
STEVE OLSHER'S AUDIO DOMINATION
TRAINING SUITE OPEN UNTIL APR 25
Full review 
Video overview
Extra Bonuses (private FB group, done-for-you and done-with-you marketing services, 2 complete sales funnels)
Steve Olsher – Crushing it with Clubhouse
He's known as:
the podcasting icon!
He's been podcasting since 2009, he's kind of old.
Founder & Editor-In-Chief of Podcast Magazine®
30+ year entrepreneur and creator of

 

four multimillion-dollar businesses
* Founder & Editor-In-Chief of

 

Podcast Magazine®
* Creator of the largest podcast-specific 'Club' on Clubhouse,

 

ClubPod™
* Host of the #1 rated podcast, Reinvention Radio 
*

 

NY Times bestselling author

 

of

 

What Is Your WHAT? Discover The ONE Amazing Thing You Were Born To Do
* International keynote and

 

TEDx speaker
* Creator & Host of

 

The New Media Summit

 

where the world's top podcasters gather to share best practices and book guests for their high-visibility platforms…

 

on the spot!
Crushing it with Clubhouse
Clubhouse, since its inception one year ago, in April 2020, as a new social audio platform, has exploded and became quickly mainstream. 
It was not the only app out there but people loved it.
Steve was one of the early adopters as he started experimenting in December 2020. 
Others got in earlier than him, obviously.
But he managed to build the #1 podcast-dedicated club on Clubhouse, called "ClubPod".
How ordinary are making extraordinary money leveraging the power of this emerging audio platform
This is the subtitle of Steve's brand new book.
Steve mentions in the introduction…
As an early adopter of Clubhouse, I started one of the first podcasting clubs, ClubPod™, on the platform and grew it to become the largest podcast-specific club on ALL of Clubhouse, with over 52,000 members and followers…In less than 90 days. I believe Clubhouse, and the medium of social audio has created NEW opportunities for entrepreneurs that we haven't seen in at least a decade, if ever, including:
Unprecedented access to influencers, thought leaders, business executives, celebrities, and even billionaires
Free traffic to fill your virtual workshops, seminars, or events with no restrictions for self-promotion or making offers
Creating lead gen and profit opportunities for yourself 24 hours a day, 7 days a week with international audiences being active during all hours of the night
Performing market research by asking your audience questions and making note of the questions asked
Virtually limitless potential to create visibility, generate leads, and ultimately drive SERIOUS profits
How to network with influential people & turn relationships into stage time (this strategy works for both podcasts and Clubhouse).
How to launch and grow a club to 1K+ members fast. 
Moderate rooms the right way, to establish expert authority, attract qualified leads and set yourself up future sales conversations.
What's included:
What is Clubhouse?
How do you get into Clubhouse?
Completing your initial registration
Setting up your profile
A highlight of Clubhouse lingo
Your first week
Creating your club
Building your club
Giving value and serving
Podcasting/recording a room
Clubhouse etiquette
Clubhouse enhancing tools
Clubhouse tools & resources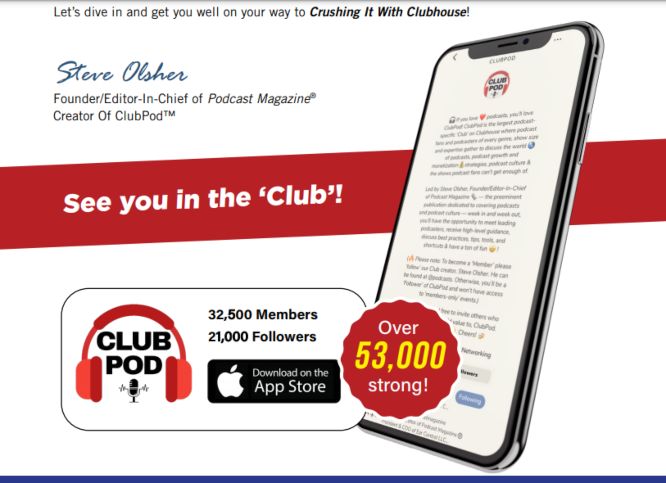 Steve Olsher's Podcasting Background
He has been podcasting since 2009 and got featured on over 500 shows in the past 3 years. He appeared in shows like Click Funnels Hacker Radio, the Go-Giver podcast, Mixergy, the Foundr Magazine's podcast, and many others. He was able to convert this No-Cost visibility into over 100,000 leads and serious revenue.
He is the host of the #1 podcasting show – The Reinvention Radio, and the Best Business Podcast. Additionally, he is a New York Times bestselling author of "What is Your What?", founder of Liquor.com, pioneer of the CompuServe launched in 1993, and creator of the New Media Summit.
And of course, he's the man behind Profiting from Podcasts, the best and most comprehensive training in the world that helps people leverage the power of podcasts and turn their visibility into cash.
If you want to step up your social audio game with Clubhouse and other platforms, and if you want to dominate the audio app by appearing on other people's clubs and rooms, then this book will show you how to do that.
Steve is a podcasting icon and social audio expert.
But I'm also giving you another exclusive bonus just for grabbing this free resource.
We host a series of training series where we not only discuss social audio and podcasting but we teach you how to market and grow your shows and social voice.
You'll get access to the training and all the replays, the webinars, the slides, worksheets, and all the free material we are releasing.
We broadcasted 2 training sessions, and you'll get immediate access by registering below. We go live on Sunday, Apr 18 as well for the 3rd training session. 
The Crushing it with Clubhouse free book is another high-quality resource by Steve.
A well-written and professionally designed book that walks you through the emerging audio platform of Clubhouse.
Beyond the basics, where you get to setup your profile and learn the specific language used in this platform, Steve is helping you get small but very important wins over your first week.
He's showing you how to create a club, rooms inside the club, and schedule events. 
He takes it one step further by helping you build your club and grow it, by giving value to people and serving your target audience in a way that it feels great, amazing, and natural for you and them.
He's additionally guiding you on how to record rooms, teaches legal stuff, and provides a ton of resources.
What else would you need from a book?
Finally, I downloaded the Clubhouse app for Android just a while ago. It was about time.

I'm waiting for an invitation.
Steve Olsher's Free Resources:
That's it, another article has finished, here on Web Market Support. I am waiting for your comments and thoughts. Till next time…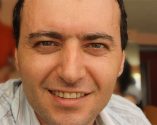 Tasos Perte Tzortzis
Marketing Specialist, Entrepreneur
Although doing traditional business offline since 1992, Tasos fell in love with online marketing in late 2014 and has helped hundreds of brands sell more of their products and services on the web.
He enjoys reading, music & arts, mathematics, chess, coffee, swimming, Audi, and playing with his kids.
Some of the links on this page are affiliate links. For more information, I refer you to the disclaimer page