We discussed podcasting and social audio a lot lately as a frame for our live training masterclass series.
Podcasting has seen tremendous growth during the last tears as medium and social audio is an emerging trend and we analyzed what that means for business owners, agencies, brands, marketers, and people that want to share their message online.
When we say "Social Audio" we refer to social media platforms and apps where we can use audio as a means of communication. We all use text, videos, emojis, GIFs, graphics, images, and other visuals to get in touch with people and brands on various social networks.
And audio is the new big thing.
What we covered so far:
April 11: we broadcasted the

 

1st live training session. We discussed the tremendous opportunity associated with podcasting and social audio and why now is the best time for brands, entrepreneurs, and people that want to share their message to invest in these mediums. And most importantly, we helped clarify what an ideal audience is, how to identify your own niche market, your target audience, and we gave numerous examples. Targeting the right people is critical for any business and it's the first step towards success.
April 15: We broadcasted our 2nd training. This time will be delivered as a recorded webinar later tonight.

 

The Social Audio Revolution Part 2 – Marketing & Planning. We discuss various marketing channels and strategies that you can use to increase your visibility and authority online, market and competition research, what is direct response marketing and branding, how to plan and prepare your podcast show, how to approach and pitch podcasting icons, medium-sized influencers, and hosts,

 

and we give you an overview of Steve's 1st session.
April 18: On Sunday, Apr 18 @ 6 pm GMT+3, we broadcasted the 3rd live training and we shared other marketing channels and strategies to enhance your authority and status, monetization strategies, sales funnels, and how you can combine social audio and podcasting together to explore your reach online.
And today we've gone live again. And we had so much fun. Thank you all!
Social Audio Revolution Part 4 REPLAY
We had some fun in today's live. 
We began with problems, of course. I had a lighting problem in my new studio. I turned my camera into black & white. It was like I was living in the first days of television.
Then I could not embed the live stream on my website.
Then I could not see comments coming through Youtube.
But this is what lives are known for.
Manina helped me out and passed the comments through the site's live chat app. 
So, we did a recap of what we covered so far in the world of social audio.
We discussed advanced marketing strategies, paid advertising, email marketing, and sales funnels.
We presented you with the new opportunity through Steve Olsher's Audio Domination training suite. And we gave a complete overview of what this program covers. The 6-week live intensive training led by Steve, the profiting from podcasts training, a standalone digital course, the done for you services like the 2 podcast bookings on other people shows, the custom media one sheet to boost your professionalism, the podcast booking software, and all the bonuses that Steve's team compiled.
And we announced our huge bonuses. A dedicated FB group where I'm going to be training you live on marketing, advertising, and sales. The done-for-you and done-with-you marketing services and the 2 complete sales funnels we are going to create for your audio business together. 
You can get all the details on this page 
Audio Domination Review & Bonuses
We also discussed the alternative opportunity if you don't want to invest in Steve's training. You can invest in our services and we'll help you with podcasting, social audio, but more importantly with marketing.
Now, Steve is a podcasting and audio expert, and you should absolutely learn from the best whenever possible. But if you don't want to enroll in Steve's training, you can choose me to continue your journey to the audio world. I'm a marketing nerd, don't worry, you're in good hands. 
I wanna thank all of you that attended the event and those who did not.
Training's Replays and Downloads
You can watch all the training replays that we broadcasted and download the worksheet and the slides on the next page.
Get Ready To Broadcast Your Brilliance With Audio
Your voice is an incredible tool that you can use to attract an ideal audience, build brand awareness, credibility, trust, and authority and monetize your online presence in numerous ways.
Register for today's live stream with Steve and a lineup of social audio rockstars where they will show you what's possible and how you can impact thousands of people using only your voice and your own unique message.
The livestream is scheduled for this Saturday, Apr, 42 @ 1 pm PT, just a couple of hours from now. I can't wait to meet you at the event.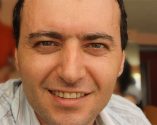 Tasos Perte Tzortzis
Marketing Specialist, Entrepreneur
Although doing traditional business offline since 1992, Tasos fell in love with online marketing in late 2014 and has helped hundreds of brands sell more of their products and services on the web.
He enjoys reading, music & arts, mathematics, chess, coffee, swimming, Audi, and playing with his kids.