Project Next New Offer May 21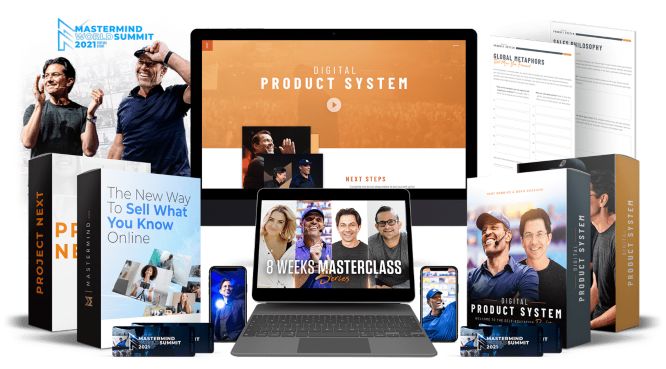 The world is officially changed after the tremendous effect of the self-education movement.
We experienced the transformation of people's lives with this magic 7+ day event (although it was announced as a 5-day event) and students had been crazy about the brand new training, Project Next.
Dean Graziosi, Tony Robbins, and their amazing guests absolutely over-delivered on their promises. 
They created this incredible event, this once-in-a-lifetime experience for all of us. 
People immersed in the knowledge industry and now they are going to impact other people's lives.
But there were issues and problems as well…

"Project Next" New Offer May 21
Project Next New Offer May 21
We got contacted by so many of you. Others could not access the training, others had registered but did not receive confirmation, and so on.
Dean's team is doing everything they can to solve all the issues. These things happen when thousands of people register at once. The servers may crash, websites receive enormous traffic, something goes wrong.
They will be resolved. Have faith.
Now, I have some good news and bad news.
The good news is that there is still a window to enter the knowledge industry and get Project Next.
But, here's the bad news, the offer that was available a few hours ago and during the challenge has gone forever.
All the bonuses from the challenge speakers are gone. 
Our DFY services and extra marketing bonus are gone.
But here's what you can get:
You can get Project Next and that includes:
The

 

digital product system: the immersion – mindset, target audience, what to sell, who to sell it to, how to create digital products, how to deliver them
the

 

8-week masterclass

 

walkthrough with Dean and guests – the repetition
A preferred ticket to the 3-day event – the mastermind world summit. The

 

VIP ticket is gone, the new option is preferred – the mastery
3 free months of the

 

mastermind platform

 

– the implementation
And

 

only these 3 initial bonuses

 

offered before the challenge – Tony Robbins – mentoring mentors, Jenna Kutcher – unleashing your creativity, Tanner Sheldon – mastermind.com A-Z
All the

 

9 extra bonuses

 

from the speakers are gone
Our 2nd bonus – the 2 complete sales funnels is gone
Our

 

1st bonus, the FB group

 

is of course available, because as we already mentioned in previous emails, this is a bonus available to everyone, whether you enroll in Project Next or not
We decided to add another bonus that is valid until May 31. Our brand new sales funnel video training. We won't be building the funnels with you as we do with our original bonus (it's a training that you go through on your own) 
You can still get Project Next for only $997, that's again a steal for them and a win-win for all of us.
And there;'s a new 6-pay plan option. You can get started with only $199. 
We don't know how long this offer will be available, so if you did not have the chance to get started yesterday, today is the second-best day you can do it.
All in all, this offer is very irresistible as well but has nothing to do with the previous one. 
I'm also available for a video call meeting with anyone that has questions.
Important: We are getting started with marketing training in the FB group | Self-Education Immersion on Monday. You can join us there, no matter if you get Project Next or not.
This group is available for everyone.
We kick things off with the entrepreneurial mindset. 
How to become a fully-equipped entrepreneur and get ready to immerse yourself in the self-education industry that is waiting for your own unique message.
Are You Going To Sit With Your Arms Crossed?
Are you going to wait for this invisible savior that is coming to help you in 2, 3, 5, or 10 years from now?
Or are you going to seize the day and take ownership of your own future?
Remember, if you don't own your future, someone else is gonna.
Are you going to take advantage of the self-education industry and learn from the best of the best? 
It's a critical moment in history and you have a once-in-a-lifetime opportunity to join this masterpiece at such an incredible price tag that won't be available ever again.
Or this is the time you are going to be left behind? By pausing, staying inactive, procrastinating, letting your inner demons take control, and then blaming yourself?
As Dean says…is this day one or is it just one day?
You get to decide.
For a full in-depth analysis, video walkthrough, pricing, guarantee, and details on my extra bonuses you can read our "Project Next" review.
That's it, another article has finished, here on Web Market Support. I am waiting for your comments and thoughts. Till next time.
Power To Pivot
1-Day Live Virtual Immersion Workshop
THURSDAY JULY 15TH @ 9AM PT | 12PM ET
*A secret industry that's exponentially growing even during those unprecedented times
Dean Graziosi & Guests
Inside this 1-DAY live interactive training, you will discover how to take advantage of your own assets to build a better future:
Stop playing small, start or scale your own thing & THRIVE
Gain the roadmap to confidently pivot and take advantage of this window of opportunity
Pivot your thinking
Pivot your plan
Pivot your action
This advertisement is sponsored. For more information, I refer you to the disclaimer page
Tasos Perte Tzortzis
Marketing Consultant, Creator of the "7 Ideals" Methodology
Although doing traditional business offline since 1992, I fell in love with online marketing in late 2014 and have helped hundreds of brands sell more of their products and services. Founder of WebMarketSupport, Muvimag, SummerDream.
I enjoy reading, arts, science, chess, coffee, swimming, Audi, and playing with my kids.
Some of the links on this page are affiliate links. For more information, I refer you to the disclaimer page.