Are you looking for ways to gain insights into people's minds? The best way to accomplish that is by asking them.
Surveys, quizzes, and polls are more popular than ever before in this digital era we line in.
They help us understand our customers and employees better so we can improve their experience and level up engagement.
We gain invaluable marketing data and perform market research to improve our products and services to meet consumers' needs.
We get feedback so that we know what is working and what doesn't.
And so much more.
We compiled a list of reliable tools and software solutions you can use to give your business a boost.
Let's dive right in!
Main slogan: A global leader in survey software. 20M questions answered daily.
Gather opinions and transform them into people-powered data.
Easily create surveys, quizzes, and polls for any audience.
Gather feedback via weblink, email, mobile chat, social media, and more.
Automatically analyze your results and get powerful analysis features.
Export your results or integrate your data with your favorite apps.
Use your insights to make better, data-driven decisions.
Related:
Survey templates (250+) – categories:
Customers
Education
Employees
Events
Healthcare
Market research
Nonprofit
Other
Business Plans:
Team advantage: €30/user/mo, billed annually
Team premier: €75/user/mo, billed annually
Enterprise: powerful admin tools, integrations, collaboration. Contact them
Personal Plans:
Standard monthly: €39/mo
Advantage annual: €36/mo, or €432 billed annually
Premier annual: €99/mo, or €1,182 billed annually
Targeted responses: Get survey responses from around the world in minutes with SurveyMonkey Audience.
Target the types of people you want to hear from based on specific attributes, like country, gender, age, income, employment status, and more.
The Basic plan is FREE.
Other products:
Enterprise: a secure survey platform
Integrations & plugins: bring survey insights into your business apps
Audience: collect survey responses from their global consumer panel
CX: understand & improve customer experience
Engage: measure & increase employee engagement
Usabilla: get in the moment feedback across all digital channels
TechValidate: create marketing content from customer feedback
Apply: collect, review, and manage applications online
Wufoo: gather data and accept payments with online forms
GetFeedback: customer feedback for SalesForce
Solutions:
People-powered data for business: customers, employees, markets
Solutions for teams: customer experience, human resources, marketing
Other departments: Resources: best practices for using surveys and survey data, Curiosity at work: blog, tips, and more, Help center: tutorials, how-to guides, and more, Community, Developers, Investor relations, Careers.
About: Locations: San Mateo, California. Portland, Oregon. Seattle, Washington. New York. Ottawa, Canada. Dublin, Ireland. London. Berlin, Germany. Amsterdam, Sydney.
With 20 years of survey expertise and insights from billions of questions answered, we fuel the curiosity of over 17.5 million active users worldwide.
Work Management Tools
Regular Updates
Main slogan: a simple and powerful online survey tool. Sign up now for free unlimited surveys, questions & responses.
What to use it for:
Research
Human resources
Customer satisfaction
Education
Events
Friends and family
Free features:
Unlimited surveys, unlimited survey questions, unlimited responses
Opening and closing messages, SSL security, over 90 pre-written surveys
2-survey player types, no data-mining or information selling
Basic survey themes, share surveys on social networks, anonymous data and responses
20 languages, share with email, basic in-app reports, duplicate surveys with a single click
Survey embedding, delete unwanted participants
Pro features:
Upload images, question branching, export results
Custom themes, results filtering, compelling survey theme templates
4-chart types for survey results, export/print surveys, custom user-created survey themes, image choice question
Opening and closing images, white-label surveys, optional comments for survey questions
Question images & custom formatting, kiosk surveys, survey length estimate
Alternative success URL redirect, email survey completion notifications, text message survey completion notifications
Plans:
Free
Pro: $20/mo or $180/year
About: founder and CEO JR Wurster.
200+
Business & Marketing Tools Collection
Work management, tracking, organizing, payments, accounting, Google, keyword, market, and competition research, SEO, analytics, and related, marketing & advertising, web development, website monitoring, domains & website hosting, coding, and related, design & multimedia, marketplaces, entrepreneurial communities, hiring & outsourcing
Main slogan: create free online surveys, quizzes, and polls. Over 3 million users worldwide since 2002.
Surveys: gather the data you need to 

make informed decisions with our free online survey tool.

Quizzes: Measure the effectiveness of staff training and test audiences with the free online quiz maker.

Forms: Collect feedback, capture leads, register guests or join members using the free online form builder.
Related:
Free, Essential, and Pro Plans Features:
All question types, cross-tab, question logic, exit pages
Slack integration, anonymous or tracked results, Excel/CSV export, form spam
Popup surveys, embedded forms, docked sidebar surveys, email surveys
Pseudonymization of IP address, minimal logging, no 3rd party analytics trackers, data ownership
API, premium EU-based infrastructure, stakeholder report sharing
Pro plan features:
Quiz/assessment scoring, mixed pseudonymization & PII, audience
Answer piping, exit page redirect, NPS ratings
Zip/postcode address lookup, A/B testing with report segmentation, custom fields
Standard Plans:
Free
Essentials: €12.99/mo billed annually or €20/mo
Pro: €25/mo
Students & non-profit plans:
Student (verified only): €2.99/mo billed annually or €7.99/mo
Schools & non-profits: €19/mo billed annually only
Business plans by KwikSurveys:
Business: €25/mo (full trial accounts available for all plan types)
KwikSample Marketplace: Purchase survey takers from our marketplace and get results within 48 hours.
Other departments:
Survey 101: tips and tricks for creating surveys
Question types: a list of all the question types
Help docs
Creating a survey
KwikSurveys
Buy survey responses
About: Problem Free Ltd. Desklodge, 1 Temple Way, Bristol. BS2 0BY, United Kingdom/. Company #:04602671. VAT: GB823579410.
Cloud Backup, Storage, Hosting
Reliable Services
Main slogan: unlimited surveys, response, and insights, all for free. Advancing Research. We enable researchers with the question types, analysis and insights to change the world. One survey at a time.
Products:
Survey software: our flagship survey solution. Sophisticated tools to get the answers you need
Research: get more insights, response-based pricing
Customer experience: CX management software
Workforce: powerful insights to create the best employee experience
Solutions:
NPS+
Academic
Audience
Contactless surveys
Mobile
Communities
Features:
20+ professional surveys themes, add your logo, skip logic branching
Google sheets integration, customizable thank you page, raw data export
24/7 email support, net promoter score, multilingual surveys
Advanced branching logic, mobile app, SPSS export
24/7 live chat & phone support, user roles & permissions, custom scripting & webhooks
Region specific data centers, sentiment analysis, heatmap analysis
Conjoint & Max-Diff, card sorting
and so much more
Plans:
Free: get started with the essentials
Advanced: $85/mo, $1,020 yearly, try for free
Team edition: $2,999/year, let's talk
Research edition: starting at $10,000/year, let's talk.
Other departments: Resources, Blog, eBooks, Templates, Case studies, Training, Help center.
About: Founded in 2008. Vivek Bhaskaran is the founder and CEO.
Online Marketplaces
The Ultimate List
(Buy and Sell Products)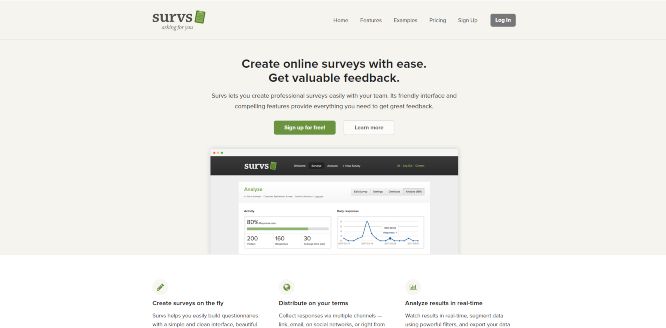 Main slogan: Create online surveys with ease. Get valuable feedback. Survs lets you create professional surveys easily with your team. Its friendly interface and compelling features provide everything you need to get great feedback.
Benefits:
Create surveys on the fly
Distribute on your terms
Analyze results in real-time
Collaborate with your team
Share results online
Friendly-support
Features:
Multiple questions types
Branded surveys
Skip logic
Piping
Custom URL variables
Pre-populate
Language
Internationalization
File upload
Accessibility
GDPR
Link channel
Email channel
HTML channel
Social channel
Manual channel
Real-time
Multiple channels
Export
Advanced filters
Share reports
Email notifications
Teams
User permissions
Security
Support
Plans:
Free
Basic: €19/mo
Pro: €39/mo
Premium: €119/mo
You can upgrade, downgrade, or cancel at any time.
Other departments: Examples, Enterprise: makes survey creation simple and convenient for large teams and organizations. With a Survs Enterprise subscription, you can provide multiple members of your organization access to Survs while maintaining one consolidated bill, Blog, Press, Help.
About: Launched in 2009, Survs is a web-based survey tool built by Enough Pepper, a digital product studio based in Lisbon, Portugal, passionate about building products for the web and mobile. 
Presentation Tools & Sharing Platforms
Regular Updates
Main slogan: Surveys are a flexible and fun way to find out what your audience thinks about any topic. Use our online quiz creator to ask single, multiple choice, or open text questions – then download or send all responses to your marketing software.
Solutions for:
Publishers
Agencies
Sports teams
Nonprofit organizations
Features:
Types of surveys: market research, customer satisfaction, content strategy
Learn from your audience: Gather valuable insights about your audience – get their feedback on your products, current events, or anything else under the sun, Quickly make a beautiful quiz or survey on your site in under five minutes – no coding required, Collect more leads online – add a lead generation form to collect each survey taker's name, email, and other info, along with their survey answers.
Quickly find and add images, videos, and gifs: YouTube videos – embed & set the start/end points for any video, Google image search, Giphy animated GIFs, Pexels – high quality, copyright-free stock photography, Facebook, Twitter – embed any tweet for super-current content, Instagram, Upload your own photos or GIFs – for ultimate creative control
Gather email addresses through a lead form: Display a sign up form after the last question (and before your survey's custom 'thanks for responding' message), In-survey forms have opt-in rates of up to 40% (20X the internet average), Collect name, email, age and other information, Use our drag/drop form builder to make your own form – with 16 types of data fields, Copy and paste in your own forms
Send survey responses to your favorite marketing software: Connect your online survey to your marketing software with our online quiz creator, Collect leads online with their survey responses – then pass them to your CRM tool, Directly connect to your MailChimp, Blue State Digital, and AWeber accounts, Send data to any of 1,400 marketing tools like ActiveCampaign, Constant Contact, or more
Power your marketing funnel: Qualify and segment leads online based on their answers, For example, with our quiz maker, you could tag each person who responded 'I'm unsatisfied with my phone company' as a hot lead, Follow up with automatic personalized messages to each lead. Start your drip campaign and convert more sales by sending the right message to each lead, using their name and survey responses.
Power consumer research
Customize: fonts, colors, language, social sharing, hide the start page
Other departments and resources: Quiz maker, journey, personality test, auto-quiz, poll, multi-poll, list, reaction poll, upvote, form, order it, story, FAQ, help, code examples, API, acceptable use, blog.
Related:
Plans:
Basic: €39/mo or €29/mo billed annually
Pro: €69/mo or €49/mo billed annually
Team: €299/mo or €199/mo billed annually
Try it for free for 14 days.
About: A dedicated bunch of quiz geeks, we launched Riddle back in 2014 with one goal – to be the most powerful, beautiful, and intuitive quiz maker around. Boris Pfeiffer – CEO and founder, Mike – co-founder and CMO, Uwe – co-founder and CFO. 
Riddle Technologies AG is a corporation under German law with its main place of business in Saarbrücken, Germany. Lenaustr. 1, 66125 Saarbrücken, Germany, Tel. +49-6897-9392500. Register Number HRB 104331, Our European VAT ID is DE815729151.
Logo Makers You Should Try
Regular Updates
Main slogan: Make a Beautiful Survey in Minutes. Publish a beautiful survey in seconds using the webs #1 survey maker.
How it works:
Add your questions
customize your style
hit share and publish
Features:
Types of surveys: customer satisfaction, employee satisfaction, employee engagement, website feedback, website satisfaction, product feedback, employee exit, net promoter, event planning, emoji feedback, 360-degree feedback, course feedback
Build a survey that crushes: easy to read elements, engaging buttons, mobile experience
find actionable information easily:

From a simple email update of responses to advanced filter and multi segment analysis you'll find the information you're looking for effortlessly. CSV and Excel Exports or pretty charts and graphs, it's all there and simple to use

Quizzes, certificates, leaderboards, and online tests: Typical survey creators can't do that but we offer it and much much more. Our platform allows you to score, grade or even assign personality types automatically. Create content which engages your audience, some of our clients have used to generate over $1.3 million in revenue from a single quiz

Every question type: Create your own template, access hundreds of custom plugins and themes and integrate directly into your website. Smileys, Net Promoter Score, Matrixes and every other question type under the sun. Make it easy for your participants to provide you with exactly the data you need by asking your question in clear intuitive formats

Advice: Keep it short, 

Multiple choice and checkboxes, 

1 question at a time, 

No progress bar, 

Personalize and pre-contact, 

Tell them why, 

Conduct experiments, 

Update contacts and send reminders, 

Let them respond via phone, 

Incentives work

Integrates with over 100+ apps. 

Email responses

40+ question types

Logic and branching

Multimedia

Filter and segment reports

CSV, HTML, PDF exports

Randomize questions

Fingerprinting and ID tech

Multilingual support

Embed and hosting

Real-time results

Response fraud detection

Text analysis

Thank you emails

Net Promoter score

Custom branding
Plans:
Standard: $29/mo or $19/mo billed annually
Premium: $39/mo or $29/mo billed annually
Platinum: $69/mo or $49/mo billed annually
There's a free 14-day trial.
Other departments and resources: guides and help, examples.
About: Our story began in 2003 when our founding partners spent a year building Pulseware Enterprise Feedback Management, the original version of what you see before you.
Best Online Graphic Design Tools
Regular Updates
Main slogan: The Easy to Use Survey Builder. Yes, we know our name says 123 form builder, but our amazing form building software also makes for a superb survey questionnaire creator too. A form building tool that handles surveys and workflows in one place? Yep. All with 123 Form Builder, the tool that goes bananas over helping companies, charities, and NGOs collect invaluable data.
Features:
Types of surveys – examples: likert scale questionnaires & surveys, customer satisfaction, 360-degree feedback, marketing research, Net Promoter score, social psychology, student satisfaction
Create appealing questionnaires: drag n drop, pick a survey template or start from scratch

Customize your form by adding/ removing fields, open-ended questions, close-ended questions, translations, notifications, and * drum roll * conditional logic.

Publish it anywhere: on your website, on Facebook, or by simply sharing your link with respondents.

Brand your surveys: Pick your colors, font, use your logo, everything you need to make sure your surveys match your company image.

Conditional logic: 

Human process

Super-safe data: GDRP, HIPAA, ISO 9001, ISO 27001

Connect to any tool: 

Integrations: 80+ of the most popular tools used by businesses around the world, examples: Mailchimp, Google Drive, SalesForce, Wix, Hubspot, Weebly, Evernote.

Valuable insights

Customizable reports

Priceless data on the go

Smart reports

Print your survey responses
Other departments and resources: web form builder, quiz maker, poll maker, HTML form generator, blog, testimonials, documentation, become a partner, security, status, careers, media kit, GDPR.
Related: 
Plans:
Basic: Free 
Individual: $24.99/mo or $19.99/mo billed annually
Team: $59.99/mo or $49.99/mo billed annually
Enterprise: custom, start at $199.99 per month and adjust to your needs
About: 123 was born in the heart of Transylvania, Timisoara. Founded in 2008, we collected our first subscription a year later.
200M+ form subm,missions, 2M+ signed up, 35,000+ companies signed up, 85+ employees, 185 countries.
The Ultimate List of Multimedia Resources
Regular Updates
Images, Graphics, Audio, Video, Animation, Themes, Plugins, Code, Apps, Education, Jobs, Buy & Sell Art
This is just the beginning of an extended catalog. I will keep the thread updated frequently.
In the meantime, check out the other related resources we have in store for you.
That's it, another article has finished, here on Web Market Support. I'm waiting for your comments and thoughts. Which solution is the most promising? Which one should I add? Till next time.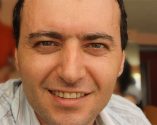 Tasos Perte Tzortzis
Marketing Specialist, Entrepreneur
Although doing traditional business offline since 1992, Tasos fell in love with online marketing in late 2014 and has helped hundreds of brands sell more of their products and services on the web.
He enjoys reading, music & arts, mathematics, chess, coffee, swimming, Audi, and playing with his kids.