Are you looking for ways to streamline your workflow? Do you want to work with your team members more efficiently?
Are you looking for ways to stay organized, be more productive, and take notes on the fly?
Then this catalog is for you.
We have compiled a list of work management tools to help you ease your workload and focus on your projects stress-free.
It's a catalog we'll be updating regularly.
Let's dive right in!
Popular Work Management Tools
Main slogan: accomplish more with better notes. Capture ideas and find them fast.
Why Evernote:
Work anywhere: sync your notes to all your devices
Capture what matters: add text, images, audio, scans, PDFs, and documents to your notes
Express yourself with formatting tools that help you write how you think
Find things fast: search gives you results as you type
Features:
Sync & organize: keep your notes handy
Web clipper: a save button for the web
Templates: create better notes, faster
PDF & Doc search: find information anywhere
Spaces: bring your team together
Search handwriting: find text in any note
Document scanning: go paperless
App integration: connect your favorite apps (Gmail, Outlook, SalesForce, Google Drive, Slack, Microsoft teams,
Pricing plans:
Basic – Free, sync up to 2 devices
Premium – €6.99/mo, sync unlimited devices
Business – €13.99/mo, business data ownership
Community:
Join students, teachers, entrepreneurs, and business owners.
Certified consultants: focus and maximize your productivity
Beta program: help them shape the future
Developers: documentation, support, app center, hiring
Events: explore by region
Forum: 84K+ topics, 526K+ posts
Careers: academy, yearly vacation stipend, barista training, baby bonding program
Help & support:
Learning center
Troubleshooting
Blog
Online reviews: 
G2: 1,851 reviews, 4.4/5
TrustRadius: 1,477 votes, 8.4/10
GetApp: 6,781 votes, 4.4/5
TrustPilot: 115 reviews, 1.8/5
Capterra: 6,768 reviews, 4.4/5
SoftwareAdvice: 6,772 reviews, 4.5/5
About: When Stepan Pachikov, our founder, began working on the idea that eventually became Evernote, he recognized three things the human brain does: it remembers the past, builds connections, and creates new ideas for the future.
Evernote Corporation is a global, privately-owned company headquartered in Redwood City, California. They also have offices in Austin (Texas), Bothell (Washington), New Delhi (India), San Diego (California), Santiago (Chile) and Tokyo (Japan).
Main slogan: organize your life in seconds. Over 30 million people rely on Any.do to stay organized and get more done.
Features:
Organize: to-do's and projects. 

Create tasks, prioritize them and get them done. Add reminders, notes, subtasks & attachments. Share your lists with others and assigned tasks.

Achieve: 

Set due dates to keep track of your progress. Add reminders to make sure nothing important slips away. Easily set daily, weekly, monthly, yearly and location reminders.

Collaborate: 

Share lists, assign tasks, monitor progress and chat with others, without using overpriced Project Management Tools.

To-do list

Calendar

Grocery list

Reminders

Daily planner

Premium features: advanced recurring reminders, customized themes, WhatsApp reminders, color tags, location reminders (mobile), unlimited daily planner
Available on: Android, iPhone, iPad, Mac, Web, Siri, Amazon Alexa, Google Assistant, Windows, Chrome, Firefox, Apple Watch, Wear OS, Huawei, Desktop.
They're hiring: senior android engineer, senior web engineer, senior iOS engineer.
Support:
Knowledge base
FAQs
Video tutorials
Troubleshoot
Premium, teams, and assistant
Resources
Pricing plans:
Free
Premium: 6 months $4.49/mo, 1 month $5.99/mo, 12 months $2.99/mo
Teams: try free for 14 days
Online reviews:
G2 : 182 reviews, 4.2/5
Capterra: 117 reviews, 4.4/5
GetApp: 117 votes, 4.4/5
TrustRadius: 13 votes, 8.3/10
GooglePlay: 366,000+ votes, 4.4/5
Any.do: 462,000+ reviews, 4.8/5
Apple: 33,000+ reviews, 4.6/5
GetApp: 117 votes, 4.4/5
Crozdesk: 20 votes, 4.3/5
Slant: 240 votes, 73%
GoogleWorkspace: 74 votes, 3.9/5
About: Privately Held, 11-50 employees, 250 Montgomery St, San Francisco, California US, founded 2011. 
200+
Business & Marketing Tools Collection
Work management, tracking, organizing, payments, accounting, Google, keyword, market, and competition research, SEO, analytics, and related, marketing & advertising, web development, website monitoring, domains & website hosting, coding, and related, design & multimedia, marketplaces, entrepreneurial communities, hiring & outsourcing.

Main slogan: trello helps teams work more collaboratively and get more done. Trello's boards, lists, and cards enable teams to organize and prioritize projects in a fun, flexible, and rewarding way.
Features:
Timeline: visually plan time and workload
Table: display cards in rows and columns, like a spreadsheet
Calendar: see cards with dates on a calendar
Dashboard: generate charts, visuals, and metrics for your work
Map: visualize card locations on an interactive map
Business class: advanced checklists, custom fields, list limits, card repeater, calendar & map views, voting, 100+ app integrations with your top work tools, built-in workflow automation with butler, additional security, and more
Enterprise plan: enhanced security, butler for enterprise, built-in task automation, 100+ native integrations, membership controls, data encryption in transit and at rest, organization-wide controls, power-up administration, and more
Templates:
Business
Design
Education
Engineering
Marketing
HR & operations
Personal
Productivity
Product management
Project management
Remote work
Sales
Support
Team management
Details: 
Works with: web, mobile, desktop, chrome, firefox, edge, safari
Butler automation app: Create rules, buttons, and commands to automate almost any action
Integrations: Slack, Adobe XD, Jira and so much more (add-ons, browser extensions, connectors, power-ups, Trello to go)
Featured power-ups: analytics & reporting, automation, board utilities, communication & collaboration, file management, HR & operations, IT & project management, marketing & social media, product & design, sales & support
Pricing plans:
Free
Gold: $5/mo or $45/year.
Business class: $9.99/user/mo.
Enterprise (more than 100 people in your team): there's a pricing calculator, example – for 20 users – $4,200 per year
Help/Resources/Support/Community:
Guides
Knowledgebase
Blog
Developers: community, API
Webinars
Team playbooks
They are hiring
Online reviews:
G2: 11,284 reviews, 4.4/5
Capterra: 18,826 reviews, 4.5/5
TrustRadius: 1,611 votes, 8.5/10
BetterBuys: 4 reviews, 5/5
SoftwareAdvice: 18,754 reviews, 4.5/5
GetApp: 18,828 votes, 4.5/5
Facebook: 802 votes, 4.7/5
TrustPilot: 101 reviews, 4.3/5
About: around the summer of 2010, Fog Creek Software starts doing regular Creek Weeks, internal explorations for potential products. In January 2011, a prototype that hopes to solve some high-level planning issues is pitched. It's called Trellis. Full time development begins soon after.
After a closed beta, Trello launches at TechCrunch Disrupt in September of 2011 with apps for the web and iPhone. We narrowly avoid names like Cardvark and Planatee and go with the name Trello.
In the summer of 2012, Fog Creek co-founder Joel Spolsky's dog Taco becomes the official Trello spokes-husky. Trello reaches 500,000 members and launches the Trello Android app.
Main slogan: put knowledge in your pocket. Save content from everywhere.
How to save:
From a computer with the save button (bookmarklet)
Via email
Integrated into 1500+ apps
View from devices:
Windows
Kobo eReader
Windows mobile
Blackberry, Android, iPhone/iPad, Windows phone, S60, WebOS, eBook reader, and others
Mac app
Firefox, chrome, safari, opera
Twitter
News/RSS
Google reader
Bookmarks
Browsers
Reading
Email
Delicious, instapaper
build your own app (

open API that allows users and developers to create their own Pocket applications, integrate them into their existing apps, and share them with other Pocket users)
Other departments:
Developers
Publishers
Jobs
Blog (product announcements, collections, interviews, press
Daily newsletter
Advertise: 

Find engaged audiences in uncluttered environments, Have transparency into where content appears.
Pricing plans:
Free: save, read, watch, and listen
Premium Annual: €39.99/year, all of free + permanent library, suggested tags, full-text search, unlimited highlights, premium fonts
 Premium Monthly: €4.99/mo
Online reviews:
SiteJabber: 9 reviews, 3.9/5
TrustPilot: 2 reviews, 3.5/5
GooglePlay: 287,000+ reviews 4.7/5
G2: 19 reviews, 4.6/5
Apple: 20,000+ reviews, 4.8/5
GlassDoor: 7 votes, 4.9/5
About: Read It Later, Inc.
Main slogan: task management,ent for today's workplace. Plan, manage and track all your team's tasks in one flexible software. Move fast and adapt quickly with monday.
Solutions:
Project management
Marketing
CRM & sales
Remote work
Software development
Creative
Construction
IT
HR
Board settings:
Add group
Board members
Board activity
Integrations center
Automations center
Apps marketplace
Board permissions
Automations:
Basic
Featured
Notifications
Status change
Recurring
Due dates
Item creation
Move item
Subitems
Dependencies
Custom
Templates:
Build your own
Marketing
Content production
Project management
Sales & CRM
Freelancers
Design
Software development
HR
Manufacturing
Office operations
Startup
Education
Real estate
Venture capital
Construction
Import data from:
Excel/CSV
Google sheets
Asana
Trello
Basecamp
Facebook ads
Zendesk
Integrates with countless apps. Categories: featured, remote work, communication, customer support, marketing eCommerce, software development, finance, CRM, import data, Slack, Gmail, Outlook.
Other departments:
Developers
Students
Work OS
Careers
Find a partner
Support
Daily webinars
Community
Professional services
Video tutorials
Blog
Podcast
Pricing plans:
Basic: for 3 seats – €8/seat/mo.
Standard: €10/seat/mo
Pro:€16/seat/mo
Enterprise: contact them
Online reviews: 
Capterra: 2,251 reviews, 4.6/5
G2: 1,475 reviews, 4.6/5
SoftwareAdvice: 2,252 reviuews, 4.5/5
TrustPilot: 2,805 reviews, 4.5/5
TrustRadius: 1,700 votes, 8.6/10
Gartner: 91 reviews, 4.5/5
GetApp: 2,253 votes, 4.6/5
GrowthMarketingPro: 12 reviews, 4.7/5
About: Founded in 2012 by Roy Mann and earn Zinman. They secured a first funding with a $1.5M seed round. In 2015, they grew the team by 300% by hiring 9 new employees and grew the company by 50,000% by acquiring 3,000+ customers.
Main slogan: work on big ideas, without the busywork. From the small stuff to the big picture, Asana organizes work so teams know what to do, why it matters, and how to get it done.
Solutions:
By team: marketing (plan and track campaigns, launches, and more), operations (build, scale, and streamline processes to improve efficiency), sales (close deals and onboard new customers fast), product (build roadmaps, plan sprints, manage shipping and launches), company-wide (give employees clarity), design (track design workflows and requests), IT departments (manage everything from help desk requests to opening a new office), managers (strategic planning, project progress, employee workloads), human resources (interviewing, onboarding, track HR, recruiting workflows), finance (track growth projection planning, budget meetings, everyday work), engineering (plan your sprints, track bugs, centralize feedback), event planners (plan every detail no matter the size)
By workflow: project management (plan, track, and manage team projects from start to finish), workflow management (create custom processes to fit your needs), calendar (build team calendars to track work and manage schedules), kanban boards (use columns to prioritize tasks and manage projects through every stage), remote teams (collaborate and manage work from anywhere), productivity (be more deliberate about how you manage your time), agile & scrum (build fast, ship often, and track it all in one place), organization (web and mobile apps to stay on track, keep projects organized, and hit deadlines), excel project management (you need more than spreadsheet), to-do lists (customize everything), team communication (post status updates, share team-wide announcements, and collaborate on tasks), prince2 methodology (easily define roles and responsibilities, keep your team focused on quality, tailor your approach for each project), program management, project planning.
Features:
Goals: set strategic goals and track progress in one place
Timeline: build beautiful Gantt charts in minutes
Portfolios: monitor the progress and status of key initiatives in real-time
Workload: see how much work team members have across projects
Forms: submit and manage work requests in one place
Automation: streamline processes, reduce errors, and spend less time on routine tasks
Boards: organize work like sticky notes and track tasks through every stage
List: to-do lists
Calendar: spot holes and overlaps
Projects
Tasks
Subtasks
Milestones
Task assignees
Sections
Custom fields
Due dates and times
Start dates
Attachments
Rules
Likes
Approvals
Project overview
Project brief
Sync tasks across projects
Dependencies
Custom templates
Copy projects
Views and reporting: inbox, dashboard, my tasks, timeline, workload, portfolios, accessibility, calendar, files, advanced search, teammate view, project export
Admin controls: teams, guests, permissions, privacy controls, comment-only projects, team management, data security
Communication: task comments, followers, status, messaging, project conversations, team conversations
Mobile
Integrations
Robust rest api
Support and success
Plans:
Basic: free forever
Premium: €10,99/per user/mo billed annually, or €13,49/mo
Business: €24,99/per user/mo billed annually, or €30,49/mo
Enterprise: contact the sales team for more details
Other departments:
Customer success
Templates
Trust & security
Status
Leadership
Diversity
Careers
Press
Wavelength
Blog
Investor relations
Guides
Forum
Support
API & developers
Partners
Community
Certified pros
Events
Learning portal
Online reviews:
G2: 7,067 reviews, 4.3/5
Capterra: 9,538 reviews, 4.4/5
SoftwareAdvice: 9,541 reviews, 4.5/5
TrustRadius: 1,273 votes, 8.4/10
Gartner: 172 reviews, 4.4/5
GetApp: 9,554 votes, 4.4/5
TrustPilot: 76 reviews, 3.4/5
About: Our founders Dustin Moskovitz and Justin Rosenstein met while leading Engineering teams at Facebook. As operations scaled, they grew frustrated by how difficult it was to coordinate everyone to get work done, and how much time they spent in meetings, sending emails, and searching for information.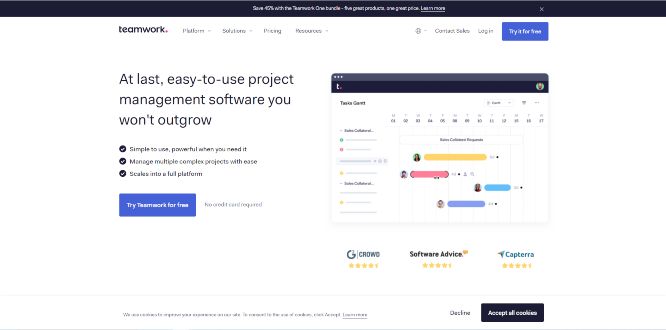 Main slogan: At last, easy-to-use project management software you won't outgrow. Simple to use, powerful when you need it. Manage multiple complex projects with ease. Scales into a full platform.
Products:
Teamwork: a work and project management tool that helps in-house & remote teams improve collaboration, visibility, accountability and ultimately results
Teamwork One: Save 48% with the Teamwork One product bundle. Scale your business with the Teamwork Suite that works together to make your work more efficient. You get one login, one payment, one platform, one big saving and 5 great integrated products.
Teamwork Desk: one central place for your shared mailboxes like support@ and contact@ so you can manage client requests, support, and project communications with more visibility at scale
TeamWork Chat: instant chat software that keeps team communication open so you can make decisions faster and reach new levels of productivity without losing the human touch
Teamwork CRM: an easy-to-use sales CRM software that gives you everything you need to manage your sales pipeline, organize your processes, and get key insights on how to accelerate your growth
Teamwork spaces: a modern, intuitive content collaboration workspace with smart features like required reading and live widgets – helping your team to become more engaged and accountable when it comes to company content
Features:
Time tracking: effectively track and bill for all of your client projects
Collaborate: messages, chat, files, notebooks – everything you need to collaborate with context and efficiency
Gantt chart: get a gannt-style view of your project, giving you full visibility of your tasks and highlighting any milestones on the project date line
Teams: streamline project planning and setup by assigning work to teams and sub-teams
Workload: manage and optimize team resources directly from Teamwork
Kanban board view: use boards to automate your workflow and provide your team with an easy way to visualize their project tasks
Portfolio: get a panoramic view of where all your projects stand, and easily spot roadblocks to keep your work moving
Unlimited free clients users: Teamwork's exclusive user types allows you to bring your clients into your projects at no extra cost
Apps: best-in-class project management apps
Calendar: important upcoming milestones, events, and tasks
Project owner: assign an owner to each individual project for an extra layer of accountability and clarity
Milestones: define your goals and assign task lists to monitor progress and give your team a clear vision
Tasklist templates:

Save time by creating and saving task list templates and using them when creating new similar task lists.

Tasks and subtasks: Create tasks and sub-tasks to break down your workload, and assign them to one or multiple team members.

Notebooks: Write and share content on a project with notebooks. Update and observe changes between your notebook versions.

Files and versioning: Keep all your important files in one place and add updated versions to ensure clear visibility of the progress.

Followers: Enable people to stay in the loop on task progress without having to assign an action to them

Messages: Use the message function to write to your team, communicate with context, and group your messages into appropriate categories.

Privacy: Specify which users have visibility and access across projects with advanced privacy settings.

Permissions: Set the parameters and permissions of your users and decide what, when, and how notifications are sent.

Custom fields: Track, manage, and filter information that's unique to your business needs using project and task custom fields.

Defaults: Create task templates, default task templates, and categories that you can use time and time again.

Billing: Quickly and easily create invoices using your team's billable time logs.

Risk register: Manage all risks associated with your project in one place and give the whole team visibility.

Tags: Group everything into specific categories with tags, and combine tags with filters to quickly find the exact information you need.

Time logging: Easily keep track of the time you spend on your tasks and projects.

Filters: Use filters to view your project information through different customized lenses and save them for future use.

Dashboard: Build personalized Dashboards to show key project metrics for you and your team and see how your work is tracking at a glance with activity timelines.

Project updates: Project owners and admins can add status updates to projects, as well as a health indicator to keep all stakeholders in the loop quickly and easily.

Task history: Easily track changes to tasks and milestones made by team members to maintain full visibility.

Teamwork spaces: Embed Teamwork task lists into a space in Teamwork Spaces to make planning more productive.

Teamwork Desk: Creating Teamwork tasks directly from tickets in Teamwork Desk to make sure work flows seamlessly from one point to the next.

Teamwork CRM: Create Teamwork tasks and projects in Teamwork CRM to help you close deals faster and make client handoff more efficient.

Teamwork chat: Create Teamwork tasks directly from messages in Teamwork Chat so you can make team communication actionable.
Solutions for:
Agencies
Creative teams
Professional services
Marketing teams
Product teams
Project management
Other departments and resources: careers, customers, security, news, partner program, blog, webinars, eBooks, guides, templates, videos, project management guide, support center, API, integrations, startups, roadmap, status, 
Plans:
Free forever:

For individuals and small teams getting started with project management.

Pro:

Manage multiple projects and delight your clients. A great place to start. $12.5/mo or $10/user/mo billed annually

Premium: Ideal for larger teams with features to help get you efficient and organized. $22.5/mo or $18/user/mo billed annually

Enterprise: Advanced security, extra speed, additional security and premium support. Contact them
There's a free 30-day trial period.
Online reviews:
G2: 769 reviews, 4.4/5
Capterra: 671 reviews, 4.5/5
SoftwareAdvice: 669 reviews, 4.5/5
TrustRadius: 133 votes, 8.5/10
GetApp: 671 votes, 4.5/5
GlassDoor: 81 votes, 3.9/5
Gartner: 27 reviews, 4.5/5
Indeed: 4 reviews, 5/5
SelectHub: 1,555 votes, 89%
About: Today, we have over 24,000 paying customers worldwide and a wonderful team of 250 people across 18 countries, with office locations in 6 of those. Teamwork Campus One, Blackpool Retail Park, Blackpool, Cork T23 AX73, IE. Founded in 2007. Privately held. Heinz Berchtold – CEO/founder. Peter Coppinger – CEO/founder.
Main slogan: Project Management Software for Professionals. An online platform where you can plan, track and report every last detail
Products:
Project management software
Gantt chart makers
Project dashboards
Task management software
Planning tools
Project management tools
Features:
Project dashboards:

Know instantly if your projects and your team are on track.

Gantt charts:

The most powerful, interactive Gantt chart features, yet simple to use

Project plans:

Create and share project plans online, with multiple views for your team.

Project schedules:

Schedule tasks and review team workload across all your projects.

Project reports:

Share executive-ready status reports with the push of a button.

Task management:

Empower your team with easy task management tools for all their projects.

Project timesheets:

Online timesheets are easy for your team and even easier for you to approve.

Workload management:

Manage team workload with easy resource allocation tools.

Kanban boards: Organize work with drag-and-drop cards and custom columns.
PPM tools:

See all your projects and keep them aligned with strategic goals.

Agile tools:

Work together with multiple project views that help maintain flexibility.

Team management:

Work together in real time with features that foster collaboration.

Waterfall PM tools:

Map subtasks, dependencies and each phase of your software project.

Cloud-based solution:

Our cloud-based software lets you access your projects from anywhere.

WBS:

Visualize your project to make it easier to plan, schedule, and deliver.

Critical path:

Quickly filter our Gantt charts to find the critical path for your project.

Work management:

Plan, track, organize, and review progress on your team's work.

Project tracking tools:

Monitor and track with features that make evaluating a project easier.

Project timelines:

Get simple, graphical views of your task and team progress.

Ticketing:

Track customer issues to administer fixes in the future.

Online file storage:

Store all your project files in one place with unlimited online storage.

Microsoft project integration:

Import MPP files to view your Microsoft Project & Excel plans online.

Google & Gmail integration:

Manage task updates right in your Gmail, plus sync your Drive docs & Calendars.

Apps & Zapps:

Synchronize your data with apps you use everyday with our Zapier integration.

API:

Create custom integrations to your other applications with our API.

Templates: project plan, gantt chart, project proposal, WBS (work breakdown structure), project budget, project kickoff, project planning, reporting, tracking
Solutions for: 
Construction teams
Manufacturing teams
IT & Dev teams
Professional services teams
Engineering teams
Product management teams
Project management teams
Marketing teams
Enterprise teams
Creative teams
Event planning teams
Nonprofit teams
other: aerospace, architecture, automotive, corporate media, defense, energy, entertainment, finance, healthcare, law, local government, logistics, pharmaceuticals, politics, property management, public utilities, real estate development, retail, telecommunications, transportation, universities & education, and more
Other departments and resources: guides (project management, gantt sharts, project plans, work breakdown structure, critical path method, PERT charts, construction software, and more), blog, support, tutorial, videos, security, integrations, solutions. 
Plans:
Personal: $15/user/mo
Team: $20/user/mo
Business: $25/user/mo
There's a free 30-day trial period.
Online reviews:
Capterra: 326 reviews, 4.1/5
G2: 31 reviews, 3.8/5
TrustPilot: 419 reviews, 3.3/5
GetApp: 326 votes, 4.1/5
TrustRadius: 4 votes, 9/10
FeaturedCustomers: 1,684 reviews, 4.7/5
CrozDesk: 422 votes, 3.3/5
SourceForge: 18 reviews, 5/5
About: We started out in 2008 with the goal of helping project managers find out whether their projects are on track. Within just 12 months of going live, NASA and the United Nations were using our service, and now more than 20,000 managers and teams in 101 countries use it daily. Guy Haddleton, Director. Herb Hunt, Director. Jason Westland, Founder & CEO.
3721 Executive Center Dr., Suite, 200
,
Austin
,
TX
78731, 
  1 (800) 765-2495.
Main slogan: Work Faster With HiveThe tool for productive teams. Thousands of companies all over the world are moving faster with Hive. It's time to take your productivity to the next level. Start your 14 day free trial now, no credit card needed.
Features:
Analyze work:

Plan projects, track work, and execute flawless campaigns with Hive's centralized platform. Utilize flexible analytics to track progress and proactively spot risks.

Flexible project views: Kanban, Gantt, portfolio, calendar, table, and summary view allow for customization of the platform throughout your team. Visualize data in a way that works for you.
My actions:  your personal dashboard: all actions can be broken out by project for easy access, current, future, completed, and "assigned by me" tasks
Hive analytics: power your productivity – monitor individual or team progress with robust analytics. Utilize customizable dashboards to track project completion, actions completed per individual, most productive days of the week, and overdue actions by project
Centralize processes:

Why utilize disparate tools across your organization that make it harder to streamline information? Bring all data, tasks, projects, and coworkers together with Hive

Forms and templates: repeatable workflows – gather and parse a variety of data. Create repeatable tasks and projects that can be duplicated at a moment's notice

Proofing and approvals: creative collaborations – simplify feedback loops and approval cycles with the ability to assign approvals, share proofs, and provide feedback. Approve proofs on-the-go with proofing on mobile

Automation: seamless progress – Create buttons that trigger the completion of a workflow. Move a card to a different project, change an assignee, add labels, subactions, and apply a template

Streamline communication: Access all of the information needed to complete a task by working collaboratively with team members across your organization

Hive mail: integrated email inbox – pulls your Gmail or Outlook inbox into Hive. 

Assignee and comments: transfer work – assign individual action cards to teammates to let them know you're passing a task over to them. Utilize comments on the card to flag any potential issues, communicate on task transfer, or attach necessary files

Hive chat: communicate internally – enable chat or integrate Slack to streamline communication across the board. 

Integrations

Templates: agency, business development, HR, marketing, operations, PR, product management, software development
Use cases:
Agencies
Marketing
Operations
Project management
Education
Startups
Other departments and resources: press, careers, partners, customers, Google API services user data, book a demo, knowledge base, status, security, release notes, developers, compare, video demos, product webinar, blog.
Plans:
Base: $12/user/mo
Enterprise: includes all add-ons, contact them.
Add-ons:
Proofing and approvals $4/user/mo
Resourcing: $4/user/mo
Timesheets: $4/user/mo
External users: $4/user/mo
Enterprise security: $4/user/mo
Analytics: $6/user/mo
Online reviews:
G2: 216, reviews, 4.6/5
TrustPilot: 17,753 reviews, 3.6/5
Capterra: 141 reviews, 4.5/5
SoftwareAdvice: 141 reviews, 4.5/5
TrustRadius: 11 votes, 8.2/10
Feefo: 3,592 reviews, 4.9/5
Gartner: 3 reviews, 5/5
About: born from co-founders John Furneaux and Eric Typaldos' career-long obsessions with workplace collaboration. John spent over a decade leading global customer success, learning what teams need to be effective at multinationals and startups alike, while Eric specialized in addressing the many productivity pain points and headaches that plague government and enterprise organizations. Spotting a huge gap between a productivity tool users loved and leaders needed, they set out to found and build Hive. 
We Teach
Marketing &
 Business
Live on Zoom
Your host: Tasos Perte Tzortzis
Schedule an interview so we can evaluate where you are right now, your needs and goals, and we'll give you a detailed analysis of how the workshops work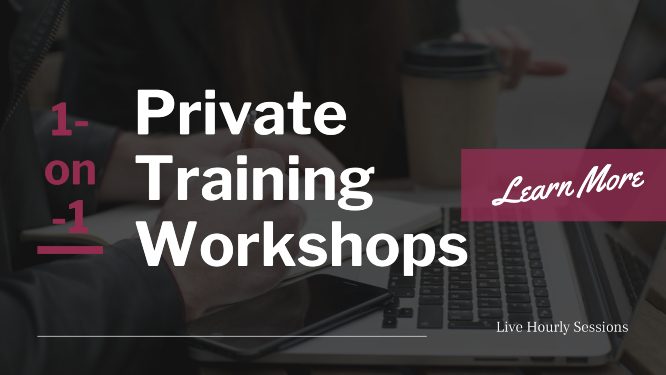 This is just the beginning of an extended catalog. I will keep the thread updated frequently.
In the meantime, check out the other related resources we have in store for you.
That's it, another article has finished, here on Web Market Support. I'm waiting for your comments and thoughts. Which tool is your favorite? Which app should I add? Till next time.

Tasos Perte Tzortzis
Business Organisation & Administration, Marketing Consultant, Creator of the "7 Ideals" Methodology
Although doing traditional business offline since 1992, I fell in love with online marketing in late 2014 and have helped hundreds of brands sell more of their products and services. Founder of WebMarketSupport, Muvimag, Summer Dream.
Reading, arts, science, chess, coffee, tea, swimming, Audi, and family comes first.
Multimedia
Multimedia resources(AZ directory - images, graphics & design, audio & music, video, animation, themes, plugins, code, apps, tools, education, jobs, buy & sell, communities, freebies)
Free stock photo websites(AZ directory, overviews, reviews)
Video marketing software (AZ directory and overviews)
Some of the links on this page are "affiliate links". For more information, I refer you to the Disclaimer page.