Wealthy Affiliate is a marketing company founded in 2005 and now is a broad community of over 1,000,000 registered members from 195 countries that interact daily on everything related to online businesses.
Throughout the years the company evolved and has been updated with new features and services consistently to meet the latest technology standards and trends. And it continues to evolve.
The company employs more than 25 people.
Now, before we dive deep and analyze the numerous ways you can make money using Wealthy Affiliate's services, it's important to give you an overview of what they offer.
WA Full Services
Education
Online entrepreneur certification courses – 2 modules X 10 lessons each = 20 lessons
Affiliate Bootcamp training – 7 phases X 10 lessons = 70 lessons
13 interactive training classrooms with Q&A, tutorials, videos, and courses
Live weekly video classes – Jay Neill, an experienced marketer with over 10 years of experience shares insights into 'Hot' marketing topics to help aspiring entrepreneurs find their way online
All the live video classes are being recorded and the archive is available to premium members so that they can watch the training at their own pace
Website builder
SiteRubix (WordPress.org self-hosted sites) bundled with a Website Manager Suite (Website analysis, management, statistics, progress monitoring, rankings, security, the SiteContent Feature (content writing platform that comes with a free stock photo finder installed)
Web Hosting services
Website management and monitoring, web security, anti-spam protection, Free SSL encryption for premium members, 24/7 technical support, daily backups
Domains: find, register, transfer, and manage domains
Marketing Suite
Jaaxy – niche, market, and keyword research suite with advanced features. Notice: 

As of December 13, 2017,

 

Jaaxy was integrated into the WA platform

.

WA keyword research tool
Keyword lists
Keyword training
Link tracker
Cloaker
Webpage optimizer
Community/Forum
Live chat and forum (members can publish blog posts, trainings, questions), plus a private messaging system
SiteComments: receive comments to your site using credits
SiteFeedback: getting feedback on your site from other entrepreneurs
WA History
WA was founded in 2005, but the co-founders, Kyle and Carson, begun their online journey with PPC (pay-per-click) advertising campaigns a few years earlier, and Wealthy Affiliate started out as a simple 'Keyword List' site to help bloggers, small businesses, and entrepreneurs find their audience by using 'targeted' keywords.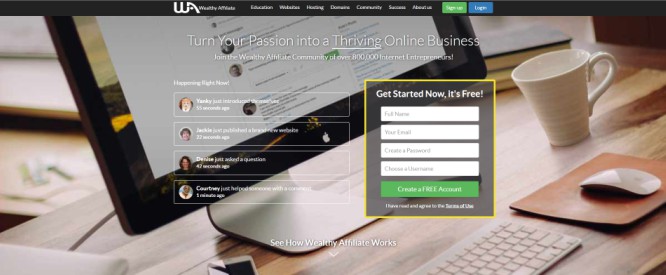 What You'll Learn at Wealthy Affiliate
In a nutshell: 
The basic money making process
Affiliate marketing
Keyword, niche, and market research (extended training)
How to choose a direction (niche)
The SiteRubix web builder and its features
First steps to WordPress and plugins, backups
Website development and programming
Authoring and writing quality content (reviews, lists, best of's, entertaining, controversial, other methods)
Initial content pages, Custom menus
Search engine optimization (SEO) (extended lessons)
How to get traffic to your site (extended lessons)
User experience, engagement, interaction, customers buying journey, customer perspective
Conversions, tracking
Productivity, planning
Analysis
Social media marketing
Local marketing
Video marketing
Email marketing
Pay per click marketing
How to Make Money Online with Wealthy Affiliate
WA teaches people how to make money mainly with affiliate marketing. The education modules are centered at the creation of a website that is being used as an online property or store, like traditional brick & mortar businesses.
With no doubt, if you don't have a website, you don't have a solid online presence.
WA's education follows this pattern:
Choose an interest
Build a website
Attract visitors
Earn revenue
Making Money Online with a Website in a Nutshell
A website targets a specific segment of a market, a niche, which in essence is a group of people looking for solutions to problems, information on products and services, and they buy stuff online. We attract those people by targeting specific keywords, creating useful, unique and high-quality content based on our audience needs. The content of the website will get rankings in the search engines and will be published and advertised on various platforms and mediums.
As a result, the website will gain traffic and this is where we step in and engage with our audience by answering questions, giving advice, and solving their problems. Eventually, a part of unknown visitors will turn into subscribers and finally we will earn revenue with various methods.
Money Making Methods with a Website
As I promised, there are a hundred different ways to monetize a website, so, let's dive deep…
Next to every monetization technique, I will be placing a number to count all the available options.
Promoting Other Companies Products for Commissions
This method is also known as Affiliate Marketing and is by far the fastest way to make money with a website. This is how I started and made my first sales online (and still is my very favorite technique).
WA teaches everything that has to do with Affiliate Marketing.
The formula is very simple:
You advertise products and services from other companies, products that people already consume. The companies give you commissions based on the volume of sales that vary from 5% to 10%, to 30%, to 50% or even 70% in some cases (digital products give you higher commissions than physical products).
The final price remains the same, the retail customer enjoys the same quality.
You only have to tie these promotions into your website content. Blogging is the best way to achieve the greatest results with this method.
Various Forms of Affiliate Commissions
Pay per click (PPC)
Pay per sale (PPS)
Cost per action (CPA)
Pay per lead (PPL)
Single-tier
Two-tier
Multi-tier
Types of Affiliate Websites
Content sites
Blogs, forums
Directories
Shopping comparison/Datafeed
Coupon – deal – voucher – discount codes
Cashback – rewards
Vlogs
Mixed type
You can create any type of website you want, and you can mix things up according to your style and preferences.
You attract traffic to your website by creating content. You can do that by blogging (articles, product reviews, lists, best of's, tutorials…), or you can use audio (lessons, audiobooks, article narrating, interviews, podcasts, commercials), videos (webinars, presentations, interviews, reviews, clips, trailers),  email campaigns, social media campaigns, publishing articles and content on external mediums and platforms.
How to Make Money with an Affiliate Website
I explain the whole process in detail with the DBR training. Here's a quick overview:
There are affiliate networks (N#1) where they list merchants, and there are independent affiliate programs (N#2) that companies operate on their own.
Every affiliate network, every company has its own rules and conditions. Before we apply for a co-operation it is crucial to read carefully their terms and policies.
Best Practices
My best advice on that matter is this: First, test out the products you want to promote, if you're satisfied, then begin promoting them 
Resources
Take the DBR training and the Beginner's Guide to making money online for more information on this process
More Money Making Methods with a Website
Selling Advertising Space:
It's a very effective way to take advantage of online traffic and monetize your content. You make deals with advertising companies, and you place their code on your pages (N#3). They pay whenever someone clicks on the ads or banners, or even they pay for impressions
Alternatively, you can sell ad space directly to other companies, websites, and blogs (and vice versa) (N#4).
Sponsored posts/articles
As your site gains momentum and the traffic increases, companies, other owners, but mostly, startups, will reach you in order to write sponsored posts about their new products or services (N#5). They know you're getting traffic, they want exposure.
If these products and services align with your content's theme, it's a great opportunity to monetize it. 
Other advanced monetization techniques
Memberships (N#6), online courses (N#7)
Workshops (N#8), webinars (N#9), seminars (N#10)
Training (1on1, group) (N#11)
Consulting (N#12), coaching (N#13)
Your own digital products, books, services (N#14)
Email marketing
Monetization Techniques
Along with the educational and free material we distribute via emails, we can use email to monetize our content.
Promote our products and services, other companies products (N#7)
Promos (N#15), special offers (N#16), seasonal offers (N#17), coupons (N#18), discounts (N#19), bonuses (N#20)
Memberships, online courses, ςorkshops, webinars, seminars, τraining, consulting, coaching (mentioned already)
Marketing services (N#21) and campaigns (locally & globally) (N#22)
Sponsored posts (N#23)
Promote your new book, a product launch, a new service (mentioned already)
Email campaigns for clients (N#24)
Video marketing and channels
You can make money with vlogging and earn revenue by placing ads in your videos (N#25), with branded merchandising (N#26), sponsored reviews/articles/lists (N#27), and create videos for clients (N#28)
Social media campaigns/advertising
Independent campaigns/ads (N#29): Promote your products and services (memberships, courses, books…) and promotional offers of affiliated merchants (Pay per sale, CPM, CPA, Pay per lead)
Discounts, promos, prizes, special offers, exclusive downloads (N#30)
eCommerce stores (N#31), shops hosted on social platforms like Facebook Store (N#32)
Sponsored content (interviews, testimonials, videos, articles) (N#33)
Digital content for clients strictly on social media (clips, promo videos, trailers, audio, graphics, ad campaigns) (N#34)
Create and manage social media accounts, business pages, profiles for clients (advanced) (N#35)
Paid advertising (advanced) (N#36)
Other methods
Freelancing: take advantage of your skills, showcase your portfolio, attract clients (N#37)
Dropshipping (N#38): sell products in the retail market without having to open a physical store or to buy inventory. 

You open an online store, you advertise products, and when you make sales you purchase products from a 3rd party wholesaler or distributor who handles the packaging and shipping to the final customers. 

You don't touch the products you sell, you don't have to spend thousands of dollars to get started, and you don't have to stock inventory in warehouses.

eCommerce Stores (N#39): This method is very straightforward. You open up an online store, you buy products, and sell them
eBay consignment (N#40): You can sell products you already own without having to do any selling at all. You just choose any of the eBay expert sellers and they do the rest. You collect the money when the items are sold.
eBay Valet (N#41)
Amazon FBA (N#42)
Selling arts & multimedia (N#43)
PTC sites (N#44), GPT sites (N#45), surveys (N#46). These methods are effective when you build a following of active referrals. A website with an active blog is crucial to attract referrals.
Accepting donations (N#47)
Add a "Hire Me" button or page (N#48)
More advanced methods
Speaking (N#49), live events (N#50)
Sell websites for profit (N#51)
Promoting MLM companies (N#52)
Local marketing for clients: campaigns (N#53)

, website creation

(N#54)

, social media campaigns 

(N#55)
Business pages (N#56)
Marketing services and campaigns for clients and companies: SEO (N#57), website development (N#58), content creation (N#59), advertising (N#60), managing social media accounts (N#61), business pages/profiles (for clients) (N#62) and more…
And there are even more techniques 
Selling text-link ads (N#63)
Infolinks (N#64)
Monetization widgets (N#65)
Job boards (N#66)
Audio ads (N#67)
Selling or renting internal pages (N#68)
Content-lockers (N#69)
Pay per click marketing: paying for ads (search engines, social media, other sites) to drive traffic to your premium offers (N#70)
Outbound or cold calling methods (too many to mention) (N#71+)
I describe these tactics with the Beginner's Guide to Making Money Online and in detail with the DBR Training. 
Pre-Conclusion
There you have it, so many monetization techniques.
As you can see, you can take advantage of your website and monetize content in various ways. But it does not stop there. You expand your reach using emails, social media, other platforms, forums, directories, business pages.
You extend your presence with local marketing, creating a local or global client-base, selling services, products, and more.
The number of options is literally endless.
Another money making method with WA is promoting WA (their affiliate program is very lucrative with 40% recurring commissions)
My Final Take
These methods are included in the Wealthy Affiliate training.
It's the place where I got started online, December 2014, and still, I am using their services on a daily basis. I owe my online success to this powerful community that helped me with my first footsteps, to the training, and the tools provided there.
I know WA can do the same for you.
And there is one more way if you want to speed up your results. You can let me become your Wealthy Affiliate Guide, so we can work hand-in-hand. Just fill in ths form.
For more information on Wealthy Affiliate continue here. I have reviewed in detail all the training modules, the classrooms, the live video classes and archive, the WA history, what kind of websites you will be building, I give examples of successful websites created by WA members, I review the SiteRubix platform, the web hosting services, the domain services, the keyword tools, the website management and marketing tools, the community, and I have created a dedicated page featuring WA success stories, as being shared by WA members.
That's it, another article has finished, here on Web Market Support. I am waiting for your comments and thoughts. Till next time.

What to Do Now?
Use this guide as inspiration and to see what's possible if you commit to hard work.
And of course…
TAKE ACTION
NEXT WA REVIEWED DEPARTMENT
WA Complaints
The Vast Majority Are Not Serious Accusations
Let's Work Together
Let me become your Wealthy Affiliate Guide to help you build a profitable business faster
WHAT'S INCLUDED FOR FREE 
(Real Value $16,000+)
Bonus #8 – Hidden/Private
Wealthy Affiliate Bonuses
Become a Premium Member of Wealthy Affiliate
And Unlock the Vault of Bonuses
Some of the links on this page are "affiliate links". This means if you click on the link and purchase a product, membership, or service, I may receive an affiliate commission at no extra cost to you. Regardless, I only recommend products and services I use personally or I believe will add value to my readers. I am disclosing this in accordance with the Federal Trade Commission's: Guides Concerning the Use of Endorsements and Testimonials in Advertising. For more information, I refer you to the Disclaimer page