BONUSES Available For Both WA Memberships
Wealthy Affiliate – SiteRubix
A Web Builder Designed to Make You Money
by Tasos on Jan 08, 2018 – Last Update: Dec 10, 2018
Prologue
In the WA-Part-V, I gave you an overview of SiteRubix, which is a WordPress web builder that allows WA members build websites on a free SiteRubix domain or on domains they own.
WordPress is a content management system, which is a computer application that supports the creation and modification of digital content. It typically supports multiple users in a collaborative environment.
CMS features vary widely. Most CMSs include Web-based publishing, format management, history editing and version control, indexing, search, and retrieval. By their nature, content management systems support the separation of content and presentation.
A web content management system (WCM or WCMS) is a CMS designed to support the management of the content of Web pages. Most popular CMSs are also WCMSs. Web content includes text and embedded graphics, photos, video, audio, maps, and program code (e.g., for applications) that displays content or interacts with the user.
Based on market share statistics, the most popular content management system is WordPress, used by over 28% of all websites on the internet, and by 59% of all websites using a known content management system. Other popular content management systems include Joomla and Drupal.
Whatever CMS system you decide to use it can be monetized and every one has its pros and cons. But WordPress is the most powerful tool, the most popular and it can be extended by using free plugins.
I recommend WordPress, it's a system I know it's working, it's the system I use daily, I had no problems so far, and you have the support of a multi-million community of other users (me included), experts, and developers.
It's the most popular, complete, and flexible CMS on the market, with no restrictions, with an enormous gallery of design themes and templates, fully expandable using Free plugins, and there are Free tutorials for anything you might need. Literally, there's no service that can't be integrated into WordPress, and you own the files and content of the site, and you can transfer the content to new domains, or other hosting providers at will.
SiteRubix – More than Just a Web Builder
The SiteRubix platform is powered by Wealthy Affiliate, which is a marketing multi-community with over 800,000 members. They offer marketing training and tools to operate and scale online businesses and a very interactive live chat where thousands of people every day discuss and publish content and trainings with everything that has to do with online businesses (included me).
Additionally, they offer web hosting services,  the web building platform which runs on WordPress, 24/7 technical support, and is a domain registrar as well.
That means, everything you need to start, maintain, and develop an online business is offered here, all under one roof.
But that is not the most impressive thing about this community.
To mention here, that SiteRubix throughout the years has been consistently updated to reflect the latest technologies and innovations. This platform is very powerful so let's discover why this is true…
What is SiteRubix?
A web building platform that allows you to build 2 Free WordPress websites using a sub-domain on the root domain siterubix.com, ie…MyNewSite.siterubix.com. and host them for free.
The website you build using SiteRubix comes with 2 plugins pre-installed, the All-in-One SEO (SEO settings/optimization) and it's a plugin I use as well, and the other plugin is the EWWW Image Optimizer.
Along with the plugins, the installation offers the SiteProtect feature which is a spam blocker. The problem with common plugin spam blockers is that the spam still hits your site, clutters your database, slows your site down, and wastes your time recovering real comments. WA SiteProtect happens at the server level and blocks all automated comment spam before it even hits your site. It's just better!
That means you won't need extra plugins to protect your site from spam. And if we consider that every plugin slows a website down a little bit, this pre-installed feature frees up speed, which is a very important ranking factor. Faster websites rank higher in the search engines.
And it doesn't stop there. Lately, they introduced a new feature that comes pre-installed at the server level, the SiteSpeed, a proprietary WA technology that speeds up WordPress sites without plugins or clunky software. That means better rankings and a better experience for your website visitors, even when they are on mobile.
Another innovative integration is the Page Speed Insights, which connects your site with Google Search Console to check the speed of your site at the push of a button.
The 24/7 support is absolutely one of the best in the marketplace. They respond within minutes and they're always very friendly.
Furthermore, you can build websites using domains that you own and host them there but that is included in the premium package (more on that later).
And you can even buy domain names and host your sites on another hosting provider, and you can transfer any site you want (both free sub-domains and own domains) to other hosting providers any time you want.
And you can transfer the content of your Free SiteRubix site to a domain that you own in the future, and the Support team will help you do that in minutes.
Features at a Glance
SiteDomains, find, register, transfer, and manage domains
SiteBuilder, build a WordPress site on a free sub-domain or on a domain that you own
SiteManager, access to the site, statistics, SiteHealth (monitoring the progress), management (content quality & variety, publishing frequency, visitors engagement, plugins, SiteTrust, Google rankings, feedback)
SiteContent, write content for your site using templates (optional), comes with a Free stock photo finder installed
SiteComments, receive comments to your site using credits
SiteFeedback, getting feedback on your site from other entrepreneurs
SiteEmail – unlimited email accounts via the Atmail platform
SiteSupport, technical & hosting issues, site management, 24/7, daily backups on your behalf so that you rest assured your content is safe
Community
Along with these are bundled…
Keyword Research tool (see niche market breakdown examples), the Free account gives you 30 searches per month
Keyword lists, a tool to save all your keywords for future reference
Keyword training, extended keyword training (over 10 lessons) to speed up your online results
Link tracker, Cloaker, Webpage optimizer,  a tool to help optimize your Internet marketing campaigns. My-Linker2  tracks how much traffic you are sending to your merchant pages, which links are effective (and which aren't), and which keywords users are coming to your page from. This tool will greatly benefit you in making informed optimization decisions for your site.
Private messaging system, to interact with any member of the community
Themes
You can choose from 2,750 free themes, that means unlimited design templates to change the look of your site at will. The themes cover all the range of websites, from business, personal blogs, art & design, photography, video, to online stores, eCommerce, travel & lifestyle.
Plugins
There are over 50,000 free WordPress plugins to choose from so that you can integrate any service into WordPress.
Hosting
2 Free fully hosted and 24/7 monitored websites on the high-performance WA hosting platform (with all the previously mentioned features).
SSL certification
They offer Free SSL encryption both for free and premium members.
What Makes SiteRubix Different
It's not only all those features that come pre-installed that make this web builder unique (you can't find such a powerful site management suite elsewhere).
It's the training that is bundled along with the Free package.
When you start an online business is not enough to build a beautiful website. The thing is to know how to make money. SiteRubix comes with an exclusive marketing training to help you perform proper keyword research, get rankings in the search engines using SEO techniques, and build a business for many years to come.
It's the training that helped me build my business and here's what is included in the Free package:
Online Entrepreneur Certification – Getting Started (Level 1)
Understanding how to make money online
Choosing a niche
Building your own niche website
Setting up your website
Getting ready for the search engines
Create your initial website content
Creating custom menus
Understanding keywords
Next steps
Affiliate Bootcamp – Phase 01 – Getting your Business Rolling
Getting started
Choosing your direction
Building your website
A website look around
Activating your plugins
Getting your website ready for SEO
Your initial framework of content
Understanding the keyword research process
Creating thoughtful, insightful reviews
The exciting journey has begun
Classroom #1 – Getting started
Classroom Description
The getting started classroom is an introduction to Wealthy Affiliate Classrooms and getting started within the online business world. Within this classroom, you are going to get a taste of what is offered at WA. You are going to be learning about the process of earning money online, getting your website up and running, and fully understand the process of how the Internet business works. You have full access to create discussions, ask questions, help others, and take part in any of the training included within this section.
Classroom #2 – WA Affiliate Program
Classroom Description
Want to take part in one of the most lucrative affiliate programs online? Look no further than the affiliate program here at WA. With some of the highest commissions after retention and a full recurring (residual) commission structure, you can create a full-time income simply by promoting the community you love here at WA. Make this classroom your home base if you are interested in promoting WA and you want to learn how to scale your campaigns to all new levels.
That is why SiteRubix is built more as a business platform, is not a typical web builder where you just build a site.
Upgrades
The premium membership unlocks many more features. It's ideal if you need exclusive training to speed up your business results.
$49/month or
$29.9/month billed annually
In the price are included:
7 phases of Marketing Bootcamp training
All the training classrooms…keyword research, niche and market research, SEO, everything WordPress, authoring & writing content, social media, website development and programming, local marketing, video marketing, email marketing, Pay-Per-Click marketing
Affiliate marketing classroom
Live video lessons every Friday on 'Hot Marketing Topics' to boost your site's authority and establish a brand name
25 websites on a domain that you own (you can build websites for you, for others. and clients)
25 Free websites on the SiteRubix sub-domain
Free SSL on all your websites
Wealthy Affiliate offers Free SSL encryption for a lifetime for premium members (the prices for this service vary in the market, from $30 up to $300 per year or even more). There are similar Free SSL offers on the market but with different features and restrictions per case. More on that in the next lesson.
SSL encryption is when a website URL starts with https:// and not http:// like WebMarketSupport that's a safe site with SSL certification.
A site with SSL encryption is a secured, safe website. SSL is a protocol used for sending confidential data over the Internet. SSL creates a secure connection between a web browser and the server. In this process, SSL uses encryption to keep the data private. Thus, it protects data privacy.
An SSL certificate ensures the data you send online are read by only the intended recipient and no one else. In this process, the data traverse multiple computers before they reach the recipient. On the way, the data could be accessed by unauthorized third parties. However, SSL makes some changes in the original data so that the data cannot be read by 3rd parties.
That means, having SSL makes sure you can receive money from customers, and the information people exchange (email addresses, names, personal info) stays secured, away from 3rd parties. More importantly, secured sites tend to rank higher in the search engines, because they are safe.
If I were you I would choose the Free SiteRubix option to test things out. If you find the training worthy, you can consider upgrading at a later time.
I have already reviewed all the training modules included in the Wealthy Affiliate education platform and you can access them below.
Wealthy Affiliate Training
Wealthy Affiliate Training
Wealthy Affiliate Training
SiteRubix Features Analysis
SiteDomains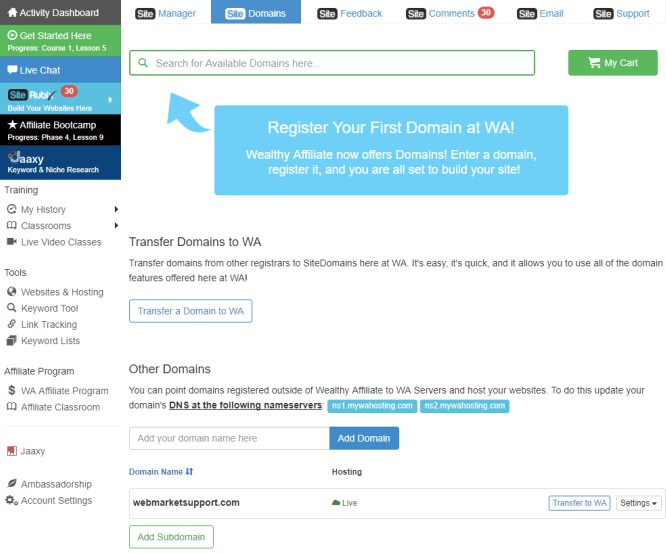 You can search for and register domains. WA registers only the 3 most popular extensions which are the most recommended.
plus the recently added extension
You can transfer domains from other registrars to host them at WA, and vice versa.
Here are the prices
:
Domain cost: $13.99/year
Renewal price: $13.99/year
Privacy protection – included
Email accounts included
NO Upsells
Flat rate guaranteed
SiteBuilder
You build a WordPress site in just 4 simple steps.
Choose a domain that you own or a free one, the domain name, a title for your website, and a free theme which is the design of the site.
The website will be built in 30 seconds.
SiteManager
This is the management suite where you monitor and manage all the SiteRubix features. You have access to your website login passwords, FTP username, and password.
SitePlus+
SitePlus gives you access to 3 main components:
SiteSpeed – faster website performance, better rankings, increased engagement
SiteSSL – secure site over 256-bit Encrypted Connections
SiteProtect (spam blocker) – happens at the server level and blocks all automated comment spam before it even hits your site. No need for extra anti-spam plugins. When this feature introduced I removed 2 anti-spam plugins from my site (Akismet and Captcha for comments), thus increasing site speed.
You can easily control those features with a button (on-off)
PageSpeed Insights
This is where you connect internally with Google to check the speed of individual pages. SiteRubix lists all your pages on your site making the whole process a breeze.
This is the area to check various metrics
Publishing frequency
Content quality & variety
Visitor engagement (comments)
Your engagement
Plugins
Site Trust
Google rankings
Website feedback
SiteComments

SiteComments is the area to give and receive comments on your site from other WA members. First, you have to earn credits by leaving comments on other sites.
There is a table with content categories where you can select your interests in order to leave comments on interesting sites and avoid categories you have no interest in.
Site Feedback
Very similar to the SIteComments feature where you can exchange ideas on your site with other WA members. Again, you have to earn credits to be able to request feedback to your site.
SiteEmail
Here you control your email accounts. You can add as many accounts as you want. And you can even forward email accounts to other services.
SiteSupport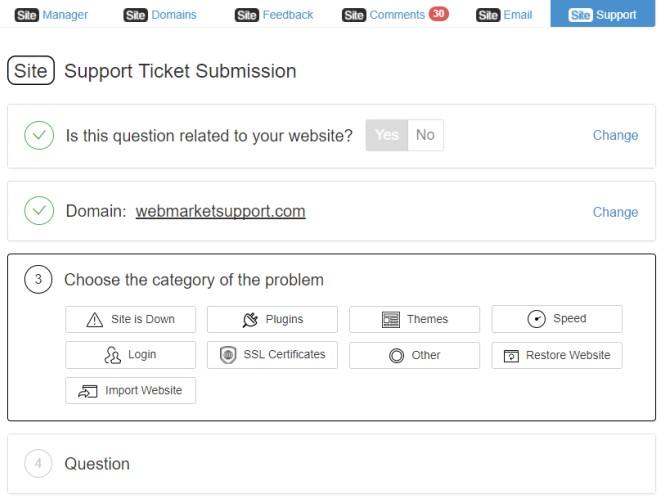 This is where you can ask for technical help. The WA support team is there 24/7 and usually, they respond within a few minutes. The slowest response I got was 15-20 minutes and the fastest was less than a minute.
You choose your domain and a category of the problem and then you type in your message. You can additionally upload media files like screenshots to help the team resolve your issue.
SiteContent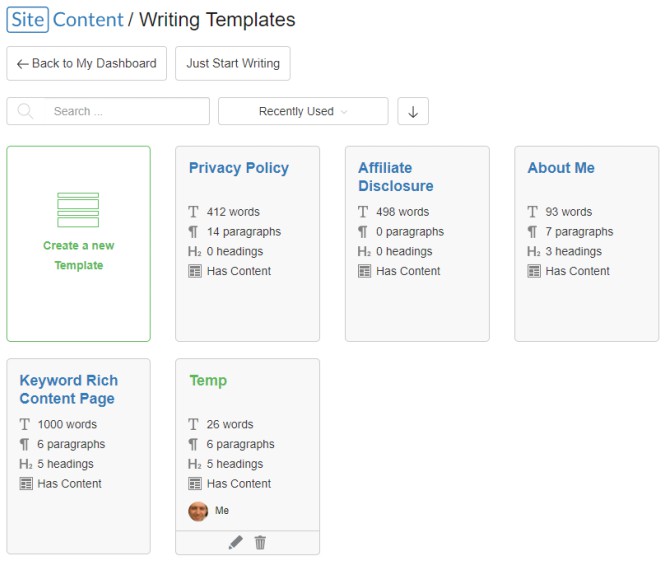 This section comes with some templates for writing content.
Privacy policy
Affiliate disclosure
About Me
Keyword rich content page
Temp
You can create and save new templates on your own.
Free Stock Photo Finder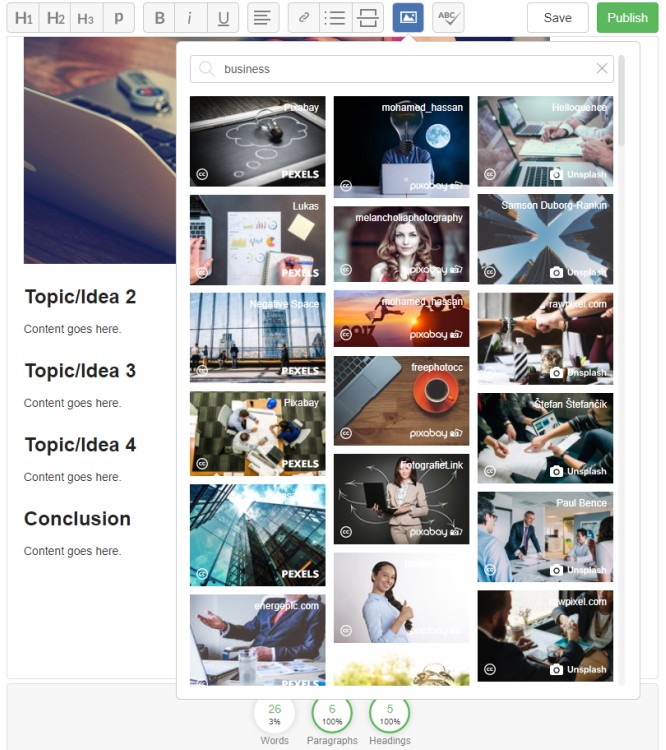 SiteContent comes with a free stock photo finder pre-installed. You just type a query and the software searches an image database providing you with free images you can use on the spot.
This feature can save you tons of time.
SiteContent checks also your content for grammar errors, another very important feature.
PPC Conversion Tracking
Here you can manage conversion tracking for Pay-per-click networks Bing, Facebook and Google Adwords. Conversion tracking is available for New Referrals and Premium Upgrades.
My Linker-2
Link tracker, Cloaker, Webpage optimizer
My-Linker is your tool to help optimize your Internet marketing campaigns. By replacing your affiliate links on your website with My-Linker links you can track how much traffic you are sending to your merchant pages, which links are effective (and which aren't), and which keywords users are coming to your page from. This tool will greatly benefit you in making informed optimization decisions for your site.
Keyword Research Tool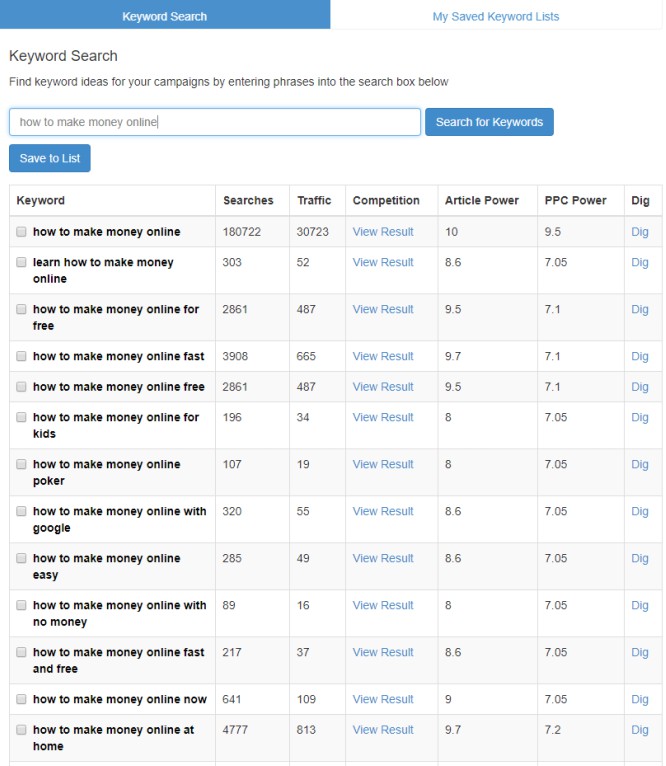 The tool analyzes:
Searches for queries per month (Google, Bing, and Yahoo)
Traffic a query it gets if you get rankings on the 1st page of the search engines
How many websites are competing for the same queries
Article power
PPC power
A very powerful tool that helped me achieve great rankings.
Keyword Lists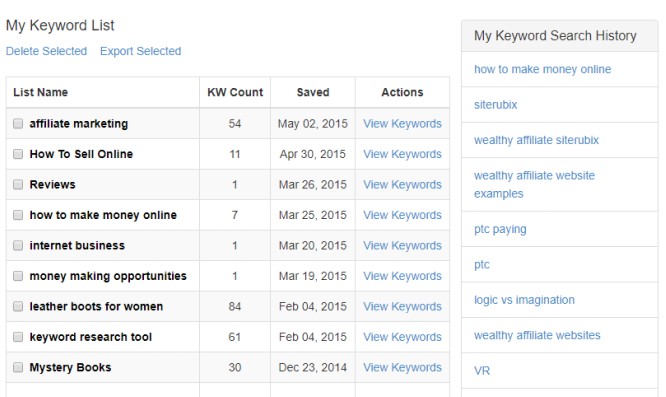 This section lets you save keywords for future reference and there is a keyword research history list as well. Those features can save you so much time.
Keyword Training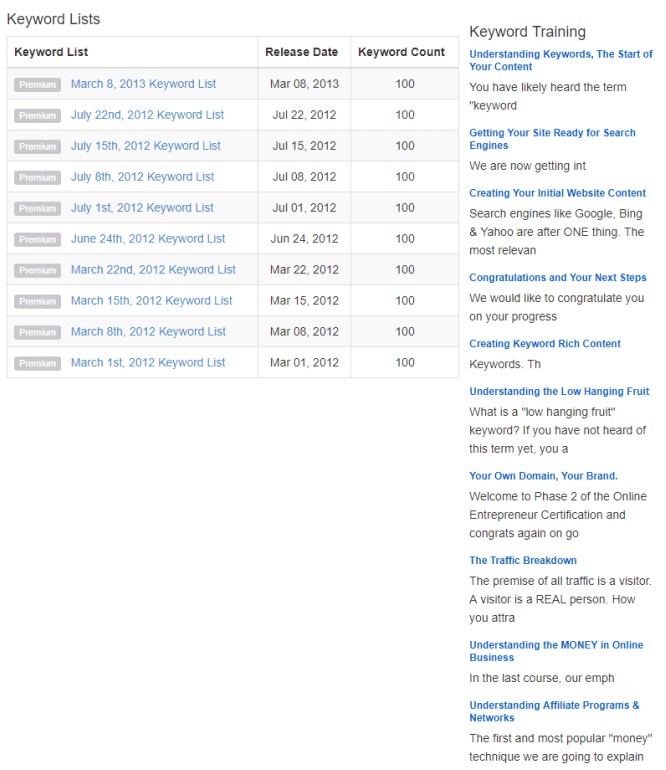 The keyword training can be found in the keyword tool section without having to search manually through the extended training modules. A very convenient feature
Examples:
Understanding keywords, the start of your content
Getting your site ready for the search engines
Creating your initial website content
Creating keyword rich content
The low hanging fruit
The traffic breakdown
Money in online business
Affiliate programs and networks
With that training, I got rankings in the most competitive niche of the market
Jaaxy
Jaxxy uses the same database with the WA keyword research tool but it's much faster and has extended capabilities.
Jaaxy is a powerful suite to discover niches, domains, affiliate networks, and keywords (alphabet soup technique included).
Premium WA members do not pay for Jaaxy like they used to in the past. Now it's included in the premium membership.
Jaaxy is the industry's only keyword and research platform that was developed by affiliate marketers for affiliate marketers. There is an incredible number of hand on processes that are very time consuming when it comes to your business. Keyword and competition research with Jaaxy is just a breeze!
Features:
Keyword Research (SEO, traffic, competition, QSR, rankings, domain data, 99.7% search engine coverage)
Keyword management (Keyword lists, save, store, export, share, and manage all keyword activities)
Keyword Training
Niche Research (alphabet soup platform, 100,000's of evergreen niches, brainstorm the hottest trends, uncover lucrative affiliate programs)
Competition Analysis (reverse engineer any succssful website, different search engines, different rankings)
SiteRank for SEO
Domain search (find available domains in an instant)
Domain Lists
You Can Test Jaaxy Right Here
Hosting
The WA hosting service includes:
25 websites on domains that you own
25 free websites on a siterubix.com sub-domain
Instant DNS setup
Hosting speed – Amazon c3 large (faster)
Website space – 30 GB
Bandwidth 500,000 visitors per month
Data transfer – unlimited
SiteBuilder
Full redundancy
Enterprise security
Daily website backups
24/7 access to server admins
Email accounts – unlimited
BotNet security
SiteHealth
SiteComments
Website feedback
Community access
1 on 1 marketing mentorship
Wealthy Affiliate Community
Live Chat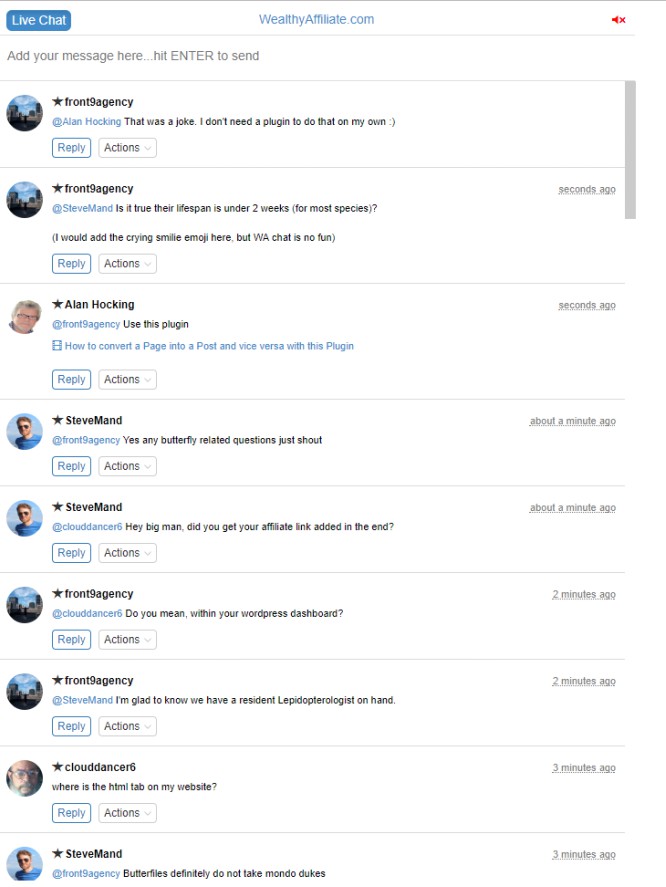 As you can see in the screenshot the live chat area is a very interactive place with messages come and go. People ask questions, others interact and chat, others have fun, exchange ideas.
I love this feature more than anything else. When I got started I had all my questions answered. Now it's my daily hangout.
Forum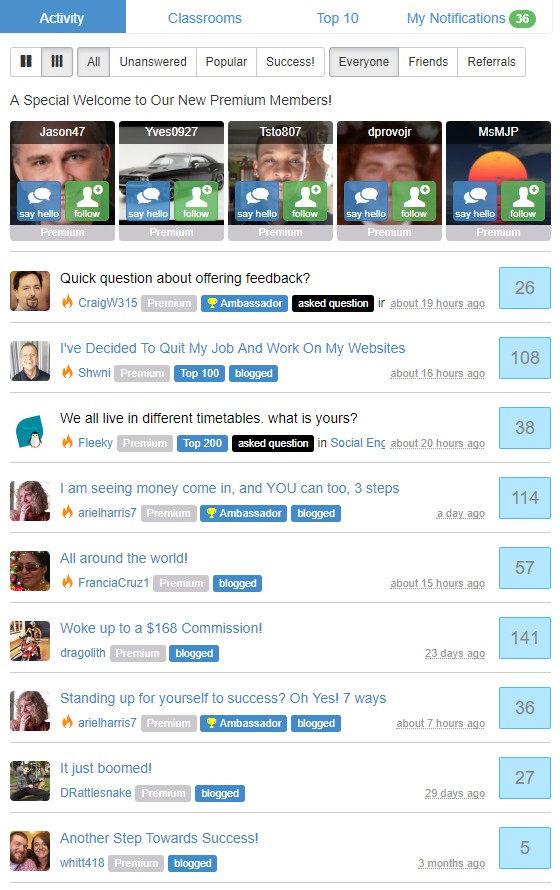 As you can see the forum is very interactive as well. The blue square numbers show the replies to each thread.
You can filter the forum threads by:
All
Unanswered
Popular
Success
Everyone
Friends
Referrals
Web Market Support Was Built with SiteRubix
I created a website on a free SiteRubix domain for my
Free DBR Training
. This website is a live case study where I will be demonstrating all my progress for WMS members.
Step #1
Choose a domain
Step #2
Choose a name
Step #3
Enter a title
Step #4
Choose design
And here's my new site up and running online in seconds
Website: MatchaTop.siterubix.com 
I will continue developing this new site and WMS members will have the chance to see all my actions.
We will expand upon creating and distributing content, we'll tie products and external advertisements into the content, we'll build a fanbase on social media, and we'll try to make money.
It's a Live Case Study, an over my shoulder actionable training and I will be updating the training with new information regarding my progress and results, and you can visit this site anytime you want to check for any changes.
Use SiteRubix to build a Free Website and Apply for the DBR Contest
SiteRubix
is one of the most powerful web builders on the market. It comes bundled with all those features…
SiteDomains – buy domain names
SiteBuilder – build WordPress sites at the push of a button
SiteProtect – spam blocker at the server level
SiteSpeed – a proprietary WA technology that speeds up websites at the server level
Page Speed Insights integration – internal connection with Google Search Console to check the speed of web pages
SiteManager – access to the site, statistics, SiteHealth (monitoring the progress), management (content quality & variety, publishing frequency, visitors engagement, plugins, SiteTrust, Google rankings, feedback)
SiteContent, write content for your site using templates (optional), comes with a Free stock photo finder installed
SiteComments, receive comments to your site using credits
SiteFeedback, getting feedback on your site from other entrepreneurs
SiteEmail
SiteSupport, technical & hosting issues, site management, 24/7, daily backups on your behalf so that you rest assured your content is safe
Keyword Research tool
Jaaxy – keyword and market research suite
Keyword lists
Keyword training
Link tracker, cloaker, webpage optimizer
Community
Private messaging system
Live chat area
Forum
Free Themes
Free Plugins
Hosting
SSL certification
Security
Online business training (2 main training modules of 10 lessons each, 7 phases Affiliate Bootcamp training of 10 lessons each, 13 training classrooms, live video classes archive which is over 300 lectures of 1 hour each).
Anything you need to create, operate, and scale an online business is offered with SiteRubix.
It's the platform I use daily to educate in order to enhance my online career, interact with other like-minded entrepreneurs, and share ideas.
It's a platform that thousands of other marketers use and are willing to help newcomers just like they received enormous help when they got started (including me).
All in all, it's the platform that helped achieve online success, and I believe it can do the same for you.

This is the WA SiteRubix Section
NEXT WA REVIEWED DEPARTMENT
SITERUBIX INFOGRAPHIC
Success is Just Around the Corner
Let's Work Together
Let me become your Wealthy Affiliate Guide to help you build a profitable business faster
WHAT'S INCLUDED FOR FREE 
(Real Value $16,000+)
Bonus #8 – Hidden/Private
Wealthy Affiliate Bonuses
Become a Premium Member of Wealthy Affiliate
And Unlock the Vault of Bonuses
Some of the links on this page are "affiliate links". This means if you click on the link and purchase a product, membership, or service, I may receive an affiliate commission at no extra cost to you. Regardless, I only recommend products and services I use personally or I believe will add value to my readers. I am disclosing this in accordance with the Federal Trade Commission's: Guides Concerning the Use of Endorsements and Testimonials in Advertising. For more information, I refer you to the Disclaimer page