BONUSES Available For Both WA Memberships
Wealthy Affiliate – Web Hosting
Reliable & Secure Services, Friendly Support Team
by Tasos on Jan 10, 2018 – Last Update: Jan 12, 2018
Web Hosting Services
To make a website visible and accessible online you need a domain name and web hosting services. A domain name is just the address people type in to visit a site, the URL.
A web host, or web hosting service provider, is a business that provides the technologies and services needed for the website or webpage to be viewed on the Internet. Websites are hosted or stored, on special computers called servers. A web hosting provider is also offering technical support.
Key elements when choosing a web hosting service:
Website is up and running 24/7 if possible (full redundancy)
Speed – Fast loading pages so visitors have a great experience
Security-Safety – a service to keep spammers and attackers away, a safe environment where visitors can exchange their personal information securely (email addresses, credit card details, etc…)
Monitoring, statistics, management features
Bandwidth and website space
Ability to change hosting providers if needed, easy transfer
Reliable, fast, and friendly technical support
Wealthy Affiliate WordPress Hosting
They say…"Wealthy Affiliate + WordPress Hosting + Free SSL is brilliantly powerful, intricately secure"
And they continue:
Hosting your WordPress websites has never been more secure, yet powerful. The brains behind any successful hosting platform are the intricate technical processes that nobody ever sees. Wealthy Affiliate provides a hosting experience you can feel safe running your businesses on. We take care of the technology so you can focus on your business.
Let's find out if these claims are true:
WA provides hosting only for WordPress sites. All other CMS are excluded.
I host Web Market Support at Wealthy Affiliate for 3 years now and I believe it's time to review their hosting service. Here are my findings:
#1 Key Element – Website is up and running 24/7 
I work on my site almost daily since the day I created it. I remember only 2-3 times that went offline and when I contacted the support team they resolved the issue within minutes.
Even when I sleep I know the site is working because I can see traffic coming in all the hours of the day according to Google Analytics.
WA highlights on that matter…
Your website is always awake, we double host your site. Unlike any other hosting platform in the world, we offer all clients "double-hosting". Your websites have full redundancy, meaning that if one of your websites were to for some reason to go down, we have a "mirror" of your website running at all times that we will swap in, instantly. This layer of redundancy to uptime is unparalleled in the industry.
#2 Key Element – Speed – Fast loading pages so visitors have a great experience
Speed is a very important factor for websites. It affects rankings and user experience. When a site is new it runs faster, but as content, media, and plugins are added, a site slows down. A badly coded theme can slow a site down. The more people visit a site simultaneously a site slows down as well.
You can check the speed of a site using free online tools and the speed of individual pages using the Google Page Speed Insights feature.
When my site started receiving regular traffic I begun checking its speed mainly using the Google feature mentioned above. It was running just fine, besides I was using only a few plugins.
But my site grew as I was working on it by adding content daily. I added new plugins to enhance its functionality and later on, I purchased the premium theme of Elegant Themes, Divi. To mention here that Divi is one of the most popular premium themes and although is a well-coded theme due to its extended capabilities and the visual builder it slows down sites (more than other lighter themes do).
Furthermore, I use 15 plugins right now on this site. The 11 of them are always active and I have 4 plugins de-activated and I activate them when needed.
The site slowed down a little bit.
It was early June 2017 when Wealthy Affiliate introduced a new feature, the SiteSpeed technology as they call it.
Carson, the co-founder explained…
SiteSpeed was built to improve not only your website performance, but the performance of your WordPress server environment. SiteSpeed is a website caching platform that sits in front of your website and your website server.

 

When I say "Caching", I mean that it's a platform that saves static versions of your website pages and posts. It's an extremely fast, scalable, and robust server (hardware) which all requests to your website are handled. This server is able to serve web pages at lightening pace, literally responding to the requesting browser near instantly.

 

This is similar to services like CloudFlare, among others, but it's built right into your websites here at Wealthy Affiliate. It can also handle a lot of traffic, much more than any Web server could without bowing up!

 

SiteSpeed keeps real-time versions of your website which it can deliver to browsers in hundredths of a second, thus preventing the request from ever even hitting your website's server.

 

 

This technology is VERY SMART. When updates are made to your website which could affect what it looks like, SiteSpeed detects this and it updates the files that it sends to people's browsers.

 

What this means is that unlike many of the plugins out there which serve slightly out-of-date versions of your website to

people browsing – SiteSpeed delivers your website in REAL time, exactly what your site would look like if SiteSpeed were turned off.
The benefits of SiteSpeed technology
Improved website load times – Google speed target 80% for mobile, 90% for desktop
Better rankings
Bots & crawling loads minimized to nothing
Traffic attacks (DDoS) fended off
Zero cost for premium WA members
When SiteSpeed was officially released I enabled it and the site came back to the old metrics. It was like having a brand new site with no plugins.
I checked the Google PageSpeed Insights and I got an average of 75% for mobile and 85% for desktop.
Considering all the plugins I use and the Divi theme these results were more than satisfying.
And there's always room for improvement if you manually begin to apply Google's suggestions on that matter. Everytime you check a page's speed Google will give you a list of 'Techie" things you can do to improve speed even more. But these actions require some experience, and most importantly time.
Another cool feature is that now they have integrated Google Page Speed Insights right into the SiteRubix manager. So you can check the speed of any page without having to visit Google externally. All your site's pages are shown in the SiteManager panel and from there you just click a button to check the pages speed. This features saves me so much time.
#3 Key Element – Security-Safety – a service to keep spammers and attackers away, a safe environment where visitors can exchange their personal information securely (email addresses, credit card details, etc…)
It was June 27, 2016, when Carson, the co-founder introduced another great feature to the already impressive SiteRubix panel. The SiteProtect technology, as they call it.
The article's highlights…
Bots (computers) are the foundation of the spam ring out there and they are able to quickly find and attack any website. There are specific bot networks that focus on finding WordPress websites and exploiting many areas that are susceptible to accepting spam content

 

 

With a WordPress plugin, the spam comes through from the bot-net and it hits your website. The plugins then figure out what to do with the comment by accessing eternal databases, and following patterns that known spam networks use.

The KEY point here is that your website is still doing work to determine if the comment is spam – and this is totally unnecessary and inefficient. Preventing a spam comment from being published on your website is how plugins work. SiteProtect is blocking the comment from your website entirely.
With SiteProtect the comment never hits your site, never clutters your database, never sends you an email asking you to login and review the spam comment, it doesn't cause your server to do any work. In turn, your website experiences much less stress, and that in turn makes your website run faster and more efficiently.
So now, you can remove any spam plugin you use.

We are able to use proprietary technology to determine if a human being is actually hitting your website, filling out the comment box, and submitting it in the way a real human would do. Bots are computers and they act very differently and cannot FAKE that they are real people (although they try). We detect this, and we stop the comment from even hitting your website and causing your site to load the entire framework (preventing load). 99% of comment spam you receive is from computers, not real humans copy and pasting content – we've got you covered 🙂
At that time I was using the Akismet Anti-Spam and the Captcha plugin for comments.
When the SiteProtect feature was officially released I was able to remove those 2 plugins from my site, thus increasing its speed.
For the first 2 weeks or so there were a few spam comments coming in but I guess this was due to the nature of this technology. The hardware needs data to recognize possible threats to block future similar threats.
After the 2-week period, my site was completely clear off spam. Still working great. I never had to use any spam plugin since then.
SSL Certificates
SSL encryption is when a website URL starts with https:// and not http:// like WebMarketSupport that's a safe site with SSL certification.
A site with SSL encryption is a secured, safe website. SSL is a protocol used for sending confidential data over the Internet. SSL creates a secure connection between a web browser and the server. In this process, SSL uses encryption to keep the data private. Thus, it protects data privacy.
An SSL certificate ensures the data you send online are read by only the intended recipient and no one else. In this process, the data traverse multiple computers before they reach the recipient. On the way, the data could be accessed by unauthorized third parties. However, SSL makes some changes in the original data so that the data cannot be read by 3rd parties.
That means, having SSL makes sure you can receive money from customers, and the information people exchange (email addresses, names, personal info) stays secured, away from 3rd parties. More importantly, secured sites tend to rank higher in the search engines, because they are safe.
Free SSL for everyone – encrypting your sites has never been easier…
It was January 05, 2017, when Carson, the co-founder introduced another important feature to the SiteRubix network. This time it was about SSL encryption, at WA they call it SiteSSL.
The article's highlights…
SitePlus+ is a new set of features and services that is associated with all of your websites that are hosted here at WA. With this new platform, you are going to be able to toggle on and off features of your website that have been built from the ground up at WA to improve how your website functions, is perceived by Search Engines, how it's experienced by your visitors, and how secure it is.

 

 

 

 

 

SiteSSL installs your very own Secure Certificate on your website so that all data transferred from a user's browser to the hosting servers is encrypted. You've likely heard that Google and the other major search engines are preferring SECURE websites with SSL Certificates – this is exactly what they are after and this is going to become more prominent in the ranking factors in 2017.

 

 

Securing data by installing an SSL Certificate means that if someone finds your website at Starbucks there is no chance of a third party spying on any data transferred from that user's browser to the server. Maybe you're on your best friends WIFI connection and you are entering your password to login to your website admin area – this is now encrypted so that there is no way your friend or some malicious virus/malware could intercept that password and take control of your site.

 

 

All of your edits to your website will be encrypted and safe, all of your logins will be encrypted and safe, and your website is going to be preferred by Google when it comes to rankings and positioning.
When finally they released this feature I enabled it and my site turned to secure status. Although turning a non-secure site to a secure one with an SSL certificate is not an easy process with the SiteSSL feature this process was quite easy.
I just had to check every page separately to ensure that the green padlock appears. It took me 2 hours to complete this process but my site at that time was quite big. I had to check around 500 pages.
If you were to go alone to purchase an SSL certificate and make the transition this process could take anywhere from 1 day to 2 days or even more (for a site with a size similar to mine).
My site works on a secured environment since then with no problems.
#4 Key Element – Monitoring, statistics, management features
SiteRubix includes the following monitoring features…
Database
Malware & virus
Filesystem
Hacking and intrusion
Site performance
Along with these are bundled…
SiteHealth to check various metrics
Publishing frequency
Content quality & variety
Visitor engagement (comments)
Your engagement
Plugins
Site Trust
Google rankings
Website feedback
Site Comments
SiteComments is the area to give and receive comments on your site from other WA members. First, you have to earn credits by leaving comments on other sites.
There is a table with content categories where you can select your interests in order to leave comments on interesting sites and avoid categories you have no interest in.

Site Feedback
Very similar to the SIteComments feature where you can exchange ideas on your site with other WA members. Again, you have to earn credits to be able to request feedback to your site.
Site Email
Here you control your email accounts. You can add as many accounts as you want. And you can even forward email accounts to other services.
Site Content
This section comes with some templates for writing content.
Privacy policy
Affiliate disclosure
About Me
Keyword rich content page
Temp
You can create and save new templates on your own.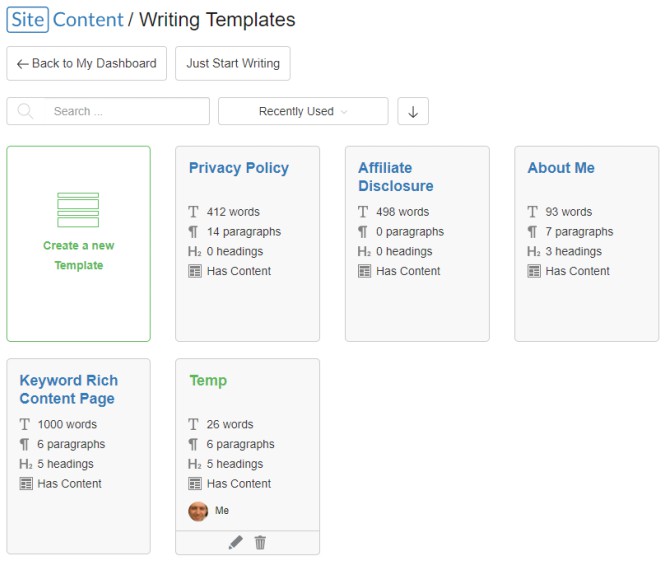 Free Stock Photo Finder
SiteContent comes with a free stock photo finder pre-installed. You just type a query and the software searches an image database providing you with free images you can use on the spot.
This feature can save you tons of time.
SiteContent checks also your content for grammar errors, another very important feature.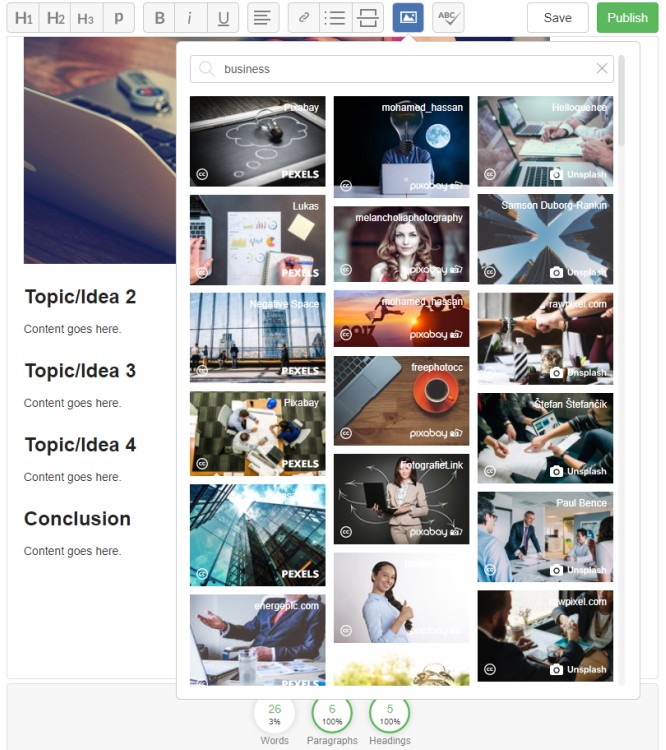 PPC Conversion Tracking
Here you can manage conversion tracking for Pay-per-click networks Bing, Facebook and Google Adwords. Conversion tracking is available for New Referrals and Premium Upgrades.
My Linker-2 – Link tracker, Cloaker, Webpage optimizer
My-Linker is your tool to help optimize your Internet marketing campaigns. By replacing your affiliate links on your website with My-Linker links you can track how much traffic you are sending to your merchant pages, which links are effective (and which aren't), and which keywords users are coming to your page from. This tool will greatly benefit you in making informed optimization decisions for your site.
Keyword Research Tool
The tool analyzes:
Searches for queries per month (Google, Bing, and Yahoo)
Traffic a query it gets if you get rankings on the 1st page of the search engines
How many websites are competing for the same queries
Article power
PPC power
A very powerful tool that helped me achieve great rankings.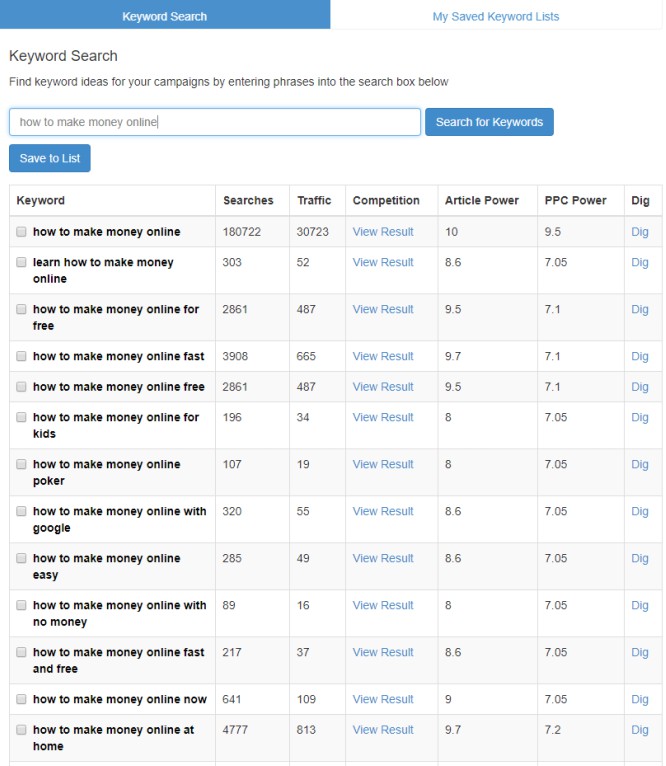 Keyword Lists
This section lets you save keywords for future reference and there is a keyword research history list as well. Those features can save you so much time.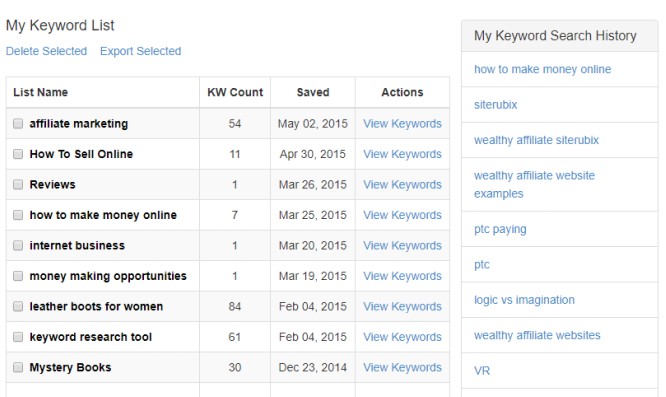 Keyword Training
The keyword training can be found in the keyword tool section without having to search manually through the extended training modules. A very convenient feature
Examples:
Understanding keywords, the start of your content
Getting your site ready for the search engines
Creating your initial website content
Creating keyword rich content
The low hanging fruit
The traffic breakdown
Money in online business
Affiliate programs and networks
With that training, I got rankings in the most competitive niche of the market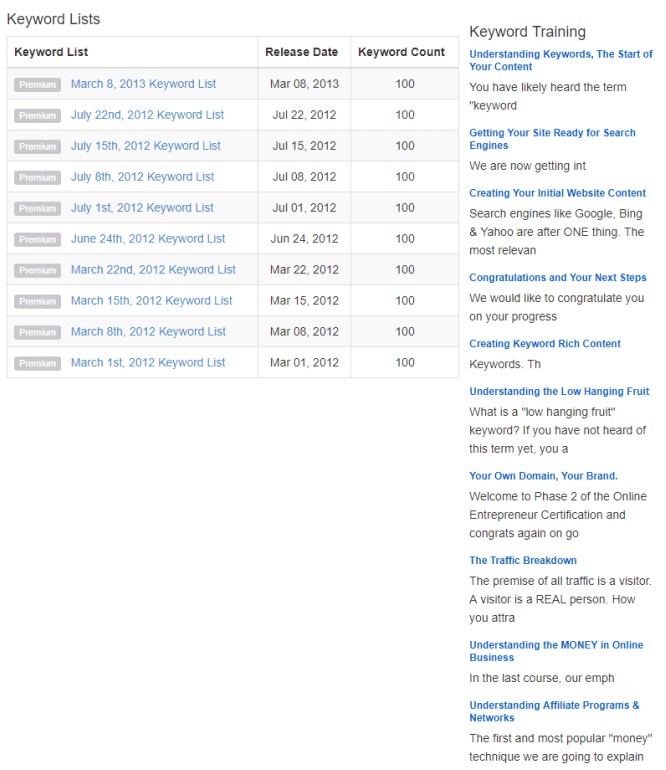 Jaaxy
Jaxxy uses the same database with the WA keyword research tool but it's much faster and has extended capabilities.
Jaaxy is a powerful suite to discover niches, domains, affiliate networks, and keywords (alphabet soup technique included).
Premium WA members do not pay for Jaaxy like they used to in the past. Now it's included in the premium membership.
FTP Access
Premium members have FTP access to their sites and the FTP usernames and passwords are shown in the SIte Manager panel.
Standard free members do not have FTP access.
BackUps
WA creates daily backups on the behalf of their members. But I always suggest that you create your own backups as well.
Is there Anything Missing from this Section?
Actually, there is something missing, although WA offers a wide range of services and tools bundled with hosting.
Absence of cPanel
cPanel is a web-based hosting control panel that allows you to manage your site using a graphical interface. But I think it's not necessary because the Site Manager panel is pretty powerful too.
Membership sites
WA does not allow membership plugins, plugin/themes which require time to time connections to remote servers.
What does it mean?
When I was working on the Digital Business Roadmap training I needed a membership plugin to ensure that only registered members can access the "private" content.
I tested almost every available plugin and all failed. This is when I contacted the support team to check things out, I was wondering if there was a problem with my site. The support team informed me that WA does not allow connections to external servers. Maybe they do that to ensure the safety and security that comes with the SiteProtect, SiteSpeed, and the SiteSecurity features.
But I found a solution after researching a little bit more.
I discovered the WP Private Content Plus plugin which allows members to register on the back-end of my site. Although, this is not the best of options (all other plugins give to external users access only to the front-end of the site) is a solution that is working currently for me.
Because new members when register are assigned to a "Subscriber" role which gives them the ability only to read and to leave comments without entering their data. They can't post or change anything.
But yet, I would prefer to be able to use one of the most advanced plugins out there, because this one has limited functionality, but at the moment is enough.
#5 Key Element – Bandwidth and website space
WA offers…
30 GB website space
500,000 visitors per month bandwidth
My site's size right now is 666 URLs long and the last time I backed it up the size of the .rar file was 530 MB. That means I used only the 1/60 of the space so far. I think I won't be able to reach 30GB anytime soon.
Concerning the bandwidth, I wish that I could reach the half million users per month. Right now my site is receiving 10,000 visits per month approximately. That means I reached the 1/50 of the total bandwidth.
#6 Key Element – Ability to change hosting providers if needed, easy transfer
Transfer domains to WA
Transfer domains from other registrars to SiteDomains at WA is easy, quick, and it allows you to use all of the domain features offered.
When I purchased the domain name from NameCheap (at that time Wealthy Affiliate was not a domain registrar), I transferred the hosting to Wealthy Affiliate, because I discussed with many people and everyone was satisfied with their services. Everyone assured me that Wealthy Affiliate will take care of my site and that they offer excellent customer service.
You can point domains registered outside of Wealthy Affiliate to WA Servers and host your websites. To do this update your domain's DNS at the following nameservers:
ns1.mywahosting.com
ns2.mywahosting.com
If you can't figure out how to do that you have to contact your current hosting provider to ask for help. I completed this process alone, and it was very fast, it took only 30 minutes to have my site transferred from NameCheap to WA.
Transfer domains outside WA
I know a few people that transferred some of their sites outside WA, mostly because they needed a more flexible membership solution or for other reasons like to check other providers and compare the services. Some of them returned to the WA hosting. Whatever the reason maybe you might want to transfer hosting out of WA.
In that case, you have to contact the WA tech team by submitting a support ticket and they will help you out.
In the case you want to cancel your WA membership, there is a grace period of 30 days to find a new hosting provider.
#7 Key Element – Reliable, fast, and friendly technical support
In my 3-years WA experience, I contacted the support team 7 times.
Here is the history
#1 – I was a newbie (30 days into this online journey), and I had installed a plugin to translate automatically the content. I run into an issue, the tech team solved it in minutes.
#2 – November 2015 – I had a problem with a backup plugin, the tech team found out a conflict with another plugin, they removed the bad plugin for me, issue resolved.
#3 – November 2016 – a problem with the email account. The tech team resolved it in minutes.
#4 – January 2017 – could not access the dashboard – again, they solved it very fast.
#5 – March 2017 – the site was down, the tech team resolved it as always.
#6 – May 2017 – I could not upload a certain video file to my site. The tech team looked into it and they uploaded it for me via FTP. Additionally, they helped me to do that on my own by redirecting me to FTP tutorials.
#7 – November 2017 – this is when I contacted them about the membership plugins issue mentioned above. Again, they were very friendly to inform me that WA only allows connections on the back-end of the sites.
As you can see, they're always helpful, fast, friendly, and in many cases, they help with problems that have nothing to do with their services. The support team is one of the best WA features.
Price
The hosting service comes bundled with all the other features of the platform (training, community, forum, keyword and other tools…)
There are 2 options
$49/month or
$29.9/month billed annually
You can host up to 25 websites on a domain that you own plus 25 free websites on a SiteRubix sub-domain.
Free Option
You can build and host 2 free websites on the SiteRubix sub-domain so you can test their service.
OK, Let's Recap
Here is what is included in the WA hosting
25 websites on domains that you own
25 free websites on a siterubix.com sub-domain
Instant DNS setup
Hosting speed – Amazon c3 large (faster)
Website space – 30 GB
Bandwidth 500,000 visitors per month
Data transfer – unlimited
SiteBuilder
Full redundancy
Enterprise security
Daily website backups
24/7 access to server admins
Email accounts – unlimited
BotNet security
SiteHealth
SiteComments
Website feedback
Community access
1 on 1 marketing mentorship
WA Hosting Final Review
Let's refresh our memory with the Hosting Key Elements
Key elements when choosing a web hosting service:
Website is up and running 24/7 if possible (full redundancy)
Speed – Fast loading pages so visitors have a great experience
Security-Safety – a service to keep spammers and attackers away, a safe environment where visitors can exchange their personal information securely (email addresses, credit card details, etc…)
Monitoring, statistics, management features
Bandwidth and website space
Ability to change hosting providers if needed, easy transfer
Reliable, fast, and friendly technical support
PROS
Full redundancy, site is almost always 24/7 up and running
SiteSpeed technology gives me an average of 75% for mobiles and 85% for desktop (Page Speed Insights tested via Google)
SiteProtect helped me remove 2 anti-spam plugins, no problem with spam since then
Free SSL that works
A powerful Site Panel with many monitoring and management features, and statistics.
Enough bandwidthth and space
Easy transfer to and from other providers
A super friendly support team that is willing to solve issues even when they have nothing to do with their service. They always respond within minutes.
Some features can't be found on other providers like SiteComments, SiteFeedback, SiteContent, free stock photo finder, keyword tools, training, community, live chat, forum…
CONS
Absence of cPanel
Membership plugins that connect to external serves are excluded
Hosting only for WordPress CMS.
No FTP access for Free members
All in all, a great hosting service that I highly recommend.
That's it, another review has finished, here on Web Market Support. I am waiting for your comments and thoughts. Till next time, your online partner.

This is the WA Hosting Service
NEXT WA REVIEWED DEPARTMENT
DOMAINS
What kind of domains you can register
What's included in the fixed price 
Let's Work Together
Let me become your Wealthy Affiliate Guide to help you build a profitable business faster
WHAT'S INCLUDED FOR FREE 
(Real Value $16,000+)
Bonus #8 – Hidden/Private
Wealthy Affiliate Bonuses
Become a Premium Member of Wealthy Affiliate
And Unlock the Vault of Bonuses
Some of the links on this page are "affiliate links". This means if you click on the link and purchase a product, membership, or service, I may receive an affiliate commission at no extra cost to you. Regardless, I only recommend products and services I use personally or I believe will add value to my readers. I am disclosing this in accordance with the Federal Trade Commission's: Guides Concerning the Use of Endorsements and Testimonials in Advertising. For more information, I refer you to the Disclaimer page