A subscriber asked why I started doing workshops. Although I discussed the subject with my email subscribers, I believe it would interest website visitors as well. 
Why I Started Doing Workshops
Let's take it from the start at high-speed to help everyone understand.
I was an entrepreneur for so long. But when I expanded online, it was a whole new world.
I was starting from zero. From scratch.
I started out WebMarketSupport, a simple marketing blog, and discovered the business model of the marketing publisher.
Cool, I thought it was a hobby, a few hours here and there. An income stream.
I liked it though. I started thinking of expanding in the future as a marketing agency, At that time, I did not know how I would accomplish that.
I said to myself, work, and investigate. I kept on researching, reading, learning, communicating, networking.
I studied web design immediately. Basic stuff but enough to get me rolling. I studied marketing and advertising. Then sales, some more web design, and development. Then more advanced stuff. Paid advertising, copywriting, you name it.
I learned how to create little digital products.
In the meantime, the publisher business was doing more than amazing. A famous affiliate manager, in fact, he's an award-winning manager and has worked with industry names that are big discovered my work. First, I could not believe it.
He read a blog I wrote and asked if I'd like to promote some brands for him.
When I did so, I got some very cool sales. I even saw my name in a sales leaderboard under people like Jeff Walker and Bullas.
Then, I was experimenting with some paid ads and I was making sales for an affiliate network. A huge network that makes millions of sales on a daily basis.
One day, I received an email from a marketing director or something. A big head. He said, your sales got my interest, and here's something for you…
These are promotions we don't run on the network. These are promotions that could mean a lot to you. See if anything's OK for your audience and apply to become their publisher.
There were 5-6 options, I can't remember exactly.
I chose one that seemed very promising, I had to apply, to qualify, Pheww, they accepted me. I said to myself:
You have to give your best.
It was something I was not expecting. I devoted some decent time to promote the launch with a series of campaigns on various channels.
Bum…my biggest publishing success so far.
Then, I was able to get clients in the local market, helping them with marketing and advertising. SEO, market research and analysis, unique proposition, a few video productions, very cool stuff.
Then, I expanded online offering these services and way more. Web development, marketing, advertising, education.
And now, I'm doing workshops. First locally, now online, Why not? It's the next logical step for me.
I have plans also. I will try to do live events, speaking, and even podcasting.
I'm producing videos.
I wish I had started sooner. But I had to overcome an inner demon, of showing up on camera while speaking English. It took me 4 years. 
I guess I learn fast!
What's my point?
It's OK to start small. I started this project at $31. Just a test.
As Marie Forleo said, starting small does not mean thinking small.
And to answer Tom and everyone else, yes you can start by developing your own products right from the beginning.
And I'm a guy that can help you on your journey if you let me.
Yes, you can start by creating ebooks, pdfs, and then slowly expand.
In a year or less, you could deliver your own workshops, speaking events, masterminds, or anything else, depending on your niche and industry. Do online courses, offer services, write books, web classes. The opportunities are endless.
And maybe even sooner, I don't know how much time you're going to devote.
So far, there are 3 training workshops available.
Marketing & advertising
Information reporter
Marketing publisher
Go on and register now and let's start working together 1-on-1.
We Teach
Marketing &
 Business
Live on Zoom
Your host: Tasos Perte Tzortzis
Schedule an interview so we can evaluate where you are right now, your needs and goals, and we'll give you a detailed analysis of how the workshops work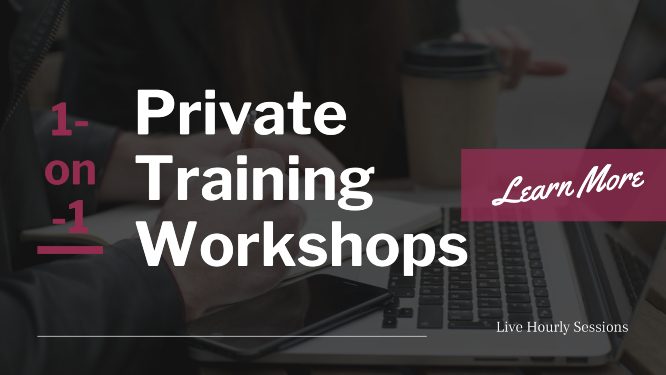 That's it, another article has finished, here on Web Market Support. I am waiting for your comments and thoughts. Till next time.
Tasos Perte Tzortzis
Marketing Consultant, Creator of the "7 Ideals" Methodology
Although doing traditional business offline since 1992, I fell in love with online marketing in late 2014 and have helped hundreds of brands sell more of their products and services. Founder of WebMarketSupport, Muvimag, SummerDream.
I enjoy reading, arts, science, chess, coffee, tea, swimming, Audi, and playing with my kids.