Are you looking to enhance customer experience on your website? Good idea.
Installing a live chat option is the first step to providing a better service. 
When we installed live chat on this website, a long time ago, everything changed. 
We could answer questions in real-time and interact with visitors on a deeper level. 
Replying to comments and emails is one thing, chatting live is another. 
It's more personal and you appear professional as well.
Not to mention countless other benefits, like reducing costs, increasing conversion rates, becoming proactive, improving customer satisfaction, boosting credibility and authority, reducing shopping cart abandonment, and so much more.
We have compiled a list of the most popular live chat solutions in the market.
Let's dive right in!
Website Live Chat Solutions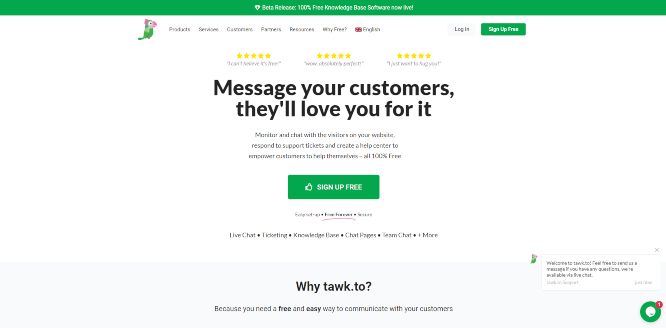 Main slogan: Message your customers, they'll love you for it. Monitor and chat with the visitors on your website, respond to support tickets and create a help center to empower customers to help themselves – all 100% Free.
Products:
Live chat
Chat pages
Knowledgebase
Live chat features:
Real-time monitoring
Native mobile apps
Automated triggers
Customizable widgets
Ticketing built-in
Remove branding
Canned shortcuts
100+ integrations
Other features:
27 languages, GEO IP tracking, Aliases, Message filtering
Javascript API, unlimited agents, departments, high load dashboard
Group messaging, track sentiment, file transfer, secure encryption
Video & voice (add-on), unlimited history, tags, custom tabs
Agent messaging, track engagement, attention bubble, message sneak-peak
Screen sharing (coming soon), detailed reporting, domain restriction, visitor information
Desktop notifications, ban/unban visitors, scheduler, in-char payments (in beta mode)
1880+ emoji, agent alerts, mail notifications, automated translation (in beta mode)
What you can do with this app:
Monitor website visitors in real time
Answer chats from your mobile device
Proactively engage visitors with Triggers
Customize the widget to suit your site
Localize greetings and messages in your language.
Respond quickly with predefined shortcuts
Integrate with WordPress, Joomla, Magento
and more…
Services:
Hire chat agents
Hire a virtual assistant
Other departments:
Partners (become a partner, directory)
Help center
Academy
Developers
Status
Blog
Careers
Customers
Integrations:
WordPress, Joomla, OpenCart, Drupal, Magento, Shopify, Weebly, Wix
OsCommerce, Prestashop, whmcs, GeoIP, Talon, ZenCart, Cayzu Help Desk
…and more
Premium services and add-ons:
Remove the tawk.to branding and use your logo instead.
$9/month – paid annually
$15/month – paid monthly
Hire live agents that are professionally trained and ready to answer chats on your behalf 24/7. Make sure that they are a good fit for your specific niche.
Video/Voice/Screen sharing. Solve problems fast for your customers with Video chat, Voice calls, and a 2-way screen sharing.
A live chat tool to interact with your visitors, answer their questions, and improve the overall user experience on your website. Free and premium versions available. Real-time monitoring, native mobile apps, automated triggers, customizable widgets, ticketing built-in, integrations).
This is the tool I use for many years now.
About: Launched in 2013 by Robert D'Assisi.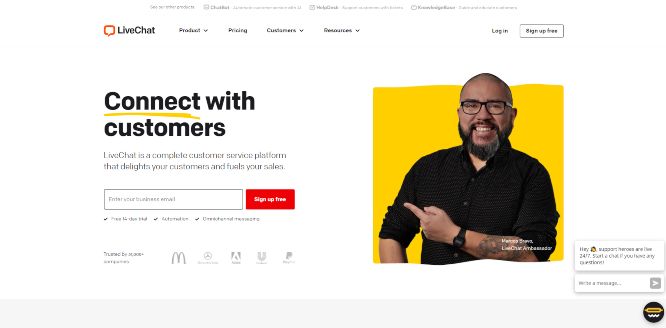 Main slogan: a complete customer service platform that delights your customers and fuels your sales. Connect with customers.
Stats:
Trusted by 31,000+ companies
100+ employees
1,500+ partners
Features:
Chat tools: message sneak-peak, canned responses, chat tags, rich messages, file sharing, chat archives, notifications, chat transfer, chat ratings
Customer engagement: targeted messages, messaging mode, eye-catchers, chat buttons, URL rules, ticket form, chat routing, chat history, chat transcripts
Customization: personalization, agent profiles, languages, chat boosters
Reports and analytics: data summary, chat reports, data export, agent reports, ticket reports, customer reports, eCommerce reports, filters, dashboard
Security: encryption, credit card masking, data storage, access restriction, visitor banning, logging in with Google, compliance, single sing-on
200+ integrations
Live chat APIs: customer SDK, webhooks, chat widget JS API, chat API, reports API
Ticketing system: tickets, private comments, ticket tags, ticket statuses, ticket ratings, reports
Sales & eCommerce: customer data, product cards, goals and sales tracker, pre-chat survey, customer details, eCommerce integrations
Team management: agent accounts, groups, chat supervision, agent roles, chat limit, work scheduler
Messaging channels: chat widget, Facebook, SMS, Apple business chat, chat page, email
Other departments:
Tour
Use cases
App
Marketplace
Updates
Customers: case studies, industries
Resources: success by LiveChat, customer service guide, newsletter, reports, benchmark, typing speed test, privacy policy generator, customer service report
Support: help desk, community, webinars, experts marketplace, API & developers, system status
Company: investors, partner program, press, careers
Pricing:
Starter: small office/home office. $16/mo per agent billed annually or $19/mo.
Team: full-time support team. $33/mo per agent billed annually or $39/mo.
Business: customer service department. $50/mo per agent billed annually or $59/mo
Enterprise: fortune 500 companies. Individual contract with annual billing, request a call.
About: Launched in 2002. Mariusz Cieply is one of the founders and main shareholders.
200+
Business & Marketing Tools Collection
Work management, tracking, organizing, payments, accounting, Google, keyword, market, and competition research, SEO, analytics, and related, marketing & advertising, web development, website monitoring, domains & website hosting, coding, and related, design & multimedia, marketplaces, entrepreneurial communities, hiring & outsourcing
Main slogan: connect with your leads and customers in real-time.
Platform features:
Live chat

CRM

Drag and drop builder

HTML editor

Personalized emails

Free responsive template gallery

Custom forms

Segmentation

Custom contact fields

Marketing automation

Workflows

Welcome emails

Coupons

Perfect time sending

Real-time statistics

Advanced open & click-through reports

Heat map

Email testing and preview

Landing page builder

Transactional emails with templates

SMTP for transactional emails

Contact management

Subscription forms

Scenarios builder

Lead scoring

Lead generation

Deliverability test

Dedicated IP

SMS marketing

Transactional SMS

A/B testing

Integrations
Live chat (how it works):
Setup your chatbox: 

Create a seamless experience for your website visitors by setting up your chat environment and personalizing it to match your business. Customize the colors, then add your business name and logo so your customers will immediately recognize that it's you.

Install in seconds
Be there for customers and leads in real-time
Organize your team
Other departments:
Jobs
Press
Blog
Help center
Academy
Glossary
Plugins
API docs
Status
Find an agency
Plans:
Free: getting started
Lite: perfect for new marketers, €19/mo, 10,000 emails
Premium: €49/mo, 20,000 emails
Enterprise: get a quote
About: Sendinblue offers cloud-based digital marketing tools to over 175,000 growing companies around the world. Their team represents over 40 nationalities and reflects their product's international reach.
Offices: USA, France, India, Germany
Main slogan: with ChatBot, automating customer service is a breeze. An all-in-one platform to build and launch conversational chatbots without coding.
Products:
Chatbot for marketing
Chatbot for sales
chatbot for customer support
Chatbot for education
Chatbot for enterprise
Features:
Visual drag and drop builder: 

The fastest way to create AI chatbots on your own terms and without coding.

Testing tool

Customizable chat widget

Prebuild templates

Add teammates

Reports

User data

Segments

Archives

Integrations

API and webhooks

Dynamic responses

AI

Analytics
Other departments: 
Help center
API & developers
Blog
Chatbot guide
System status
Partner program
Press
Security
Benefits:
24/7 support
100% of common questions answered instantly
Improve workflows and productivity
Support customers around the clock
Resolve problems smarter and faster
Grow without adding overhead
Generate and qualify leads automatically
Enhance customer experience
Increase conversion rates
Balance automation with human touch
Apply ready-to-use templates to help customers
Connect ChatBot with your favorite tools
Plans:
Starter: $50/mo, 1,000 chats, then $0.01/chat
Team: $149/mo, 5,000 chats, then $0.01/chat
Business: $499/mo, 25,000 chats, then $0.01/chat
Enterprise: fixed-price contracts for big teams in large companies, contact the support team.
There's a 14-day free-trial period.
Best Email Marketing Automation Services
The Ultimate List
Main slogan: create instant connections with proactive live chat software. Utilize live chat software to convert website visitors into paying customers in seconds. Powered by automation, smart routing options enable users to chat with agents that are best equipped to provide assistance.
With LiveAgent's advanced features, you'll save tons of time. Spend that time focusing on what's important — building meaningful relationships with your customers with the best live chat software.
LiveAgent is an omnichannel helpdesk software complete with advanced automation, live chat, social integrations, and call center capabilities.
Features:
Chats
Online visitors
Reports
Configuration
Ticketing
Automation
Smooth website integration
Proactive chat invitations: 

Set up rules to automatically invite visitors to chat online

Website monitoring

Real-time typing-view

Over 200 integrations
Benefits:
Increase sales
Become proactive
Improve satisfaction
Cut costs
Increase conversion rates
Decrease resolution times
Reduce shopping cart abandonment
Improve customer happiness
Other services and products: 
Help desk: omnichannel customer service support
Ticketing
Call center: built-in software
Social media: answers your followers directly from the app
Knowledgebase
Customer portal: designated query tracking for customers
Other departments: 
Use cases
Success stories
Customer reviews
Industry solutions
Business solutions
Support portal: data migration, system status, change log, request for proposal
Company: awards and certificates, partner, VoIP partners
Blog
Glossary
Academy
Templates
Webinars
Typing test
Plans:
Free: 

Forever free account with some limitations

Ticket: 

A must-have organization tool for email ticketing, $15/agent/mo.

Ticket & chat: A robust multi-channel live chat and ticketing solution, $29/agent/mo

All-inclusive: A powerful omnichannel helpdesk with 180+ features, $39/agent/mo
About: a software development company established in 2004. Ever since the inception, their focus was on developing B2B apps.
Founders: Andrej Harsani, Viktor Zeman. Offices: Bratislava, Kyiv, New York.
The Ultimate List of Multimedia Resources
Regular Updates
Images, Graphics, Audio, Video, Animation, Themes, Plugins, Code, Apps, Education, Jobs, Buy & Sell Art
This is just the beginning of an extended catalog. I will keep the thread updated frequently.
In the meantime, check out the other related resources we have in store for you.
That's it, another article has finished, here on Web Market Support. I'm waiting for your comments and thoughts. Which solution is the most promising? Which one should I add? Till next time.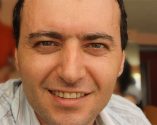 Tasos Perte Tzortzis
Marketing Specialist, Entrepreneur
Although doing traditional business offline since 1992, Tasos fell in love with online marketing in late 2014 and has helped hundreds of brands sell more of their products and services on the web.
He enjoys reading, music & arts, mathematics, chess, coffee, swimming, Audi, and playing with his kids.
Some of the links on this page are "affiliate links". For more information, I refer you to the Disclaimer page