Become A Digital Entrepreneur FOR ONLY $0.82/DAY 
WHAT YOU GET FOR
$299 PER YEAR
or $0.82 PER DAY
The Wealthy Affiliate Membership
PLUS
The WebMarketSupport Bonuses
Everything You Need To Start An Online Business Is Here
THE WA MEMBERSHIP
SiteRubix Platform:
Domains (find and register domains)
Website builder (build a website in seconds)
Website manager: monitoring, site health, plugins (over 50,000 free options), themes (2,800+ free options), statistics, insights
Site Plus+ (site speed, SSL encryption, site protection)
Site Comments: get and receive comments from other WA members using credits
Site Feedback: get feedback on your sites
Emails: unlimited accounts, SMTP settings, integrations
Site Support: 24/7 technical support (very fast at all times)
Site Content: writing templates, keyword-rich content, check grammar errors
Free Stock Photo Finder
Pay-per-click conversion tracking: Google, Bing, Facebook
My linker-2: link tracker, cloaker, webpage optimizer
Jaaxy Platform:
Keyword Research (SEO, traffic, competition, QSR, rankings, domain data, 99.7% search engine coverage)
Keyword management (Keyword lists, save, store, export, share, and manage all keyword activities)
Keyword Training (extensive)
Niche Research (alphabet soup platform, 100,000's of evergreen niches, brainstorm the hottest trends, uncover lucrative affiliate programs)
Competition Analysis (reverse engineer any successful website, different search engines, different rankings)
SiteRank for SEO
Domain search (find available domains in an instant)
Domain Lists
Alphabet soup platform
Hosting Services:
25 websites on a domain that you own
25 free siterubix websites
Instant DNS setup
Amazon c3 large hosting speed
30GB website space
500,000 visitors per month bandwidth
Unlimited data transfer
Full redundancy
Enterprise security
Daily website backups
24/7 access to server admins
BotNet security
Unlimited email accounts
1-1 marketing mentorship
Staging environment
Community access
Community:
10,000's active members ready and willing to help you (including me)
Live chat with other members
Forum (blogs, classrooms, members' training, questions, discussion)
Private messaging system
Education:
2 online entrepreneur certification courses (10 lessons each)
Affiliate bootcamp training (7 phases – 10 lessons each)
13 interactive classrooms
Weekly live video classes (host – Jay Neill)
Video classes archive (over 500 training sessions)
THE EXTRA WMS BONUSES 

(Real Value $23,000+)
Bonus #Hidden – Privately Shared With Only The First 7 People
Thanks To Wealthy Affiliate
I Was Able To Build The Business Of My Dreams Online
How To Make Money Online With Various Methods
Affiliate Marketing
Pay-Per-Click Marketing
Video Marketing
Local Marketing
Email Marketing
Social Media Marketing
Guerilla Marketing
Dropshipping
eCommerce
The training modules cover these areas:
Basic understanding of the

 

money-making

 

process
Affiliate marketing (promoting products and services from existing companies for commissions)
How to choose a direction (niche)
The SiteRubix web builder and its features
First steps to WordPress and plugins, backups
Initial content pages, Custom menus
Keywords (many lessons devoted to keywords)
How to use the WA membership and features
Domains, email accounts
SEO (extended lessons and examples), affiliate links, internal links
Content creation (extended training)
Traffic (extended lessons and examples)
User experience, engagement, interaction, customers buying journey, customer perspective
Visuals, graphics, logos, images, web design
Social media (G+, Twitter, Facebook, Pinterest)
Reviews
Conversions, tracking
Bonuses
Productivity, planning
Video marketing
PPC (pay-per-click) marketing (paying for ads in various networks)(many approaches and methods shared)
Analysis
The 13 WA Classrooms list
Getting started (available for Free and Premium members)
WA affiliate program (available for Free and Premium members)
Keyword, niche, and market research (available for Free and Premium members)
Everything WordPress (available for Premium members only)
Authoring & writing content (available for Premium members only)
Search engine optimization (available for Premium members only)
Social engagement and marketing (available for Premium members only)
Website development and programming (available for Premium members only)
Local marketing (available for Premium members only)
Video marketing (available for Premium members only)
Email marketing (available for Premium members only)
The WA platform (available for Premium members only)
Pay per click marketing (available for Premium members only)
LIVE VIDEO CLASSES ARCHIVE – EXAMPLES
Jay's SEO process for 2018
Insights into efficiently becoming an expert in 2018
7 brilliant strategies you must know in 2018
7 unconventional ways to amplify your brand
Affiliate blueprint
Using WooCommerce for affiliate links
Changing WordPress themes
Call-To-Action: Getting visitors to click
Affiliate daily task breakdown
Step by step YouTube live video streaming
Hosting your own webinars
Using Jaaxy like a boss
Being a non-Amazon affiliate
Finding content opportunities from related keywords
Switching from HTTP to HTTPS
Understanding your audience
How to promote your eCommerce business
The "7-Factor" secret sauce
The art of dropshipping
Introduction to selling your own products online
Developing logos and banners
Advancing your authority in any niche
Strategies for selling websites and domains
The money funnel, best ways to monetize
Getting traffic to your funnels
Creating a follow-up sequence
Strategies to build trust
WEALTHY AFFILIATE
REVIEW 2019
Answers to all your questions
Thorough analysis of all departments and features
PLUS
My Success Story
Everything You Need To Start An Online Business Is Here
Become A Digital Entrepreneur For ONLY $0.82/DAY
WEALTHY AFFILIATE
MEMBERSHIP

Turn Your Passion Into a
Thriving Business
It Starts with a Beautiful Website!
A WordPress Platform Bundled With Marketing Tools and Features
Site Domains
Find, register, and manage domains
Privacy Protection included
Unlimited email accounts
No upsells
Flat rate guaranteed
Site Builder
Build a Beautiful WordPress Site in 4 Steps

Site Manager
Monitoring, SiteHealth, Plugins, Statistics, Insights
SiteSpeed
Faster website performance
Better rankings
Increased engagement
SiteSSL (HTTPS)
Secure Site Over 256-bit Encrypted Connections
SiteProtect
Spam Block at the Server Level
No need for Extra Anti-Spam Plugins
PageSpeed Insights
Connect Internally With Google to Check the Speed of Individual Pages
Publishing frequency

80%

80%
Content quality & variety

90%

90%
Visitor engagement (comments)

75%

75%
Google rankings

100%

100%
Become A Digital Entrepreneur For ONLY $0.82/DAY
Site Comments
Give and Receive Comments from other WA members Using Credits
Site Feedback
Get Feedback on your Sites
Site Email
Control Accounts
SMTP settings
Integrations
Site Support
24/7 Technical Support
(very fast at all times)

Site Content
Writing Templates
Keyword Rich Content
Check Grammar Errors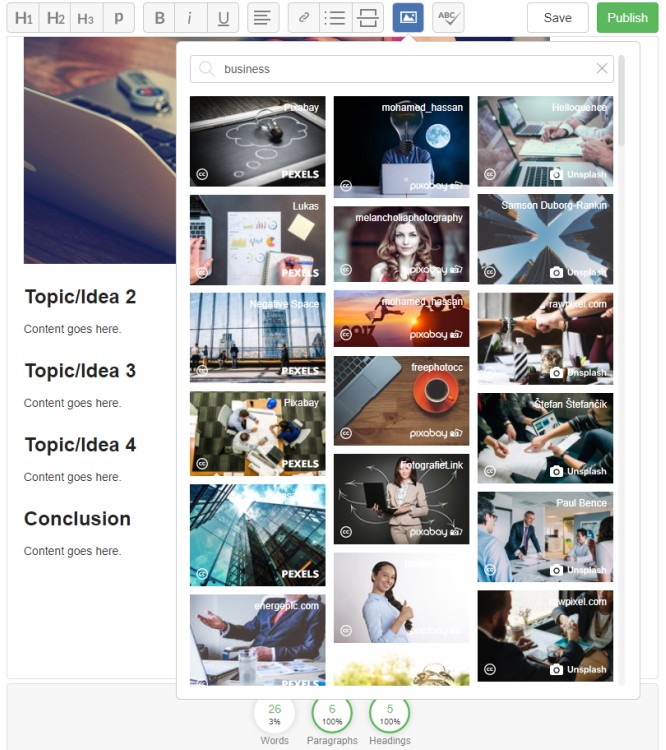 Become A Digital Entrepreneur For ONLY $0.82/DAY
Pay-Per-Click Conversion Tracking
Bing
Facebook
Google Adwords
My Linker-2
Link tracker
Cloaker
Webpage optimizer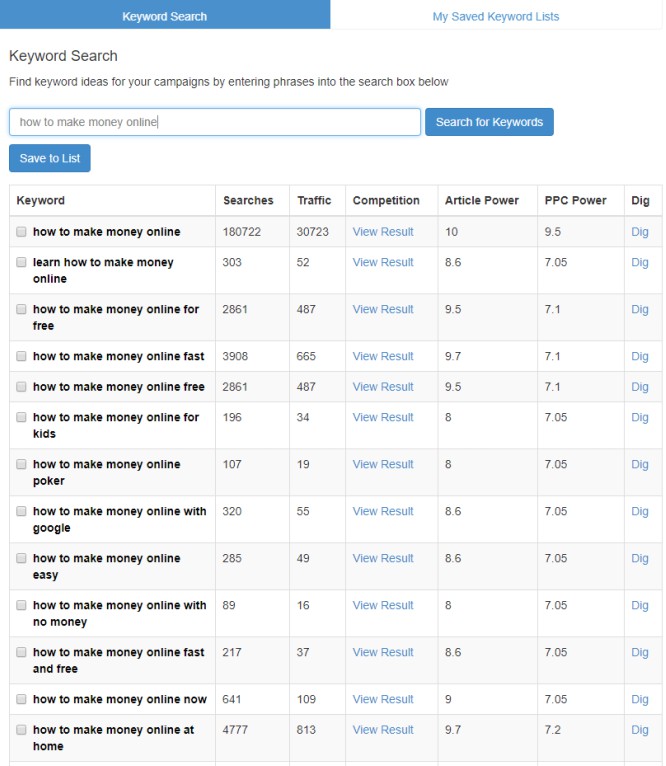 Billions of Keywords at your Fingertips
Niches, Exposed and Uncovered
25 Websites on a Domain that you Own
25 Free SiteRubix Websites
Instant DNS Setup
Amazon c3 large Hosting Speed
30 GB Website Space
500,000 Visitors per month bandwidth
Unlimited Data Transfer
Full Redundancy
Enterprise Security
Daily Website Backups
24/7 Access to Server Admins
BotNet Security
Unlimited Email Accounts
1 on 1 Marketing Mentorship
Staging Environment
Community Access
Become A Digital Entrepreneur For ONLY $0.82/DAY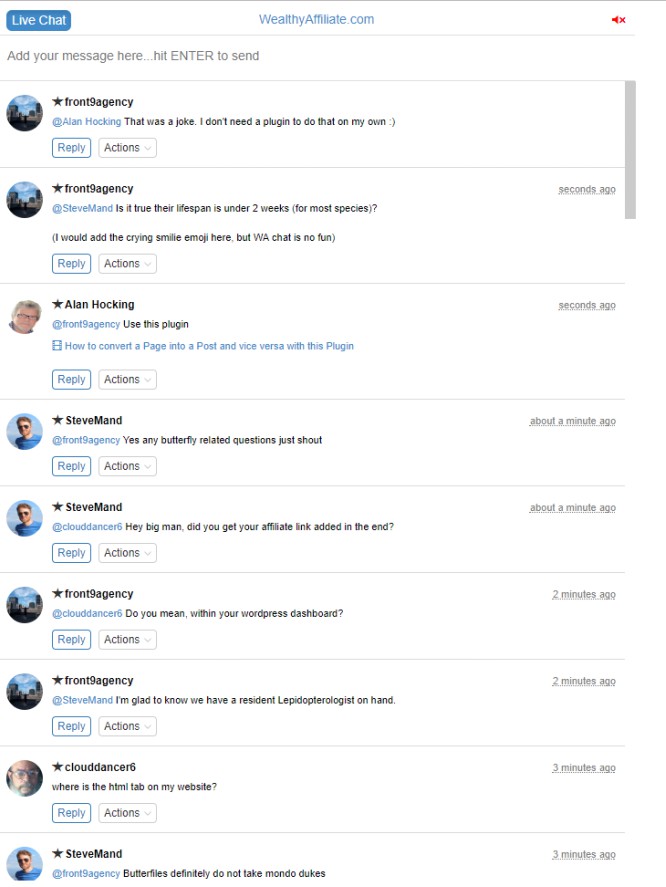 Become A Digital Entrepreneur For ONLY $0.82/DAY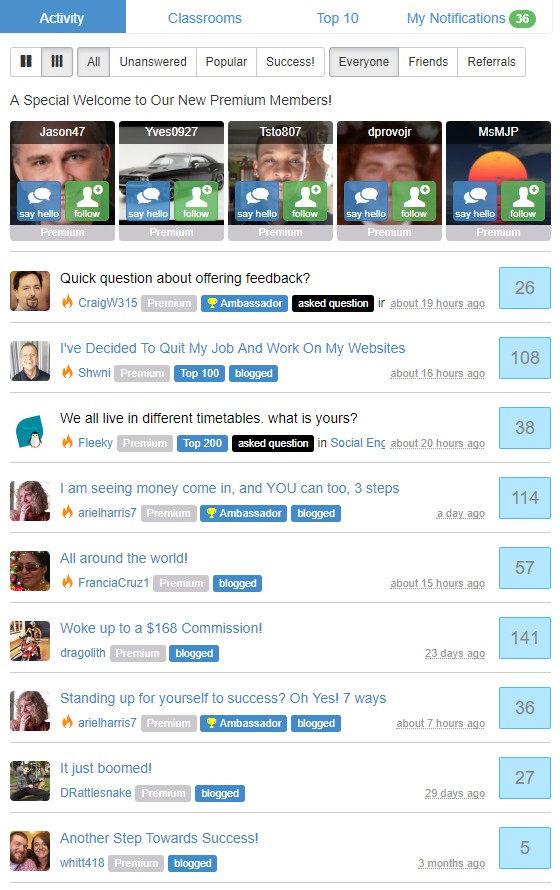 2 Online Entrepreneur Certification Courses
10 Lessons Each
7 Phases – Affiliate Bootcamp Training
10 Lessons Each
13 Interactive Training Classrooms
Weekly Live Video Classes
Host – Jay Neill
PLUS
Archive of all video training sessions
WEALTHY AFFILIATE
REVIEW 2019
Answers to all your questions
Thorough analysis of all departments and features
PLUS
My Success Story
Wealthy Affiliate Ratings
Training

95%

95%

Marketing Tools

95%

95%

Web Hosting (builder, security, speed)

85%

85%

Management & Monitoring Tools

90%

90%

Support

95%

95%

Forum

95%

95%

Other Services

90%

90%
Success Stories
A collection of WA members in any niche of the market 
And now you probably wonder, is anyone making money following the Wealthy Affiliate training? There are so many positive reviews on the net, there should be some success stories.
I can assure you, there are thousands of successful entrepreneurs that used WA as their vehicle. But only a few of them share their stories.
Here are a few of them:
AlexSol – First $400+ Day!!! (3 month at WA)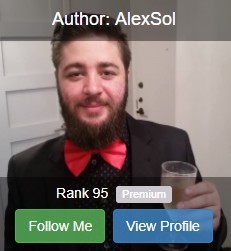 Date: Feb 05, 2014 
WA member since October 2007 
Summary: I have been in WA for a bit over 3 months… without any previous IM experience.
When I look at my CB account, I still can't believe it, but here it is, around $3K. 2 bum sales and 10 PPC sales on $40 Adspend! I guess putting time and effort into this thing does pay off 🙂
Ok now, I have to go rinse and repeat 🙂 Good luck to you all!
Alex
sporkypie – More progress: December – revenue goal exceeded
Date: Jan 03, 2018
WA member since February 2017
Summary: Earnings: $591 from Adsense, $372 Amazon, $111 from Shareasale. And about $150 from another vendor. Total: $ 1225.36. Goal: $1000. Goal exceeded!
Expenses: about $60 for ghostwriting, and whatever my monthly prorated WA fee is.
StubearBlack – 3 Years at WA, leaving my 9-5 job, and becoming truly independent
Date: Jan 02, 2018
WA member since December 2014 
Summary: I really don't know where to begin. To start off, it's been a roller coaster journey for me at WA, but I can tell you it's worth it. A lot has happened in 3 years, and it's not always pretty and doesn't always feel good.
So on July 13th, 2017, I woke up and felt different. I felt refreshed like I hadn't felt in a long time. I knew something different was going to happen that day but didn't know what it was. Long story short, I was called into the general manager's office and he laid me off.
When my site first started gaining traction, it was a like a plane taking off. What I realized after December of 2016 is that marketing isn't quite what I thought it was, and doesn't quite always work like you think it's going to, or should
After my best month in December of last year, traffic started going down. In December I made just over $2000 and reached my goal for the year. January income went down, and in February I made like $600. Lol.
dylanrieger – Month 7 – $4550
Date: Jan 02, 2018
WA member since Aug 2015
Summary: This is my last money post until I hit 10k, which I expect to happen this up coming fall.
I made a little over $4500 in commissions from Amazon and this came from 1269 sales and 39,000 unique clicks from Google.
Don't worry if you're not getting the same results as me. This is the 7th month of my website but I've been here at Wealthy Affiliate for 2 and half years now.
It took a lot of experimenting, reading and failure to reach this point. The only advice I can give you is this:
1) Don't give up
2) You have to try and write a few hours a day. We're in the content business and you'll need a good amount of content to make this work.
3) Focus on making money. Don't just write "how to" articles that have no shot at making you money. Write plenty of reviews and lengthy best of posts – those two kinds of posts are actually easier to rank than "how to's". I personally would go 60% to 70% money posts and 30% to 40% how to's.
If you're not getting any traction and your past the 6 month mark make sure to read the post I linked to up top – it's everything I've learned to get such fast results.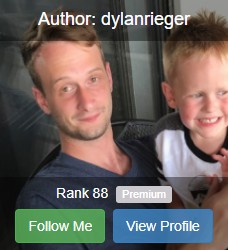 SUCCESS IS JUST AROUND THE CORNER
BECOME A DIGITAL ENTREPRENEUR
Wealthy Affiliate passed the test of time, it's been in business since 2005 and still helping thousands of online entrepreneurs.
It's a company that evolved throughout the years. It began as a keyword tool for bloggers and now it's a massive community of over 1,000,000 members offering TOP-NOTCH marketing education, website builder, web hosting, 24/7 tech support, domains, keyword research suite, niche market research suite, management and monitoring tools, forum, live chat, comments and feedback, training created by WA members and marketing experts, and so much more!
Here are just some changes that took place in the last year alone:
New & Improved Email Platform

Video Training 2.0 – Improved Video Training UX and Speed for WA training
Kraken Image Optimization – Industry-leading optimization for all websites
Affiliate Programs Platform – Search & Find the Most Lucrative Programs
SiteComments 2.0 and Accreditation – The Ability to Earn Through Commenting at WA
Super Affiliate Challenge 2.0 – A 12-Month Step by Step Training To Affiliate Success
The countless features and the quality services leave no space for questions.
It's the company that helped me turn $31 into a multi-figure business and still is my daily hangout with fellow entrepreneurs.
Can Someone Really Make Big Money Online?
You might be wondering if building an online business is a viable model that can bring in serious income.
I get asked similar questions all the time.
I was no exception, I was afraid too when I got started. 
Have in mind, that this "online business thing" is mostly dependent on marketing.
And this is GOOD NEWS! Why?
Let me tell you a secret!
You see, marketing is what keeps companies, industries, and economies alive.
If you can become great at marketing, you'll never have to worry about money anymore.
It had always been the #1 skill, and it will be 100 years from now…
Every company, every store, every little business needs to market its products and services. As a marketer, YOU, have all the companies in the world and literally anyone that want to sell something as potential clients.
Can you imagine that?
Standing At The Crossroads
I know what you think of. You have some doubts, that's normal, and this is how you should proceed with any offer. This means you have a critical mind.
But I know WHY you are here. You want to build an online business and work from the comfort of your home, office, or anywhere in the world.
You want to increase your income sources, you want to reach new horizons, and create the life you've always dreamed of. A new lifestyle, being independent, and autonomous.
Imagine that for a moment!
Imagine yourself in a year from now.
You joined the Wealthy Affiliate community, you became a marketing expert in 2-3 months, and now the sales are rolling. Now you're able to scale up and build new websites or create your own products and offer your own services.
Now you're able to buy a new car, pay off your debts, or take this 4-week vacation with your family. Now you're able to help more people and grow your brand to make an impact on the world. How beautiful is that!
Now your life is different, a lot different!
It's possible to reach any goals if you receive help from experts.
BUT, if you don't do anything, nothing is going to change, you know that.
The next year will be the same, and maybe the next one and the next one.
Richard Branson said
"If somebody offers you an amazing opportunity but you are not sure you can do it, say yes – then learn how to do it later!"
Don't Worry About Money Anymore!
Join Wealthy Affiliate and you won't regret it. It's the Real-Deal. I've tested hundreds of similar programs and companies.
Nothing can even stand close. 
Why am I still a WA member since December 2014? Because I become better and better at what I do by following the WA training, I learn new things, and I am able to add new streams of income and implement new techniques to explode my business. 
Wealthy Affiliate will help you make big money online, there are thousands of people working full-time crushing it.
There are millions of audiences you can target. Thousands of strategies, techniques, and guides to follow. Online business is the future.
Marketing was the past, is the now, and will be the future too.
Join Wealthy Affiliate. You found what you were looking for!
If you do so, then expect my lifetime 1-1 support and some Awesome Huge bonuses beyond my Free DBR Training. You won't find so valuable bonuses elsewhere.
Remember, you have nothing to lose. It's a Try Before to Buy Membership. You can stay as a free member forever.
Tasos Perte Tzortzis
Marketing Consultant, Creator of the "7 Ideals" Methodology
Although doing traditional business offline since 1992, I fell in love with online marketing in late 2014 and have helped hundreds of brands sell more of their products and services. Founder of WebMarketSupport, Muvimag, SummerDream.
I enjoy reading, arts, science, chess, coffee, swimming, Audi, and playing with my kids.
Become A Digital Entrepreneur For ONLY $0.82/DAY
Let's Work Together
Let me become your Wealthy Affiliate Guide to help you build a profitable business faster
EXCLUSIVE BONUSES
For Wealthy Affiliate Referrals
Overall Value
$23,000+
Wealthy Affiliate is the community/platform that helped me build an online business from scratch and I was able to turn my initial investment of $31 into a multi-figure business.

I joined WA in December 2014 and I received extraordinary help from other members, marketing experts, the owners, and the tech/support team whenever I needed it.

Now, it's time to give back to this awesome community so I offer exclusive bonuses for my WA referrals to speed up your results and to ensure you have a strong competitive edge
WHAT'S INCLUDED FOR FREE 
(Real Value $23,000+)
Bonus #Hidden – Privately Shared
Why Am I Giving Away So Many Bonuses?
It's a decent question.
Do you know how much I earn if you buy the WA Black Friday membership?
It costs you $299, I make $130. That's it.
And I give away bonuses that worth over $23K. Am I crazy? A little bit yes.
But here's why I'm doing this:
When I got started there were no bonuses that could help me speed up my results
The WA community consists of so many awesome entrepreneurs and everyone contributes "big time". This is my contribution
Think of these bonuses as an investment. I invest in you and in me as well. If you become a successful business owner with my help, you'll probably use the WA services in the future. If you stay for another year, I'll get paid another $130. The WA commissions are recurring
If I help you succeed, you'll probably give me an amazing testimonial I can use on this website
It's always an amazing feeling to help other entrepreneurs. That's what I do all my life
The Website Development Bonus #1 Is Only Available For Those Who Enroll Yearly But Not During The Black Friday Promotions
1-Year Video-Call Intensive Private Training Sessions on Skype (30-minutes each)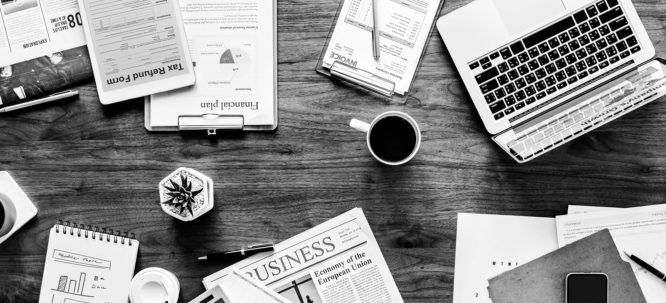 Business & Marketing Consulting, Coaching, and Feedback
*WA Premium Monthly: 1 session every 2 weeks
*WA Premium Yearly: 1 session per week
If you want to go faster,
if you don't wanna struggle with trial & error,
if you want that something extra that
guarantees results,
then look no further than these bonuses
Unlimited email access and support for as long as you need it (lifetime)

Email marketing training & vault (swipe files, campaigns, headlines that get clicks, openings)
For the last 2 years, I carefully collected, compiled, and tested thousands of email campaigns, promotions, and headlines
Now, I am giving you the best of the best to use them in your business and build a loyal fanbase.
*available for both memberships. 
Monthly membership: waiting period 6 months
Yearly membership: waiting period 2 months

Affiliate Marketing Blueprint (becoming a successful marketing publisher) – Live 1-1 Training
Since 2015, WMS as a marketing publisher helped hundreds of companies sell more of their products and services
Create a Lucrative Online Business Without Having to Own a Product
The Ultimate Guide to Help Master Every Aspect of this Business Model
*available for both memberships. 
Monthly membership: waiting period 12 months
Yearly membership: waiting period 3 months
Be becoming a publisher,
you tap into a multi-billion dollar industry
Paid Advertising Mastery – Live 1-on-1 Training
I will help you target the right prospects on all the major search engines and networks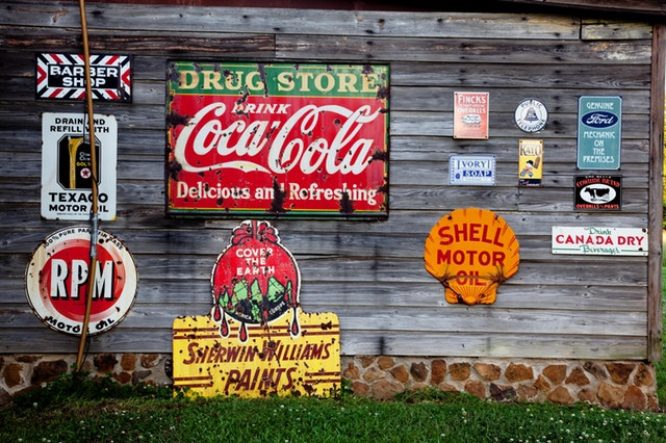 Paying for traffic is a lucrative strategy but involves high-risk
I will make sure you're running ads that perform well and convert
*available for both memberships. 
Monthly membership: waiting period 12 months
Yearly membership: waiting period 3 months

Detailed marketing/business plan for the course of a year based on the direction you'll choose (niche)
MARKETING PLAN
What You'll Get For Free
Content ideas, suggestions, mutual brainstorming, and more…
List of affiliate networks to join and when to join each and every one of them
Affiliate networks communication (what to say before you get approved, after you get approved, if you don't get approved)
List of forums, communities, networks
Offline activities/promotions
*available for both memberships. 
Monthly membership: waiting period 12 months
Yearly membership: waiting period 3 monthx

Hidden bonuses/digital material that will be shared privately
HIDDEN BONUSES/DIGITAL MATERIAL
Private
The Website Development Bonus #1 Is Only Available For Those Who Enroll Yearly But Not During The Black Friday Promotions
If you want to go faster,
if you don't wanna struggle with trial & error,
if you want that something extra that
guarantees results,
then look no further than these bonuses
SignUp for the WA Yearly or Premium Monthly Membership
Fill Out the Form With Your WA nickname
We Wait for 30 days Until Your Payment is Verified
*Notice: the monthly memberships are instantly verified
WMS Unlocks The Bonuses For You
*Notice: the weekly video calls and the email support are active from day 1 for both memberships.
Wealthy Affiliate Bonuses
EXCLUSIVE
WEALTHY AFFILIATE
BONUSES
SignUp For The Premium Wealthy Affiliate Membership
and Unlock All These Bonuses
Overall Value of Bonuses $23,000+
Some of the links on this page are "affiliate links". For more information, I refer you to the Disclaimer page