Are you looking for stunning video templates for your next creative project? Want to impress your colleagues, partners, clients, and friends?
Are you looking for ways to sell your artwork and videos?
Then this catalog is for you.
We have compiled a list of websites with video templates and other related products.
Some of them are marketplaces where you can showcase your work and get discovered by clients.
These marketplaces bring together multiple vendors and artists to help them discovered by millions of users. These platforms receive tons of traffic and are a great way to sell your media and discover creative work from talented producers.
Let's dive right in!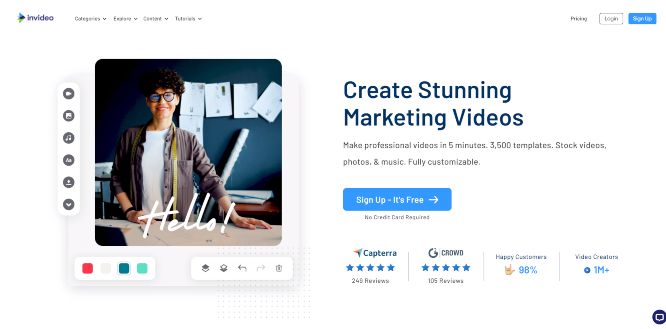 Main slogan: Create Stunning Marketing Videos. Make professional videos in 5 minutes. 3,500 templates. Stock videos, photos, & music. Fully customizable.
Top categories:
Intros and logo reveal, Video ads, Slideshows
Business presentation, Invites and wishes, offers and discounts
Video collages, webinar promos, quote videos
Video testimonials, product video ads, long-form ads
Branding templates, bite-size ads, covid-19
Greetings, listicles
Other products:
YouTube video editor:

InVideo's free online YouTube video editor provides everything you need to design and edit an aesthetic YouTube video. Access the premium stock footage from the library to enhance your video to the core. Check out our intuitive YouTube video editor which comes feature-packed and will save your precious time

Invitation maker: Wow your guests with a stunning, attention-grabbing invite for every kind of event with a dynamic invitation. InVideo's invitation maker makes it possible to create beautiful and unforgettable invites that will leave your guests delighted! Make use of narrations or voiceovers to give it a personal touch!

Free intro maker: create intro videos online without watermark

Outro maker: Make your video complete With InVideo's Outro Maker. End your videos with a bang with InVideo's Outro Maker. Get the flexibility to create the right endslate, which ensures that your audiences are hooked till the last second. Outro videos help you derive any action from the viewers and work it in your favor! So do not forget to add a CTA!

Facebook ad templates: Boost your page's engagement with stunning Facebook ads using InVideo's AI-powered and flexible Facebook ad templates. Choose from a huge selection of templates and select the one that best suits you! Be ready to make unique and eye-catching Facebook video ads!

Video slideshows: Create a spectacular slideshow presentation that doesn't just get people hooked but gets the message across with InVideo's slideshow maker. Captivate your audience with a dazzling video slideshow and spare them from the boring presentations. Compose unique slideshow videos to preserve your favorite memories or to ace that business pitch with InVideo's slideshow maker.

Online ad maker: video advertisements with free ad templates

Video maker: InVideo's free-to-use video maker lets you create and share short videos, slideshow-format videos, and home videos, in literally just minutes. You can choose from thousands of stock images from InVideo's library to make an awesome video for every theme and occasion, swiftly, and with a professional finish

Free YouTube intro maker: InVideo's free-to-use video maker lets you create and share short videos, slideshow-format videos, and home videos, in literally just minutes. You can choose from thousands of stock images from InVideo's library to make an awesome video for every theme and occasion, swiftly, and with a professional finish

Facebook video ads

Poster maker: Design stunning posters with the easy-to-use poster maker tool on InVideo. Customize the poster as per your event or promotion and stand out for the right reasons with InVideo's poster maker. A well-designed poster will instantly catch the attention of the viewer! Don't forget to add a CTA!

Instagram video editor: With InVideo's Instagram video editor, advertising on Instagram is now a child's play. Choose from thousands of flexible and customizable Instagram ad templates and become an Instagram video pro! InVideo's Instagram video editor guarantees thumb-stopping videos that will leave your audiences astonished!

Meme generator: Want to make memes that stand out? Try out this epic meme generator and share your creations with zero regrets!

Promo video maker: Promoting a brand is no easy business. And creating videos isn't either. InVideo's promo video maker solves both these problems for you. Endorse your business with fantastic promotional videos, engaging graphics and winning music. And, all of this created in minutes! Make heads turn and get people to start talking about your brand!

Meme templates: Making memes has become easier with the excellent tools and meme templates offered by InVideo. The platform has thousands of templates that you can choose according to your specific needs. So get ready to mesmerize your audience with the meme templates and ensuing laughter!
Other departments and resources: blog, shows, tutorials (various topics), FAQ, jobs, live chat, Facebook community, schedule a demo, creator's club.
Plans: 
Free: watermark-free videos, 3,500+ video templates, 3M+ standard medial library, automated text to speech, 15min video duration per video
Business: $20/mo or $10/mo billed annually, plus 10iStock media per month, 1M+ premium media, 60 video exports per month, 20 remove background edits
Unlimited: $60/mo or $30/mo billed annually, plus 120 Stock media per month, unlimited video exports, 40 remove background edits
There's a free 14-day trial period.
Reviews: 
Capterra: 249 reviews, 4.8 out of 5 stars
G2: 107 reviews, 4.8 out of 5 stars
GetApp: 249 votes, 4.8 out of 5 stars
TrustPilot: 97 reviews, 4.5 out of 5 stars
About: Product of the month on Product Hunt (Feb 2020), 98% happy customers, 1,8M+ videos created. With 100K users from 150+ countries, we are just getting started. 51-200 employees. San Francisco, California. Privately Held. Founded in 2017.  Sanket Shah, CEO, Harsh Vakharia, co-founder. Funding via Crunchbase, Series A, US$ 15M.
Main slogan: 29,600+ video templates
Categories:
Broadcast packages
Elements
Infographics
Logo stings
Openers
Product promo
Titles
Video displays
Applications supported:
After effects
Premier pro
Apple motion
Final cut pro
No plugins required
All Categories:
Graphic templates: print, product mockups, websites, UX & UI kits, infographics, logos, scene generators, sketch plugin
Graphics: backgrounds, textures, social, patterns, icons, objects, illustrations
Presentation templates: Keynote, PowerPoint, Google Slides
Fonts: Seriff, Sans-Seriff, Script and handwritten, decorative
Add-ons: actions and presets, brushes, layer styles, Photoshop, Illustrator, Lightroom, Figma, Sketch
Web themes & templates: WP themes, HTML templates, Shopify themes, Bootstrap themes, free WordPress themes
Web templates: responsive, retina-ready, PSD files, Sketch files, admin, email, site, landing page
CMS templates: Drupal, PrestaShop, Joomla, Shopify, Magento, Unbounce, Muse, Ghost, OpenCart, Tumblr
WordPress: themes, plugins, template kits, elements wordpress plugin
3D
Stock video: stock footage, motion graphics
Video templates: broadcast packages, elements, infographics, logo stings, openers, product promo, titles, video displays
Music: music tracks, logos and idents
Sound effects: game sounds, transitions & movement, domestic sounds, human sounds, urban sounds, nature sounds, futuristic sounds, interface sounds, cartoon sounds, industrial sounds, sound packs, misc, sound
Photos: various categories 50M+ items
Code: WordPress plugins, PHP script, Javascript, CSS templates, PrestaShop plugins
eBooks and courses
Free files
Free tools: image resizer, video cropper, video to gif converter
PlaceIt: logo maker, video maker, design templates, free templates, mockups
Tuts+: learn (Javascript, Photoshop, Illustrator, WordPress, how to use PowerPoint)
Other departments and resources: license, ecosystem, careers, help center, become an author.
Sell: Earn more doing what you love. Become an Elements Author. Take your portfolio to the next level. Start earning more money and sell in more places. Applications are now open. Authors are hand-picked by our team to join.
Additional earnings, only the best, 50% share, 1 simple license, no support needed, growing audience.
Who can sell: We're looking for people who can contribute top quality items to Elements. Authors are selected by:
Offering a great online portfolio of existing work.
Consistently creating and offering high quality items.
Creating new items that are on trend with commercial demand.
You can sell all types of digital templates and assets, from graphics and website templates to photography and stock footage.
Plans: millions of creative assets, unlimited downloads. 
Individual plan: from €14.50/mo.
Students: All the benefits of an Envato Elements subscription at 30% off.
Teams: from €9.45/mo/member
Enterprise:

 

Unlimited creative assets for organizations, agencies and teams of six or more. You need to contact them.
Reviews:
G2: 24 reviews, 4 out of 5 stars
Trustpilot: 4,670 reviews, 3.9 out of 5 stars
About: As a company, Envato believes that when the community succeeds, we succeed. We're proud to be providing a way for independent designers to earn a living doing what they love. For Elements, we're sharing 50% of net revenue and pioneering the use of subscriber share.
200+
Business & Marketing Tools Collection
Work management, tracking, organizing, payments, accounting, Google, keyword, market, and competition research, SEO, analytics, and related, marketing & advertising, web development, website monitoring, domains & website hosting, coding, and related, design & multimedia, marketplaces, entrepreneurial communities, hiring & outsourcing.

Main slogan: Create high-impact social videos in an instant.
Categories:
Free, ads, eCommerce
Seasonal, education, corporate
Personal, food & drink, fashion & beauty
Tutorials, sports & fitness, social
Health & wellness, real estate, Facebook
Instagram, YouTube, LinkedIn
Twitter, marketing, travel
Product, automotive, slideshow, events
Other departments and resources: video maker 101 (learn how to make stunning videos in seconds),  blog, success stories, help center, video school, OTT resources, developers, students, partners, guidelines, apps, on-demand, jobs.
Other products and features: live stream, screen record, create from templates, hire a video pro, license stock footage, ad-free player, hosting, privacy, collaboration, customize player, publish anywhere, analyze, monetize, distribution & marketing.
Plans:
Plus: 5GB/week, 250GB every year, single user, €6/mo billed annually
Pro: 20GB/week, 1TB every year, 3 team members, €16/mo billed annually
Business: no weekly limits, 5TB total storage, 10 team members, €40/mo billed annually
Premium: unlimited live streaming, 7TB total storage, unlimited live viewers, €70/mo billed annually
There's a 30-day free trial period.
Reviews: 
G2: 257 reviews, 4.2 out of 5 stars
TrustRadius: 72 votes, 8.4 out of 10 stars
TrustPilot: 305 reviews, 1.3 out of 5 stars
Capterra: 586 reviews, 4.6 out of 5 stars
SiteJabber: 160 reviews, 2.3 out of 5 stars
About: 200M+ users, 1.5M+ paid subscribers, 190+ countries, 300K+ new videos added daily, 100B+ video views.
In 2004, we created a place for creative pros to beautifully and easily show off their work. We called it Vimeo.
Main slogan: Easily make your own videos. Join millions of people creating and sharing videos with our easy drag and drop video maker. No experience necessary.
Categories:
About us, Amazon promo, behind the scenes
Event, explainer, holiday
List, motivational, narrative
Product promotion, service promotion, slideshow
Teaser, testimonial, tutorial
Valentine's day
Other products and features: 
Video maker
Photo video maker
Online video editor
Video trimming
Stock library
iOS
Other departments and resources: blog, careers, press, tutorials, success stories, help center.
Reviews:
Capterra: 139 reviews, 4.3 out of 5 stars
G2: 73 reviews, 4.4 out of 5 stars
TrustPilot: 918 reviews, 4.5 out of 5 stars
Getapp: 139 votes, 4.3 out of 5 stars
TrustRadius: 8 votes, 9 out of 10 stars
About: award-winning online video maker. 51-200 employees. New York. Privately Held. Founded in 2006. Funding via Crunchbase, Series C, US$ 25M. Brad Jefferson, co-founder & CEO.
Main slogan: Let's Make a Video! What Type of Video Are You Making Today?
Categories:
Intros
Slideshows
Instagram and Instagram stories
Promos
Slick product overviews
Step-by-step- tutorials videos
Inspirational quote videos
Content teaser
Customer testimonials
Product demos
Offers and sales
Features:
Hundreds of stunning templates
Easy-to-use video maker
Massive audio library
Keyframe preview
Intro maker
No video editing skills required
You only need a browser
Other departments:
Mockups and mockup generator
Design templates and online design maker
Video templates and video maker
Gaming templates
Free video to gif converter
Free online video cropper
Free image cropper
Free Covid-19 templates
Templates and resources for business
Blog
RecordIt
License
Careers
The subscription also gives you access to unlimited mockups, designs, and videos. 
Endless design templates: 

Make impressive social media posts, banners, flyers and much more with design templates.

Mockup templates that sell: No matter what you sell, from t-shirts to apps, Placeit has the perfect mockups for you.

Scroll-stoping videos: Easy to make and edit templates let you create engaging videos in seconds.
Pricing plans:
Monthly: $14.95/mo
Annual: $89.69/year. Save 50%.
Reviews:
G2: 5 reviews, 3.9 out of 5 stars
TrustPilot: 912 reviews, 4.6 out of 5 stars
About: it's a project by Envato. Envato Runs the world's largest creative marketplace, and help millions of people get creative projects done – from setting up a WordPress theme to adding music to their videos. Manuel Lopez, CEO.
Related: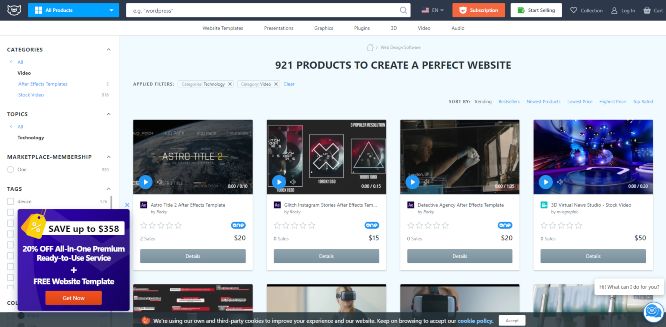 Main slogan: Website Templates, Plugins, and Graphics Digital Marketplace, Best place to buy and sell digital products.
Categories:
After effects, Premiere pro
Final cut pro, Motion graphics
Stock video
Sports, people, nature
Business corporate, food, lifestyle
Technology, buildings, medical
Industrial, holidays, timelapse
City, vehicles, education
Special events, construction, kids
Slow motion, religious, cartoons
Weather, backgrounds, elements
Infographics, lower thirds, interface effects
Misc, overlays, transitions
Individual, interface sounds
Intros & openers, broadcast packages, product promo
Elements, titles, video displays
Logo reveal
Other products:
Website templates: WordPress, eCommerce, HTML, website builders, CMS, and much much more
Presentations: various categories
Graphics: illustrations, fonts and icon fonts, patterns, vectors, backgrounds, product mockups, templates (logo, PSD, resume, certificate, magazine, planners, corporate identity, t-shirts, Unbounce, Sketch, App, Bundles), web elements (UI, animated banners, social media)
MonsterONE subscription: CMS & eCommerce, presentations, audio assets, HTML, graphics, video assets, plugins, 3D
Plugins: WordPress, PrestaShop modules, JavaScript, Magento extensions
3D models
Audio: stock music, audio effects
Services
Other departments and resources: licenses, blog, promo codes, coupons, service center, certification center, gift card, help center, knowledgebase, become an author.
Sell: join the community and sell your website templates, eCommerce themes, plugins, and graphics to more than 2 million monthly visitors. Simple product approval system, set your own prices, high-commission rates, transparent and clear payout system, community support.
Pricing: every item has its own price.
Plans: there's a subscription plan, the MonsterOne, which gives you access to everything. $14.95/mo. You can use any items you need for unlimited domains and an unlimited number of projects as long as your license is active. 
Creative: $7.40/mo or $89/year

All-in-one: $14.95/mo or $179/year

All-in-one one-time fee: $559
Reviews:
TrustPilot: 4,536 reviews, 4.8 out of 5 stars
SiteJabber: 1,490 reviews, 4.7 out of 5 stars
About: 5M+ buyers, 1,600+ authors, 46,000+ products. Founded in 2002. 1,001-5,000 employees. Public Company. Miami, US. Dmytro Kuriksha, CEO. 
This is just the beginning of an extended catalog. I will keep the thread updated frequently.
In the meantime, check out the other related resources we have in store for you.
Now, if you're an artist and want help to get your video production business running, check out our private training workshops dedicated to selling arts & multimedia.
You need a strong online presence, adding samples of your work frequently, and making relationships.
You also need your own website to demonstrate your professionalism, and of course, to amplify your reach and exposure with marketing.
That's it, another article has finished, here on Web Market Support. I'm waiting for your comments and thoughts. Which tool is your favorite? Which design marketplace should I add? Till next time.

Tasos Perte Tzortzis
Business Organisation & Administration, Marketing Consultant, Creator of the "7 Ideals" Methodology
Although doing traditional business offline since 1992, I fell in love with online marketing in late 2014 and have helped hundreds of brands sell more of their products and services. Founder of WebMarketSupport, Muvimag, Summer Dream.
Reading, arts, science, chess, coffee, tea, swimming, Audi, and family comes first.
Multimedia
Multimedia resources(AZ directory - images, graphics & design, audio & music, video, video marketing, animation, themes, plugins, code, apps, tools, education, jobs, buy & sell, communities, freebies)
Some of the links on this page are "sponsored". For more information, I refer you to the Disclaimer page.